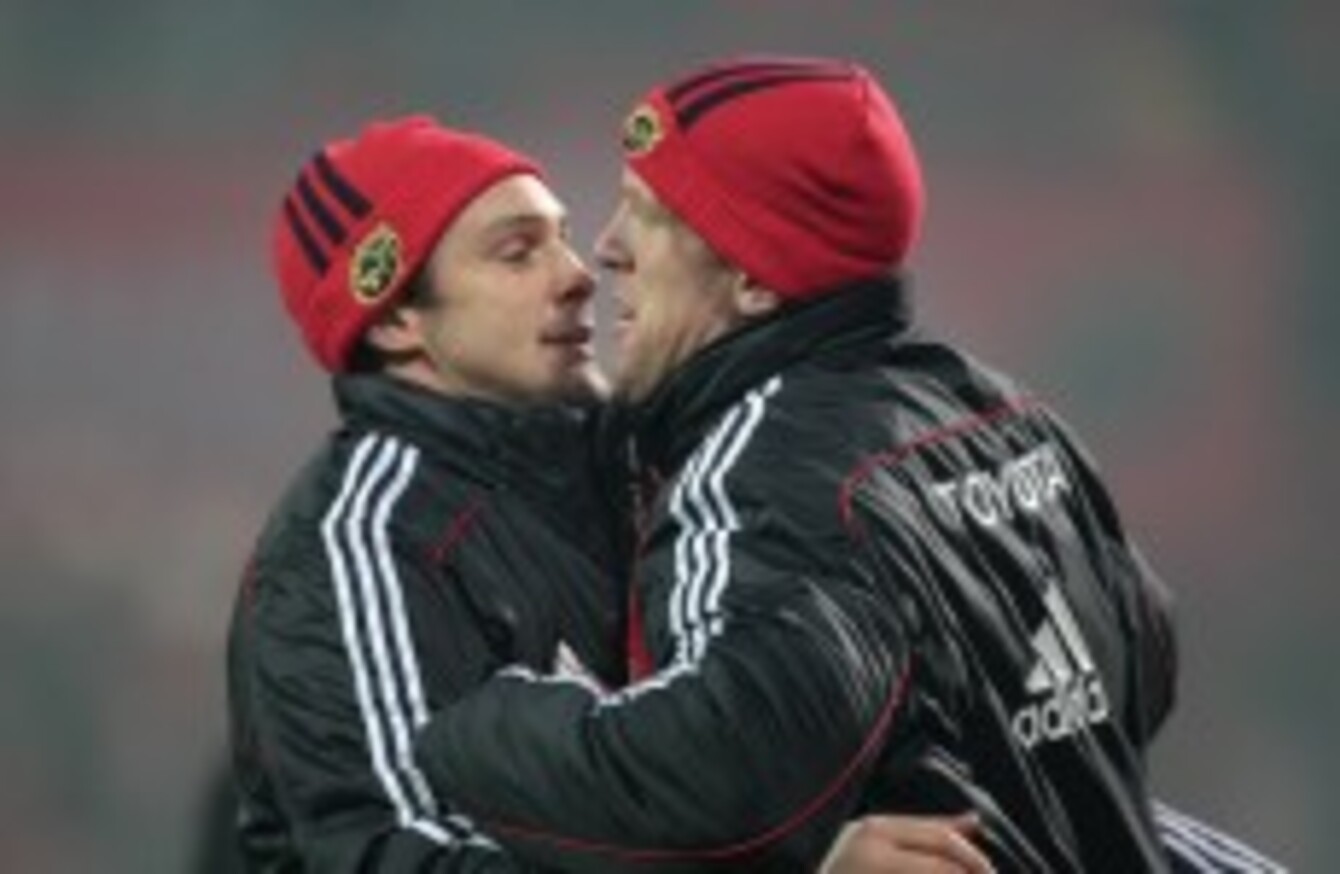 David Wallace and Paul O'Connell warm-up before a Magners League match in 2010.
Image: INPHO/Morgan Treacy
David Wallace and Paul O'Connell warm-up before a Magners League match in 2010.
Image: INPHO/Morgan Treacy
FORMER MUNSTER AND Ireland flanker David Wallace has lauded the IRFU's announcement, today, that Paul O'Connell has signed a new two-year deal.
O'Connell, who made his Ireland debut alongside Wallace in 2002, will remain at Munster until June 2016 and is hoping to lead his country into the 2015 World Cup in England. The news follows reports from France that Leinster's Jamie Heaslip [out of contract in the summer] has rejected the advances of Top 14 side Toulon.
Wallace told TheScore.ie: "It's fantastic news. It's obviously great for Paul and his family and, of course, for Munster and Ireland. With the way he's playing at the moment… everyone talks about his presence off the pitch, his leadership skills and being an inspiration, but on the pitch right now he is Ireland's best player. He's a very, very large part of why Munster are going so well at the moment.
"We're hearing rumours, as well, of Jamie signing again with Leinster. It's obviously very good to have your main players at home and star players turning out for the provinces. You're also getting the welfare that the IRFU can afford him."
Having played alongside O'Connell for over a decade, Wallace had an inkling that the Limerick man was not about to up sticks for life in the Top 14. "I assumed he was going to sign, which was probably a bad bargaining position for Paul to be putting himself into," he remarked.
With Jonny Sexton going away last year, all the other players will be thanking him as the IRFU must be very nervous about big-name players heading away and they're doing their utmost to keep the guys. Paul's form will have helped matters in his negotiations."
O'Connell has expressed a desire to get involved in coaching once he retires but a dream coaching ticket, for many Munster fans, of O'Connell, Ronan O'Gara and Anthony Foley may have to wait until 2016 at the earliest. Wallace said, "It's just brilliant to have him there in Munster. He's Munster's and probably Ireland's finest [playing] coach off the pitch and he's doing all the work on the pitch too. His performances in the last couple have weeks have been immense."
O'Connell was praised by several Lions players for lending a coaching hand to Warren Gatland after an arm injury ended his tour early. INPHO/Dan Sheridan
Wallace is hopeful that Munster can sign up winger Keith Earls, who was injured against Edinburgh, next. "It would be great to see Keith stay here. I'm sure he has plenty of offers and he'll be weighing them all up. I was disappointed to see him get injured at the weekend as he was going so well.
"He's another lads who had just come back from injury over the summer and seemed to be in great form — never fitter, never faster, never sharper — and he was playing his best rugby. Let's hope he comes back quickly."
*David Wallace, (pictured here with Daniella Moyles) was speaking at the Lansdowne Road today to promote Aviva Advantages, who are offering rugby fans the chance to win access to the Aviva VIP Lounge for the Ireland v Scotland Six Nations game.