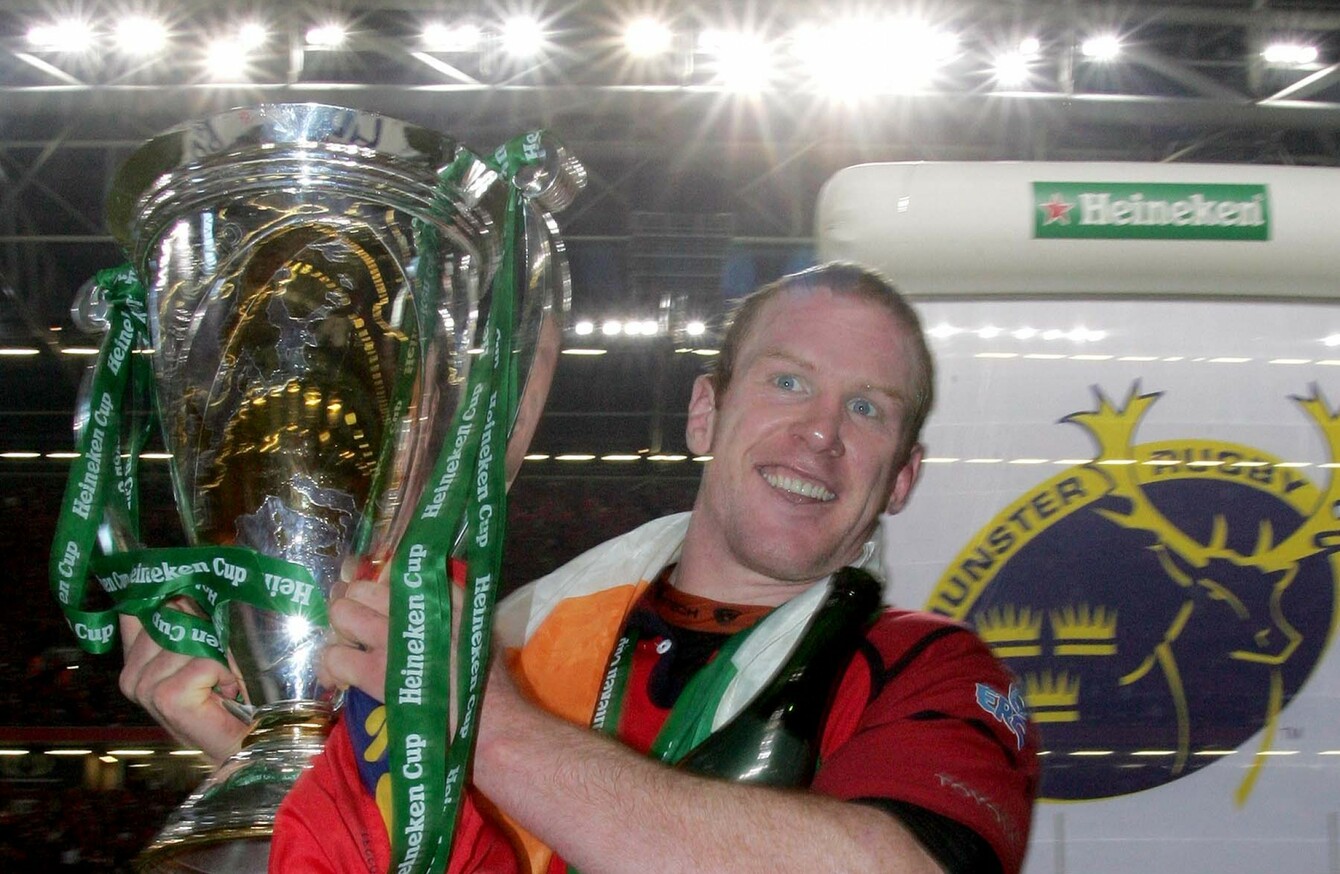 Image: Morgan Treacy/INPHO
Image: Morgan Treacy/INPHO
LEGENDARY IRELAND AND Munster second row Paul O'Connell has come to terms with his career in rugby, expressing how fortunate he feels to have had such a long span at the top of the game.
The 36-year-old this morning announced his retirement from the game, four months after suffering a devastating hamstring injury during the Rugby World Cup pool win over France.
Speaking to RTE's Michael Corcoran on Radio 1 this morning, O'Connell started by lamenting the missed opportunity to take on 'the big adventure' of playing out his career with Top 14 giants Toulon.
"I was really looking forward to it. Emily and the kids were looking forward to it," said the former Ireland captain.
"It's unfortunate, but it is what it is. I had a very enjoyable career, very long career.
"I look at someone like Felix Jones, who I'd be close to, retiring at 28 with so much ahead of him. I consider myself very lucky, it's unfortunate what happened in the French game, but I've been very lucky on the whole."
The Limerick man admits that his immediate reaction to suffering the off-the-bone injury was to expect an end to his career. In the intervening months however, he regained hope of fulfilling his contract in France and buried his head in the work of rehabilitation once the brace was removed from his leg.
"(Pain like that) never really happened to me. I went over on my ankle once in Thomond Park and it blew up instantly and was sore. I thought I'd broken it, but it was nothing like the pain I experienced in the French game.
"I honestly thought right at the time: 'my career is over, I won't get to experience France for a year and a half, learn the language' and do all the things I was really looking forward to.
"Then in the weeks after that, I knew a few guys who had rehabbed the injury and come back in decent time. But I did it a lot worse than other people seem to have done it and getting back to where I was just wasn't going to happen unfortunately."
It isn't really a decision that's difficult. You're either going to get back to being strong and fast and powerful again or you're not. And that makes the decision for you. You get on with it then.
"I was rehabbing away all the time, trying to ignore the bigger picture, ignore whether it was going to come right or not.
Be part
of the team
Access exclusive podcasts, interviews and analysis with a monthly or annual membership.
Become a Member
"I was doing about four and a half hours a day, trying to work hard and then not go home to see if I was feeling better. I just wanted to work hard every day getting it right and not look at the bigger picture, but eventually you have to."
Conversations with his brief employers Toulon were, O'Connell says, 'understanding' and he speaks in glowing terms of the management at the Southern French club, including owner Mourad Boudjellal despite his hasty move to gallows humour.
"Mourad said to me: 'you'll never be able to say you won at Mayol'. Which I thought was interesting. They were very good to me, very understanding."
The big picture for O'Connell now is a life post-rugby. The 36-year-old is young in terms of any career other than professional athlete. He is already involved with a selection of commercial interests and says that coaching is also an area that interests him.
For recreation, the now ex-lock is hoping to increase his attendance rate at Young Munster fixtures and, soon, dust off his golf clubs to take his mind off the 'strange' new reality of being a former player after 15 years at the top.
I love playing golf, I literally haven't played golf for three or four years for fear of getting injured."
"I hate having to tell people (about retirement), because it's been a massive part of my life rugby.  
"Even in the last week I've noticed my diet go out the door, because I've known myself.
"It's so strange."
Listen to the full interview on Radio 1 here