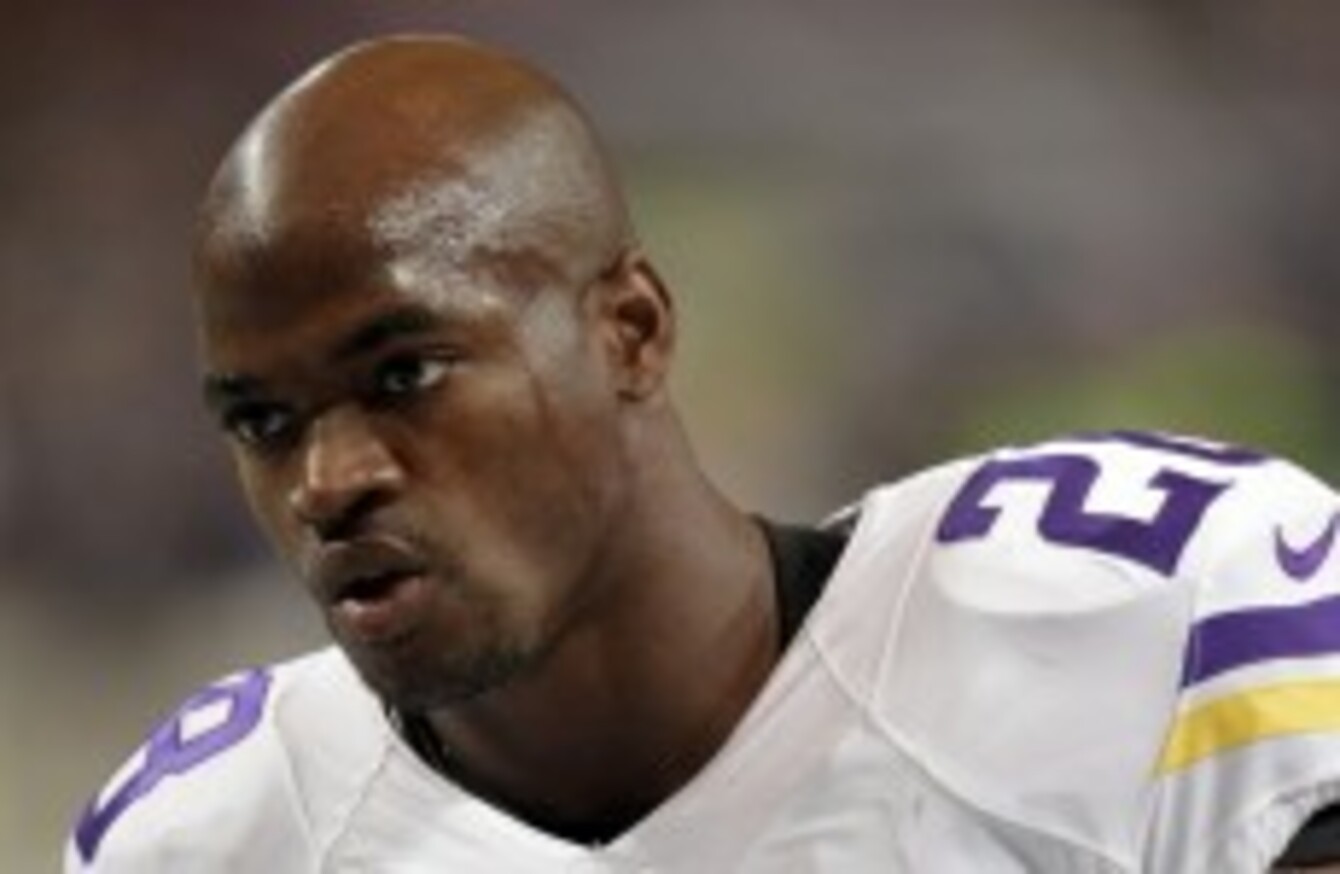 Adrian Peterson must stay away from team activities with the Vikings.
Image: AP/Press Association Images
Adrian Peterson must stay away from team activities with the Vikings.
Image: AP/Press Association Images
THE MINNESOTA VIKINGS bowed to pressure from sponsors and the general public last night and suspended Adrian Peterson.
The star running back is facing charges he abused his son by beating him severely with a 'switch' – a tree branch – and, in the early hours of this morning, the team placed him on what is known as the 'Exempt/Commissioners's Permission List' which requires Peterson to stay away from all activities with the team until the legal process is complete.
Last week Peterson was charged in Texas with reckless or negligent injury to a child after delivering blows so hard that his four-year-old son still had the marks of the beating days later.
Peterson admits hitting his son but denies it was child abuse and issued statement saying he was subject to similar disciplinary measures as a child.
The Vikings held him out of last Sunday's game but, with a trial not expected until next year, they sparked controversy by announcing his would play this weekend.
However, this morning – after a number of high-profile sponsors indicated their unhappiness with that decision – they changed their mind:
"In conversations with the NFL over the last two days, the Vikings advised the League of the team's decision to revisit the situation regarding Adrian Peterson," the team said in a statement.
"We have decided [suspending him] is the appropriate course of action for the organisation and for Adrian."
"We want to be clear: we have a strong stance regarding the protection and welfare of children, and we want to be sure we get this right."
Elsewhere, the NFL Players Union yesterday appealed the indefinite suspension handed down to Baltimore Ravens running back Ray Rice after video showed him punching his fiancée.
The union said the move was to "protect the due process rights of all NFL players."
NFL Commissioner Roger Goodell had initially banned Rice for two games over the assault but imposed the harsher punishment last week after new video emerged online.
His indefinite suspension by the league came shortly after the Ravens sacked Rice as public outrage grew over the video.
Additional reporting from AFP.