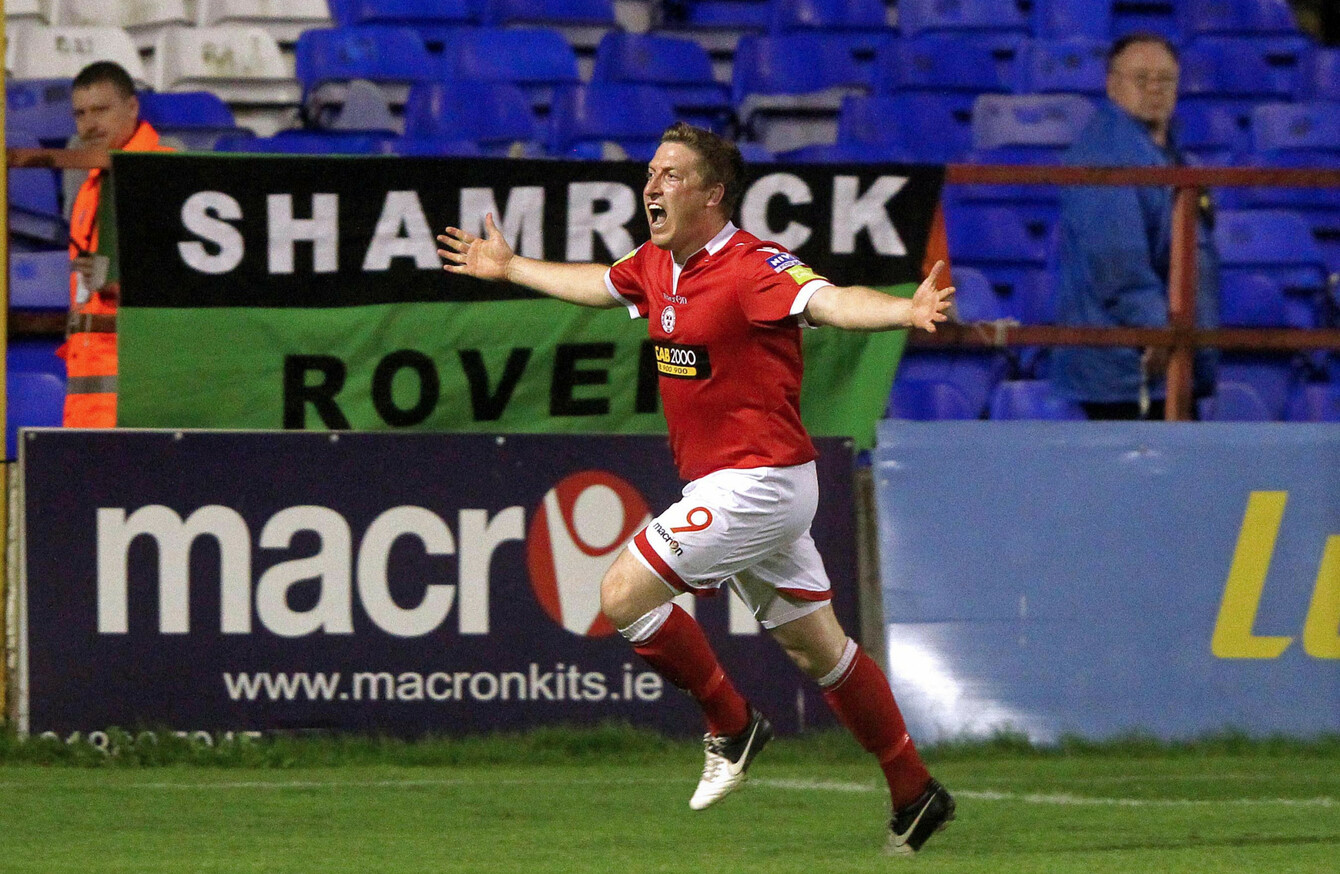 Philip Hughes celebrates scoring.
Image: Ryan Byrne/INPHO
Philip Hughes celebrates scoring.
Image: Ryan Byrne/INPHO
UNLIKE A NUMBER of legends we've interviewed for this series, Phil Hughes never won the FAI Cup.
He never won a league title either. Or at least, he never accepted a winners' medal (more on that later).
What he did do is move club 19 times, playing for 11 different League of Ireland teams (including loan spells) in the process. So if you were to name a random Irish side off the top of your head, there is a good chance Hughes has played for him.
But such is the nature of the League of Ireland, especially in modern times, that with the exception of the odd anomaly such as Chris Shields or Conan Byrne, who manage to spend an extended period at one club, in most instances, one-year contracts mean players are frequently on the move.
Hughes, of course, falls into that category, but what makes his career remarkable is the relative consistency he achieved despite this constant upheaval. He scored goals nearly everywhere he went and managed 138 in total, leaving him 13th on the list of the League of Ireland's all-time top scorers.
1. An aspiring goalkeeper
It could have been so different, however, had he gone with his initial instincts and played as a goalkeeper.
"One of the other lads wanted to go in goal. I went out, scored a couple of goals and they wouldn't let me back in after that," he tells The42, recalling an early trial with Cherry Orchard at the age of around seven.
Growing up in Cabra, Hughes came from a family of football enthusiasts. Though none of them played professionally, his father and brothers loved taking part in five-a-sides, which were "big back then" around the area.
Hughes' dad also had a considerable influence on the youngster's development as a player.
"Every training session, every match, he was there," he remembers. "At one stage, he was my manager. He was my coach. He done everything. He was assistant manager for a lot of it."
The young aspiring footballer dreamed of securing a contract to play with a club across the water, and came close on a few occasions.
I went on a couple of trials. I went to Celtic with a couple of lads. I think I might have actually played U16s and I was only about 12.
"I went to Crystal Palace, I was an Arsenal supporter, I played against Arsenal. That was great. I scored. I was due to go back over, but they went into administration at the time, so that was dead in the water.
"There were probably 16 of us that went over [to Celtic]. Dean Delany [now with Shelbourne] went over, [former League of Ireland player] Daire Doyle went over as well. There were a few others. It was just training and games. It all went well, but nothing came of it in the end."
Hughes also encountered a few future stars around this period.
"When I was at Tolka Rovers, I went over and played against Chelsea, I played against Carlton Cole. When we went to the Milk Cup, I played against Joe Cole. At the time, you could see he was streets ahead of everybody.
"He had a crowd following him, more or less. People were just going to watch the games for him, he was that good."
Yet Hughes remained in Dublin and after leaving Cherry Orchard, caught the eye as a teenager playing with Tolka Rovers.
Around the time of his Leaving Cert, he signed with St Francis, who were a League of Ireland club at the time (they now play in the Leinster Senior League).
"I remember the Leaving Cert night out, I had a game for St Francis that night, so I missed going to that," he says.
2. Priorities
After six months of playing for St Francis, Hughes secured a job with Irish Rail. 18 years on, he still works for the company and continued to do so throughout his career.
Hughes insists that he was never really tempted to leave his day job behind and focus fully on football.
"I looked at League of Ireland as just secondary to a job. At the time, and even now, it's not sustainable. You're never going to make enough money to live off. I knew that back then. So I never would have sacrificed my job to go full-time in League of Ireland.
"At times, it wasn't [easy]. But I was lucky enough in the job that I had, they were very helpful. I've had three or four different bosses and they're very accommodating. If I needed time to go to a match, I got the time. If there was weekend work going and I couldn't do it because of a match, it was no problem. They didn't hold me back.
I looked at my job as my livelihood and football was a hobby. Although I was getting paid, it was still something that I classed as a hobby, probably to my detriment — I played it like that. I was working all week, training weeknights and having a match at weekends, but I still made sure I had time to go out with my friends.
"At times, some managers weren't happy with it, but that's just the way I saw it. With work and training, I needed some sort of release."
There was one occasion, however, when full-time football was considered.
"The season I got Player of the Year with Dundalk, Sean Connor tried to sign me with Bohs. He was talking full-time. I had a couple of meetings and he was willing to work around my job and my job was willing to let me work around it, let me come in late two mornings a week. But in the end, the way Sean Connor went about his business wasn't right, so I decided to stay with Dundalk."
Despite still only being a teenager, Hughes says he did not find the initial step up to League of Ireland football at St Francis especially difficult.
"It was an amateur club and all the lads were on a similar level — all young lads. There were no egos, everybody just wanted to make a start in League of Ireland, so it was probably good to start there.
"There was a manager there from Cabra. I worked well with him. Jimmy Harte was his name. He done great to get me out there, because I'd never really heard of St Francis at the time.
"So I enjoyed my time there, although it was brief. St Francis had probably the best pitch in Ireland — Baldonnel was really good. I've played on it since and they've let it go a little bit. It's still a good pitch, but not what it used to be."
3. Making his name
After impressing in this early stint, in 2001, Hughes joined St Patrick's Athletic, who were one of the top teams in the country at the time and managed by Pat Dolan.
Yet with around 30 players in the squad and the likes of Charles Livingstone Mbabazi, Liam Kelly and Ger McCarthy ahead of him in the pecking order, Hughes quickly went out on loan in search of first-team football, joining Kilkenny City on a short-term deal.
Having been guaranteed first-team football in Kilkenny, Hughes thrived, scoring 15 goals in 20 appearances. Before long, he was back at Pat's and in contention for a starting spot.
But despite signing a new contract at Richmond Park after his successful stint in the First Division, he wouldn't stay there for too much longer.
I played 15 or 16 games the season after. I was probably naive at the time. I was a young lad, thought I should have been playing more and not only that, I was the first person to be taken off. It annoyed me. It didn't matter how well I played, I was always the first substitute. Looking at it now, I probably should have been happy I was getting that amount of games in such a good squad, but being young and naive, I was thinking: 'I should be playing 90 minutes every week.'
"I still had two years left on my contract with Pat's, but I had an option to leave after a year, so I took the option and signed for Kildare.
"Maybe if I stuck it out, it might have been different, but that was just the option I took, I wouldn't say I have regrets, but I should have just stuck around and seen where it would have taken me, because it was a club that I did like."
At Kildare County, Hughes continued to impress, scoring 10 goals in 33 appearances. Yet this encouraging run of form did not persuade him to stick around too long.
John Gill, who had been assistant manager at Kilkenny, had got the manager's job at the now-defunct Dublin City, who were newly promoted to the Premier Division at the time.
"Back then, the money for part-time football was still good," he recalls. "It was probably better than average, maybe [it contributed] to Dublin City's demise, because a season or two after that, they went bust.
"But I enjoyed my experience there, it was my first real go at Premier Division football, a good run of games. I know I'd played 15, 16, 17 games, but I got a lot more games with Dublin City. I enjoyed it, it was a good bunch of lads there.
"There were never any issues with money when I was there. The payments were made on time, everything ran smoothly, there were no rumours or stuff like that."
4. A turbulent season
This spell would also prove relatively short-lived. With the club struggling, Roddy Collins was brought in as manager, and Hughes was one of a number of players the new boss deemed to be surplus to requirements.
"When Roddy came in, he wanted to get his own players in, so I moved on. I think he let go 14 players. He played me in a couple of games, but I think he had his mind made up before then.
"I think he kept eight players and got in the signings he wanted."
Hughes consequently went to UCD, scoring three goals in 12 appearances and helping them gain promotion to the Premier Division. This success, however, was bittersweet.
"That was a different experience. A lot of lads were in college there, so it was just a different atmosphere.
"I didn't enjoy my time. It wasn't what I had experienced so far in League of Ireland. The facilities they had were unbelievable, but it just didn't suit me.
I enjoyed the season as a whole, it was just a bad experience when Roddy came in and just sort of let 14 lads go in one day. It was a weird experience. We were told to bring our gear in for training. And come half 10 in the morning, all 14 of us were let go. 'Leave your gear where it is.' So [promotion with UCD] was a good end to a rocky six months."
Hughes says the Dublin City setback affected his confidence, though he soon became accustomed to the instability of life as a League of Ireland player.
"We were fighting relegation all year with Dublin City. Then you get let go and you're sort of saying to yourself 'I was just getting going.' I was probably 23, 24 at that stage, thinking 'I'm in the Premier Division here, I can kick on and try to get a better club again.' But that's the way it works.
"You just accept that it's a one-year deal [in the League of Ireland]. It meant nothing to me to move on a year after that, because if a club's only willing to give you a one-year contract, it's in your hands then. If you've had a good season, you're up for grabs.
"At the start of the season, you've signed your one-year deal and if you're having a good season, it's up to the club then to nail you down for the following season. If other clubs come around and they're offering you a better contract or if you're in the First Division and a Premier Division team comes in, all options are open to you."
So in 2005, Hughes joined Monaghan United, which was not as awkward as it might have been for someone working in a job based in Dublin.
"Because we trained in Dublin, you're only going down to Monaghan for your matches. Probably 90% of the squad was from Dublin and we trained there, so it wasn't too bad. We got a bus down to Monaghan, it was just like an away game every game."
Yet the team finished ninth in the First Division, with Hughes managing a somewhat disappointing tally of eight goals in 35 appearances.
5. Player of the Year
The next year, he was off again, to First Division rivals Dundalk and it was there where he enjoyed what was probably the best spell of his career up to that point, with 27 goals in 63 appearances.
"We lost our first three games, but once we got our first win, we just kicked on. I was scoring goals most weeks, so it just got better and better as the season went on.
"As I was getting older, I thought I was getting better — more aware of my position and stuff like that.
"It might have happened sooner if I stayed at one club and you get used to the place, playing with the same players year in year out, but such as it was in the First Division and to an extent in the Premier Division with the one-year contracts, most teams changed their squad regularly.
I'd already accepted by the time I got to Dundalk that's just the way it was, because I was probably at five clubs at that stage. The focus for me at the start of the season was — score as many goals as I can to get a better contract next year, whether it be for the club I'm with or a better club."
A fantastic overall season, though, was marred by controversy. Dundalk finished second in the First Division and won an end-of-season play-off against Waterford, but third-place Galway United were promoted instead, after the Lilywhites failed to meet the criteria set out by the FAI's Independent Assessment Group.
Then-manager John Gill hit out at the decision, calling it "stomach churning," and saying the club's players and supporters had been "let down".
It went from bad to worse for Hughes and Dundalk. The following season, they again failed to gain promotion, this time losing a first-round play-off to Finn Harps.
On an individual level, Hughes was struggling for form and fitness, registering just six league goals (he had been top scorer with 19 the previous season).
6. Trouble
Having attracted Premier Division interest the previous campaign but ultimately chosen to remain at Dundalk, Hughes' stock had fallen dramatically over the course of 12 months and he was promptly released by the Oriel Park outfit.
"This is probably the first example of me falling foul to my social life," he says. "I was working, I was playing, I was training three or four nights a week in addition to a match at the weekend. The club would expect me to come in on a Sunday morning. In my eyes, I was doing enough to warrant a night-out on a Saturday with my mates. I done that probably more than most.
"I don't regret it, because my job was my number one. I was practically going Monday to Friday training then — Monday, Tuesday, Thursday, game Friday and training Sunday morning. So when are you supposed to get your social time? I basically said: 'I'm going to go out regardless of whether I'm training in the morning or not.'
The second season in Dundalk, I probably wasn't scoring as many goals as the manager would have liked. Once too often, I probably came in worse for wear. But as I told them at the time: 'When am I supposed to go out?'
"There was no answer coming back, so I don't regret anything I done still to this day, I've always said it. I've got other friends who dedicated their life to football and you don't see them from one end of the year to the other.
"I'm only part-time football. It's not my career as such. So you have to have a social life as well or what's the point?
"I done no different the year before, it's just that I wasn't producing [on the pitch]. I was struggling with injury for Dundalk come the second year. I played probably 50% of the games with that AstroTurf I wasn't used to playing on. I played most of the games injured, just with groin [problems] and that. I got an injection on my groin to play. There were a couple of factors that really didn't help."
7. Hard times
Disillusioned by the Dundalk experience, Hughes had the first of three stints at Shelbourne, but it proved the most forgettable of them, as he failed to score in eight appearances with the Tolka Park outfit. A spell encompassing one goal in 13 appearances for Kildare County was similarly fruitless.
From there, he left the League of Ireland without necessarily planning on returning, linking up with Leinster Senior League outfit Phoenix FC. However, the lure of playing at a higher level was too strong to resist ultimately, and he agreed to join Kildare County for the third time in 2009.
"Sometimes, when it's not going for you, you just sort of give up. Not that I ever gave up. But you just go 'ah, maybe I'll just go down'. I had a couple of friends that played in Phoenix and stuff like that.  So I just went back down there to enjoy my football again.
"When I went back there, I was living down the road from Phoenix and I was like 'right, this suits me, I'm working'. I'd more or less given up on it.
"I don't mean giving up on going professional or anything like that. I just said: 'I want to enjoy my football and I'm enjoying my football here, so here's where I'll stay.'"
Months later, he was persuaded to return to the League of Ireland, though on reflection, he feels the Kildare move was "probably a mistake".
"I had no thought in my mind to go back. I had no calls to go. It wasn't until the end of the season I got the call," he remembers.
"They were relegation-bound, there were money issues there and it was more or less straight when I went there, I didn't get paid two weeks into it. It was like that until the end of the season and in fairness to the lads, it was probably two or three weeks without pay and we still showed up every week, trained, played matches and I was probably more senior than most of the lads there. At the end of the season, we ended up bottom of the league, but there was a playoff against a Kerry side to keep the team in the league. But we'd already been told that the team was going bust.
[General Secretary of the PFAI] Stephen McGuinness, I'd never fielded so many phone calls in my life [from him]. He wanted me to convince the lads to travel down, play the game for the League of Ireland. We had no manager, we'd no money, we'd fulfilled all our commitments, played all the way up to the last game of the season, were owed three months wages. Unless somebody could come up with everybody's wages, I said 'there's no way we're travelling'. So that was probably our worst experience of it."
Amid this chaotic period, with the club in turmoil, then-boss Joe Somerville resigned, and Hughes agreed to become player-manger for a grand tally of one game, ensuring the club saw out the season in the process.
Reports indicated players were owed a total of €21,650.
"The manager told us he had plans for next year — backers, this and that. At the end of the season, he goes 'I'm not showing up, because the FAI won't pay our wages,' that was basically it. It left us with no gear, we had to get U17s gear to play the last game of the season. It was Newbridge U17s gear… It was a farce."
It was times like this where Hughes felt particularly relieved to have a job with Irish Rail, rather than relying on football as his primary source of income.
"If it was my job, if we were full-time, how could you justify going to training and playing matches? How could you afford to even get to training when there are no wages coming in? People have bills to pay, mortgages, kids. It's them sort of lads when a club goes bust that really feel it. Part-time lads, bar the young lads, most of them would have a job and they're able to provide for their families. So when stuff like that happens, you're not stuck as such financially.
"In fairness, they were the only team I didn't get paid up from. There was nothing there in Kildare County, I think I was owed €4,000 or something like that. I think there were four of us in the same boat that were owed that sort of money and there was just nothing there [to allow us to] reclaim our money. Even the PFAI couldn't help us out."
8. The recovery
After the Kildare debacle, Hughes agreed to return for a second spell at Monaghan and link up with his old boss Mick Cooke ahead of the 2010 season. A strong squad included Brian Gartland (now Dundalk) and former Ireland underage international Karl Bermingham.
Fortunately, there was to be no repeat of the Kildare issues during Hughes' time there.
"I know they've gone bust since, but in my time, they were usually fairly good with their wages. I think they missed a couple of payments, but you always got it back.
"You don't mind if a club comes and tells you saying: 'Listen, we're struggling this week, but we'll make it up to you.'
"But with a lot of clubs, you don't see that happening. Bray, is another one where I'd signed and two weeks after, the money had stopped.
"There was no communication with the boardroom staff until the players said 'we're not playing anymore until we get fixed up'.
You can sort of go 'we'll give you the eight weeks, but if we don't see anything back, x amount,' you go 'we're not playing after the eight weeks, but we'll give you the eight weeks.'"
Hughes impressed at Monaghan, scoring 22 goals in all competitions during a prolific season there.
Yet the campaign ended in heartbreak. Hughes and co finished third and subsequently reached a promotion-relegation play-off final, losing 7-6 on penalties at the Carlisle Grounds after a 1-1 aggregate draw over two legs.
His impressive goalscoring feats at Monaghan did not deter the Dubliner from moving on to pastures new for the umpteenth time in his career.
After receiving a call from then-manager Alan Mathews, it was Shelbourne where he returned, and in stark contrast with his brief initial stint, he played three seasons at the club — the longest he stayed at any team in his senior career.
"The second spell couldn't have gone any better," he says. "We started off winning games and once you're winning games and things are going well, it spirals. You're happy to go to training, everyone's happy playing matches and we just had such a good season that year, although we got pipped [to the First Division title] by Cork last game of the season and beaten in the [FAI Cup] final, but it was still a good season from where Shels had come from.
"I'd settled down more or less at that stage, probably living my life a bit better, so that probably helped as well… Come 27, 28, 29, you probably have your own house, kids, you're not out socialising as much."
9. Final heartbreak
It was at Shelbourne where Hughes experienced what he considers to be the best and worst moment of his career, all within the same match. Having gained promotion from the First Division in a season that saw the striker finish the campaign as the league's second top scorer with 20 goals, the team were looking to end the year on a high with a 2011 FAI Cup final victory.
"The highlight of my career was probably scoring in the Aviva in the final. Although the result wasn't great, scoring in that stadium was probably up there as one of the best things I've done in football."
Source: MaugherowMan/YouTube
Hughes' 27th goal of the season had given the underdogs a deserved lead against their top-flight opponents Sligo Rovers. Yet only minutes later, Barry Clancy received a second booking for 'diving,' despite replays showing that there was clear contact made on the player. Iarfhlaith Davoren equalised for Sligo shortly after half-time, but 10-man Shels bravely fought on to force penalties. Sligo stopper Ciaran Kelly, introduced with a minute of extra-time remaining, subsequently saved four spot kicks, as the Bit O'Red prevailed 4-1 in dramatic circumstances.
"The feeling at the end of that game, and especially the way we lost it and I don't want to go back to what happened in the game, but the way we lost and played for so long with 10 men, to get beaten on penos was very hard to take," Hughes explains.
"It took us a while to get over that, to be honest."
During their first season back in the top flight since demotion owing to financial improprieties in 2007, Shels earned a creditable eighth-place finish, with Hughes claiming 11 goals in the process.
10. Frustration
The following campaign was altogether less satisfactory. With 15 games played, Shels sat bottom of the table, having picked up just six points. Johnny McDonnell replaced Mathews as manager and Hughes was subsequently sent out on loan to St Patrick's Athletic, who in comparison to Shels' relegation fight, were challenging for the league title.
I was happy at Shels. Johnny McDonnell had come in and I think [the move] suited Shels more than it suited me. I was happy to stay, but I think Shels were looking to get a few more players in. I probably would have been the highest paid at the time.
"But when I spoke to [Pat's manager] Liam Buckley, I said: 'Listen, I'm not going to come across to sit on the bench, I want to get a fair chance to play. I'm not expecting to start, but I'm not coming across as cover.' He guaranteed me: 'No, 100%, you're coming across to score goals, I see you playing most weeks,' but [it didn't happen].
"Most weeks I wasn't even in the squad and if you had asked any of the players, I was doing more than most to get into the team, especially in training. They were a full-time set-up, but trained in the evening from five o'clock onwards, because a couple of lads had jobs as well, so they facilitated that situation."
Pat's went on to win the 2013 league title, though Hughes took no satisfaction from the achievement, having been a peripheral figure during the success, with Christy Fagan and Anto Flood invariably preferred to him in attack.
"I didn't take any joy in winning the league," he recalls. "I didn't take a medal, because I literally hadn't played a minute for them in the league.
"I signed on a Saturday and we went to play a European game. I needed to go over [to Lithuania], so I rushed and got time off work. The only minutes I got for them was probably a minute at the end of that match against Vilnius. I think the only reason was I was the only one that got time off work to go over. So from then on, I didn't play a minute for them.
"And then all of a sudden, when the league was won, [the manager] wanted me to play. But I told him I was injured and wouldn't play the last few games for them.
I just had enough at the time, I just said: 'No, I'm not playing.' That's how angry I was. I probably should never have left Shels, because Shels went down that year as well. I'd sort of grown fond of Shels, so I was gutted in both senses.
"I think what happened with the Pat's situation was that a young lad [Conor Murphy] wanted to leave, but he was obviously in the same position that I went into as third-choice and wasn't getting a kick.
"Buckley wouldn't let him leave until he got somebody in, so I just went in and filled the void. I was on the bench four or five times and didn't get on once, so even the night they won the league, I wasn't in the squad. I just went home before the match had started. That's how much I thought of the place."
11. Wrapping up
Hughes' career was nearing a close at this point. In 2014, he joined Drogheda United, but the goals were drying up, and a loan spell at Bray in addition to one final fling at Shelbourne also were short on standout moments.
"Not that I was coming to the end, but it was tough to get fit. I went to Drogheda and I done my knee ligaments at the start of the season against Shamrock Rovers in a Leinster Senior Cup game, and I was sort of just fighting to get back fit.
In fairness, I thought I got back fit, but the team were struggling, they were in a relegation battle. I just wasn't getting any game time and fell out with the manager, who is actually a good friend, Robbie Horgan.
"It was no fault of his own, because he was battling to keep the team up. I felt I could have got more games, but he wasn't willing to put me in, so I had a row and I ended up leaving.
"He was trying to do the best he could for Drogheda, he's got 20 players to think about. He was not leaving me out because he didn't want to play me. He was just trying to get the best out of the team to get the results, like I was. I was probably not at my fittest, but it was a catch 22. I needed games to get fit, he hadn't got game time to give me to get me fit. So that's just the way it goes."
He continues: "I finished at Shels. I had a season with Kev Doherty, who brought me in. I really enjoyed it. They had a lot of young lads. Myself and Daire Doyle were probably the oldest by 8-10 years.
"It was a good time. Kev knows his stuff. He was a great manager and I was sorry to see him leave Shels at the time. I done the one season and he done half a season after that and stepped away."
12. Indian summer
And while he last played in the League of Ireland in 2015, Hughes hasn't quit football entirely. Alongside a number of other ex-LOI players, including Anto Murphy, Dean Kelly and Keith Dunne (while Glen Crowe is assistant manager), he lines out for Leinster Senior League side St Mochtas these days.
"The season before last, we won the league, so that was a good experience. This season, we had a poor enough campaign for being champions. But I'm at a crossroads now. I'll be 37 at the start of next season, so I don't know whether to play on or just leave it. It's just one of them decisions I'm going to have to make."
Meanwhile, Hughes' links with Shelbourne persist to this day.
"My young lad is with the U8s and I'm their manager now, so I'm happy out there.
"I've gone down now and seen a few [First Division] games this season. I used to play Friday nights and couldn't get down, but since my season has ended, I've gone down and watched a couple of games.
I still haven't done my [coaching] badges, but it's something I may look into now. I'm enjoying doing the kids end of it, because it's my young lad, and it's great to see him enjoying football so much.
"He's only seven, I had him down in the St Kevin's academy, but he was training one day a week for 45 minutes and it wasn't enough for him. He just wanted to play, because his sister plays for the Shelbourne girls team."
As for his footballing legacy, Hughes insists he only discovered he was near the top of the all-time top scorers list after he finished playing.
"I didn't know that stat. I think I played over 400 games and scored [138] goals. It's great when you actually see it on paper and look at the names that are around you. It's a great achievement."
His advice for young players, meanwhile, is telling.
"If I was to do it over again, the one bit of advice I'd say would be to get as fit as you can as quick as you can, and then all you have to do is maintain it.
"As well, make sure you look after yourself, because clubs will always look after themselves. Don't be too loyal, because as soon as you're no use to a club, they'll let you go."
The42 is on Instagram! Tap the button below on your phone to follow us!