PIERCE SWEENEY ADMITS he took a few risks when he was younger.
Like so many who become professional footballers, for him, the sport has been singular passion since childhood.
Everyone is different and school, Sweeney says, was not for him. Education and almost everything else in his life was secondary as he sought to make it as a pro.
Fortunately, the risk has paid off so far. This afternoon, the Irish defender is expected to be part of the Exeter City side that takes on West Brom in the FA Cup third-round.
While League Two is relatively far away from the glitz and glamour of the Premier League, Sweeney remains optimistic he is capable of some day playing at a higher level, while at 23, time is on his side.
Indeed, if Sweeney does one day get capped by the Irish senior team, he will be the norm rather than the exception in terms of his pathway. Of the 27-man final Ireland squad selected for the World Cup play-off matches against Denmark, 20 of those picked either spent time in the League of Ireland or played in England for a team at League Two level or lower (including loans) at one point in their career.
Of the seven exceptions to this rule, Paul McShane, John O'Shea and Shane Duffy all had loan spells in League One. And as for the four others, Ciaran Clark, Jeff Hendrick, Robbie Brady and Aiden McGeady have all spent at least one season in the Championship.
These facts underline how tough it is for Irish players, and in particular young Irish players, to consistently get game time at a high level.
And like so many of the Irish internationals he would look up to as role models, Sweeney's route up to this point in his career has been far from straightforward.
He grew up in Bray and began playing schoolboy soccer at the age of eight, combining that pursuit with Gaelic football and hurling until the age of 11. Thereafter, it became "a bit more serious," once he signed with renowned Dublin schoolboy club Belvedere, and he opted to give up all other sports.
Sweeney was subsequently part of a side that became a dominant force in Irish youth football. During his time there, Belvo won two All-Irelands and "a couple of leagues," producing "seven or eight" underage internationals in the process.
Yet of that all-conquering schoolboy outfit, only two others (which is actually quite a high number comparatively speaking) currently play football in England — Fulham's Sean Kavanagh and Darragh Lenihan of Blackburn.
After four years with Belvedere, Sweeney made another step up by signing for League of Ireland side Bray Wanderers at the age of 17.
"After a year or two of playing for Belvedere, I knew professional football was in my sights," he tells The42.
It was about 12 or 13 that I realised I could become a professional footballer.
"The one thing I did was concentrate on becoming a professional footballer. I did it quite differently. I didn't like school at all. I knew that from day one.
"Thankfully, with a bit of luck and hard work, I got (to England) in the end."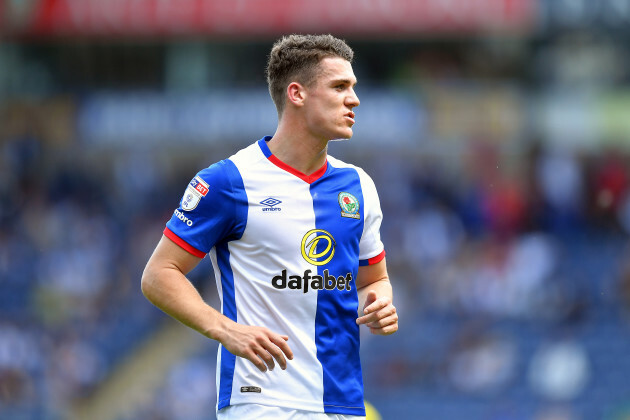 Dave Howarth Blackburn's Darragh Lenihan was a team-mate of Sweeney during their early footballing days at Belvedere. Dave Howarth
The teenage defender started out with the club's U19s but after just six months, made his debut for Bray's first team in a Premier Division game away to St Patrick's Athletic at Richmond Park and registered 14 more league appearances for the club in the 2012 season.
Pat Devlin, who has had a hand in guiding the careers of a number of notable Irish players including Damien Duff, was Bray's Director of Football during Sweeney's stint there and he continues to be a big influence on the youngster today.
"I speak to him every week, nearly every day. He had a massive impact on me. I had heard of Pat before I'd signed for Bray, but I didn't really know the magnitude of who he knew and what he knew. I took a liking to him when I met him and ended up signing for Bray. I'm still really good mates with him to this day, and I owe a lot to him as well."
Sweeney speaks similarly highly of the League of Ireland in general, citing the countless Irish internationals that started off there as proof of the quality and potential that exists within domestic football.
That said, after the Irish starlet joined Reading from Bray in July 2012, a move that was announced before he had even turned 18, Sweeney admits the facilities and professionalism he encountered at his new club was on a whole different level to what the player had previously experienced in the game.
"It was a massive step up," he says. "They have a top academy as well, they bring through academy players every single season.
The biggest thing for me, going from school to full-time football, was the impact it has on your legs and your body, the rest and recovery and stuff, you just have to get used to it. You have to listen to what your coaches and the sport scientists say.
"So it was a bit of a shock for the first six-to-eight months. But after that, you get used to it and you realise that this is where you want to be and this is what you want to do for the rest of your career.
"I felt a little bit of homesickness coming up towards Christmas and then I got a little break at Christmas, about a week off, so that got me back on track. I got home, I had a chat with my parents and family and stuff, and it kind of kept me straight."
EMPICS Sport Ex-international Ian Harte was among the Irish contingent that helped Sweeney settle at Reading. EMPICS Sport
Sweeney, who helped Reading win the 2013–14 U21 Premier League Cup, was part of a strong Irish contingent playing at the Royals during this period, which also included Ian Harte, Noel Hunt, Sean Long, Shane Griffin and Simon Cox, while Paul McShane and Stephen Quinn arrived towards the end of his tenure at the Madejski Stadium.
"I've always been lucky in having Irish lads there, keeping me on track and looking out for me and that kind of stuff," he adds.
Yet while the former FAI U19 Irish International Player of the Year retains fond memories of his Reading stint, Sweeney's time there ended in disappointment. Just under four years after signing with the club, he was released without having made a first-team appearance.
A bad injury that he suffered the previous January did not help matters, but Sweeney suggests being left without a club was ultimately a blessing in disguise.
"I was kind of half expecting it, it was building up and then finally, I got told in early May (in 2016)," he recalls.
I wasn't really getting first-team opportunities. I was always in and around training. I was on the bench a couple of times, that was really it. Looking back at it now, it was a good experience, it was a good eye opener and I think it was the best thing for me."
The following July, Sweeney joined Exeter City after a successful trial there. The deal was unusual in that it was financially supported by a fans' trust, with the 1931 Fund contributing £15,000 towards the defender's wages.
"Down here in Exeter, they have a special number 31 shirt,"he explains. "It's for the 1931 fund. Basically, there's a load of fans that put money into the number 31 shirt and help pay part of the wages for this player who wears the number 31 shirt.
"It was a little bit of added pressure, but I truly enjoyed wearing the number 31, because it's very historic down here, it's a special jersey."
Sweeney went on to have a decent debut campaign for the club, who are based in South-West of England in Devon, making 37 appearances in all competitions in the 2016-17 campaign.
Ever since day one, I came in and felt at home. It's a very relaxed atmosphere at the club and in the city — it's a bit like myself.
"I knew a couple of the lads as well, so it was a perfect fit for me. I haven't looked back and have enjoyed myself massively here."
Official Blackpool FC / YouTube
Sweeney was part of a dramatic campaign last year that saw the club lose 2-1 to Blackpool in the League Two play-off final. He came off the bench in the 58th minute at Wembley in addition to playing the full 90 minutes of the semi-final first-leg — an extraordinary tie that in the end saw Exeter beat Carlisle 6-5 on aggregate.
Though the team were unsuccessful in their aim of gaining promotion to League One, Sweeney is still grateful to have been part of the occasion.
It was a great experience. When I'm 60 or 70 years of age, I'll hopefully look back and think 'what a day Wembley was,' even though we lost. You don't want to go there and lose all the time. Hopefully, we'll go one step further this year and we won't have to go to Wembley, we'll get automatic promotion."
There is plenty of work to be done, however, if Sweeney and co are to fulfil their ambition of reaching League One. After a superb start to the season that saw them go top of the table at one point, some inconsistent form has meant the club have tailed off slightly since then and are currently seventh, just inside the play-off spots, though they could return to the automatic promotion places if they win their game in hand.
For now though, the focus is on today's fixture, as they host a Baggies side who are currently 19th in the Premier League.
"I think we all know what the FA Cup is like — we've seen a lot of upsets over the years.
West Brom have been struggling a little bit lately in the league, so we've got to fancy ourselves.
"We're all looking forward to it and all the boys are ready."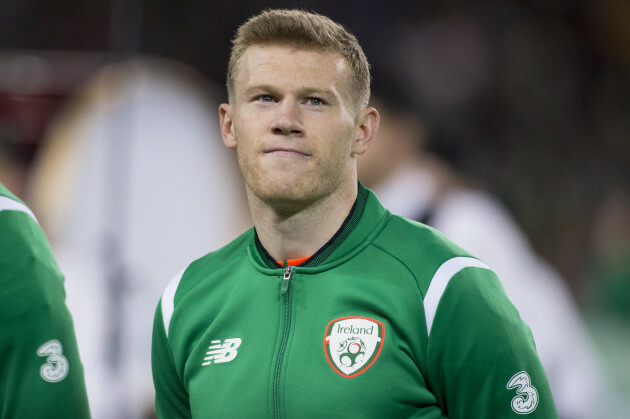 SIPA USA / PA Images Sweeney could come up against Irish international James McClean in the FA Cup today. SIPA USA / PA Images / PA Images
This afternoon's clash could also see the Exeter youngster come up against a player who is somewhat of a role model for him. Like Sweeney, James McClean started out in the League of Ireland, before eventually becoming a Premier League star as well as a key figure for the Boys in Green, and he plans on having a quick chat with the Derry native at some stage today.
I'll just tell him that I'm a massive fan of his," Sweeney says. "He's done a lot of good things over the last year or two for his country, scoring against Wales and stuff like that. I just love his passion, the way he plays for the green jersey, it's a different level and you can just tell he loves his country.
"So yeah, I'll have a little word and hopefully I'll get his jersey at the end of the game."
He also hopes to emulate McClean in representing the Irish side at senior level some day.
"The likes of Jon Walters and Harry Arter made a name for themselves lower down and then kicked on from there.
Every young Irish footballer's ambition is to become a senior international, so that's no different for me. Every time I'm watching the senior team play, I'm thinking hopefully with a bit of luck one day in the next couple of years, I'll be wearing the green jersey."
Given Sweeney's driven nature and the obsession he has had with the game from a young age, you wouldn't necessarily bet against him fulfilling this dream.
The42 has just published its first book, Behind The Lines, a collection of some of the year's best sports stories. Pick up your copy in Eason's, or order it here today (€10):