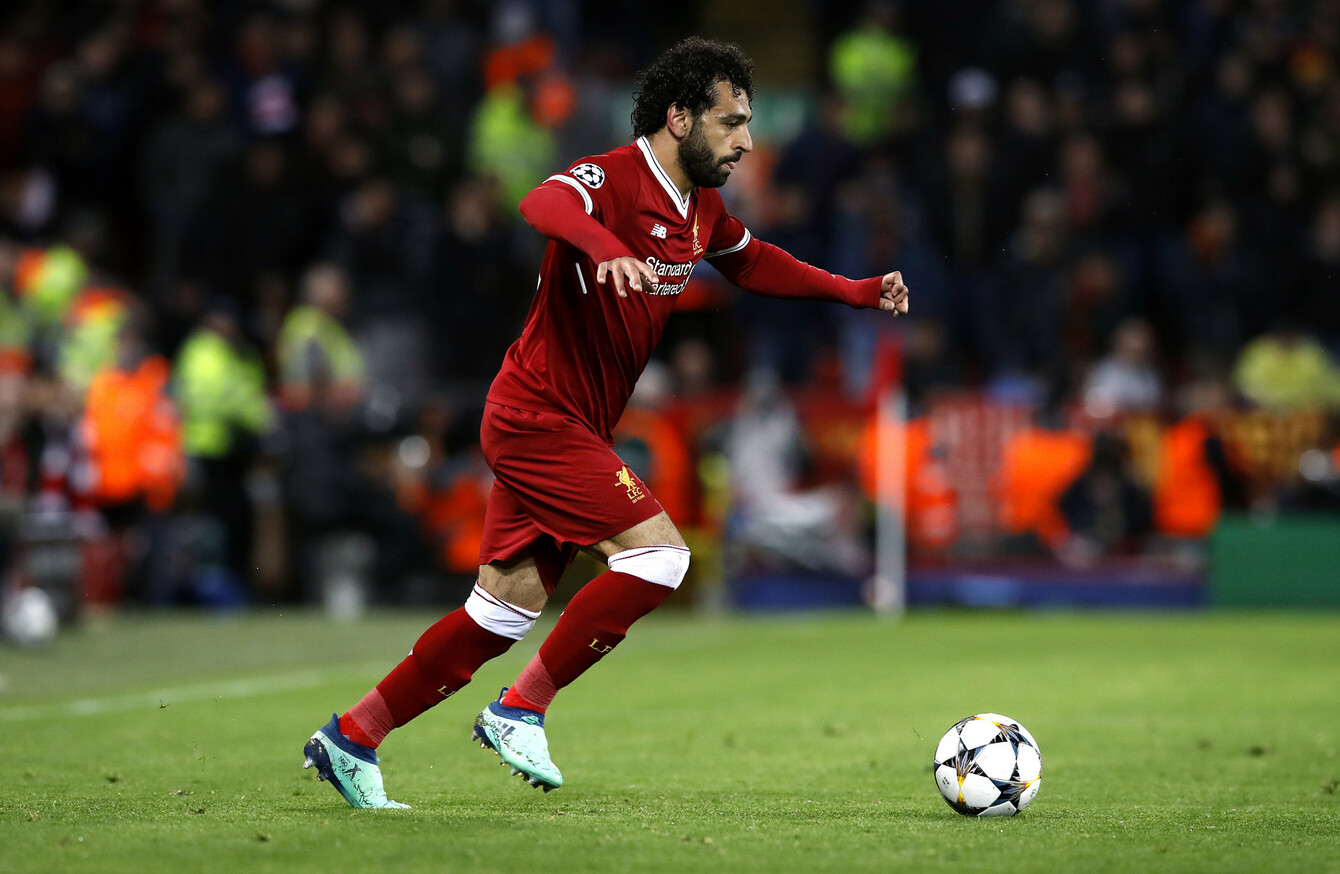 Mo Salah has scored 43 goals in all competitions this season.
Image: Martin Rickett
Mo Salah has scored 43 goals in all competitions this season.
Image: Martin Rickett
1. Did Mourinho sell Salah?
WITH 43 GOALS for the Reds in all competitions and a starring role in Liverpool's Champions League midweek destruction of Roma, Mo Salah has been a revelation since returning to the Premier League in the summer.
His scintillating form of late has caused critics to question why he failed to make an impact in his first Premier League stint at Chelsea.
There is no doubt that part of the reason for his success is his considerable development in recent times. He was not a prolific goalscorer during his early days, when he was renowned more as an out-and-out winger rather than the forward he has become.
In 2012, the youngster joined Swiss team FC Basel from Egyptian Premier League outfit El Mokawloon.
In Salah's first season in Switzerland, he scored seven goals in 43 appearances. In his next campaign, he registered six goals in 24 appearances. Crucially though, his team beat Chelsea twice in the Champions League during this campaign, with Salah on target in both games.
These impressive showings seemingly inspired the Londoners to sign Salah for £11 million in January 2014.
There was a perception that he never got much of a chance during his time in London and the stats back up this belief.
After joining Chelsea, Salah made just six Premier League starts before being sent on loan to Fiorentina. It was only in Italy where he was given a proper chance, scoring 29 goals in 65 appearances for Roma in Serie A, before securing another big-money move back to the Premier League.
Mourinho has been commonly cited as the coach that 'sold' Salah, but the manager addressed this criticism in an interview with ESPN this week.
"People say that I was the one that sold Salah and it is the opposite," the Man United boss said.
"I was the one that bought Salah. I was the one that told Chelsea to buy Salah. It was with me in charge that Salah came to Chelsea. But he came as a young kid, physically he was not ready, mentally he was not ready, socially and culturally he was lost and everything was tough for him.
"We decided to put him on loan and he asked for that as well. He wanted to play more minutes, to mature, he wanted to go and we sent him on loan to Fiorentina, and at Fiorentina he started to mature.
"Chelsea decided to sell him, OK?
"And when they say that I was the one that sold him it is a lie. I bought him. I agreed to send him on loan, I thought it was necessary, I thought that Chelsea had wingers… Some of them are still there like Willian, [Eden] Hazard and all those players already in a different level."
However, it seems difficult to believe that Mourinho was especially keen to hold onto him. Per Melissa Reddy, he told Chelsea TV the following on Salah in July 2015.
"I see his future elsewhere. Either on loan or sold with an offer we are happy to accept."
Mourinho was also quoted during that period as saying: "He doesn't belong to my squad and he's not staying here.
"The important thing is that he plays like he did at Fiorentina, so [I'm] happy with him going on a loan.
"Italian football is difficult football to play, especially for attacking players. So if it's not Fiorentina it's Roma or Inter or Juve — I don't know. Maybe he has a loan.
"He's a good boy and a good player. He needs more top-level football so I'm happy with any decision him and the club make."
2. How badly will Liverpool miss 'the Ox'?
Liverpool were dealt a significant blow yesterday with confirmation that Alex Oxlade-Chamberlain will miss the remainder of the season.
Eyebrows were raised last August, when the Reds paid Arsenal £35 million for the midfielder's services, with a number of pundits, including Gary Neville, questioning the signing.
Yet the 24-year-old has gradually become an important player for Jurgen Klopp's side, making 51 appearances in all competitions.
How big a blow Oxlade-Chamberlain's loss will be remains to be seen. It is a setback for the club, unquestionably, with the England international providing the Reds' midfield with plenty of pace and power, while the former Southampton youngster possesses a ferocious shot, as he demonstrated with a superb goal in the first-leg Champions League quarter-final 3-0 win over Man City.
Midweek against Roma, Georginio Wijnaldum came on and did a good job in his colleague's absence.
Wijnaldum represents a decent alternative to 'the Ox,' even if he lacks his team-mate's dynamism.
German international Emre Can is also sidelined for the foreseeable future, so Liverpool can scarcely afford to lose anyone else in midfield as they bid to reach the Champions League final, while also attempting to secure a top-four spot and Champions League football next year.
3. Must-win game for Chelsea
Even if Chelsea win all four of their remaining games this season, they are far from guaranteed fourth place and a Champions League spot.
If they achieve a 100% record between now and the end of the campaign, they will finish on 75 points. Tottenham are five ahead of the Blues on 68 points with four games to play. Liverpool, meanwhile, are on 71 points with three games to play.
Spurs' remaining games are against Watford, West Brom, Newcastle and Leicester. Liverpool will face Stoke, Chelsea and Brighton. In addition to the Reds, Antonio Conte's men are set to play Swansea, Huddersfield and Newcastle.
Consequently, Saturday's game at the Liberty Stadium is surely a must-win match for Chelsea if they are to keep alive any realistic hopes of qualifying for the Champions League.
4. United-Arsenal lacking the allure of old
One sure sign of the declining fortunes of Arsene Wenger-era Arsenal and, to a lesser extent, Man United, is the increased lack of enthusiasm and excitement surrounding the two clubs' clashes these days.
In the late '90s and early '00s, United-Arsenal was quite comfortably and consistently the standout fixture in the Premier League calendar, with both clubs featuring in a number of memorable encounters to boot.
Sunday's match between the two is unlikely to rival the intensity of those great games of years gone by.
With little to play for in the league, Arsenal will have an eye on Thursday's Europa League second leg with Atletico Madrid and are expected to field a weakened team on Sunday.
United, similarly, are all but assured of a top-four spot, and so will be prioritising their upcoming FA Cup final with Chelsea above everything else.
5. Desperate times for Southampton and Stoke
Though it is not mathematically certain, West Brom are set to go down — a Swansea win this weekend will see them relegated.
That seemingly imminent scenario leaves Stoke and Southampton as the two teams who are still retaining faint hopes of survival. Both are on 29 points, though crucially, the Saints have a game extra to play.
17th-place Swansea are the team most likely to be caught, as they currently sit on 33 points and will not be expected to get anything from their match with Chelsea in Saturday's late kick-off.
Elsewhere, Stoke play Liverpool in another game that appears anything but winnable for the Potters.
Therefore, of the strugglers in question, Southampton look best placed to give themselves a lifeline, against 11th-place Bournemouth, who have nothing but pride to play for.
Premier League fixtures (all games kick off at 3pm unless stated otherwise)
Saturday
Liverpool v Stoke (12.30)
Burnley v Brighton
Crystal Palace v Leicester
Huddersfield v Everton
Newcastle v West Brom
Southampton v Bournemouth
Swansea v Chelsea (17.30)
Sunday
West Ham v Man City (14.15)
Man United v Arsenal (16.30)
Monday
Tottenham v Watford (20.00)
The42 is on Instagram! Tap the button below on your phone to follow us!