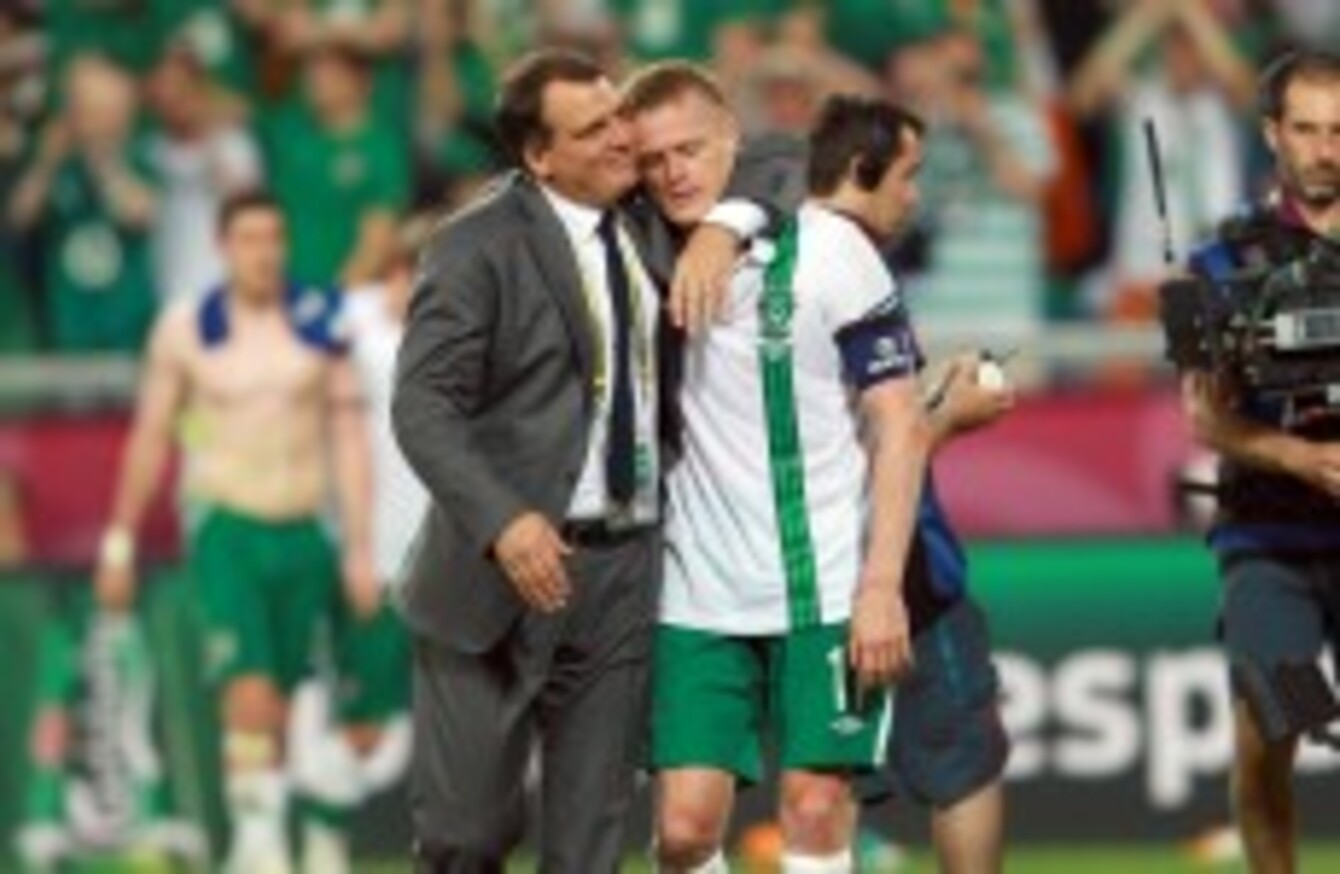 Image: ©INPHO/Donall Farmer
Image: ©INPHO/Donall Farmer
AND SO THE Irish Odyssey ends.
After the defeat to Spain Giovanni Trapattoni hinted at changes that must be made, but against his home nation he stuck with the team that brought us this far.
Pre-match, doubt was cast. Doubt over this team's ability and even over the fans' commitment.
The lavish praise heaped upon the green army for bellowing out our favourite famine lament seemed slightly hollow when large portions of seating could be seen in Poznan's municipal stadium, but by the time kick off arrived and only one set of supporters could be heard, that feeling had dispersed.
Ireland attacked this game like they hadn't done against Croatia or Spain.
The fans and the team were a unit. In the stands they sang, 'Fuck off Roy Keane, we'll sing when we want.' On the pitch, the team hassled and harangued, showing no respect to the 2006 world champions. It was as if they were back in Croke Park with everything on the line. The dreaded 'what ifs' began to circulate.
What if we had started like this against Croatia, what if we had Italy earlier in the group… fortunately for the nation's sanity Antonio Cassano struck and normal service was resumed.
Well, we say normal, but the reason Ireland brought so much hope to Poland was that we were famously tight in defence. Before Mario Mandzukic came along eight days ago, Ireland had enjoyed nine consecutive games without falling a goal behind. That day was two years ago, it was Russia and three came along at once. This time it was Croatia and it heralded an seemingly never-ending bout of crushing disappointment.
©INPHO/Donall Farmer
The ground troops in Poznan and Gdansk could see the bright side. Those of us left at home could only see the evidence on the football pitch and that evidence pointed to an urgent need for change. If Trapattoni is to tweak things for the road to Brazil 2014, he will do it on the road to Brazil.
Tonight, against his home nation, was the last stand of his team – plus Jonathan Walters. With Italy holding all they needed to progress, Ireland were invited to show their worth in attack. Sheer effort brought us to the edge of something special, but it could not take us over the the line. The all too short period of pressure was a microcosm for the entire journey.
Heart, soul and Trapattoni brought Ireland to their first major tournament in a decade. The world will remember the failures of Poznan and Gdansk, but we will always have the miracle in Moscow.
Pain
The Italian's dim view of our capabilities may well be accurate, but if we are to aspire to better things than holding on and hoping for the best then he must show some measure of trust. If he cannot see or imagine room to improve then he should not be in charge of this national team.
With the pain just inflicted, Robbie Keane was asked to laud the supporters who have sang their way through Ireland's worst ever performance at a tournament. He winced ever so slightly. The feeling of letting so many down is an uncomfortable one.
The Fields of Athenry will ring around Poznan for a few more hours. The fans are entitled to enjoy these moments no matter what.
After all, it might not happen for another decade.