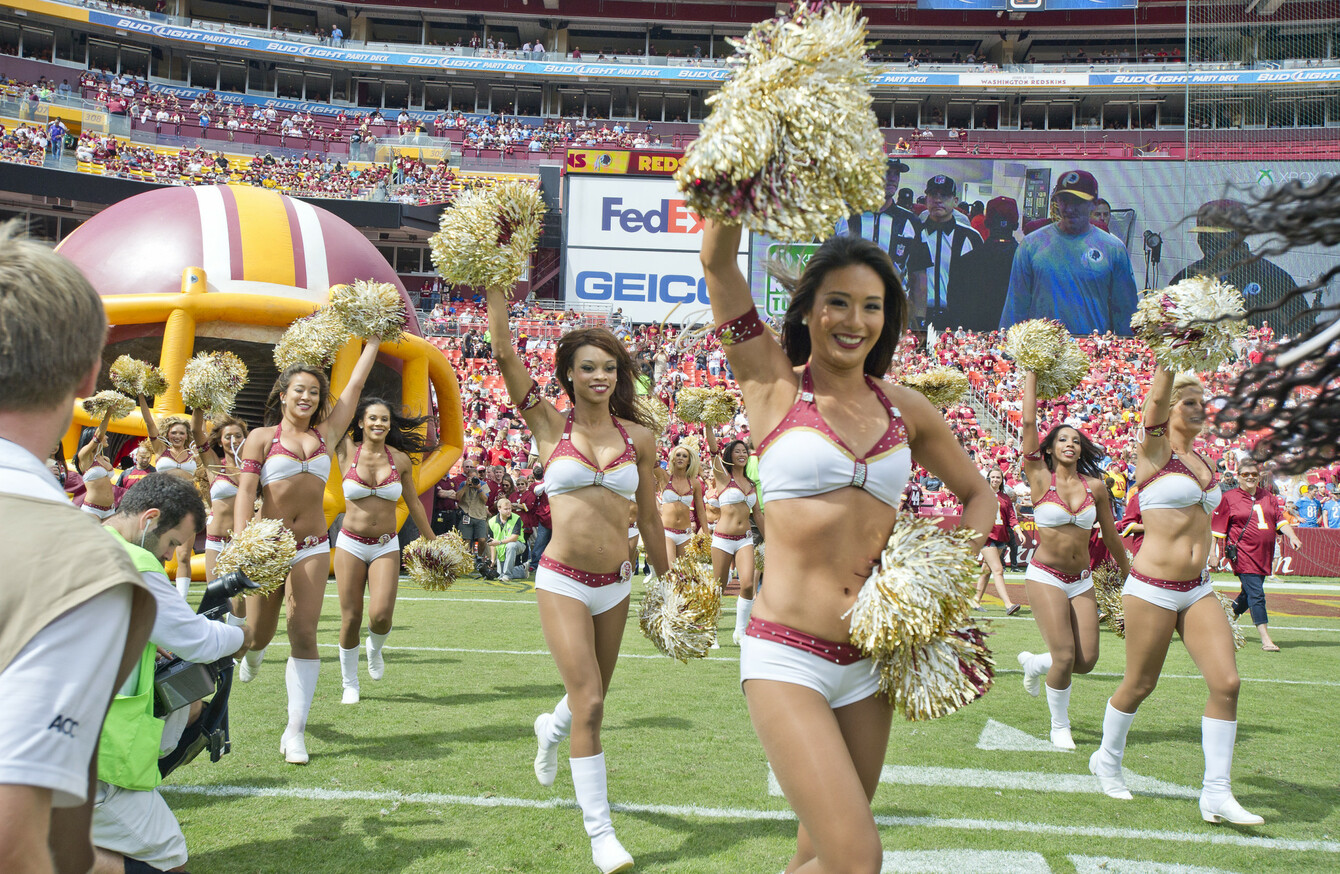 Image: DPA/PA Images
Image: DPA/PA Images
WASHINGTON REDSKINS CHEERLEADERS have accused the organisation of making several inappropriate demands of them, according to an explosive new report from The New York Times centered on one specific 2013 trip to Costa Rica for a calendar photo shoot.
"Some of the cheerleaders said they were required to be topless, though the photographs used for the calendar would not show nudity. Others wore nothing but body paint. Given the resort's secluded setting, such revealing poses would not have been a concern for the women, except that the Redskins had invited spectators," the report says.
"A contingent of sponsors and FedExField suite holders – all men – were granted up-close access to the photo shoots." The report mentions a cheerleader getting her friends to form a "human barricade" to prevent the men from seeing her while she was "basically naked."
The report, from Juliet Macur, said it only got worse.
"One evening, at the end of a 14-hour day that included posing and dance practices, the squad's director told nine of the 36 cheerleaders that their work was not done. They had a special assignment for the night. Some of the male sponsors had picked them to be personal escorts at a nightclub," Macur wrote.
"'They weren't putting a gun to our heads, but it was mandatory for us to go,' one of the cheerleaders said. 'We weren't asked, we were told.'"
Several women opted not to return to the squad the next season because of the trip, according to Macur's report.
Stephanie Jojokian, the director and choreographer of the cheerleaders, disputed the characterisation of the trip to the Times, as did two cheerleaders made available for comment by the NFL franchise.
Be part
of the team
Access exclusive podcasts, interviews and analysis with a monthly or annual membership.
Become a Member
Washington said in a statement: "The Redskins' cheerleader program is one of the NFL's premier teams in participation, professionalism, and community service. Each Redskin cheerleader is contractually protected to ensure a safe and constructive environment. The work our cheerleaders do in our community, visiting our troops abroad, and supporting our team on the field is something the Redskins organization and our fans take great pride in."
In another instance, in 2012, the cheerleaders said they were taken to an annual party on a yacht owned by a team suite holder, William R. Teel Jr. The ensuing party, according to Macur's reporting, was "a wild gathering, where men shot liquor into the cheerleaders' mouths with turkey basters. Below the deck, men handed out cash prizes in twerking contests."
Macur later quoted a cheerleader saying of these yacht parties: "But we were too scared to complain. We felt that our place on the team would be compromised if we did."
You can read Macur's full report here.