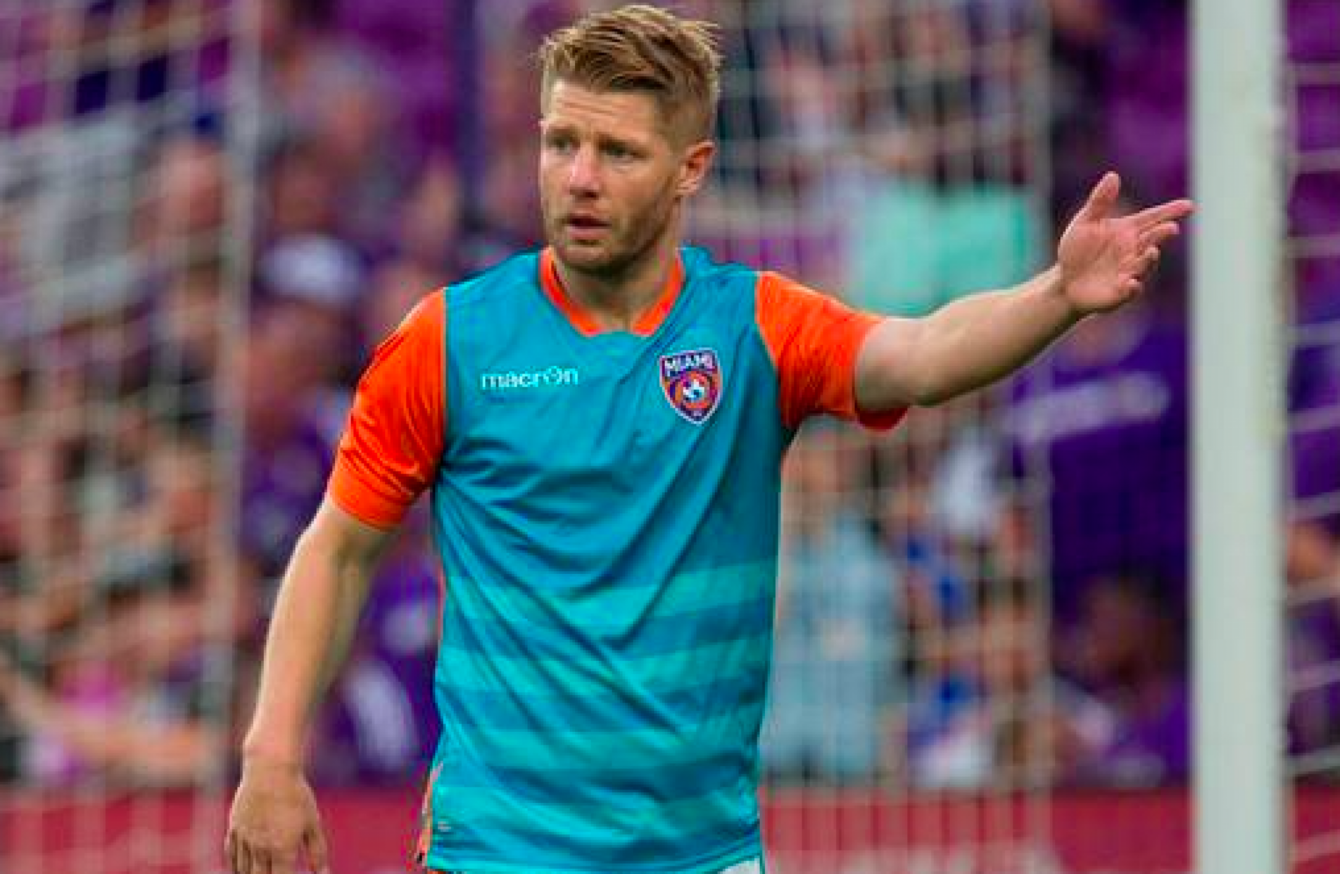 Image: The Miami FC
Image: The Miami FC
IT'S BEEN A turbulent season for the North American Soccer League (NASL). Lots of changes occurred before a ball was even kicked with four teams dropping out of the second tier, one rebranding and another – Minnesota United – making the step up to Major League Soccer.
For a while it even looked like the league would fold.
But, it kept its head above water and survived. Just about.
With a reduced number of clubs (eight), the NASL has still been able to rely on a couple of solid, consistent and well-run franchises.
Indianapolis-based Indy Eleven, who boast Colin Falvey as captain and Eamon Zayed as their chief goal-getter, play in front of average gates of over 8000. The New York Cosmos remain a well-known international brand.
But the biggest success of the 2017 season has been Miami FC.
This is only their second-ever campaign and after a baptism of fire last year, they've been the standout performers this time around.
With Alessandro Nesta as manager and Paolo Maldini one of the co-owners, headlines were always inevitable but Miami, rather inexplicably, has always struggled with putting together a decent football product.
There was a short-lived MLS side, the Fusion – with Colombia's Carlos Valderrama in midfield, but owing to poor ticket sales and the general ill-health of the league at the time, it crashed in 2002, along with the other Florida-based outfit in Tampa Bay.
Since then, the lack of a successful Miami team been a curious subplot to the lauded development of football in the United States.
David Beckham's plans for owning an MLS team in the city remains on the cards but it's been a painstakingly arduous process with plenty of work still to be done.
So, with impeccable timing, Miami finally seems to have a football team that is delivering on and off the pitch.
In the NASL, a campaign is divided into a shorter Spring season – where teams play each other twice – and a longer Fall season. The overall standings then lead to the top-four qualifying for the play-offs.
The endings of both the Spring and Fall Season had a similar feel for @TheMiamiFC. #MarchToNovember pic.twitter.com/op0qB5WyGo

— NASL (@naslofficial) October 30, 2017
Miami FC made history by finishing top in both Spring and Fall. The gulf between them and their nearest challenger (expansion side San Francisco Deltas) was a whopping 15 points. They scored the most goals, conceded the least and are now favourites for the title.
And there's a pretty strong Irish influence too.
Back in 2016, Nesta was left reeling after an awful start and following a 3-0 home defeat to the Cosmos, he told reporters his side had 'touched the bottom' and that a 'restart' was badly needed.
He pinpointed one player in particular who he felt could dramatically improve the team's fortunes.
Tipperary native Richie Ryan arrived in the NASL in late-2013 and signed for Canadian side Ottawa Fury. He was quickly made captain, his leadership qualities – so evident while he won a couple of FAI Cups with Sligo Rovers – to the fore even in a radically-new environment.
He was instrumental in getting Ottawa to the Championship final in December 2015 but they fell to the Cosmos and Ryan made a move to Jacksonville shortly after. At 31, he was looking at the future and felt the deal was too good to turn down.
But, just as he was finding his feet in Florida and weeks after his wife and daughter finally joined him in another new city, his club were contacted by Miami. Quickly, Ryan found himself at the centre of a blockbuster deal. Jacksonville had swatted away Miami's advances four times, eventually quoting them an astronomical price they knew couldn't be matched.
And then Miami matched it.
One night, reps from Jacksonville arrived at Ryan's house and explained everything to him. He was encouraged to talk to his agent and eventually, with his young daughter Polly tucked away in bed, he waved off his visitors and tried to collect his thoughts.
"I closed the door, turned to the missus and said 'What the fuck has just happened?'", he later told The42.
There's never been any official confirmation of the money involved but it's widely accepted that Miami paid Jacksonville $750,000 in a transfer fee and that Ryan, who had been earning $80 – 90k per year, tripled his salary when signing for Nesta.
On to the next one! We always have to keep our eye on the ultimate prize! 🏆🏆🏆 #TuesdayMotivation #VamosMiami pic.twitter.com/0eMVi4Mj2o

— The Miami FC (@TheMiamiFC) May 2, 2017
His impact cannot be underestimated.
Ryan, an intelligent and astute central midfielder, was a huge reason for Miami's improvement in the second-half of the 2016 campaign. This term, he's missed just three games as the side have blossomed.
This weekend, they face the Cosmos in their play-off semi-final, the winner taking on either San Francisco or North Carolina in this year's decider.
Ryan has already accomplished quite a bit in his remarkable journey through the North American second-tier.
All he's missing is that championship medal.
Subscribe to The42 podcasts here: