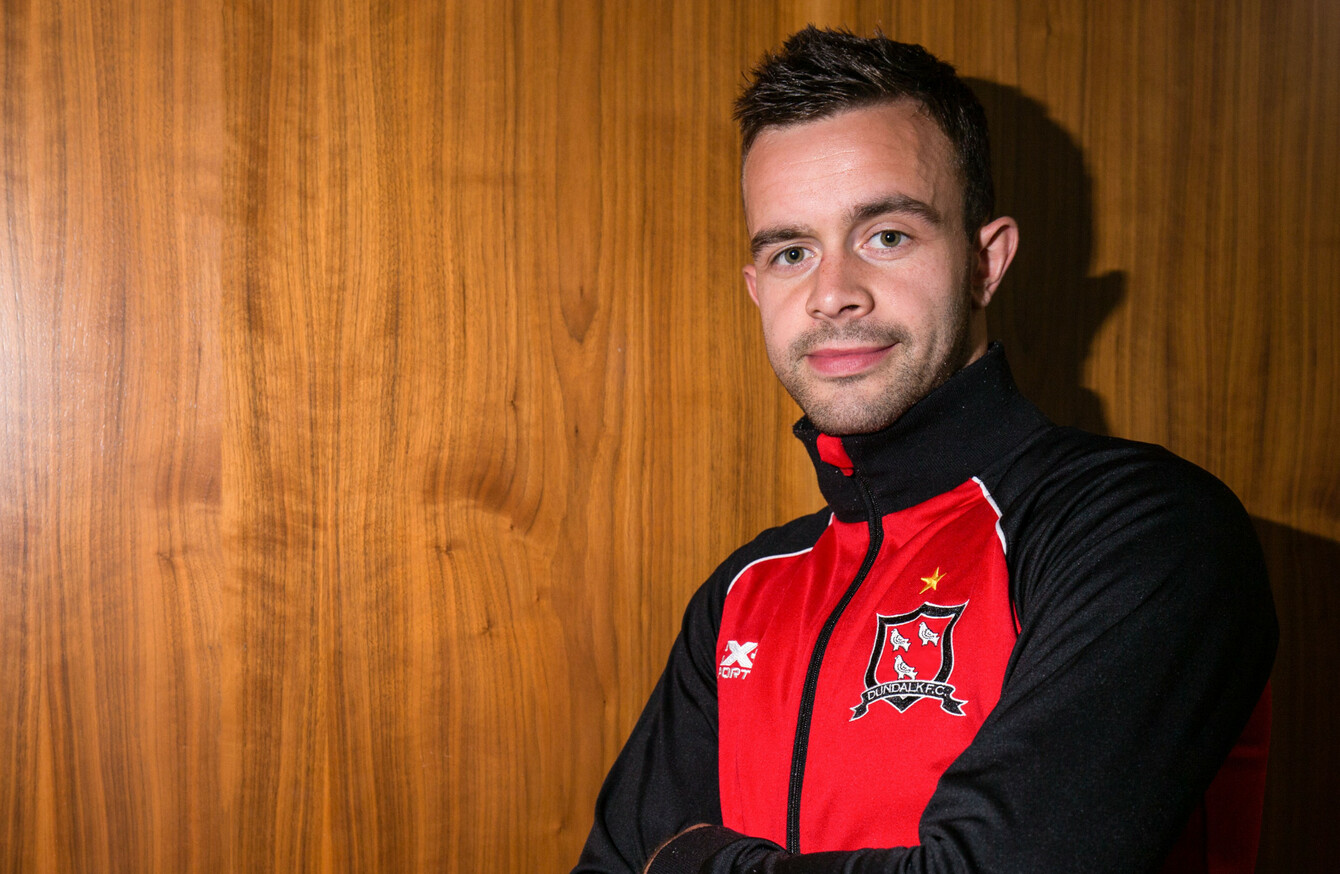 Robbie Benson is hoping to help Dundalk reach the FAI Cup final by beating Shamrock Rovers on Sunday.
Robbie Benson is hoping to help Dundalk reach the FAI Cup final by beating Shamrock Rovers on Sunday.
TOO OFTEN, ASPIRING footballers think about the game and nothing else. To these individuals, the prospect of failure is unthinkable and a plan B does not exist.
In an interview with The42 last week, former Shelbourne player and current Player Executive with the Professional Footballers' Association of Ireland, Ollie Cahill, said of the latter role: "You're just trying to get guys to think outside the box. Most of them are in that football bubble — they just see football and just want to play football… But the reality is, you aren't going to retire on the money you make playing football in the League of Ireland, so you need to have something else behind you."
Research appears to back up Cahill's suggestion. In 2014, a study conducted by the players' international union, Fifpro, looking at six leagues including the League of Ireland, found that 26% of current players suffered from depression or anxiety, while this number rose to 39% among retired players.
While there are a number of factors behind these disconcerting findings, the loss of identity and the lack of alternative career paths that some individuals can suffer from after hanging up their boots is often cited as a significant issue.
Yet, of course, every footballer is different and some are better prepared for retirement than others.
One player who is most certainly not just "in that football bubble," as Cahill puts it, is Dundalk star Robbie Benson.
Aged 25, Benson has already achieved plenty in his short career. He was playing senior football for Athlone Town in his teens, while he was made captain of UCD by his early 20s.
Since joining Dundalk ahead of the 2016 season, Benson has already won a league title and more recently, an EA Sports Cup, while he could add an FAI Cup winners' medal to this list of accolades if his team can get past Shamrock Rovers on Sunday and arch-rivals Cork in the upcoming final. In addition, he was an important part of the Lilywhites' European adventure last season, scoring one particularly impressive goal against Legia Warsaw (see video below).
Yet what makes Benson's footballing success all the more impressive is his exploits off the pitch.
It has been well documented that the Athlone native achieved 600 points in his Leaving Cert. He went on to study chemistry and maths in UCD, before subsequently completing a master's degree in actuarial science.
It was only after he finished his studies that he opted to make the move into full-time football and join Dundalk, having spent years leading a disciplined existence whereby he balanced football in the League of Ireland with his intensive schedule off the pitch.
The big thing for me was that I was doing it from a young age," he tells The42. "Ever since Transition Year, I'd been training with the Athlone senior team during the week and then studying when I went home.
"So it was easier to make the transition every year when the workload and football got more difficult. I had a base where I was doing both and continued that right through college.
Now, I've a lot more time on my hands and I'm making up for lost time in terms of not being too busy."
Source: Sea TV/YouTube
And having gotten used to that hectic lifestyle where the pressure to get three points on a Friday coincided with the frequent need to pass exams and prepare for lectures, how has he found the considerable shift to full-time football? Is it more difficult to fill the hours now? Does he get bored more frequently, given that life is less taxing away from sport?
We're in a very privileged position where we get to play football for a living and not be working a regular 9-5 job. Obviously, there's a dedication required… If you're claiming to be bored, there are a lot worse things you could be giving out about.
"I never struggled with boredom. I'm very fortunate and happy to be where I am in my life right now.
You have breakfast, go to the gym, go for coffee with teammates, relax and just try to read and watch TV — anything an ordinary person does.
"You don't do anything to threaten your training and you ensure you're at full tilt for training and match days."
In addition, with Benson enjoying success on and off the pitch, does he have any advice for aspiring young footballers hoping to emulate his achievements?
I suppose it's different for every person. I enjoyed college and studying, so it was an easy decision to go down that route.
"But for someone who struggles at school or doesn't like it, to tell them to go to college is a different thing. The important thing is to do something you're passionate about doing.
The time's going to come at some point if you're a footballer, (the sport is) not going to be there for you when you're 36 or 37, so it's important to have something at that point when you're young to keep your mind fresh – have a think and don't be short-sighted (by thinking) that football is everything.
"I went over on trial to Newcastle and Man City when I was 14 or 15. For me, it was more so for the experience. I was always going to stay in school. Nothing came of (the trials), so I didn't have to make that decision (of whether to stay in Ireland or not) in my life."
Source: SKY NEWS/YouTube
But while a Premier League move may never have materialised, Benson still managed to fulfill one long-term ambition as a youngster by lining out for Athlone Town, the club he used to watch every Friday night at St Mel's Park with his father and brother.
It was tough watching a lot of the time — they weren't getting results and were languishing down towards the bottom," he recalls. "It was always an ambition of mine to play for them one day and I was lucky enough to do that. As a schoolboy, a lot of players that were my age that were standing out at that level were going to Dublin.
"I stayed at Athlone, joined the youth team there when I was about 15 or 16 and then got into the first team.
It's sad to see the club being in the news

for the wrong reasons now

, but hopefully, they'll turn things around in the not-too-distant future."
Of his early days as a footballer in Athlone, Benson adds: "A couple of clubs in Dublin were interested, but I didn't think that was the right thing for me to do at the time.
I took my academic life quite seriously and I thought it might impact that, though I played at a fairly decent level, so (playing elsewhere) was never something I was going to pursue and it led to me being where I am today."
Indeed, after eye-catching stints at Athlone and UCD, full-time football beckoned. St Patrick's Athletic, Shamrock Rovers and Cork City were all reportedly keen on the young midfielder, though he ultimately opted to join Dundalk. The prospect of working with manager Stephen Kenny, Benson adds, was a big factor in the decision.
I met a few clubs at the time when I moved on from UCD. There was always something in the back of my mind (telling me) that it wasn't quite right when I met them.
"But once I knew Stephen, he just put me at ease. And I know David McMillan quite well, so I just asked him about life in Dundalk and he had nothing but good things to say. I'd be the same now if I was speaking to someone like me.
For young players, (Stephen) doesn't put any shackles on and lets them express themselves. Especially for someone like myself, Jamie McGrath, Michael Duffy or Patrick McEleney to name a few, he doesn't like us being cautious. He'd give out to you more so for playing a safe pass than trying a risky one and giving it away.
"So it's great when you have that ability where you know your manager is not going to be disappointed with you if you're trying the right things and (producing) good attacking play rather than being safe. It's easy to express yourself and get a bit of confidence that way. It's one of his biggest strengths for sure."
Having gone relatively under the radar at both Athlone and UCD, Benson suddenly found himself playing for the club widely considered the best in the country at the time.
Suddenly, he was playing in a team that were expected win major trophies and prevail in every fixture they competed in, and this increase in the standard and intensity of his footballing environment was palpable.
It's a step up and you have to get used to full-time training. Definitely, I was way behind where I am now, and behind where lads (on the team) were in their physicality and tactical discipline.
"I moved into a house with, at the time, Chris Shields, Paddy Barrett, John Mountney and Stevie O'Donnell — they were very good in helping me settle, so it was easy to adapt in that sense.
Thankfully, I've gone from strength to strength since then. I've had two great years, I can't say I regret my decision whatsoever."
Benson admits the 2017 season has been a "disappointment" in some respects, with Dundalk on the verge of failing to win the league.
Given the high standards the club has set in winning the previous three titles on the bounce, the fact that they are 11 points behind table toppers Cork City is unlikely to sit well in a dressing room full of players who are accustomed to winning.
And while the title race is all but over, the Lilywhites have shown signs of improvement in recent times. Before Monday's trip to Turner's Cross, they had won four league matches on the bounce, and although they had to settle for a point in Cork, an 87th minute Benson goal — his ninth in the league this season — put the hosts' title celebrations on hold for now.
It was important to get a goal back, we kept fighting until the end and we were disappointed coming off the pitch not to pick up the three points," Benson adds. "But it could have been a lot worse, seeing your biggest rivals winning the league with a victory against you, so it was important to avoid that as well."
The European matches aside, tomorrow's FAI Cup semi-final against Shamrock Rovers is arguably their biggest game of the season so far.
Their recent form against the Tallaght outfit — two wins and two losses – epitomises the inconsistency that has dogged Dundalk's 2017 campaign.
However, it is hardly surprising that the team have taken a while to gel. Key players such as Daryl Horgan, Andy Boyle and Ronan Finn departed prior to this season, while a number of new acquisitions took time to adapt to life at Oriel Park.
When you have that player turnover, people are getting to terms with playing with each other (initially)," Benson says. "The second half of the season has been really good and it has given everyone here a lot of confidence that we can really push on next year to hopefully win the league and cup in 2018 and go on a European run. I think everyone in the squad believes we can do that."
Missing the 25-year-old for two months of the season after he picked up a hamstring injury against Cork back in March also did not help matters, as the Lilywhites allowed the Leesiders to establish what has proved to be an insurmountable lead at the top of the Premier Division.
The bad injury and Dundalk's mixed fortunes will have provided a reminder of how tenuous and unpredictable life as a footballer can be. Now that he has this great opportunity though, Benson is determined to take nothing for granted on this incredible, improbable and life-altering journey.
When I started off college in UCD, I didn't think playing full-time was something that I'd do," he explains. "As you grow older, you get a bit wiser and you change your opinion on certain things.
"Thankfully, I've played at a high level for the past two years and I'll hopefully do that for the foreseeable future.
When I get a bit older and my legs start going, I might think about going back into an industry, but I won't pigeonhole myself. I just want to take every day as it comes, keep doing what I enjoy so long as I enjoy it — playing football."
Subscribe to The42 podcasts here: