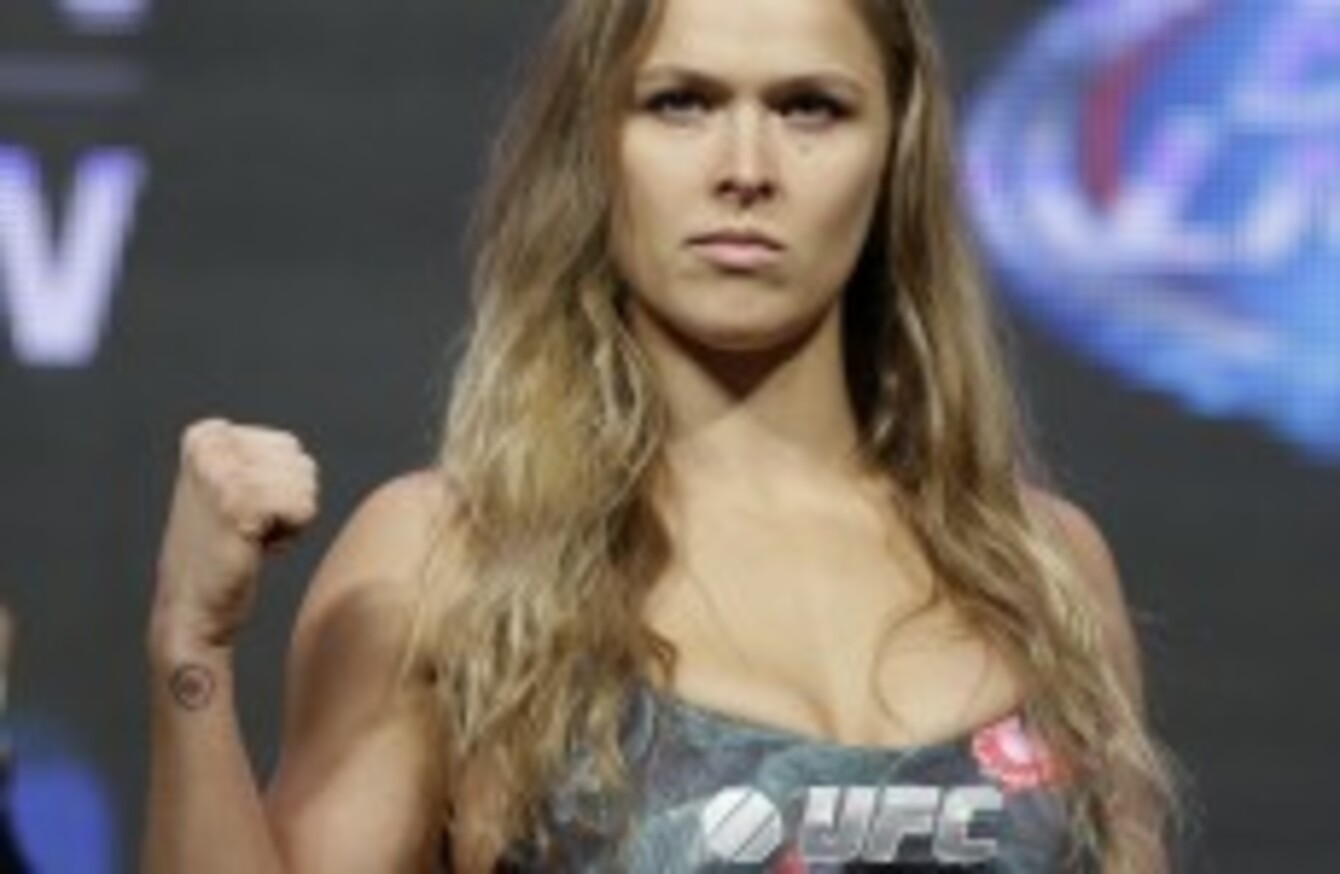 Ronda Rousey is untouchable in her sport.
Image: AP/Press Association Images
Ronda Rousey is untouchable in her sport.
Image: AP/Press Association Images
RONDA ROUSEY IS the most dominant athlete alive.
The 28-year-old has won every UFC bout she has fought in, beating some of her opponents in less than a minute.
In the process, she has elevated women's MMA and made it a key component of UFC — something that was hard to imagine five years ago.
But before she became a crossover star, she was a regular 20-something struggling to figure out what to do after dedicating her life to making the Olympics.
In 2008, she went to the Olympics in Beijing and won a bronze medal in judo.
But afterward, she had no job to fall back on, telling MTV, "There's nothing put in place for Olympians after they're done. They give you a couple of grand, a handshake, and they kick your ass out the door."
She took a graveyard shift at a 24-Hour Fitness in California while trying to figure out what she wanted to do.
In 2010, she returned to fighting at an MMA gym in Los Angeles. She said, "I need to win and I need to do this quick because I'm tired of living with the cockroaches and eating frozen vegetables."
Source: MMAFightingonSBN/YouTube
 YouTube: MMAFighting
In just seven months, she went from an out-of-work ex-Olympian to a professional MMA fighter, winning her first fight in 25 seconds.
Source: Frank Ramirez/YouTube
In her fifth career fight, she won the Strikeforce bantamweight title and became the sport's biggest trash-talker, once saying of an opponent: "If I get her in an armbar, I'm gonna try to rip it off and throw it at her corner."
Source: john w mateus/YouTube
YouTube: John W Mateus
Be part
of the team
Access exclusive podcasts, interviews and analysis with a monthly or annual membership.
Become a Member
After that, her popularity skyrocketed when she landed on the cover of ESPN's Body Issue.
But despite the newfound fame, women's MMA still didn't make her a lot of money. She told SI about her financial situation, "I couldn't retire, but I'd be chilling for a while."
In 2012, the organization she worked for, Strikeforce, announced it would shut down in 2013. The UFC scooped her up immediately, making her its first female fighter ever. CEO Dana White, who previously vowed to never employ a female fighter, said, "I think she's going to be a big superstar."
She destroyed Liz Carmouche in her first fight and since then she has won five UFC fights. Only one opponent made it out of the first round without getting knocked out or submitted.
Source: UFC 184/YouTube
YouTube: UFC 184
She made the sport mainstream in a way it had never been before, becoming host of "The Ultimate Fighter."
She made a cameo in "Furious 7," which is already one of the highest-grossing movies of all time.
At age 28, she's at her peak. Her last two fights lasted an average of 15 seconds.
- Tony Manfred, Business Insider