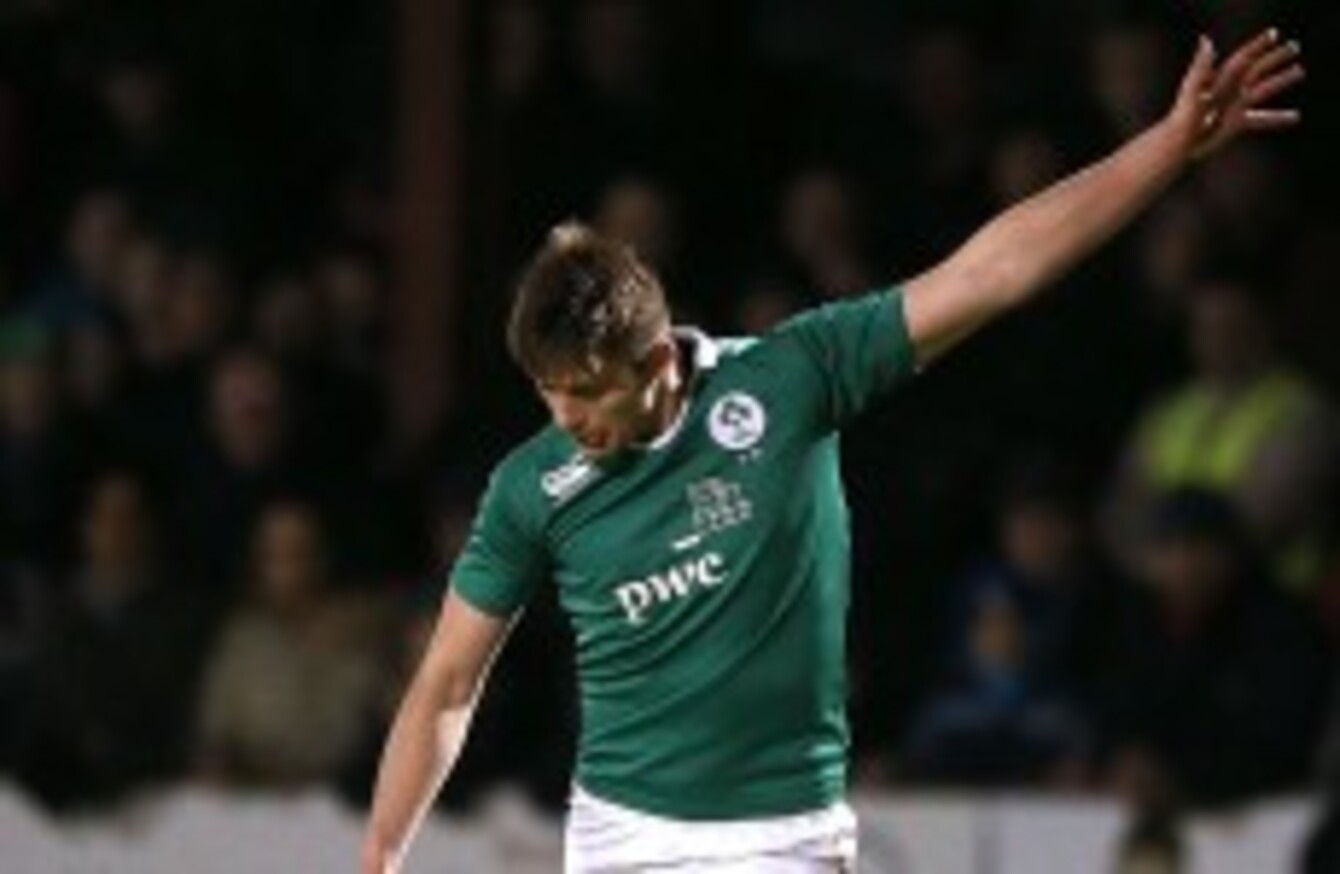 Byrne was 100% off the tee in Athlone.
Image: James Crombie/INPHO
Byrne was 100% off the tee in Athlone.
Image: James Crombie/INPHO
Murray Kinsella reports from Dubarry Park
WHAT A BREATH of fresh air yesterday evening's U20 Six Nations clash between Ireland and France was.
In contrast to some of the risk-free, kicking-focused and defence-dominated rugby we sometimes see at the senior level of the international game, here was a game for lovers of open, running rugby.
Nigel Carolan's Ireland side were highly ambitious with ball in hand for much of their 37-20 win, even putting themselves in a few troubling positions at times due to their adherence to a run-first mentality.
Still, there was a calm head at out-half in Ross Byrne to steady any second-half nerves as Ireland secured an impressive result to make it two wins from two in the competition so far.
The UCD playmaker was superb last weekend in Italy and even better at Dubarry Park, kicking at 100% off the tee [he's now 13 from 14 over both games], passing with real accuracy and also finding touch intelligently at important times.
Deservedly named man of the match despite a range of other outstanding individual displays, Byrne continues to demonstrate his rich potential in his second year at U20 level.
The 19-year-old says he's enjoying the style of rugby Carolan is encouraging his players to explore.
"He really let's us express ourselves," said Byrne post-match in Athlone. "We've got players in the squad who can create something out of nothing. Going out wide is a real strength of ours, but we have the pack to go up the middle as well if we need to.
"We've got good variety in our game and Nigel's given us the freedom to play as we see it."
The result last night was some thrilling attacking rugby from Ireland, as Jack Owens, Billy Dardis, Stephen Fitzgerald and Garry Ringrose all scored tries against a strong French side.
Some of the scores came on the end of free-flowing moves, but Byrne points out that there is nothing revolutionary about Ireland's attack.
"We don't do anything too complicated," explained Byrne. "We try to do really simple things, but do them really well. I think the two wingers deserve a lot of credit, they work so hard off the ball and a lot of it is probably unseen. It came off today, which was great."
Byrne's composure stood out in Italy last weekend, when the testing weather conditions meant his kicking from hand was required frequently, while there was again a noticeable degree of coolness from the out-half against the French.
The Leinster academy man agrees that being in his second year of U20s rugby helps mentally, but also points to his long-standing halfback partnership with captain Nick McCarthy, with whom he has played since minis rugby and all the way through his time at St. Michael's College.
"I think it's huge, especially with Nick inside me. I played with him last year, I've played with him since I was six years of age," said Byrne.
"That helps a lot when we get into these games, we know what we need to do from the experience of winning and losing last year, and throughout all of our careers."
Ireland head into next weekend's break as the only side still unbeaten in the U20 Six Nations, but are already thinking ahead to the clash with England at Donnybrook on Friday 27 February.
England ran nine tries past Italy yesterday, but Ireland will have some confidence at the top of the table.
"Yeah, we're in a good position," agreed Byrne. "We'll take a break now and we'll look at the French game and at England, see how we can break them down. Playing on Donnybrook on the astro, hopefully it's a dry day as that'll suit us a lot.
"That's going to be a big test, they're going to be very physical. After losing their first game [against Wales], they'll be up for it as well. We're looking forward to that."