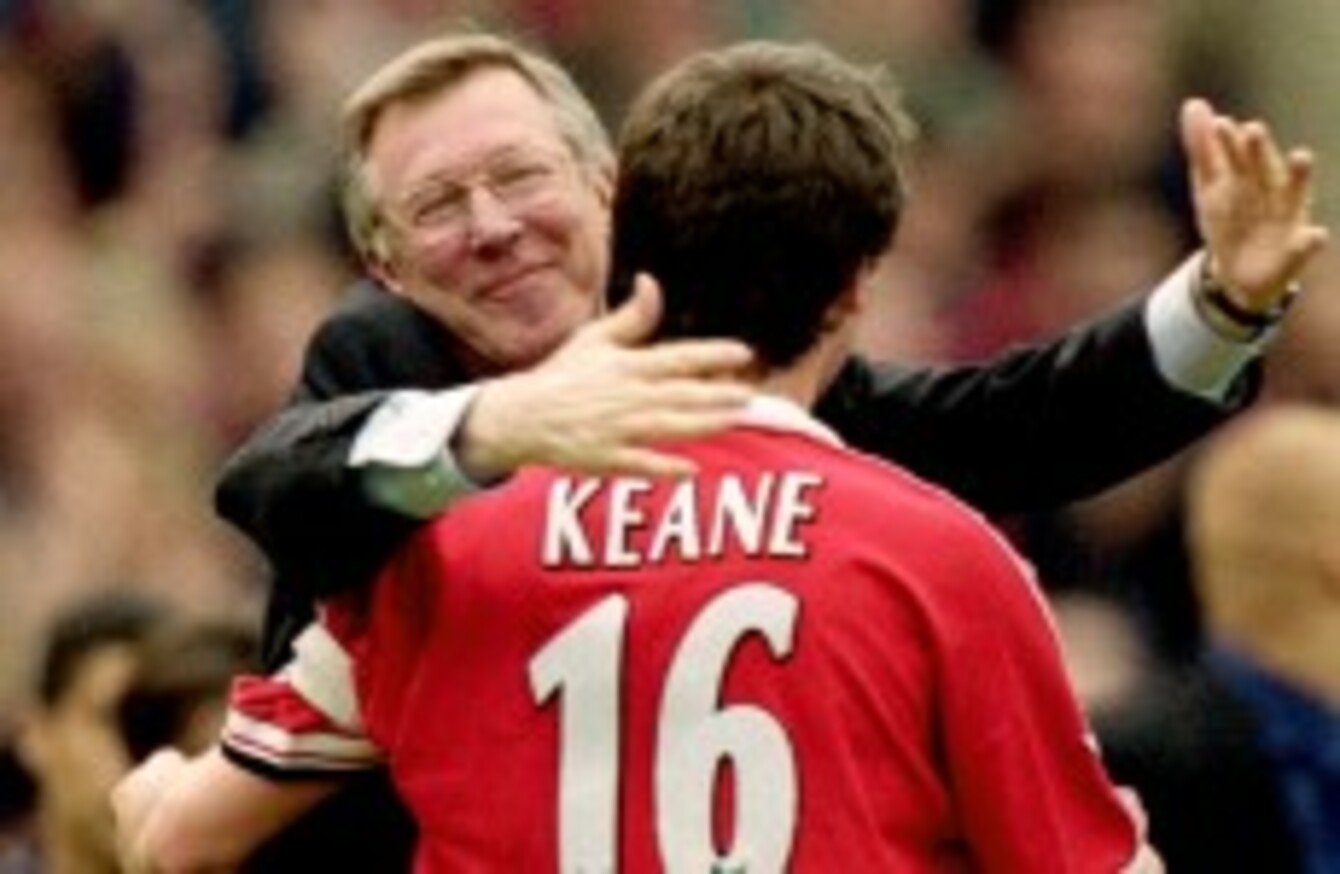 Ferguson and Keane embrace back in 1999.
Image: Neal Simpson/EMPICS Sport
Ferguson and Keane embrace back in 1999.
Image: Neal Simpson/EMPICS Sport
ROY KEANE SAYS outgoing Manchester United manager Alex Ferguson will be sorely missed in the game when he retires at the end of the season.
The Scot announced this week that he is to call time on his 27-year spell in charge of the Premier League champions with David Moyes confirmed as his replacement.
Keane, who arrived at Old Trafford in 1993, was Ferguson's captain and voice on the pitch for many years – winning seven league titles before the pair felling out and Keane departed for Celtic in 2005.
Speaking on ITV this afternoon, the Cork native paid tribute to his former boss and revealed that the news didn't come as a shock to him.
I'm not surprised and wasn't as shocked as everyone else was," Keane said. "When you're 71 and you've had success and with the demands of the game now.
"I'm disappointed of course. It's always sad to see a great manager leave the game. But I think he's made the right choice.
That (how his time at United ended) doesn't take away from the fact that I have massive respect for what he'd done as a manager.
"I was lucky to have played under him and privileged that he brought me to the club. I was lucky to play under Brian Clough as well but to play under Sir Alex Ferguson was absolutely fantastic and he'll be a big loss."
The pair lift the title in 2001. Credit: Phil Noble/PA Archive/Press Association Images
Keane played down the importance of Ferguson's infamous 'hairdryer treatment' and said it was his ability to say the right things at the right times to get players going which set him apart.
"The hairdryer never bothered me. It was a gimmick the media came up with," he added.
"The great managers know what buttons to press with players. We just never wanted to let him down. It wasn't the hairdryer that would worry me but when he was quiet and when we had let him done.
"He might have made one of two mistakes particularly with me towards the end but he generally got it right.
"It takes nothing away from the fact that it was a privilege to play for him."
On the appointment of Moyes, the ex-Sunderland and Ipswich boss believes will succeed.
I think he (Ferguson) will be big a help to David Moyes. It's an excellent choice. I nearly signed for him when I left United. He's got a bit of class.
"With Alex Ferguson in the background, I think he'll do a good job there."