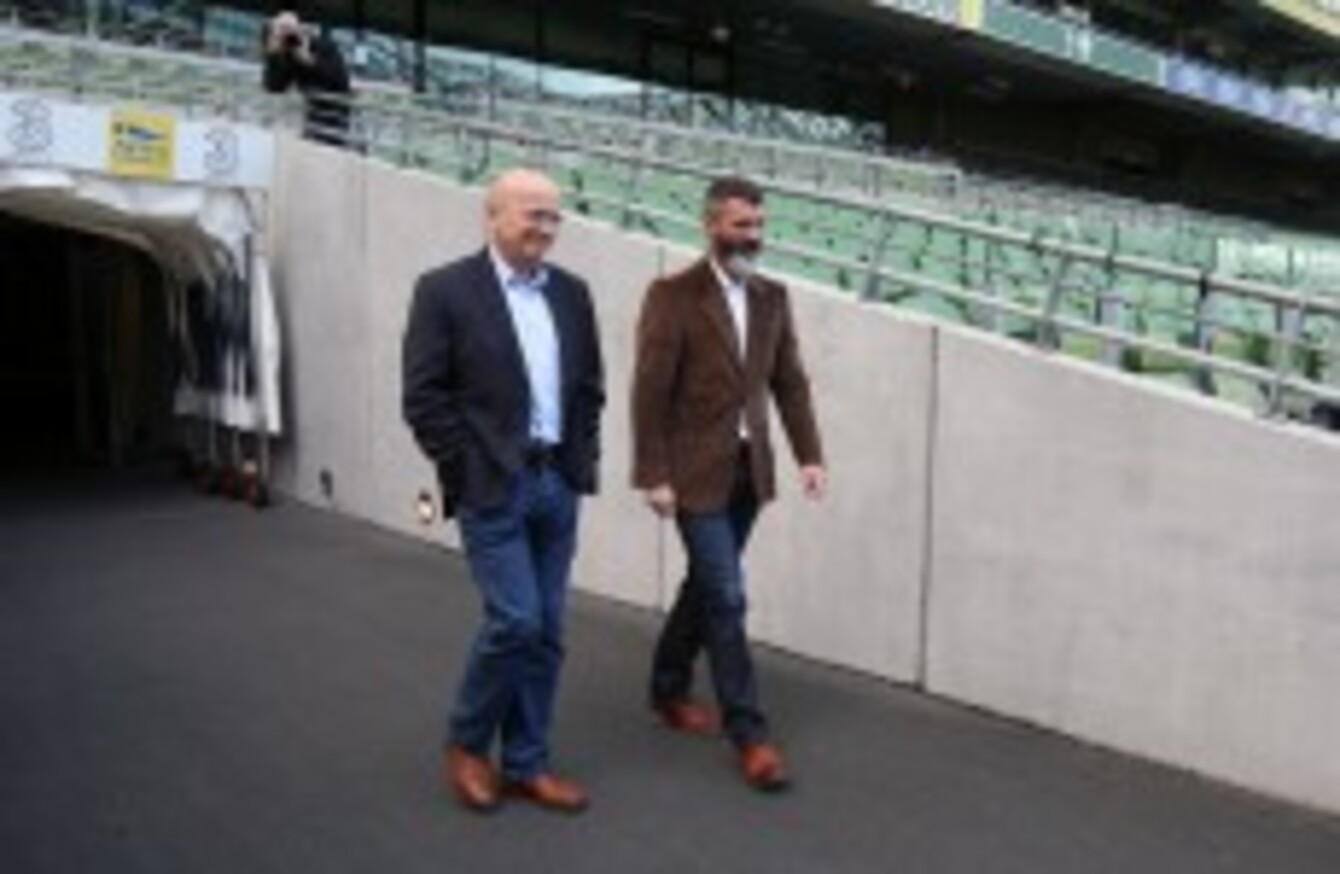 Image: PA Wire/Press Association Images
Image: PA Wire/Press Association Images
FOR BETTER or for worse Roy Keane is box office. Say what you like about his past, his personality, his beard, but nobody commands headlines like him.
Tetchily, Martin O'Neill made that point as the first tidbits from The Second Half hit the news earlier this week. Saturday's Euro 2016 qualifier against Gibraltar and that little matter of a game against the world champions on Tuesday would have to take a back seat for now.
After answering the first half dozen questions on Keane's new autobiography O'Neill touched on the national obsession: if his assistant slipped on the training pitch, it would be top of the agenda.
So it was no surprise to see 50-plus journalists scramble for position in the Aviva Stadium as Keane sat down this afternoon. A penny for O'Neill's thoughts after he's briefed on the attendance figures on Saturday evening.
It was billed as the book's 'world exclusive launch' but that honour was stolen on Monday by a local branch of Tesco with a slip that will put the Manchester suburb of Burnage on the map forever more.
The cynics have already made their case — that the pages upon pages of headlines spawned by this accidental "leak" were worth far more than any serialisation deal — but that's another argument for another day. Once it was out, we feasted quickly and the careful choreography of today's event was spoiled.
Much like Alex Ferguson's own book launch last year, journalists were invited to collect a copy of The Gospel According To Roy (Part II) from 10am. Two hundred and ninety-six pages of gold awaited; no shortage of old scores to be settled here.
"He told me how much he admired me. Like all the top lawyers, he was dead polite," it starts, diving straight into the Alf-Inge Haaland affair.
"I thought, 'He's nice, he'll go easy on me.'"
Even though we'd read the juicy bits, the irresistible urge to flick and skim in search of a hidden gem was still there. If there was a World Cup for competitive speed-reading, it would look something like this — heads bowed, brows furrowed, and the odd chuckle (at the Robbie Savage anecdote, no doubt).
The man of the moment arrived a minute or two after three o'clock, his photo duties with ghost-writer Roddy Doyle already taken care of down at pitchside. With the cameras on for those first 15 minutes, it was open-season:
How Doyle, one of Dublin's favourite sons, had captured the voice of a proud Corkman ("He got there eventually").

His acrimonious split with Ferguson ("Will I ever forgive him? I don't know").

His international regrets ("I wish I hadn't taken my eye off the ball").

The soul-searching and often brutal introspection ("I've been pretty harsh with myself").
Inevitably a phone went off but this time, the only reaction it drew was a roll of the eyes. Keane was here to make a point, and he made it early and often.
For him, this is not about grinding axes but about reflection on 12 rollercoaster years.
"People will focus on the negative stuff," he pointed out with no little surprise at headlines of recent days, "even the World Cup and obviously at United.
"But there were some great days and I worked with some great lads. It's not all about falling out with people."
Above all else it's about setting the record straight, telling his side of the story to counteract the "pack of lies" that have been disseminated over the years.
"Lies and lies and lies," he emphasised. "I've got to get out and say something myself and defend myself."
Some of the culprits were sitting yards from him in that very room, he speculated, Ferguson's henchmen who were happy to print whatever half-truths came their way.
"I can spot them a mile away."
No snarl. No need.
Before long the cameras switched off, the first part of the circus packed up, and Keane moved on to his scheduled roundtable interviews and one-on-ones.
Across town tonight, Ferguson addresses the Dublin Chamber of Commerce's Annual Dinner. Keane goes back to Malahide as preparations continue for Gibraltar; no time to meet his old boss for a pint, even if he wanted to.
This is his life now and he loves it. The rest is all in the past.
Consider the record set straight.