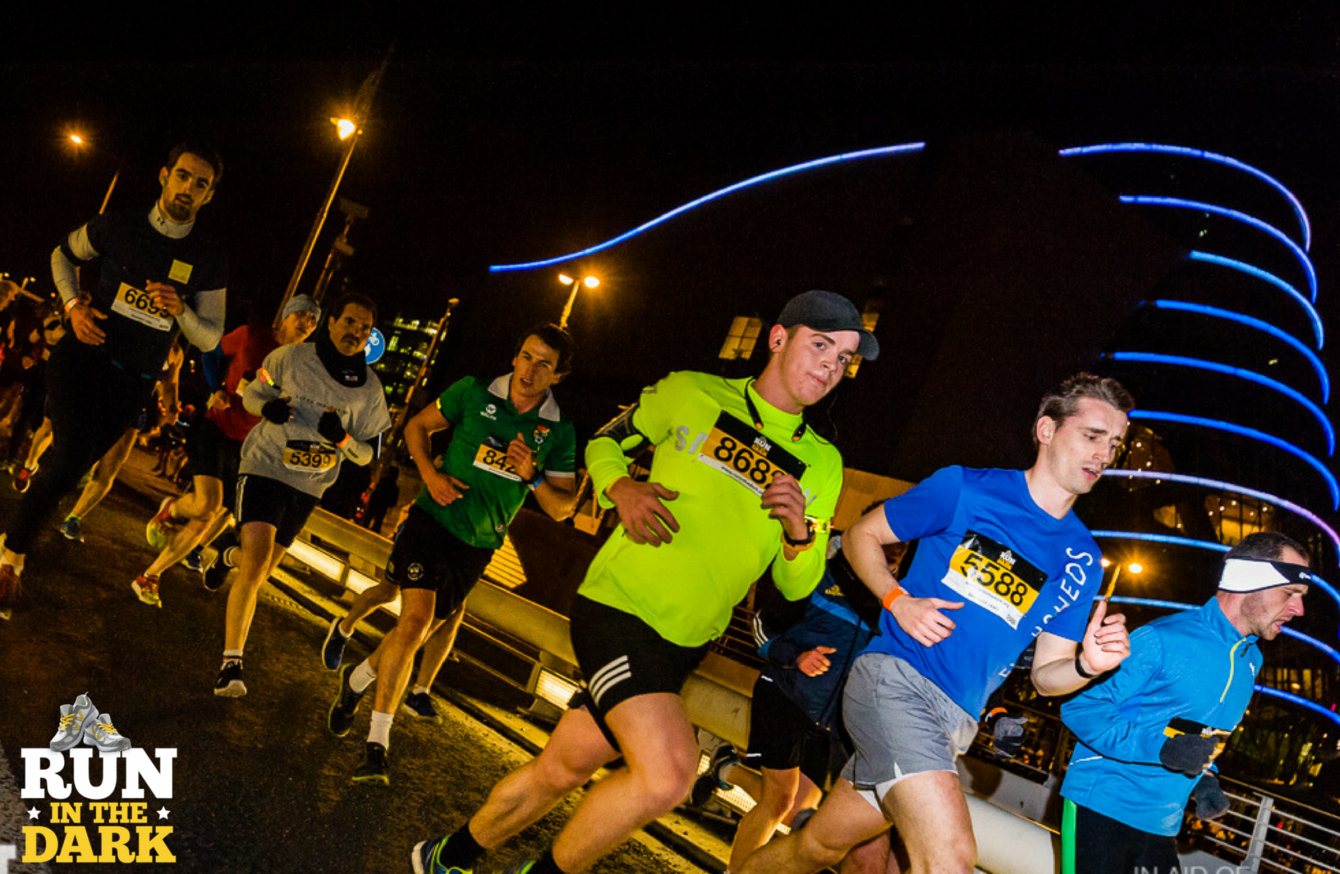 WITH SUMMER NOW well and truly behind us and the long evenings drawing in, there is no better time to get out and pound the pavements ahead of a long winter.
There are several events coming around the corner that you can focus your training on, not least the hugely popular Run in the Dark in Dublin on 14 November and in Cork and Belfast on 15 November.
You can choose to run the 5km or 10km course and with just 34 days until thousands of runners take to the streets for a great cause, now is the perfect time to start training.
We've teamed up with international endurance athlete John O'Regan and blind adventure athlete Mark Pollock to draw up a list of top tips to take on board for your training.
The pair have completed over 50 endurance events on every continent in the world between them, and drawing on their huge experience have come up with this advice.
1. Don't try to do everything at once
You need to build up your training. If you push yourself too hard too soon, you may injure yourself, or lose motivation.
2. Take the easy days easy
Your training should include easy days and hard days. Don't overdo it on the easy days. Go easy on your legs, but then push yourself on the hard days for the best results.
3. Warm up, especially on cold days
You should always warm up, especially as the cold weather sets in. Walking is a good warm up, and cool down. For a cool down, use walking to bring your temperature and heart rate down before going inside.
4. Follow a plan
Check out Run in the Dark's five-week training plan here.
5. Getting back on the horse
If you miss a session because you were away, tired after work, or simply didn't have the motivation to go for a run, go back to the training plan and adjust your upcoming sessions. As Mark says, it's all about getting a score on the board again. Just get out there and run, log your time, and take it from there.
6. Reclaim the hour
Lots of people say they don't have time to fit in a run. Running to or from work or during your lunch hour is a great way to clear your head and get some fresh air. If you don't have showers in work, you can still run home after work, and get there quicker than in a car or on the bus.
7. Recover and rest
Sleep is really important – if you're staying up late watching tv, ask yourself, would you get up an hour early to watch that film or programme? If the answer is no, then turn that screen off and get some extra sleep. Over the course of a week, it adds up to the equivalent of nearly a full day's work.
8. Don't train with pain
John describes two different types of pain: the pain of improvement, and the pain of injury. If both your thighs are burning after a run, this could be your muscles telling you they're getting used to the exertion. But, if you feel you're injuring yourself, rest and give your body time to heal. Above all, always listen to the body.
9. Find a training partner
You're less likely to miss a training session if you've arranged to meet someone. So ask a friend, colleague, neighbour or family member to train with you. You can both help push each other on, and stick to the training plan.
10. Fueling the body
On run day, eat a good sized-lunch but nothing too heavy – you want to avid feeling sluggish in the afternoon. Have a snack in the afternoon. Protein milk is good for recovery post-run
If you're looking for a target for your training, why not join Run in the Dark this November. You can test yourself against the clock, get an official time, and help in the Mark Pollock Trust's mission to fast-track a cure for paralysis. For more information and registration details, click here.
Subscribe to The42 podcasts here: