WORD OF WARNING: this is not your typical New Year's transformation programme. The majority of people embarking on a journey to better health this January will do so with the intention of losing weight and improving their level of fitness – but this challenge is slightly different.
18 months after hitting the gym with the aim of adding considerably to my slender frame, I hit a plateau. There is no challenge more challenging than the challenge to improve yourself and certainly it's easy to settle into a comfort zone and not veer from it.
Each session had become more and more like the previous day's and although I was frequently hitting the gym, the progress had stalled. There is surely nothing more frustrating and disheartening, regardless of your goal, than your training not yielding any discernible results.
The preconception is that bulking up should be relatively straightforward – just eat what you want and the rest will take care of itself – but you don't want to lose sight of your end goal which is to come out of this fitter and stronger than you started.
Before we go any further, let's take a step back and add a bit of context. I have been part of The42 team since September 2014. I'm the youngest writer (as I'm constantly reminded) in the building and graduated from college in May.
Sport has always been part of my life and I have taken a keen interest in fitness since my early teenage years. No different to most males my age. I took up running to keep fit and eventually joined a gym to put on muscle and improve my strength.
It's become the norm now for teenage boys to bench and squat and deadlift. I started late but caught the bug almost instantaneously having been previously intimidated by the thought of weights and protein shakes.
But you soon buy into it. The training, the diet and the lifestyle. It becomes a way of life rather than part of your life – although I'm far from a fitness fanatic. I'm far from an expert on macros and certainly don't track what goes into my mouth.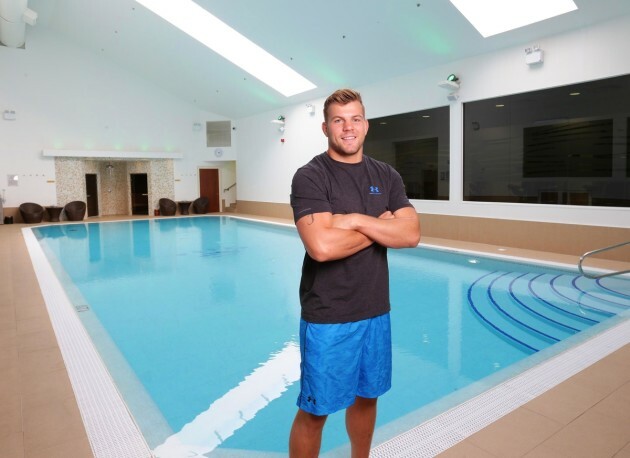 Marc O'Sullivan The facilities in The Shelbourne include an 18-metre pool. Marc O'Sullivan
So perhaps that's what I need to do to reach the next level, I don't know. But what I do know is that I need to improve my training so the intervention of The Shelbourne Hotel's Health Club came at the most opportune moment.
It's not quite the first week in January but there's no better time to step outside your relative comfort zone. So here we are on a bitterly cold Monday morning stripped down to nothing but a pair of shorts. 
When a personal trainer tells you you're the 'easiest client' he's ever worked with, it's difficult to know whether that's good or bad. My body fat percentage is 6.6% (an Olympic athlete is normally 6%, I'm told) and my strength levels for my size are surprising.
We go through a range of fitness tests and Simon, The Shelbourne's lead personal trainer, digests it all to gauge how he can adapt the programme, designed by Jordi Murphy, to suit my needs.
The plan of attack is one session per week with Simon and the onus is then on me to ensure I get the other four sessions in during the rest of the week. That should be no problem but maintaining the level of intensity throughout will be a challenge.
"After Ryan's initial consultation and testing, we discovered he has a good level of fitness and has an ectomorph body type. This means he finds it hard to gain weight but has small joints and lean muscle," Simon explained.
"Our workouts will be short and intense focusing on big muscle groups. To achieve our goals, we are going to be working with heavy weights and base any cardiovascular activity around intervals and circuit style training.
"Diet, as is always the case, is extremely important. Ryan's current diet is perfect though he will look to increase portions as the programme progresses. Supplements such as whey protein will provide post-workout recovery.
"Ryan could generally eat what you wants but this is not advised. Trying to add muscle doesn't mean everything and anything will suffice. Wholesome and healthy foods needs to be incorporated and I have no doubt it with all come together and we'll see results by the end of the three months."
Exclusive Six
Nations Analysis
Get Murray Kinsella's exclusive analysis of Ireland's Six Nations campaign this spring
Become a Member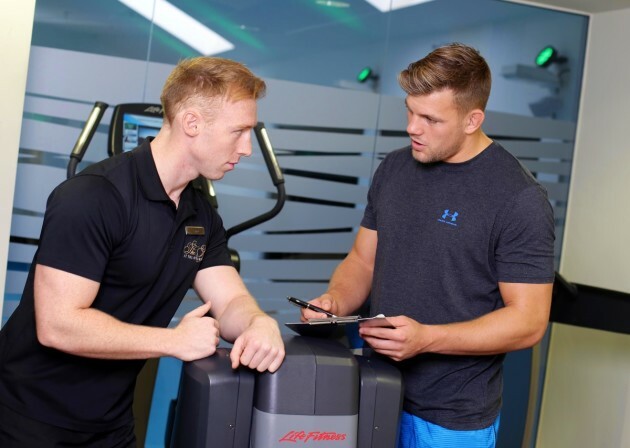 Marc O'Sullivan My trainer Simon and Murphy look bemused at my measurements. Marc O'Sullivan
Right, so there we have. The challenge has been laid down, the plan of attack has been set out and now it's up to me to embrace it all. Each week, you'll find a diary of my progress right here on a Saturday morning along with the workouts, pictures and videos.
I'll leave you with my measurements from week one and the first session's workout where the emphasis was on assessing my fitness credentials, getting a full body workout in and working hard in short bursts.
So here goes, wish me luck.
Ryan's measurements
Height: 170cm
Weight: 57kg
Body fat: 6.6%
Shoulders: 109cm
Chest: 86cm
Arms: 25.5cm
Hips: 85cm
Legs: 42cm
One rep maximum
Dumbbell chest press: 26kg
Dumbbell shoulder press: 22kg
Goblet squat: 40kg

Week 1
Each exercise is performed from set one to three before moving on to the next exercise. The rest period between each set is 40 seconds.
Mountain climber – 30 seconds per set
In a press up position, squeeze your abdominals and bring alternating knees in towards your chest. Exhaling as each knee is brought towards your chest.
Squat with medicine press ball (10kg) – 30 reps per set 
Hold the medicine ball against your chest in a standing position. Then push your hips back and imagine you are sitting back into a chair. Keeping your back straight and upright, lower yourself until you reach roughly 90 degrees with the floor. Then, pushing through your heels stand, back up and press the ball above your head.
Hand release press up – 30 reps per set
Get down on the ground and place your palms flat on the floor at chest level. Make a plank so that only your toes and hands are touching the ground (push-up position). Bend at the elbows and lower your chest all the way to the ground. Lift both hands off the floor, place them back on the ground, and then push yourself back up.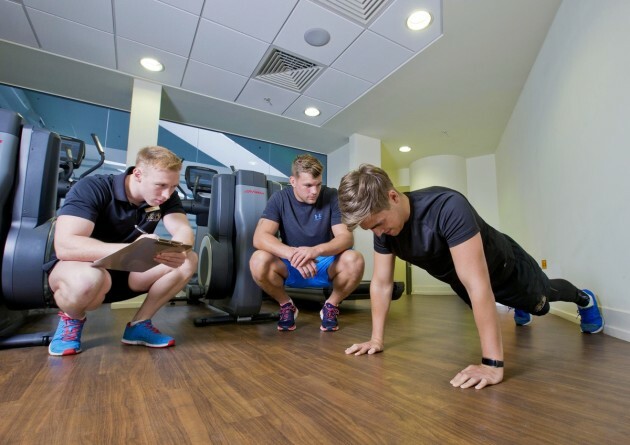 Marc O'Sullivan For the next 12 weeks, I'll be training like I've never trained before (that's not me - pictures and videos to follow from next week). Marc O'Sullivan
Jumping jacks – 30 seconds per set
Stand with your feet together and your hands down by your side. In one motion jump your feet out to the side and raise your arms above your head. Immediately reverse that motion by jumping back to the starting position.
Plank – 30 seconds per set
In a press up position, bring your upper body onto your forearms. Ankles, knees, hips and shoulders should all be in alignment. Squeeze your abdominals and keep them contracted.
Burpee – 30 seconds per set
Begin in a standing position. Drop into a squat position with your hands on the ground. Kick your feet back, while keeping your arms extended. Immediately return your feet to the squat position. Jump up from the squat position.
Back extension – 30 reps per set 
Bring the Swiss ball against your thighs in a kneeling position and lift your knees off the floor, bringing your body onto the ball at waist level. Push your heels against a wall and tighten your hamstrings. Proceed to slowly control and contract your lover back to raise your upper body in an arching motion.
More details on The Health Club at The Shelbourne can be found here. Facilities include an 18-metre swimming pool, sauna, steam room, dance studio and gym furnished with modern equipment.