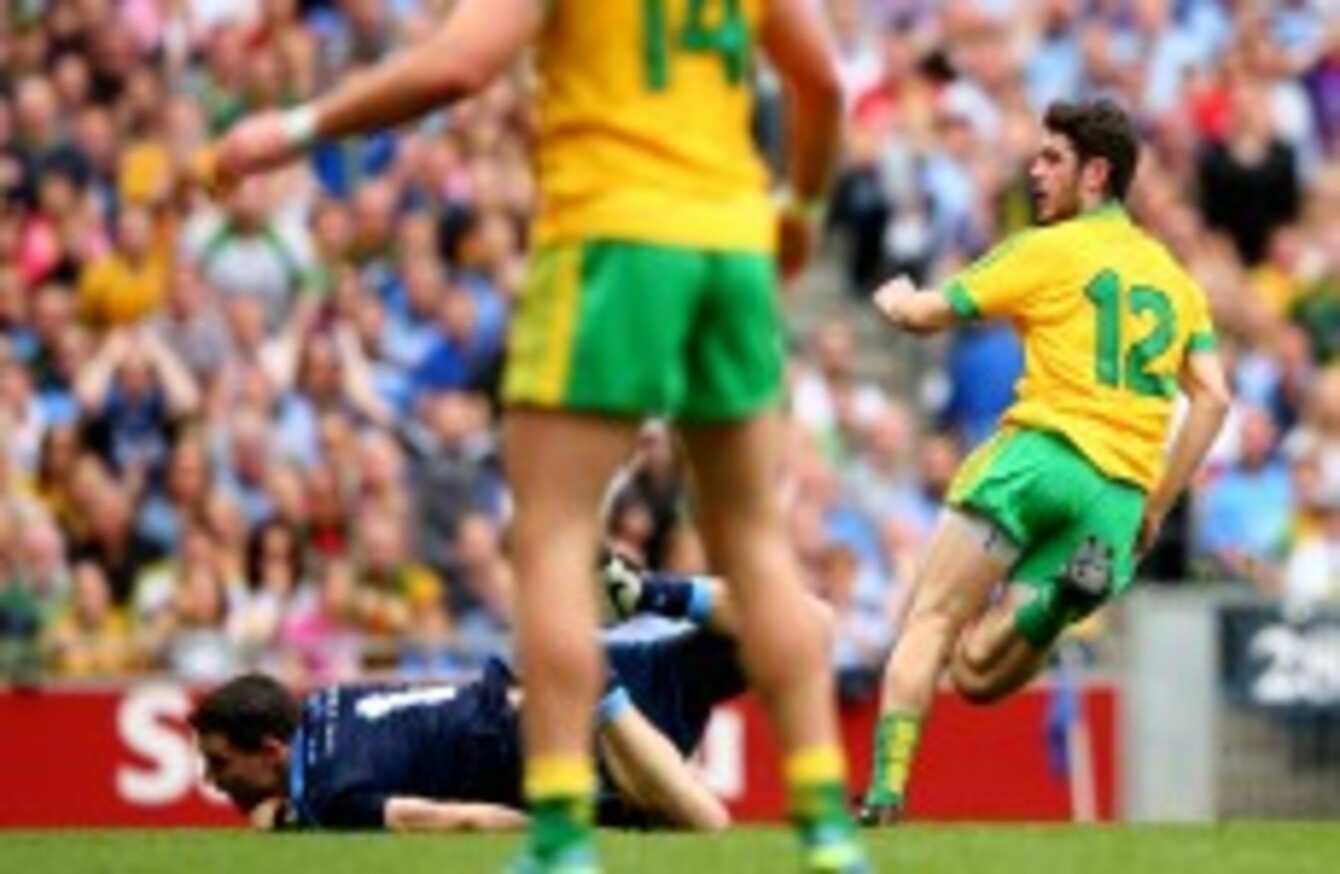 McHugh stole the show with 2-2 in Donegal's shock semi-final win against Dublin.
Image: James Crombie/INPHO
McHugh stole the show with 2-2 in Donegal's shock semi-final win against Dublin.
Image: James Crombie/INPHO
ONE OF THE iconic images of Donegal's 2012 All-Ireland championship win was Martin McHugh in tears on the sideline having embraced his eldest son Mark moments after the full-time whistle.
Working for the BBC, Martin rubbed his eyes as his colleague Jarleth Burns put an arm around him. "This is even better than 1992," exclaimed the proud father after Donegal's 2-11 to 0-13 win over Mayo.
Twenty years beforehand, Martin McHugh was centre-forward as Donegal upset the odds to defeat Dublin and win the All-Ireland for the first time. He was flanked by his brother James at wing-forward in that famous 0-18 to 0-14 victory and was later named Texaco Footballer of the Year.
Mark, a little blonder then than now, was a two-year-old as he sat in the Sam Maguire on the team bus, falling asleep in his father's arms just before they made it home to Kilcar.
Martin, James and Mark have all taken Celtic Crosses to the scattered townlands that form the parish. Ryan McHugh, who four years ago trialled at Reading FC, had been becoming a more prominent figure and in many ways, like his brother, his father and uncle, is the stereotypical Kilcar footballer – small, skilful and intelligent – in an era of increasing brute force and physicality.
His man of the match performance in both the Ulster final and then the All-Ireland semi-final, when Donegal produced a shock similar to that of 1992 – again against Dublin – ballooned his reputation onto the national stage.
Pardon the obvious cliché but the 20-year-old's 2-2 in the 3-14 to 0-17 win over Jim Gavin's side bore all the trademarks of a baby-faced assassin at work.
"Ryan was a stand-out player at underage level, he really was," says clubmate Michael Hegarty, who played 52 championship matches for Donegal from 1999 until 2011. "He's a very mature lad that always had a great head for football."
As football has moved on sometimes Kilcar hadn't. The club still prefer to play the traditional way, sticking to those principles -sometimes to their detriment – at their scenic homeplace of Towney, where the Atlantic rolls in just yards from the sideline.
They've not won a Donegal senior championship since 1993 when Martin and James McHugh were at the heights of their power.
Now, though, with the McHughs and their cousin Eoin, James's son, and the likes of Patrick McBrearty and his brother Stephen, a county minor who with clubmates Andrew McClean and Conor Doherty also preparing for an All-Ireland final against Kerry, things are on a forward trajectory.
Be part
of the team
Access exclusive podcasts, interviews and analysis with a monthly or annual membership.
Become a Member
Rory Gallagher, Jim McGuinness' assistant in 2012, is in charge with John McNulty. Kilcar are currently top of Donegal's All-County Football League Division One and start as one of the favourites for the championship, with a tasty fixture at Michael Murphy and Neil Gallagher's Glenswilly – last year's Ulster finalists – next Sunday.
When Mark opted off Jim McGuinness's panel in April following the Allianz League Division Two final loss to Monaghan, the perception was that Donegal would be poorer for it. His younger brother's initiation into championship football, through no fault of his own, was a tough one in 2013 as Donegal saw both their Ulster and All-Ireland crowns clip in ungracious fashion.
"Mark made his decision as he wasn't enjoying his football," Hegarty said. "Donegal probably wouldn't have won the All-Ireland in 2012 without him with the way he covered the defence. But if he wasn't enjoying his football at the time then he was right to do what he did.
He said he wasn't getting satisfaction from it and there's no point trying to play if that's the case. He will miss the buzz on Sunday, of course, but he's 24 and has plenty of years ahead of him. He's certainly got a future with Donegal.
Missing out on an All-Ireland final is something Hegarty can relate to. In his last year as a senior footballer with Donegal, 2011, he won a first Ulster championship. Along with Kevin Cassidy, Hegarty, a supremely talented forward in the Ciarán McDonald mode, was the last of the generation you now hear referred to as Donegal's 'likeable losers.'
Fine Donegal footballers like Brendan Devenney, Brian Roper, Damian Diver, John Gildea and Adrian Sweeney never won an Ulster or All-Ireland medal. Hegarty has peace in the fact that he did.
"Michael was a stylish and talented player and has been a good servant to Donegal football," McGuinness said at the time of his retirement in early 2012. "I still felt he had something to offer and could have done a job and played a role but regretfully he feels he was no longer able to give the commitment."
Hegarty added: "For me after 2011, my time was done. You can only do so much and I enjoyed it while I was there. Of course I'd have loved to have been part of 2012. That was the first day, the All-Ireland final against Mayo, that I really missed being part of the county set-up. But things move on and I was delighted for the lads."
The McHugh brothers live with one another as students at IT Sligo. While Mark is perhaps more of a free spirit, Ryan is a young man completely consumed by football. His abilities are a classic case for the nature versus nurture debate.
"In Kilcar we try and play a certain way," Hegarty added. "Ryan was brought up with football 24-7 but he has shown he in himself that he has that little extra you need to succeed. Like Mark, Jim McGuinness's system suits the best of his abilities and he has flourished into the player we always thought he could be having grabbed the opportunity.
He has filled the holes that needed to be filled for Donegal. He may not be the biggest but he has an uncanny knack of being in the right place at the right time.
Ryan McHugh may be the baby-faced assassin but his career isn't one being undertaken using baby-steps. And although he has some big shoes to fill, with his giant strides he's certainly going the right way about it.