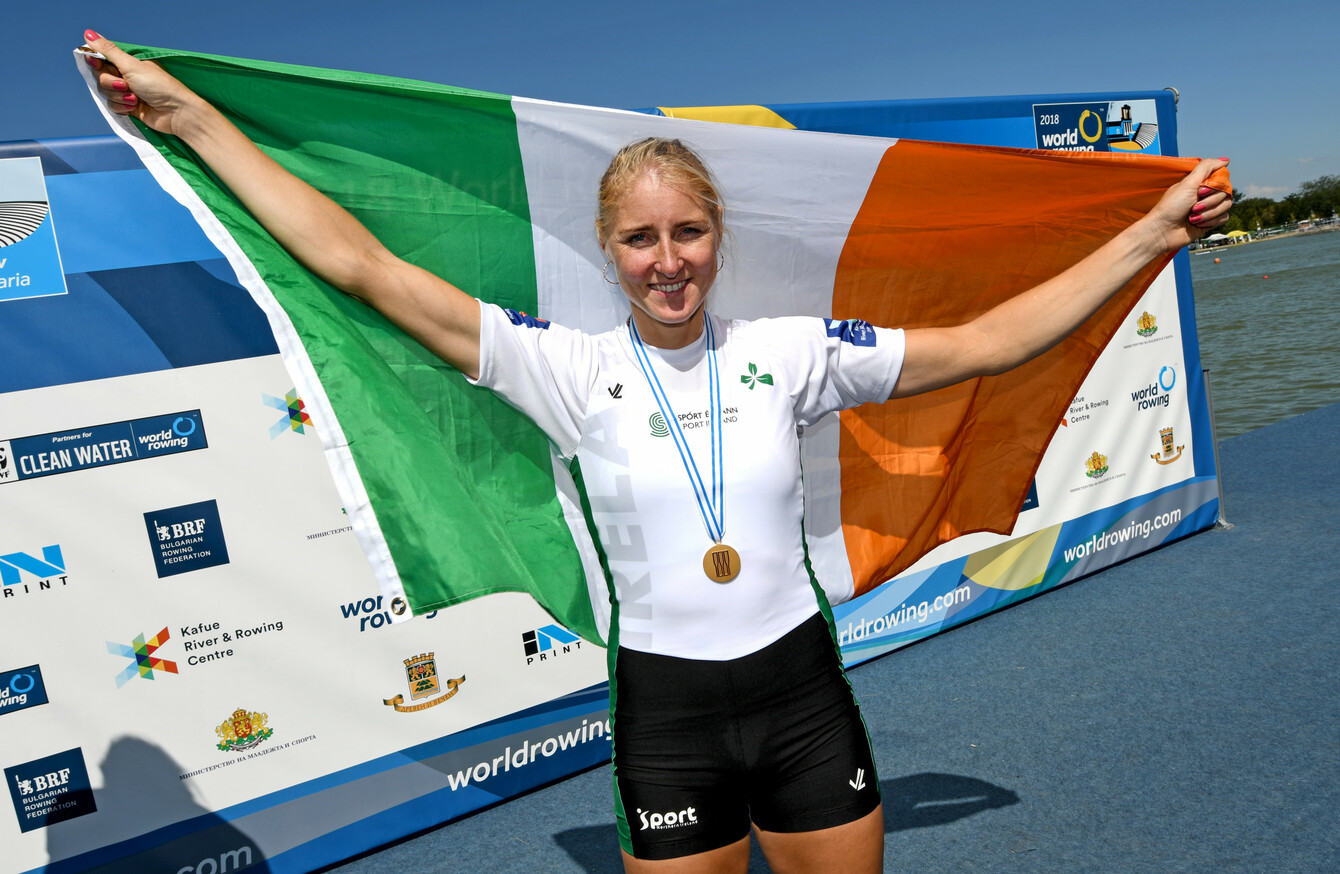 Ireland's Sanita Puspure celebrates winning the gold medal in the Women's Singles Sculls Final at Plovdiv, Bulgaria last September.
Image: Detlev Seyb/INPHO
Ireland's Sanita Puspure celebrates winning the gold medal in the Women's Singles Sculls Final at Plovdiv, Bulgaria last September.
Image: Detlev Seyb/INPHO
AS WITH MANY top athletes, doubt has been a constant companion for Sanita Puspure over the course of her career.
Born in Riga, she rowed in Latvia at junior level. Her parents were not especially enthusiastic about this pursuit initially.
Nevertheless, sports stars who reach the highest level have a habit of defying critics and sceptics along the way, and Puspure was no exception.
"I didn't really ask my mum if I could do it, I just went and did it," she tells The42. "At first, she didn't want me to do it, but then when I got my first medal, she was like, 'alright, I suppose, keep going'. So it was a bit of a turnaround.
"I don't really think they took it seriously until I started going and competing abroad."
And at what point did the young Puspure realise she had a talent for the sport? Laughing, the Irish athlete responds half-jokingly: "Talent? Do I have talent?"
While she clearly does, perhaps the underlying point is that in rowing particularly, supreme self-discipline and a relentless work ethic will always trump any natural aptitude for the sport.
Puspure may have just thought of what she did as "enjoying time with friends," but gradually, it became more than that.
Her promise was apparent in 2003, when she claimed a bronze medal in the single scull at the World U23 Championships. The following year, she took gold in the double scull at the World Student Games.
However, despite these positive steps, she did not see a future in rowing thereafter.
By the time she moved to Ireland in 2006, the 24-year-old considered herself officially retired. As with rowing, staying in Ireland was never meant to be long-term.
The plan was to come over for a year, do a bit of work and experience a culture, learn the language and then move back to Latvia," she recalls.
"It just turned out a little bit different for us. I'm not complaining. I'm quite happy with how it went."
"Quite happy" is perhaps an understatement. 12 years on and Puspure has gone from visiting tourist to adopted national hero — an extended holiday has turned into a permanent vacation. So how exactly did this come to fruition?
One day, when Puspure and her husband, Kaspar, were accompanying their young son Patrick to Dublin Zoo, they took a fateful wrong turn. Pregnant with her second child Daniela at the time, she spotted a couple of boats on the River Liffey at Islandbridge. Seeing them sparked memories of her previous rowing career and perhaps deep down, reignited her hunger to compete. Something inside her made Puspure vow to return to Islandbridge once Danielle had been born.
But after taking up rowing again, the prospect of competing internationally was far from Puspure's mind. The plan was simply to have fun and lose some weight after giving birth.
Yet this casual pursuit ultimately became an obsession. By 2008, she was competing for the Dublin-based Commercial Rowing club and later, she represented Old Collegians in Dundrum.
2009 saw her claim the senior single sculls title at the Irish Championships. As her success increased, the hunger to compete internationally returned. By now settled in Ireland, representing her adopted country was the logical choice. In 2011, she joined Rowing Ireland's elite programme and made the move with her family to her current base of Ballincollig in Cork, with the National Rowing Centre nearby in Farran Wood. Plenty of athletes have since left the programme amid its rigorous demands, but Puspure remains.
"If I went back training and wanted to race internationally, it [was always going to] be for Ireland, because I was never imagining myself in a single [at the time]," she says.
"I didn't think I was capable of being in a single and racing fast. So the idea was to get a crew boat and it was like: 'We're going to stay here and that's the only choice — to race the crew boat.'"
It was around 2012 that Puspure appeared on the radar of people other than rowing aficionados. At the World Cup, she came fifth, and ultimately qualified for the London Olympics, in the process becoming the first female rower to represent Ireland since Frances Cryan finished seventh at the 1980 Games.
Puspure was Ireland's sole rowing representative in London, with the sport receiving nowhere near the level of attention and support that it does now.
Moreover, the circumstances behind Puspure's qualification were far from seamless.
"It wasn't a burst of confidence, for sure," she says, of her decision to row single having initially planned to compete as part of a crew boat.
"It was more like personal desperation. I really wanted to go to the London Olympics. I wanted it so bad that I was willing to throw everything at it and try to qualify single.
I was rowing so badly that year, I have no idea how I qualified. The winter was really rough. I was getting ill because I was stressed so much. And qualification was the only thing. I was eating and breathing it for that period of time.
"It was like a massive rock off the shoulders when I actually managed to qualify."
Puspure ultimately finished 13th at the London Games — a performance that she would not be happy to repeat in Tokyo in two years' time, but one considered acceptable under the circumstances.
"I did the best I could on the day and on those weeks. How I got there was so overwhelming that going to the Olympics was almost like a bonus.
"I knew I was going to do my best, but I knew it wasn't going to be outstanding, because I wasn't up to scratch yet. I wasn't able to compete with all the big dogs at that stage, so it was a massive learning curve."
Four years later in Rio, she emulated her London feat, again finishing 13th. This time, however, she was less forgiving of herself, describing the performance as a "disaster".
Being drawn in a quarter-final against formidable opponents did not help matters. She was paired with accomplished individuals, such as Belarusian Ekaterina Karsten, Australia's Kim Brennan and Jingli Duan of China, two of whom were former world champions and one a two-time Olympic gold medallist.
But the disappointment stung hard, and there appeared to be some doubt about whether Puspure would continue. "The first thing I said today when I came in is 'I'm never going to an Olympics again'. It's been two huge disappointments for me," she told reporters.
But having recovered from these setbacks, Puspure is determined to "fight for a medal in Tokyo".
Such optimism is backed up by recent career-best results — form that is remarkable given the personal adversity she has been through.
Last year was especially tough. Her father-in-law died suddenly just after the European Championships, which she had been forced to miss due to illness.
Puspure also received the awful news that her sister Inese had been diagnosed with cancer.
Remarkably, while these difficulties were going on in the background, the beleaguered athlete managed to win a gold medal at the World Championships last September.
"[My father-in-law passing] was a shock, because it was sudden as well.
"So then it was just an uphill battle until not that long ago, to be honest.
"It was a really rough year and that's why the gold medal meant so much for me and my family as well."
As traumatic as these events were, they also served as a source of motivation for Puspure.
"I had countless sessions where I was thinking about my sister when she was diagnosed. She had a real battle on her hands, so I couldn't feel sorry for myself.
"I used [that motivation] a lot of times when I thought, 'that's it, I can't do any work'.
"She did give me strength, which is kind of funny, because how do you get strength from a situation like that? I don't know. You just turn things around, I suppose."
It has been a turbulent time from a training perspective too. Puspure has had three coaches in three years. In addition to her current coach David McGowan, she previously worked with Don McLachlan and Sean Casey. Their removal was out of her control and even now, the Irish star feels disappointed at the way these situations were handled.
I'm still holding a small grudge against my own governing body for doing what they did last year," she says.
"If I look back, I still don't see the reason why the things that happened had to happen.
"But at the same time, there is only so much I can do. For me, the problem is that I am very loyal.
"If I find somebody that I can work with, I like the sense of stability that they give me and that they are there for me.
"I learn to trust them, they learn to trust me, and we find that way to work with each other to be successful. And then suddenly, they're taken away and you're like: 'Hang on a second. What about me?' You almost feel like it's hurtful in a way."
Nevertheless, the frustration with this situation has prompted Puspure to develop a new mindset.
"I think because I've gotten that kind of thing a few times — three coaches in three years — I promised myself I'm never going to put myself in that situation [where I feel so disheartened].
"I started to become more independent, relying on myself a little bit more and not the other person. I still need a coach, but maybe not as much as before.
"It is hard when you develop the bond and then suddenly, you have to strip it away and move on on your own. You almost feel alone. But it's all in the past, we're moving on now and I have my team-mates I can rely on as well and we do have coaches now, so everything's good."
On a more positive note, the triumph at the World Championships in Plovdiv can be partially attributed to an intense new training programme Puspure has undergone.
"If you do something different, then you might have different results as well," she says.
A more relaxed mentality has similarly helped her excel like never before in 2018.
"I stopped worrying too much and stopped thinking about it too much. I did the training and I felt 'I've done the training and whatever I do, that's the best I can do on the day.' It's as simple as that. 
"Obviously, on the race day, there are lots of things going through your head. Somehow, always going back to that simplicity of things made me feel much better.
Of course, it's still a work in progress. It's not easy to suddenly change your mentality and go: 'Oh, you know what? I'm going to stop worrying now and it's going to be great.' The old habits still come in. But before, I was thinking way too much — I would put some extra pressure on myself that I didn't need to. Then I stopped enjoying it as much.
"You just go home and do your best, but you've no idea what you're doing at home as well. So the mentality is an ongoing battle. The work never ends. You always can do something better."
Puspure did at least have a rare moment to unwind after her victory at the World Championships, though plans for more elaborate celebrations ultimately failed to materialise. 
"I like the idea: 'Oh yeah, we're going to go out and celebrate. Usually, you end up having a glass of wine and dinner, and it's: 'Oh, I want to just go and sleep.' All that wildness before, it's the idea of it that's appealing. When you actually have to go out, it's like: 'Ah, no.'
"It's the build-up of the emotional and the physical, and then suddenly it's all done. It's like: 'Okay, I can relax.' And then suddenly, you feel so tired. Then it takes you weeks to get over that tiredness, before you actually feel human again."
Puspure received significant media attention following her success, appearing on the Late Late Show with the fellow world champions, Gary and Paul O'Donovan, and doing four interviews on her way to the airport alone. There was also the infamous press release, in which Minister for Sport Shane Ross, or at least his representative, wrongly believed her first name to be 'Dominant'. 
"I actually did see it as a positive. We were laughing away about it. Never in my mind was there a thought of: 'Oh my God, that's so embarrassing.' It was like, well fair enough, they did use that word a lot during the commentary, so I can't really blame him for that mistake.
"It did attract a lot of [publicity] as well, and it was funny."
One issue Puspure is less amused by, however, is the subject of her age. She is 37 and will be 38 by the time the next Olympics roll around, but in a sport like rowing, it is by no means unusual to still compete at this age.
Karsten, a seven-time Olympian and two-time gold medallist, is still competing at a high level at 46, so there is no reason why the Irish athlete cannot do the same for many years to come.
"The people who brought it up should be ashamed of themselves in front of all the women who are doing something in their lives," she told reporters last October.
Yet on account of this ageism, Puspure has simply been afforded another opportunity to yet again prove the doubters wrong.
Her toughest critic, though, will always be the negative voice inside her head. And increasingly, she is becoming proficient at shutting it out.
"I have nail varnish in my room, so I was painting everybody's nails, watching videos," she recalls in relation to the build-up of a recent event in which she was competing. "You do find small distractions. But at the same time, every few minutes or so, your mind goes back to the racing. It's not that easy to forget it.
But then like, my team-mates obviously play a massive role in that, if we can go and hang out together. They were awesome at a race day on the final. A few of them came to me at around half eight in the morning after a night out and they distracted me until it was time to go to the course.
"That's something that there's such a high value in — it seems like a small thing, but to me it meant the world on the day, because I wasn't alone over-thinking it. It's really nice to have that team around you."
So with no shortage of talent, coupled with this phenomenal team spirit, as 2019 approaches, Irish rowing is arguably in a healthier place than ever.
"[The O'Donovans] got the silver [at the 2016 Olympics] and from then on, the expectations are raised so much. You see somebody succeed and next time you expect them to do the same or better.
"It's in a great place at the moment and let's hope that with all the hard work we're doing, we can maintain this as long as possible. It's finally noticed in the country. Ireland's been noticed all around the world. It is great for our sport."
Subscribe to our new podcast, Heineken Rugby Weekly on The42, here: