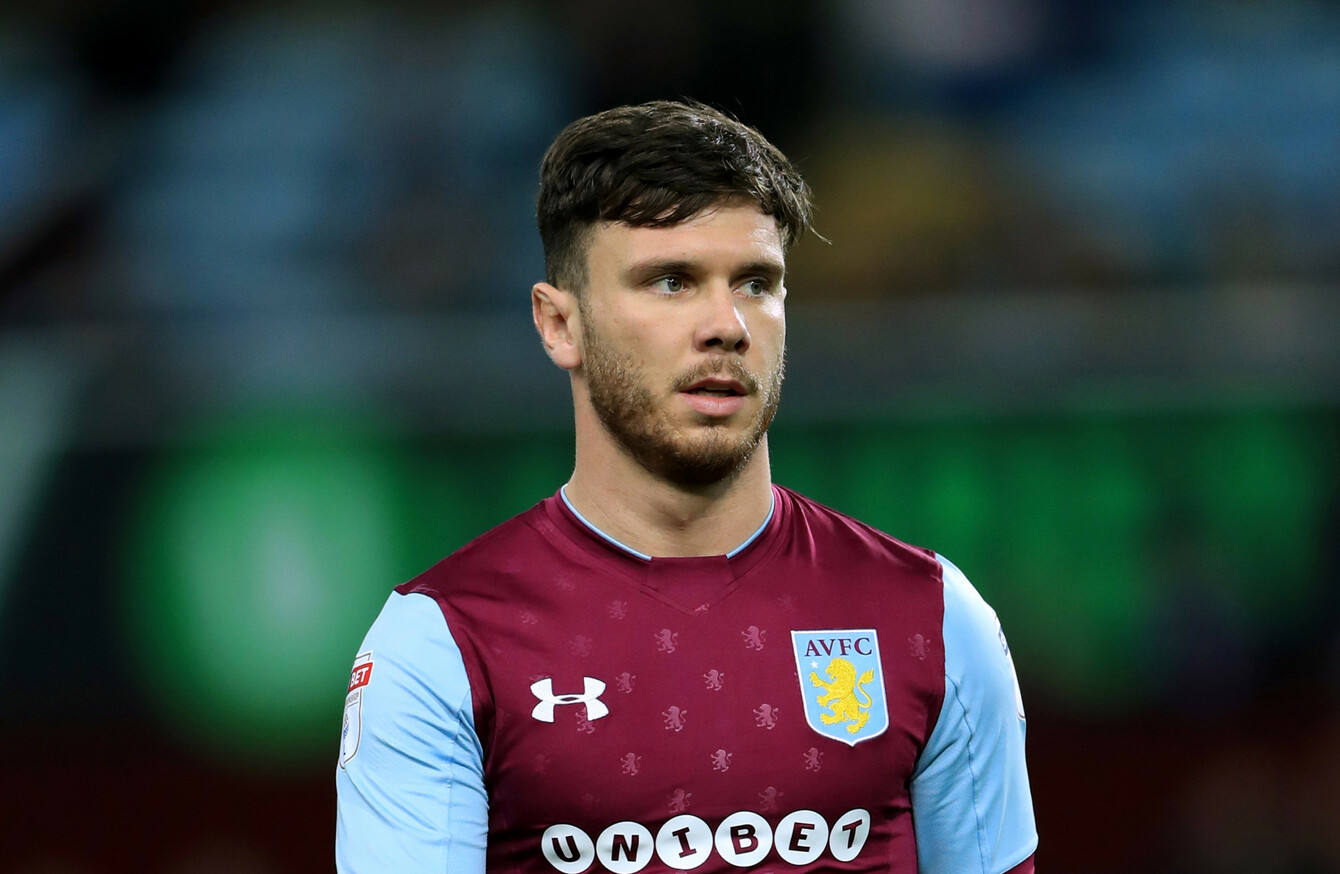 Aston Villa star Scott Hogan has been called up to the Ireland squad for the first time.
Image: Tim Goode
Aston Villa star Scott Hogan has been called up to the Ireland squad for the first time.
Image: Tim Goode
IRELAND'S SCOTT HOGAN admits it feels slightly surreal to be working with his boyhood hero Roy Keane all of a sudden.
The Salford native, whose father's side of the family is Irish, has been included in the Ireland squad for the first time, ahead of the crucial World Cup qualifiers with Moldova and Wales.
And growing up, Hogan was "a big Man United fan" who dreamed of emulating his Old Trafford idols one day.
I was born 10 minutes from the ground. So for me, it was Roy Keane (who was my favourite Irish player).
"And obviously, Eric Cantona was 'The King,' as they called him. I was a bit young, but I've watched the videos of him.
I grew up watching people like Roy Keane. When they beat Juventus in Turin (in the 1999 Champions League semi-finals), my dad was telling me how incredible it was. 'You won't see many things like that on the pitch.'"
Hogan also spoke about his excitement and slight nervousness at the prospect of meeting the Man United legend.
I remember saying to my family, if Roy Keane rang me, I don't think I'd know what to say. I don't think I'd be able to say 'no' (to him), regardless of what state I was in. It was sort of like a little joke.
"Then, I met up with (Martin O'Neill) a few weeks back and I said that to him. He said: 'If I knew that, I would have told Roy to ring you straight away.'
In terms of Irish players who've come over (to England) and won things, he's got to be right up there with what he's done in football.
"I was a little bit nervous meeting him. I met him getting on to the plane actually. It is a bit of a shock, but at the end of the day, he's here to help now.
I was a bit starstruck, but you sort of get over it. It's quite interesting to say 'Roy Keane's teaching me how to play football.'"
Source: The42.ie/YouTube
Hogan has long been linked with a possible Ireland call-up and finally officially declared his allegiance to the Boys in Green back in August. The decision, he insists, was not a difficult one.
I've got all the elements of an Irish family, all the traditions. I've forgotten a lot of them if I'm honest, but it was a big family in Carlow.
"It wasn't a difficult decision. It was one I wanted to make for a while, but injuries haven't allowed me to."
The 25-year-old enjoyed impressive stints at both Rochdale and Brentford, scoring 21 goals in 33 appearances for the latter, though by his own admission, the goals have "dried up" since sealing a £12 million move to Aston Villa in the last January transfer window.
In recent weeks, Hogan has been largely limited to a substitutes' role at Villa Park, having failed to score a single goal in the Championship since the season began (though he has registered three in the League Cup).
Of his Ireland call-up, he adds: "You don't want to come in and sit on the bench — I'm doing enough of that at Villa.
You can't contribute sitting on the bench, so everyone wants to play and do well, because if everyone does well, the result will show that.
"So if given the chance, you've got to take it."
Injury problems have also severely limited Hogan's game time in recent years, though he insists he is now completely fit and raring to go.
I've spent two years in the gym, so if my body's not ready now, it'll never be ready. All my injuries tend to be impact injuries. I don't have soft tissue injuries or things like that, so I work hard in the gym.
"As soon as you set foot in the training pitch, all your doubt has to go. You can't train at match tempo if you've got doubts in your mind. So the minute you join full-contact training, your doubts have to go and I've always been confident ever since I stepped foot back in the training pitch.
I had really good people looking after me, so you put a lot of trust in them and your trust gets rewarded."
Martin O'Neill, meanwhile, on Monday suggested that inexperienced players such as Hogan and Sean Maguire could be given a chance in the upcoming World Cup qualifiers if they impress on the training pitch over the next few days, but the Villa forward says he won't be feeling overly anxious during this period.
Every day, when you go out to train, you should feel the pressure to perform. You have to perform (in training) to be able to perform in a match.
"I'm really lucky to be in this situation (playing football for a living), so I think you've just got to enjoy it, rather than putting pressure on yourself."
Subscribe to The42 podcasts here: