GROWING UP IN the north of England, Sean Dougall never could have imagined that a professional rugby career would bring him to settle so thoroughly into life in France.
Yet here he is, nearing the end of his eighth season in French rugby. His three kids, Sienna, Henry, and Arthur, were born in France and Dougall jokes that the boys, now five and six, speak the language better than he does. They're happily settled on the idyllic island of Ile de Ré close to La Rochelle, so they're never short of visitors.
Dougall is the contact skills coach for the reigning European champions. The 33-year-old also does strength and conditioning coaching but from next season on, will focus exclusively on his contact skills work all the way through the club's pathway from the U15s side up to Ronan O'Gara's senior team.
Former back row Dougall had a three-year spell with Munster from 2012 until 2015, featuring for Emerging Ireland during that time, and now finds himself working alongside former team-mates O'Gara and Donnacha Ryan every day.
It's a nice spot for someone who only started coaching as recently as 2021 when he retired from playing after two seasons in the PRO D2. Dougall is grateful for the chance.
"To be surrounded by the likes of ROG and Donners, that's invaluable for me because I can pick their brains and watch how they operate," says Dougall.
"There are world-class players here, particularly in the contact area. It's awesome to be around those sort of guys. Then the young guys in the pathway, for them to see players in the senior team who are very good in the contact area, it emphasises how important it is for their development."
James Crombie / INPHO O'Gara, Dougall, and Ryan with last season's trophy. James Crombie / INPHO / INPHO
The atmosphere in La Rochelle this week is understandably electric, with the Champions Cup final rematch against Leinster to come in Dublin on Saturday. 
Rugby is chief among his thoughts, of course, but getting back to Ireland even briefly will be welcome for Dougall. Cork was a happy home for three years. He was born in Scotland before his dad's work brought the family to Durham when Sean was five.
His dad, Greg, hails from Belfast and Sean had big ambitions of wearing the green jersey of Ireland when he grew up. A promising young player, Dougall was involved in the Newcastle and Leeds academies before he signed up for the Irish Exiles team and ended up getting capped by the Ireland U18s.
That led to Ulster signing him to their academy in 2008 but two big shoulder operations ruined Dougall's two years there and he departed for Rotherham in the English Championship, where his performance caught Munster's eye. In 2012, he made the move to Cork, where his great-grandfather was from, and embraced a thrilling challenge.
"Growing up, you'd see the likes of O'Gara, O'Connell, O'Callaghan, these legends of Irish rugby, then all of a sudden you're in the same changing room as them," says Dougall. "It was a surreal experience and one that I absolutely loved.
"There were difficult times, especially the last year when I didn't play a lot, but what an environment to be part of. You talk about professionalism… that culture of rugby in Munster was just amazing.
"I'd have liked to play there for a bit longer and I didn't achieve my goal of playing for Ireland, but I came away with great memories and some really good friends. And now it has helped me to get this opportunity in France."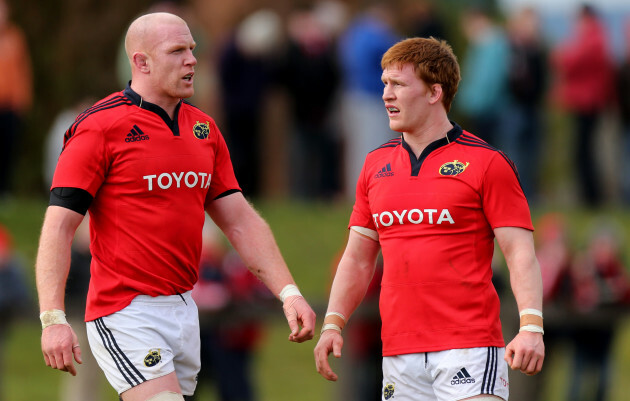 James Crombie / INPHO Dougall playing alongside Paul O'Connell. James Crombie / INPHO / INPHO
Dougall loved the intensity of the Munster set-up. The high standards demanded by O'Gara, O'Connell, and co. were welcome. He learned about the finer details of things like the attacking ruck too.
Dougall played for Munster 42 times, including a start in the 2014 Heineken Cup semi-final against Toulon, but his time there ended with the disappointment of playing in the 2015 Pro12 final defeat to Glasgow.
By that stage, he had already agreed to join French side Pau, where ex-Munster assistant coach Simon Mannix was in charge. James Coughlan had moved over in 2014, Paddy Butler joined at the same time as Dougall, and Dave Foley followed a couple of years later.
Dougall had four enjoyable years in the Top 14 with Pau before spending two seasons with Valence Romans in the second-tier PRO D2. The rugby challenge was great, while he and his wife, Emily, have loved life in France.
"That's the great thing about rugby, there's not many jobs or hobbies where it can take you around the world and you can meet so many different types of people. Having all those life experiences is awesome."
Two summers ago, he linked up with La Rochelle as a strength and conditioning coach for the senior team, but was soon dabbling in contact skills work with the underage sides. This season, the dual-role was formalised and from the next season, it will be pure rugby coaching. Dougall's focus is on the 'contact pathway' right up through La Rochelle.
The ball carry, the ball-carrier's attitude on the ground, ball presentation, the first supporting player arriving at the ruck, tackling, jackal work at the defensive breakdown, plenty more – Dougall's work is all about building good technique and habits in La Rochelle's players.
"It means that as they progress up through the club, they're meeting expectations of the coaches in the contact area," he explains.
Dan Sheridan / INPHO Dougall and his family are happy in La Rochelle. Dan Sheridan / INPHO / INPHO
"The players understand the language being used around the contact area and that's a big chunk of the work during the week. I get to see all different age groups and in terms of development for me personally, it's brilliant."
He works closely with forwards coach Ryan, whose attention to detail has been impressive, while Dougall is delighted to be at the same club as O'Gara.
The Munster and Ireland legend has led La Rochelle impressively and Dougall is learning lots from him.
"ROG is the one who has given me the opportunity here," says Dougall. "He took a chance on me in getting me in the door. I want to just work hard here and be good at what I do to repay the trust he showed in me.
"ROG's rugby intelligence and the way he sees the game, to be able to see that every day and pick up the nuggets of information on how he sees the game, I try to soak that up as much as I can. At the same time, what's as impressive about him is his character. He is highly driven and has high standards for everyone – players and staff.
"Then he has the ability to bring everyone along with him. I think that's the sign of a great leader, he has that aura and way of having everyone aligned towards being successful. It's a real privilege to be around that."