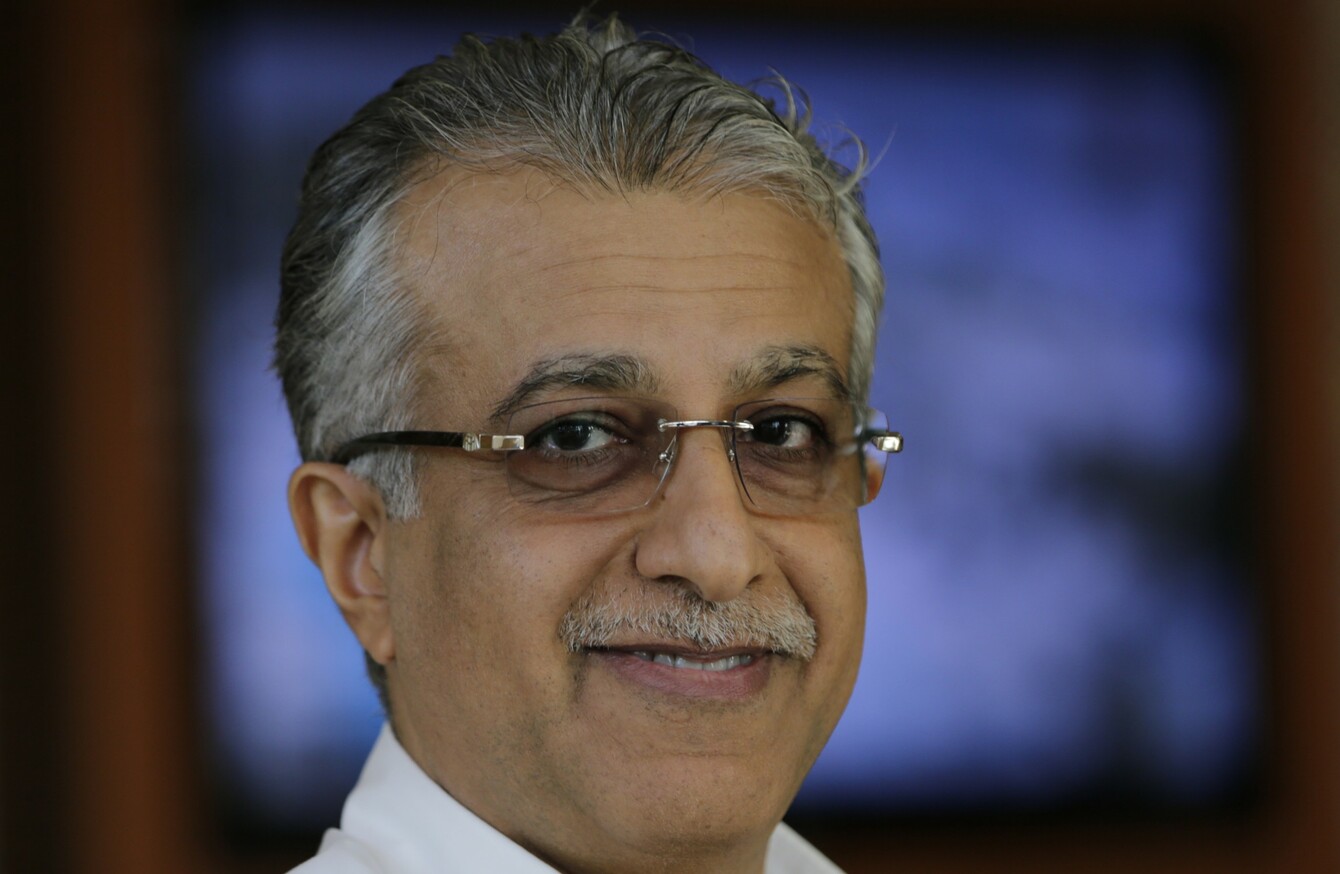 Sheikh Salman is currently president of the Asian Football Confederation (AFC).
Image: AP/Press Association Images
Sheikh Salman is currently president of the Asian Football Confederation (AFC).
Image: AP/Press Association Images
IF YOU'RE LIKE me, then you're probably missing Sepp Blatter already.
The way he'd work the stage at Fifa Congress, giddy as a Swiss mountain goat. The way he'd deflect a corruption allegation with a wink and a cheeky smile. It's hard to imagine life without him.
But good news. The man who will most likely succeed Blatter is a great guy.
That's Sheikh Salman Bin Ebrahim Al Khalifa, Bahraini royal, president of the Asian Football Confederation and favourite to top the presidential election poll next month. Get used to him, you're gonna love him. He's a great guy.
You might have seen him this week, speaking to Sky Sports News. He's been trying to show us in this part of the world that he's a great guy, because it looks like enough other people think he's a great guy to get him elected. He'll have the AFC on side, of course, but also most likely the African confederation members (CAF). That's because the two bodies recently signed an agreement to improve "development of football in the two confederations." And just in time for the election!
Mind you, his presidential rival Prince Ali of Jordan doesn't think he's such a great guy. He said the deal was a blatant attempt to engineer a 'bloc vote' and breached Fifa rules. But Sheikh Salman said the agreement would merely "establish solid ties with like-minded football professionals." Phew, still a great guy!
Actually, you know who else doesn't think he's a great guy? The Bahrain Institute for Rights and Democracy. They wrote to Fifa's sponsors last week raising questions about Sheikh Salman's alleged role in the brutal suppression of pro-democracy protests in 2011. They alleged that, while president of the Bahraini Football Association, he headed a committee tasked with identifying sportspeople who were subsequently jailed and in some cases tortured, and that the BFA acted on political grounds to fine and relegate a number of clubs.
But being a great guy, Sheikh Salman has denied these allegations, insisting that while he was appointed to such a committee, it never actually carried out any work. Still, the BFA has been accused of being sympathetic to the crackdown and of failing to help Bahraini national team players who were imprisoned and tortured. Sheikh Salman mustn't have known anything about it, or he would have helped, being a great guy. And he wouldn't have allowed action against clubs on political grounds because political interference in football is against Fifa rules, which Sheikh Salman knows because he is, of course, a great guy.
The London law firm Schillings thinks he's a great guy too. If you suggest that any of the above allegations may have any substance then, by jiminy, you will hear from them. Take the Guardian, which reported comments last week by Mark Pieth, an academic employed by FIFA in 2011 to initiate reform. He doesn't think Sheikh Salman is a great guy. He said "We need an outcry from the 209 FAs. Is Salman a credible agent of democracy and a fresh start? Is he suitable?"
The Guardian report carries this addendum: "Lawyers for Sheikh Salman contacted us after publication. They say that Sheikh Salman had absolutely no involvement in the events of 2011. He is not a government official, has never played a role in governance of the country and… played no part in the detainment or mistreatment of any individuals." All of which we echo here, because Sheikh Salman is a great guy.
Peter Hartigay thinks he's a great guy. He's the notorious spin doctor reported to be behind Sheikh Salman's campaign and boy does he have football pedigree! He acted as a paid adviser for Australia's unsuccessful 2022 World Cup bid, while at the same time working as a consultant for Mohamed Bin Hammam, the alleged mastermind of Qatar's successful rival bid, who was then waging a bitter campaign for the AFC presidency against – guess who?! Yes, Sheikh Salman!
Not only did the Sheikh forgive Hartigay for orchestrating what's been described as a 'dirty tricks' campaign against him, but being a great guy, he's got Hartigay on the payroll!
A great guy, and wise too. Because one of Hartigay's previous jobs was as special adviser to a certain Mr Sepp Blatter between 2002 and 2007. And any friend of Sepp's…
Sheikh Salman's a great guy and will do a great job. The interview with Sky Sports News featured inspiring reforming rhetoric.
What happened is something that is outside the responsibility of Fifa. Those cases have occurred in the Americas…outside Fifa jurisdiction. People always use the slogan "Fifa scandal" but I don't think it is a Fifa scandal. You look at other sports – athletics, tennis, doping etc in all kinds of sports. I am sure there are cases which are much worse than what FIFA has.
Wrongdoers watch out! The Sheikh is coming for you!
Sheikh Salman is such a great guy, you almost won't miss Sepp.
– For more on the 2016 Fifa Presidential Election, read Sporting Intelligence's guide >