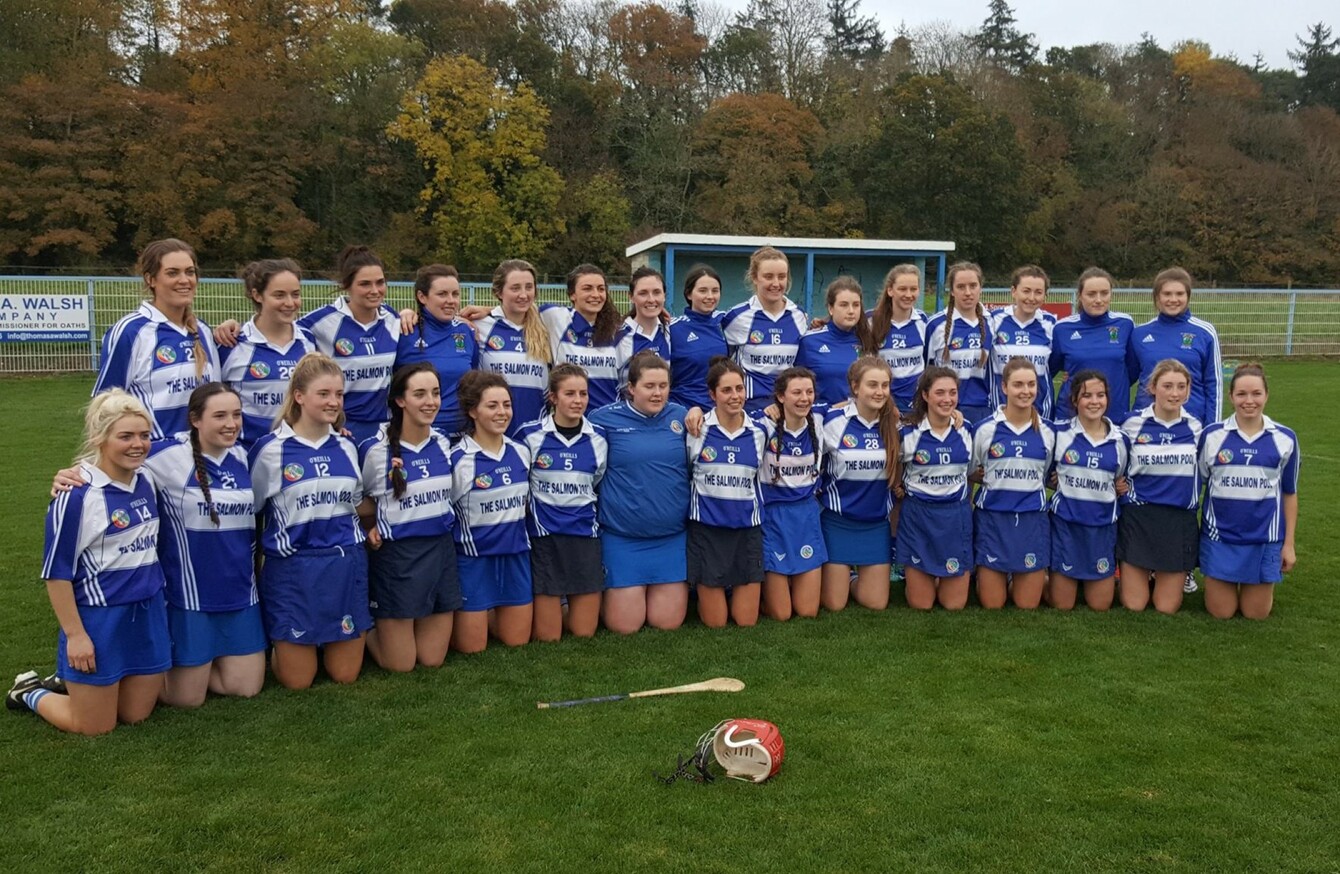 Thomastown are looking to continue an exceptional year for Kilkenny camogie.
Thomastown are looking to continue an exceptional year for Kilkenny camogie.
WHEN SHELLY FARRELL blasted the Hill 16 net with virtually the winning score in the All-Ireland senior camogie final, the internet exploded with admiration.
Fellow Kilkenny hurler Michael Fennelly gave a nod to her skill on Twitter while also proffering some advice to her older brother Jonjo.
For so long, the Kilkenny hurlers have been the primary source of pride in the county but in the 2016 decider, their camogie colleagues ended a 22-year drought and that superb strike from Farrell proved to be the decisive score.
But all the social media interest evaded her attention. She was too immersed in the winning emotion to entertain anything happening externally. Even when the praise is brought to her attention two months later, she has a deadpan response for it all.
"Ah no, it's a couple of days afterwards when it finally sinks in. We were just celebrating in the dressing room so we wouldn't be thinking too much about that until after."
But there's a distinct warmth in her voice when she talks about the impact of their achievement and she's more than accepting of the local responsibilities that come with the win.
"There would be (responsibilities) because we're role models now so you have to give something back to the club. We go down and train the young girls."
"It was brilliant," she adds, "and all the girls on the team, sure we'd be all best friends so it was a great opportunity. It was great to boost camogie in Kilkenny and get lots of people interested. Back a few years, it was all about the hurlers but there's loads of interest in camogie now so it's great to see."
The female side of the Farrell family from Thomastown was well represented on that winning Kilkenny team. Along with Shelly operating in the full-forward line, Meighan and Anna also lined out against Cork. Sixteen-year-old Eimear is on the Thomastown panel and is gradually catching up to her older siblings.
And with brother Jonjo making a notable impact for the Kilkenny hurlers this year, the Farrell homestead is ripe with talent.
"There's a great buzz at home. My mother and father are brilliant, they have done everything for us and that's why we've got so far. I have two cousins Ciara and Aoife Farrell (playing as well) so it's great, the family is great, and everyone is delighted at home. It's great at least we can all tell each other if we're doing something wrong or give each other praise."
"Jonjo is the only other boy in the house so himself and my father are surrounded by women."
The winning times have continued for Farrell since that dayin Croke Park. She was instrumental to Thomastown's first county title since 2014 when they overcame Mullinavat.
A Leinster semi-final against Oulart-The-Ballagh followed after, a game which was played in Thomastown. Manager Ken Walsh expressed some mild concerns about playing that provincial fixture on home ground but Farrell says they were undaunted by the challenge and relished the chance to play in front of local supporters.
"It was great to get the opportunity to play down in Thomastown where we've been playing all our lives. We knew that it would be tough for Oulart to come up and we knew that we'd have to fight for every single ball."
"Oulart have been in a few All-Irelands and have been in Leinster champs so they're tough opposition. They are a very tough team and they were in a Leinster final two years ago so that was tit for tat. We got a good lead but they came out very strong in the second half."
With the tax deadline afflicting many this week, the trainee accountant had plenty of work to rinse out the nerves ahead of the Leinster final against St Vincent's of Dublin. That being said, she's still enjoying the preparation and knows the full value of the task ahead of them today.
We're going in as underdogs and it's a good way to go into a match. All the girls are great, training is brilliant, everyone is putting in 100% so it's great to see everyone looking forward to the match. We're just going to go out and play our best and hopefully it'll pay off in the end."
The42 is on Snapchat! Tap the button below on your phone to add!