THE IRFU CONFIRMED on Tuesday that Les Kiss will be Ireland's interim head coach for the team's summer tour to North America.
Kiss, a former rugby league coach in his native Australia, will take over the running of the team for games against the US Eagles and Canada. He will be assisted be Anthony Foley and Gert Smal.
TheScore.ie has enjoyed many an animated discussion with Kiss in the past two years.
Here are some of the Australian's thoughts on rugby, the Irish team and the players he will now lead:
Brian O'Driscoll
I asked Brian why he wanted to tackle [France prop] Vincent Debaty twice – I thought he had more smarts than that.
He's a warrior who puts his body on the line week in, week out. We know that. It's amazing what he pulls from his reserves.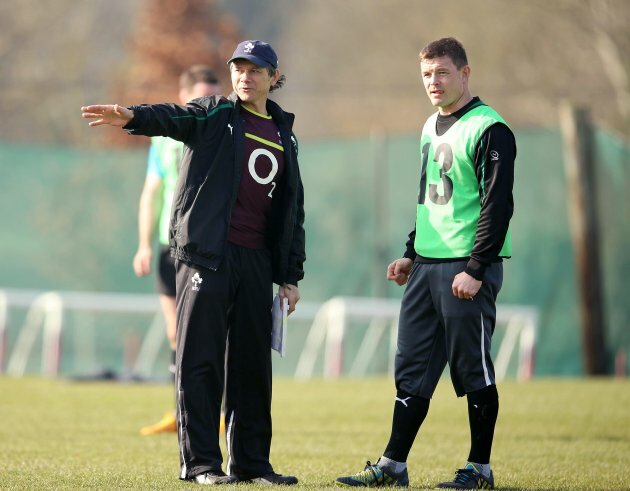 Kiss and O'Driscoll at an Ireland training session last month. (©INPHO/Billy Stickland)
Taking on the world's best
We just have to make sure that we set in our heart and our minds tonight, as we go to bed, that we're up for it and that we're going to go and take it to them. The alternative is that you won't get it done [against South Africa] tomorrow.
You have to show up with the right mind-set, that you'll go at these guys and get in the trenches with them, take them down to the trenches and really work them over. Because, if we do that, we have some wonderful talent.
Narrow defeat to the All Blacks in Christchurch
I think a few of them would have been quieter than they probably would have liked but they didn't play badly. It was a fair dinkum, true Test match.
On the pressure side of things, we were more persistent and precise with our in terms of putting the pressure on where we thought we could and it came through.
It was the wrong result. The boys deserved the win, I thought. I was gutted for them.
Dan Carter's winning drop goal in that match
That shouldn't have been their advantage. They went through it and missed it as we were good enough to stop it. It is like a tackle. If we tackled him there, trying to attempt a field goal, but we tackled him before it we would get the ball back.
D.C slots over a DG in Christchurch to break Irish hearts. (©INPHO/Billy Stickland)
But that doesn't happen. That's probably a law they could look at. I think that if you go for a drop goal and you miss it, you shouldn't get possession back.
On Connacht fullback Robbie Henshaw
We've been really excited about his development.
He had to step into the breach when Connacht lost Gavin Duffy and he was playing 13 earlier in the year. When he had to put his hand up for that, he's done an exceptional job.