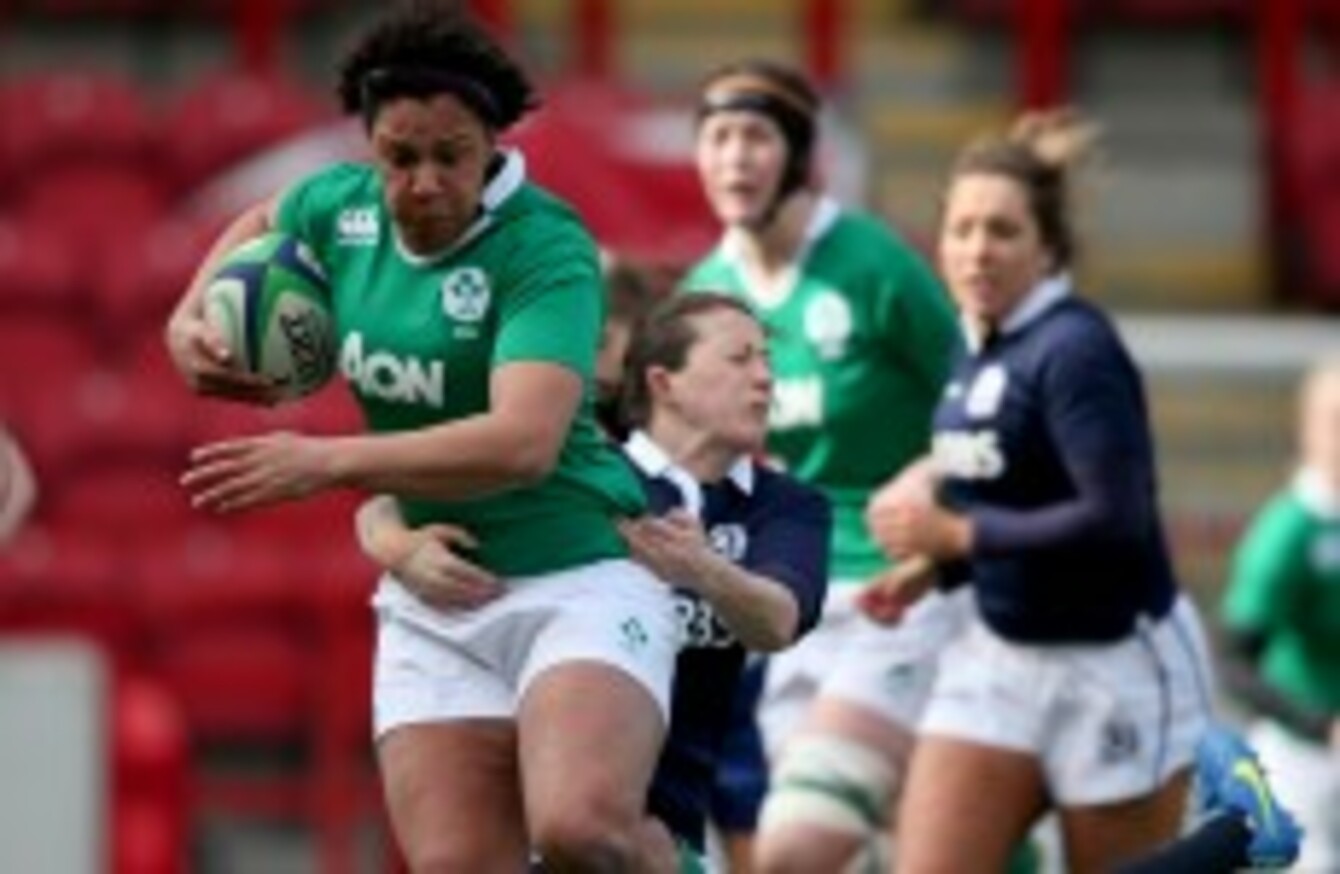 Image: Dan Sheridan/INPHO
Image: Dan Sheridan/INPHO
IRISH WOMEN'S STAR Sophie Spence is hoping next month's one off test against England in London can be a platform for an increased calendar for the women's side.
The 15-a-side team haven't played since their 70-point win against Scotland on the final day of the Six Nations Championship, and the 28-year-old second row says getting the chance to blow off the cobwebs with Ireland is vital ahead of the defence of their title in the spring.
Speaking at the launch of World Egg Day with Bord Bia yesterday, Spence said that getting a test match under their belts outside the Six Nations schedule can only make them better.
"It hasn't been done for us before, and it's something we need to really use to prepare. We have double the amount of sessions now in preparation for the Six Nations which we haven't had before, and that's a stepping stone, not just for 1-15 but for the whole squad," she said.
Aside from Six Nations and the World Cup, the 15-a-side team's only other game in the last few years has come in against Spain in early 2013, although it was essentially an Ireland A side that took part that day.
Spence is hoping that next month's game against England can act as a springboard to a busier schedule for the women's side, outside of their regular calendar.
"It's a huge thing for us and women's rugby.
"I'd love it and I'd say most of the squad would love it. It's something that every rugby player dreams of, that's what you train for.
"The players want it and I suppose it's down to what the plans are for the IRFU, and I'm not quite sure of that, but I'm sure that there's something in the woodwork going forward."
The extra fixture next month also gives head coach Tom Tierney a chance to try out his ever-expanding pool of players, with 14 new faces in the squad of 33 for this weekend's training camp in Belfast.
Spence says that the increased depth, and extra training opportunities are giving the squad the chance to plan long-term for the World Cup in 2017, which Ireland are hosting.
"It's fantastic. I suppose it's something new for us to be together once a month, and then to try out up in Belfast with a new squad to come together, and see what we're about.
"It's really important for us to build for the next two years in preparation for the World Cup, so we need to blood players and we need to be prepared in enough time, and it's important we see that talent outside the original squad, and bring them in and develop them.
"From a personal point of view that's where my goals are leading to. Obviously I'll be focusing towards the Six Nations but I have my long term goal which is to focus on the World Cup. It's a building process as well, so each match and tournament is a stepping stone."
Personally, 2015 was a highlight in the second row's career. Claiming her second Six Nations title in the spring was followed by Player of the Year at the Irish Rugby Writers' awards, before she was shortlisted for World Player of the Year in August, the winner of which will be announced next month.
Sitting alongside New Zealand scrum-half Kendra Cocksedge and France captain Gaëlle Mignot, the humble Spence says she's still coming to terms with the nomination
"Starting off with the Six Nations, and then February Player of the Month and the Guinness Rugby Writers' and then to be nominated one of three in the World Player of the Year awards is fantastic. I'm very surprised, it hasn't really sunk in yet.
"It's still a shock when someone mentions it, but it's a real honour."
And another year of improvements for the women's side was capped off this week, when it was announced that they'll be moving to Donybrook Stadium for the 2016 Six Nations Championship.
They'll be leaving behind their Ashbourne home which has hosted them since 2009, but as the side improved to one of the best in the world, the began to outgrow it.
There were further frustrations during the Six Nations game against France in February when the floodlights failed, with several former players calling for Ireland to be moved to a more suitable venue.
And with the Donnybrook move now confirmed for 2016, Spence is hoping that not only will they see some more punters at the gates, but a faster game on the pitch too.
"Ashbourne have had absolutely fantastic facilities for us, they've been great and really supportive but it's a massive step.
"The 20s will be playing there too, it's closer to where the men will be playing at the Aviva. You can get more supporters there because it's easy to access as well, so I think from a supporters point of view hopefully we'll get bigger numbers there.
"I loved the pitch in Ashbourne, and this 4g pitch in Donnybrook will hopefully allow us play a quicker game as well.
"It's very exciting to be able to play that fast paced rugby. We did it in Scotland and it seemed to work for us, so I think it's a positive."
The squad will gather in Belfast this week and will host an open training session in Ulster's Kingspan Stadium at 14.30 this Saturday (10 October). Tickets for the session are free and can be obtained through the ticket office at the venue, ticketmaster.ie or by phoning 028 9049 3222 (Option 2).
"Fergus McFadden and Sophie Spence joined with Bord Bia and sports nutritionist Daniel Davey to celebrate World Egg Day and to raise awareness of the versatility and nutritional benefits of eating eggs as part of a healthy, balanced diet. The trio also highlighted that eggs are beneficial for fitness fans and athletes due to their high protein content and essential amino acids which aid muscle building and recovery after training. Check out www.bordbia.ie/eggs for delicious egg recipes developed by Daniel Davey."