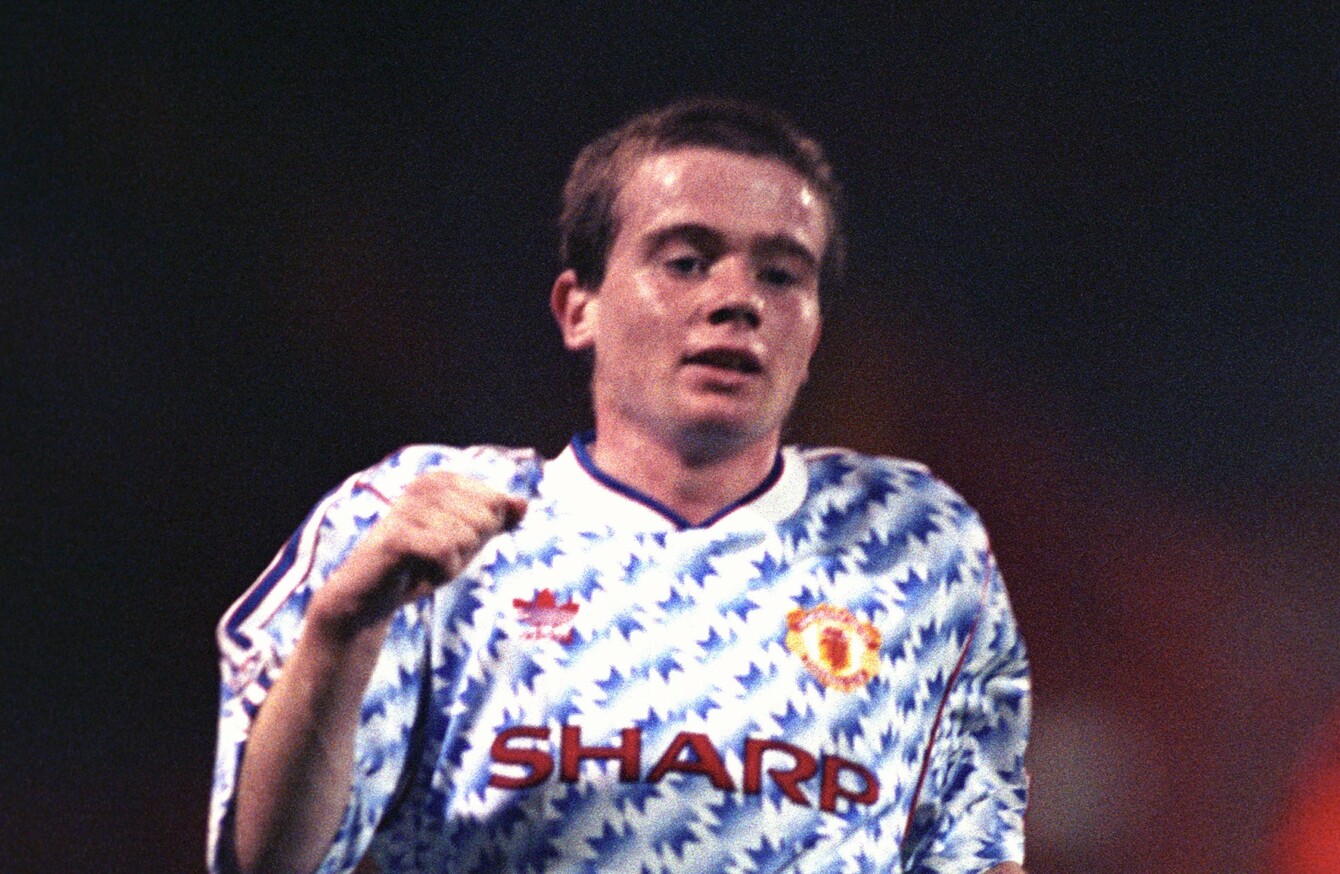 Adrian Doherty.
Image: EMPICS Sport
Adrian Doherty.
Image: EMPICS Sport
1. "For those who don't know, which will be most people, Adrian Doherty was the boy from Strabane who could actually have come close to justifying the 'next George Best' tag.
"Doherty was 16 in March 1990 when Alex Ferguson took him with the first team to Southampton. United were two points above relegation, this was no end of season meaningless fixture."
Michael Walker, for the Irish Times, delves into the fascinating story of a Tyrone youngster who was rated even higher than Ryan Giggs
2. "I was on the verge of getting it last summer, but I got a letter then to say that I'd have to pay €1,000 for citizenship," Auciute recalls now, from her new base back in her homeland of Lithuania.
"I've been living in Ireland practically my whole life, I went to school in Ireland and I boxed in Ireland all my career from when I was young.
"I wanted so much to box for Ireland –  why should I have to pay €1,000 for that?"
Female boxer Austeja Auciute has had battles outside of the ring to deal with too, and her battle to obtain Irish citizenship has been a particularly frustrating one, she tells Chris McNulty of Donegal Sport Hub.
3. "A club is a collective memory, passed down from fathers to sons, mothers to daughters, over years and decades and centuries.
"It is that memory that nourishes you when today offers little, and that inspires you when it promises much.
"A club is history and lore and often myth, not quite a religion but certainly a faith, unique to you but shared by others."
ESPN's Rory Smith explains how the fabric of a football club will outlive the demand for instant success.
4. "Have you ever wondered where a football club's name comes from?
"Quite often they are straightforward in that they are taken from the location in which the team plays but some club's name have much more interesting origins.
"This article, which will hopefully be one of a continuing series, looks at where the names of all professional Dutch clubs come from.
"It will examine how the clubs were formed and how they developed since their formation with regards to mergers and name changes."
Football hipsters rejoice – Jeff Lawrence takes a closer look at the history behind the names of some of Dutch football's biggest clubs.
5. "For almost four decades, Walters, now 68, is thought to have bet more money more successfully than anyone in history, earning hundreds of millions of dollars.
"Federal and state investigators sniff around his operation regularly.
"Scores of bettors and bookies have tried to crack his methods so they can emulate him. Even Walters' employees, like Rubalcada, have tried to figure him out so they can win alongside him. Walters has outrun them all."
ESPN's Mike Fish chronicles the tale of a gambler whose remarkable winning streak just keeps on running.
6. "Fennelly arrived in flip-flops and was still a head over everyone in the place.
"You wouldn't have said that the T-shirt he had on him was especially tight but he was wearing every thread of it.
"Up close, he is muscular without being over-muscled, square of jaw and shoulder, the outward picture of supreme health and wellbeing.
"Then he sat down and talked at length about how crocked he is."
Malachy Clerkin, of the Irish Times, racks his brain to deliver 70 snippets that will fuel Championship excitement in any GAA fan.
7. "Royal Troon will host this year's Open. It doesn't admit women either, although a speedy vote from the members might change that just in time to avoid the adverse publicity.
"Royal St George's, another Open venue, admitted women members in 2015. So it's a very new thing, this "women members" malarkey. A new thing that one suspects has not been brought about by the sudden enlightenment of old men in plus-fours and argyle- patterned jumpers.
"As usual, money talks. Commercial sponsors that golf depends on cannot be seen to support such bigoted and old-fashioned ideas. They will fall away like flies."
The Guardian's Alice Arnold explains why she will never join a golf club as a second-class citizen.
The42 is on Snapchat! Tap the button below on your phone to add!