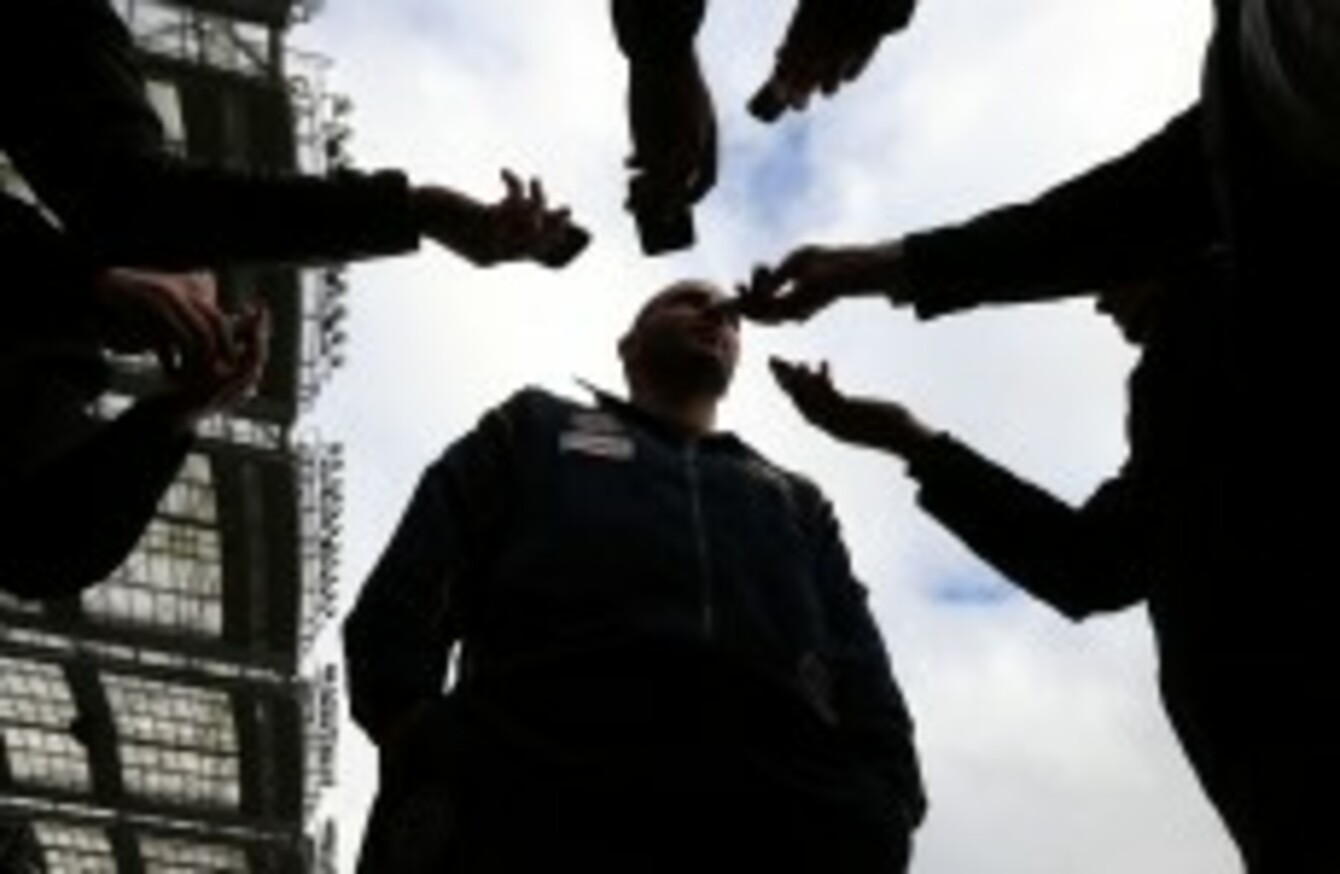 Tadhg Kennelly speaking to the media after an International Rules training session.
Image: INPHO/Cathal Noonan
Tadhg Kennelly speaking to the media after an International Rules training session.
Image: INPHO/Cathal Noonan
1. "How excited he must be. He's sitting out there, in Aisle 4, Row 8, Seat 113, nice seats, quality seats. For a regular season game in 2009, that seat runs you about $125 on StubHub. What a gift, really, for a guy like Bartman, a lifelong Cubs fan who cared about his team as much as I care about the Cardinals, as much as any of us care about anything. Bartman was 26 years old, single and working a dull desk job, coaching a youth league team in his spare time. The Cubs were the centre of his life. He talked to his father about them all the time. He traveled to their spring training in Mesa. He listened to the game on the headphones, an old school move, a true fan move. It is almost surprising he doesn't have a scorebook. God, he is just like me."
In an excerpt from Will Leitch's book Are We Winning? Fathers and Sons and the New Golden Age of Baseball — republished on Deadspin this week — we revisit the case of Steve Bartman, 10 years on. The Cubs fan was blamed for costing his team a world Series appearance when he deflected a foul ball.
2. "It's almost old-fashioned, the contest between the winger and the full-back. It's the kind of one-on-one situation that recalls the days when every player had a direct opponent: 2 marks 11, 3 marks 7, 5 marks 9, etc. Today, the winger is as likely to cut inside, towards the bosom of infield; or even to be a proper playmaker, someone who might have played more centrally if not squeezed out by the congestion. He is no longer, supposedly, some kind of mavericky peripheroid. Teams are meant to play like teams these days. It's all about overloading zones, and passing and moving all philosophical-like, and Rinus Michels' Big Book of Fluid Dynamics. And yet, sometimes, the winger will get given the ball out wide, and it's him versus the full-back and the sideline, while the rest of the pack stand back and wait for an outcome to set upon with slashing claws."
The Classical's Fredorrarci on Gervinho's journey from Arsenal to Rome and 'something like redemption.
3. "On my wall at home is a picture of the 1999 Irish team that toured Australia. Dessie Dolan and myself were the two young lads in a squad managed by Colm O'Rourke. In this picture are some of the best footballers that ever played our great game. The likes of Peter Canavan, John McDermott, Trevor Giles, Anthony Tohill, Ciaran Whelan, Pádraic Joyce, Ja Fallon…I could go on. The opportunity to play under that management team and alongside these great players and to learn from them is something that stands out as one of the best experiences of my career.
"These players were the cream of the crop at the time and I was very proud to be part of it. We had trained every weekend, Friday nights and Saturday mornings, for the previous eight weeks. We had that team mentality, a mutual respect for all, a will to perform in the Irish jersey and a will to win 'Down Under'. The support I received within Kildare and from my club Sarsfields was special too. It's a huge moment for a club to have one of their own represent the club in the Irish jersey. My Irish jersey from 2006 and Niall Buckley's from 2001 are proudly hanging on the wall of the club bar."
Dermot Earley gives his interesting take on the International Rules experience from a player's perspective on GAA.ie.
4. "If the United States had an official sport, what would it be? Baseball can call itself the national pastime until the sun burns out, but the correct answer is good old American football. Next question: If every state in the union had to choose an official sport, what would they pick? Football, football, lacrosse, football, skiing, football, football … and Alaska gets the one with sled dogs. But what if you had to assign one sport to each state, and could use each of those sports just once? How would you disperse our favorite pastimes among the 50 states and Washington, D.C.?"
An interesting parlour game from Slate.com's Josh Levin. One sport per state in the US.
5. "The devotion is so complete that residents of the city are often described not as fans, but as sufferers of a disease. Central supporters have been known as canallas, or scoundrels, since at least the 1930s, after the club was said to have refused to play a fund-raiser for Rosario's leprosy patients. Newell's, which had agreed to play, was nicknamed leprosos, or lepers.
"Rosario is sick," said Martín Souto, a journalist who has reported on all of Argentina's major rivalries. "It's the city with the most pathological supporters, where the lines blur between hate, derision and violence. It's incomparable."
The rivalry began in 1905, when soccer in Argentina was still an amateur sport and clubs like Newell's and Central were organized by British immigrants. Newell's won the first match, 1-0.
There have been 252 further encounters, the last of which was in 2010, weeks before Central was relegated to the second division. For three years, the biannual league meetings have been sorely missed by Rosarinos, as people from the city are known. But Central won promotion in May, so the hiatus will end this weekend."
The New York Times' Jonathan Gilbert on one of the keenest rivalries in world soccer.