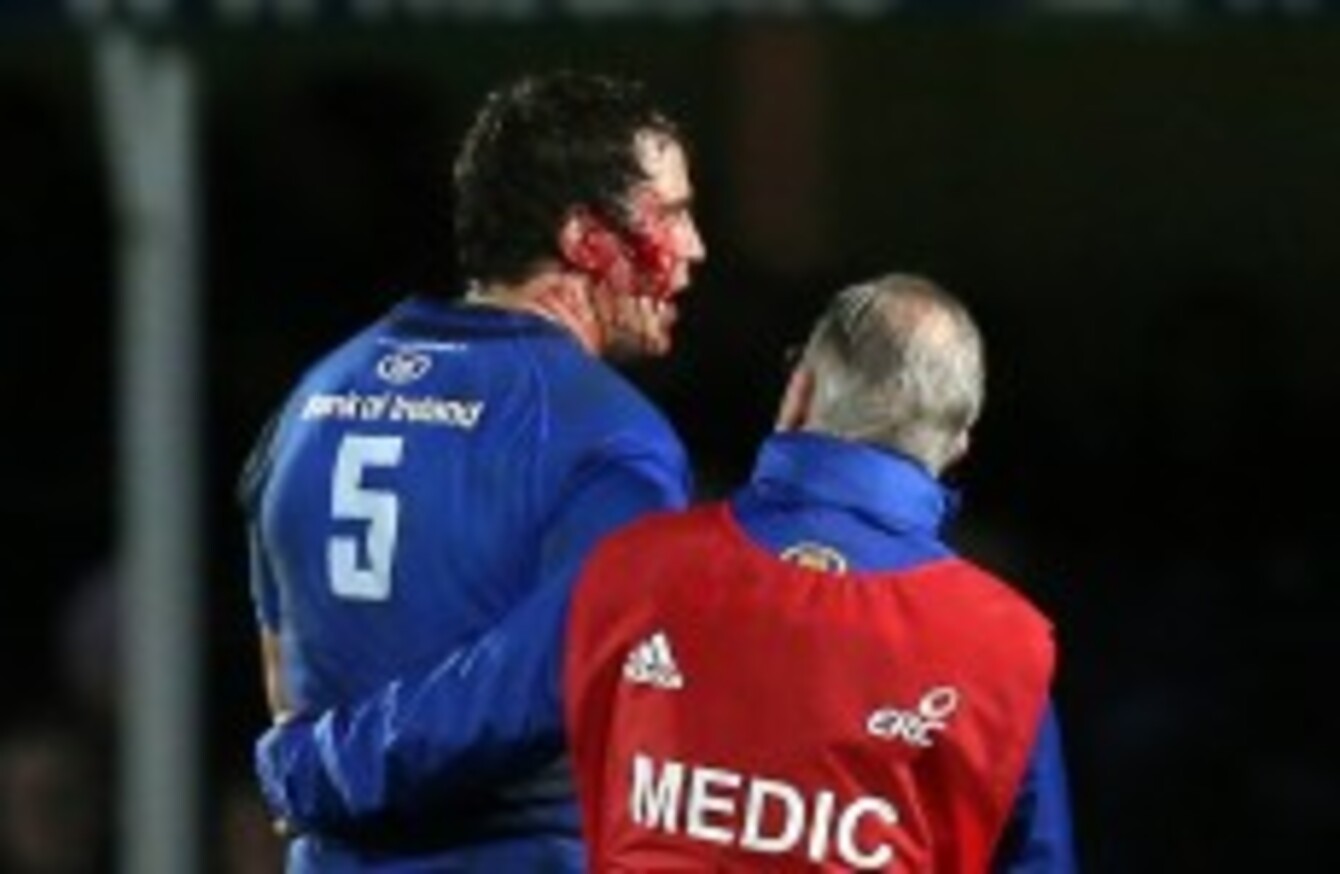 Leinster lock Mike McCarthy is helped from the field after he received a stamp to the head.
Image: INPHO/Donall Farmer
Leinster lock Mike McCarthy is helped from the field after he received a stamp to the head.
Image: INPHO/Donall Farmer
THERE WAS A lot of talk this week, following the Ian Evans and Nathan White stamps, about players getting what they deserve and I couldn't hold my tongue on it any longer.
Both incidents were red cards. The referee did not deem White's a red card but that it needed sanctioning. He got a three week ban after his stamp on Brad Barritt and I don't think there was any complaints.
My gripe was that a lot of current and ex pros coming out on Twitter with some reckless opinions. The attitude was that if a player was lying offside, slowing down play or dragging down mauls then they get what they deserve. I'm sure the players that received the stamps — Barritt and Leinster's Mike McCarthy — would have expected some rakes to the body and legs but the head is sacrosanct. You don't go near it.
What annoyed me was that plenty of players were excusing Evans' actions. Players [you can see who by clicking here] were saying that because McCarthy was pulling down a maul that he deserved to get his head sliced open and leave the game after 20 minutes. I don't know Ian Evans; I played against him but never spoke to him. I'm sure that he didn't mean to stamp on McCarthy's head and I'm also sure that if he had known the damage it was cause he would not have been so careless.
Evans' stamp on McCarthy.
You can't underestimate the impact those comments would have on people watching them game and who follow their accounts. The last thing we want to see is a young player going out and replicating those stamping actions on a Sunday morning.
The boundaries when it comes to the ruck are often cloudy but there has to be a clear backwards motion as you are trying to move someone out. There is a simple judgement though — the head is a red. It is an area of the game that needs clearing up.
If a guy is lying on the wrong side of a ruck and they get stamped on their body, it is part and parcel of the game. Some players revel in that and wear their injuries like a glorified scar. I remember Jonathan Davies of Bath used to take pride in throwing his body in there. You can be assured, however, that if full rucking was allowed today there is not a hope in hell that most players would end up in there as they'd get a shoeing.
SEE SPORT
DIFFERENTLY
Get closer to the stories that matter with exclusive analysis, insight and debate in The42 Membership.
Become a Member
INPHO/James Crombie
Another part of the game that is bordering on embarrassing — and we saw it during the Saracens v Connacht game last week — is the pushing, shoving and jersey grabbing that is going on. You simply can't throw a punch anymore so we are left with this form of ballroom dancing and a game of who can hold onto a jersey the longest.
You can't fight now so just get on with it. I was watching the game last week thinking 'What the hell are you doing?' It has gotten to a ridiculous level and the Connacht game was held up for two minutes by guys pushing each other. Of course, during fracas like that, there are always one or two players that get involved that would run a mile if anything really kicked off.
If you want to level up the score, hit him hard with the next tackle. Hit him hard at the ruck. Don't stand there for 30 seconds saying 'Go on'.
Cracking backline
I played twice for the Wolfhounds — against England and Scotland — but neither had a favourable ending. It was a good step-up from the provincial level and gives international experience to the younger lads. Ireland will want to win this evening, without a question. You don't put on your country's jersey and not want to win.
The Wolfhounds have a cracking backline — Jones, McFadden, Henshaw, Cave, Gilroy, Madigan and Boss — that just screams 'tempo'. They will be eager to play with the ball-in-hand and have a crack. The pack is full of ball carriers too and I'm looking for Dave Kilcoyne, Martin Moore and Robin Copeland to make an impact. There are always four or five [or more] injuries in every Six Nations so these lads could put themselves in the mix with a good game at Kingsholm.
@adrianflavin played 159 times for Connacht between 2006 and 2013 and earned two Ireland Wolfhounds caps.
Like rugby? Follow TheScore.ie's dedicated Twitter account @rugby_ie >