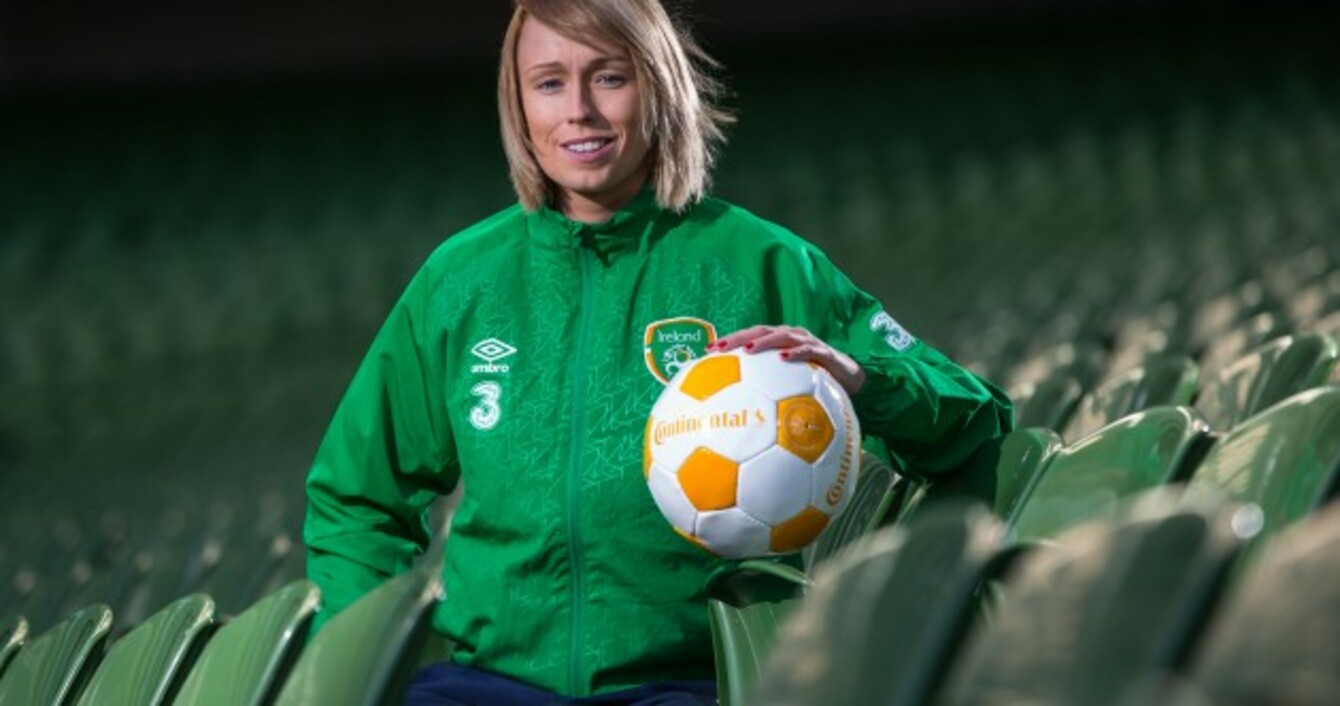 Roche was today named in the Ireland squad for the friendly against Norway.
Image: Inpho/Cathal Noonan
Roche was today named in the Ireland squad for the friendly against Norway.
Image: Inpho/Cathal Noonan
AS HER NEW-FOUND fame saw Stephanie Roche ring in the New Year with some of this country's most familiar faces, she would be forgiven for wishing 2014 had lasted that bit longer.
It was, after all, twelve months that have shaped not only her playing career but Roche's life. Her story is well-documented. She is now the centre of attention – the pin-up girl of women's football, of women's sport and, on 12 January, Ireland's flag bearer in Zurich.
We're not long into the formalities, in the confines of the Aviva Stadium, that attention, naturally, diverts to Roche. She's now accustomed to being the cynosure of eyes and minds. The event is, officially, to announce the Women's National Team squad for this month's training camp in La Manga but that goal quickly becomes the topic of conversation.
It's not because Roche is conceited, self-centered or complacent but because her achievements are peerless. Only a handful of female players have ever been nominated for the Fifa Puskas Award and no Irish player, male or female, have ever made it to the opulent ceremony in Zurich before.
But, more significantly, by Roche's repute rising so meteorically, women's football is enjoying the sort of publicity it has desperately longed for.
"The profile Steph has given the game, you couldn't buy it," Ireland manager Sue Ronan says. "Unfortunately women's sport needs success to get coverage and a profile but Steph's goal has done that."
Ronan today announced her 21-player squad for the training camp in the south of Spain but when the panel departs from Dublin on Monday week, they will be one body short.
"Stephanie has a prior engagement that night," Ronan says, with a wry smile. "We've given her a bit of time off."
When the night finally arrives, it will mark the end of a whirlwind few months for the Shankill native. Not long after she patiently works her way through the swarm of assembled press waiting for a last word, Roche heads off to make an appearance on TV3: it's unrelenting.
"It's been busy but I wouldn't want it any other way," she tells TheScore.ie. "I've been doing so much stuff, my phone has been constantly ringing. Carla, my boyfriend's sister, has been my PR manager but I'm just looking forward to next week now, relaxing and enjoying the night."
Roche has been back in Ireland over the festive period as the French league takes a winter hiatus. Having signed for newly-promoted ASPTT Albi in June, she's settling into life as a professional footballer. Certainly, the forward's exalted status has helped that process.
"I've been getting recognised a couple of times. It's been so surreal because I'm not used to that sort of thing. I would be walking down the road and people would look at me and whisper to each other. It's been all positive, nothing nasty, which is fantastic."
Be part
of the team
Access exclusive podcasts, interviews and analysis with a monthly or annual membership.
Become a Member
The goal, and subsequent publicity, has evidently propelled Roche into the media spotlight and while appearances on our airwaves and screens – even UK and French TV – have been near-daily occurrences, Roche's undiluted love of the game means she's just hoping to write her name into footballing history and boost the women's game in the process: nothing more, nothing less.
"Look, I've had so many people saying to me 'you must be getting this and how much are you getting for that' but I'm doing it all for free. That's the way I want it to be because all I'm interested in is winning the award," she affirms, with an element of emotion.
After the Ballon d'Or awards ceremony in the Swiss city on Monday week – during which she will rub shoulders with the biggest names in the sport – Roche will join up with her international team mates in La Manga for a friendly against Norway on 15 January.
"Hopefully when Steph meets up with us on the Tuesday morning she'll have a little trophy with her," Ronan says.
Amid all the brouhaha surrounding the campaign, it would be easy to forget Roche remains a key cog in the Irish wheel. With a seminal year ahead for the WNT, the 35-cap striker hopes to use the last few months to push on and help Ireland qualify for a major tournament.
Aine O'Gorman is, along with Roche, one of the senior members of the squad. She was, in fact, the player to pass to Roche in the build-up to the goal and insists it's the best nomination and jokes:
"Hopefully everyone keeps voting because we don't want to let those Colombians beat us and it will give us something to celebrate in Spain."
O'Gorman has been drumming up support on Twitter for her team mate but despite wishing to bring all her family and friends, Roche is only able to bring her boyfriend, Dean Zambra of Bray Wanderers, and now her father and brother after the FAI commendably got their hands on two additional tickets.
With all the build-up and talking very nearly aside, D-Day is fast approaching for Roche. She's taken all the fame and publicity in her stride and her passion for the game and women's sport is discernible.
"It would mean everything to me," was her reply when asked about the possibility of becoming the first female to win the Puskas Award. "If I can be able to say in how many years time that I've won an award with names like Ronaldo, Neymar and Ibrahimovic on it then that would be unbelievable."
2013 was the year she scored for Peamount United against Wexford Youths. 2014 was the year she was propelled into the spotlight. 2015 could be the year Stephanie Roche is written into footballing history.
You can vote for Stephanie's goal here