LEINSTER WERE THE favourites going into the Heineken Cup Final in May but Ulster fancied their chances.
The result was still touch-and-go at half-time before Sean O'Brien and Isa Nacewa made crucial contributions. The final scoreline of 42-14 was a harsh reflection on a determined Ulster effort.
While Leinster remain the team to beat, going into another dual campaign, Ulster have made some telling additions in the form of three old boys.
Roger Wilson returns from Northampton, Niall O'Connor is back from a stint at Connacht and Tommy Bowe has brought some extra spark to Ravenhill.
It is enough to make Stephen Ferris very excited about the start of the new season.
Slow burner
Ferris is back in full training after a calf injury and surgery on his thumb in the summer but he may not feature until the home game against Munster on 14 September.
The flanker says it is good to have 'mates' like Wilson and Bowe back in the mix but he is also eager for young talents, such as Craig Gilroy and Paddy Jackson continue their outstanding development.
Paddy Jackson watches a drop goal attempt drift wide in the Heineken Cup Final. (©INPHO/Presseye/William Cherry)
"There is no doubt that Paddy has the potential to be one of the best 10s in Ireland, if not the best," Ferris told TheScore.ie. "He just needs more game time at the highest level."
"I know he got a bit of a hard time after the final last year but everybody has to realise that he has only just turned 20 years of age." He added:
There is a lot of rugby to be played, in Paddy, and he definitely has the potential to be one of the best around and he's got a bloody good team around him. Hopefully him and Niall will do a good job for us this year.
"He's laid-back, cool and collected. That is what you need when the pressure comes on. Last year's final will be a massive learning curve for him."
Learning from Leinster
The Maghaberry man rues the fact that Ulster 'played into Leinster's hands' in their heavy defeat at Twickenham but concedes that 'we didn't deserve to win'.
"Leinster took their opportunities," he said. "We had a couple of line breaks in the first half and if we had've taken a couple of chances maybe it would have been a different game." Ferris added:
You have to take your hats off to Leinster, I don't think any club side in Leinster would have beaten them on that given day. They're the best side in Europe and that is why they have won the Heineken Cup the last two years running.
"That is what we are striving towards, to win Heineken Cups, and it all starts with the first couple of games in the league."
Following the repositioning of Brian McLauglin to a developmental role, New Zealander Mark Anscombe's vision for Ulster is starting to take shape.
The backline will prove a serious scoring threat, with a tried and trusted pack providing a solid base and the craft coming from Jackson, Ruan Pienaar and Paul Marshall.
"Mark has spoken serious words to all the squad," Ferris assured us.
"There have been one-on-ones and the first couple of times were all about getting to know on another. He has been laying down a marker of what he wants and I'm sure he'll do a good job for us."
Green shoots rising
While Ireland did not exactly cover themselves in glory, barring the close call in Christchurch, during their summer tour, Ulster is sure to benefit from the experience.
Dan Tuohy was given an extended run in the second row while Declan Fitzpatrick held his own during his debut at Eden Park.
Luke Marshall, Chris Henry and Darren Cave would have like a greater involvement, Andrew Trimble came in and out of the team, and Rory Best was commitment personified.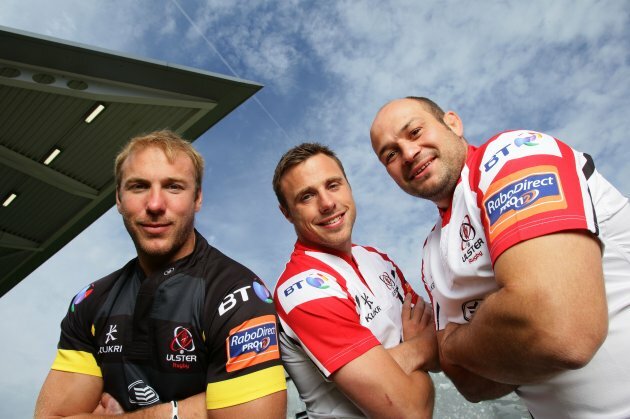 Ulster's usual Ireland suspects have some company. (©INPHO/Cathal Noonan)
Ferris can speak to the ego-boosting effects of time spent with the national team but remarks that none of the players have arrived back demanding bigger car parking spaces.
"That is one of the good things about Ulster," he explained. "When guys do get capped, and a bit more experienced, they don't walk as if they are better than anyone else. They are still who they are and still part of the team and get on the way they always have done." He added:
On the other hand, maybe we do need to walk around with a bit more of a swagger. At the end of the day, we are Heineken Cup finalists last year. Maybe we do need to play with a bit more of a swagger, the way Leinster and Munster have done over the last few years.
Watch out for glimpses of that swagger when Ulster play friendlies at Ravenhill against Leicester (18 August) and Newcastle (24 August).