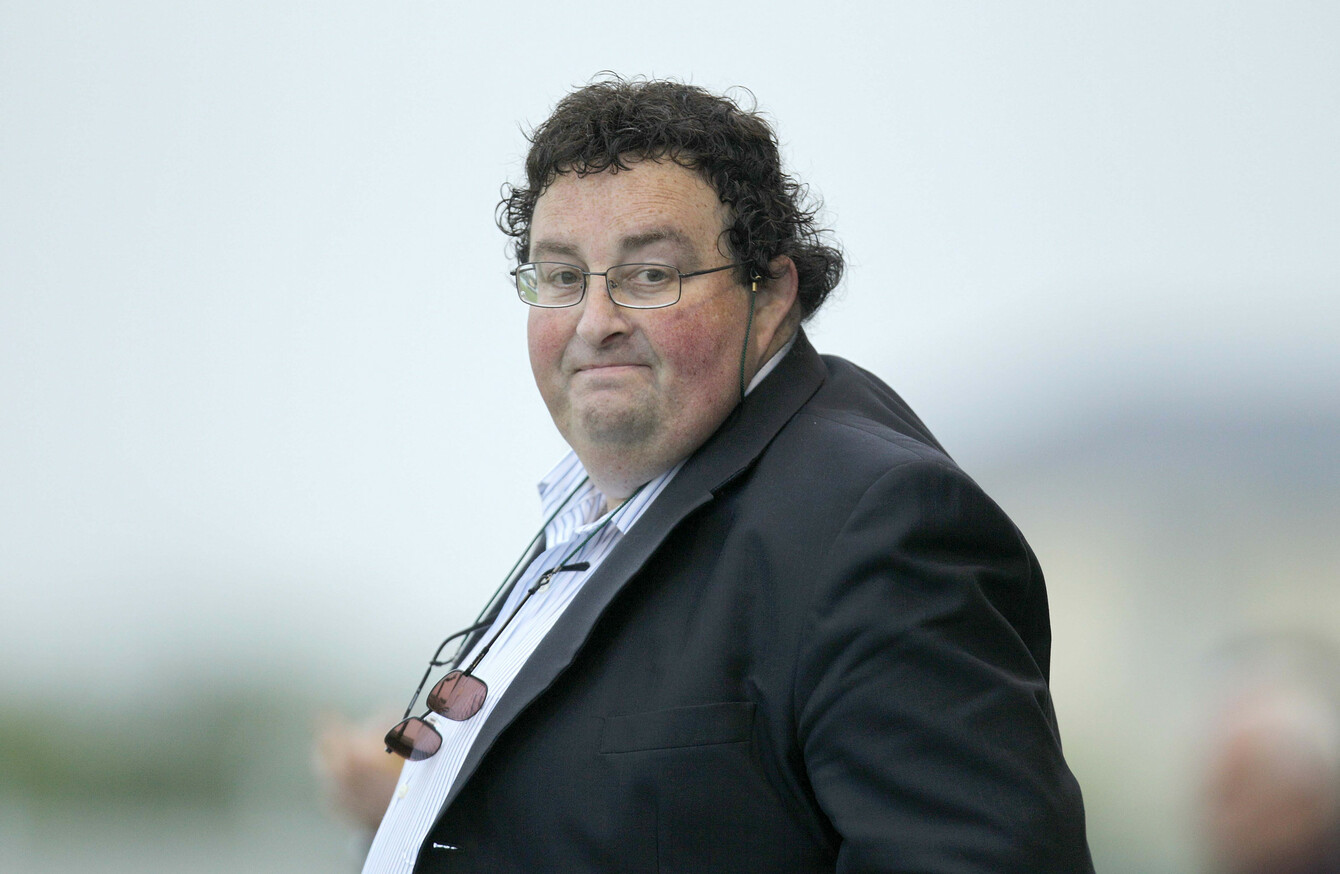 Seán McCaffrey passed away aged 58 at the end of last month.
Image: Morgan Treacy/INPHO
Seán McCaffrey passed away aged 58 at the end of last month.
Image: Morgan Treacy/INPHO
EVERY TOP-LEVEL footballer can certainly attribute part of their success to a great coach.
While the likes of Pep Guardiola, Jose Mourinho and Jurgen Klopp are often lavished with praise, arguably the vast majority of individuals who are most pivotal in creating great players are not especially high profile.
By the time a player gets to the elite level of the game, he has most of the tools necessary to make it, even if footballers can still always improve with practice and hard work.
But Guardiola was not the key figure in, for example, turning Lionel Messi into a world-class superstar — underage coaches in his native Argentina and at Barcelona's La Masia academy deserve much of the credit for creating an environment that enabled his talent to flourish at a pivotal age. Once he made it to senior level, it was merely a case of fine tuning his talents by that point.
Seán McCaffrey, who died at the age of 58 on 30 December after a long period suffering from diabetes and kidney problems, may never have worked with anyone who reached the levels of Messi, but he was undoubtedly the type of coach whose influence in developing young players was largely unseen and consequently perhaps underestimated by some in the game.
A number of key players in the current Irish senior team worked with McCaffrey during his seven-year period in charge of the underage set-up, primarily with the U17s and U19s between 2003 and 2010.
Faced with the unenviable task of succeeding Brian Kerr after the Dubliner left the role to take over as manager of the Irish senior team, the players McCaffrey helped develop included Darren Randolph, Robbie Brady, Jeff Hendrick and David Meyler.
In addition to harnessing local talent, McCaffrey was also key in recruiting a number of talented Irish-eligible players born outside of the country.
Everton midfielder James McCarthy is one such example. He sometimes gets stick for his performances, but it is easily forgotten that when injury-free and fully fit, the Glasgow native has often been a key player for the Boys in Green.
Take two of Ireland's best results over the past couple of years — the respective 1-0 wins over Italy and Germany. McCarthy was outstanding in both games. Without McCaffrey's persistence and ability to spot talent in youngsters, it is not a huge stretch to suggest that McCarthy might not have come onto Ireland's radar or developed in the manner that he did, and that those memorable results under Martin O'Neill may never have materialised.
The Premier League star is quick to acknowledge the part the late underage coach played in his success, particularly at underage level.
"When I was a young player, Seán came over to watch me at Hamilton," McCarthy tells The42. "He explained straightaway how he wanted me to play international football for the Republic of Ireland youth teams. I went on to progress from junior level to the senior side, and he helped me achieve that.
Seán was such a nice man, a top man. He gave me that belief to keep driving forward with my career. He was brilliant with my family too and made us all feel so welcome.
"As I got older, I still kept in touch and spoke with him whenever I got the opportunity to do so. (His death is) sad news — he was a great guy and he will be missed."
The Monaghan native memorably led a U17 side that included Brady, Richie Towell, Greg Cunningham, Gearóid Morrissey and John Dunleavy to the 2008 European Championships in Turkey, before parting company with the association in 2010, later settling an unfair dismissal action.
It was a sad way to end his Ireland tenure, having worked with the association since becoming the first development officer for the Cavan/Monaghan area in 1999.
He had previously helped establish Monaghan United in 1979 and subsequently became the club's manager at the age of 23, overseeing their debut season in the League of Ireland during the 1985-86 campaign.
Despite rumours that hometown hero Steve Staunton was set to take the job, McCaffrey was later appointed as Dundalk's new boss in December 2011.
Keep in mind that the Lilywhites back then were a million miles away from the dominant League of Ireland force that they have since become. The challenging nature of the role was obvious from a statement issued by the club's General Manager Paul Johnston at the time.
Seán, from very early in the interview process, showed a desire and a hunger for football. He lives and breathes football, which you can see from him talking about training five days a week. It may be a part-time setup but it will be very much a full-time approach for Seán, his management team and players."
Meanwhile, McCaffrey's footballing philosophy was obvious from his first press conference: "I'm going to play a style of football that I believe in," he told reporters.
"I don't believe in negative, cautious football. I believe in letting young players develop and expressing themselves. We may not have a big budget but there is more to football life than big budgets."
Unfortunately for McCaffrey, it ultimately didn't work out at Dundalk. After a seven-month stint in charge, himself and the club parted ways as they sat 10th in the league while struggling financially. Assistant boss Darius Kearns took charge on a temporary basis before Stephen Kenny became the Lilywhites' manager in 2012 and led them to unprecedented levels of success — they became the first Irish side ever to win a Europa League group stage game among many other highlights.
McCaffrey's stint at Oriel Park may be judged harshly in light of what Kenny achieved thereafter, but he was faced with a situation in which most managers would struggle — something that even the club appeared to acknowledge as they confirmed his departure.
"The unprecedented financial times have added significant pressures on the club and have curtailed many of the ambitious plans Seán had for the Dundalk FC," part of an official statement read.
In addition, there are at least two people who are unlikely to regard McCaffrey's tenure at the Premier Division side in as negative a fashion as some might. Chris Shields and John Mountney were both brought to Dundalk by McCaffrey, and the duo have since gone on to play important roles in the club's phenomenal run, during which they have claimed three Premier Division titles in succession.
"My first encounter with Seán was when I broke onto the scene with Bray Wanderers and I started playing regularly," Shields tells The42.
"He included me in a three-day training camp with the U19s at the time and that was probably my first involvement with any national side.
I wasn't in the final squad in the end, but even then you could tell he had great time for everyone there, he'd always give up his time for (players). There were close to 30 players under the age of 19 at the time and having just met him, you could see his love for the game and his love for developing youth players.
"You could see when he died across Twitter, Facebook and all social media, how many players that had worked with him were giving tributes – players up to the age of 30 and over."
It was at Oriel Park where Shields and McCaffrey's relationship truly flourished, with the young player joining the club a month after the manager's appointment.
Shields had only just turned 21 at the time, but in a move that highlighted McCaffrey's great faith in young players, he was installed as captain ahead of his debut season with the club.
"After the (Ireland) training camp I didn't hear much from him. He'd obviously be busy and stuff, but he rang me in (December) 2011 saying he was getting the Dundalk job and would I be interested in joining him. I said 'yeah, I definitely would,' I'd like to meet up and have a chat.
"I met him in December, sat down, negotiated the contract and eventually signed at the end of January.
"At that time, I thought I was just another player in the squad. He told me his plans and stuff for Dundalk. He was going to go through a youthful route, which was probably a bit naive at the time. But because he had such a belief in youth talent in Ireland, he believed that we'd do well with (this approach).
It was only when he got to Dundalk that he kind of told me what he thought of me. He had great hopes for me that I never knew of. He made me captain and made me feel very important at a club I'd just signed for. He'd give you that self belief that I suppose you need sometimes as a footballer in training.
"He did have great ideas at Dundalk. He'd want you to put time aside to work on your technique. He would then bring that into his tactical sessions with Dundalk.
"It was kind of unfortunate the way it went for him in Dundalk, because he had such great hopes.
"Maybe another time it would have worked out, but he brought the likes of myself and John Mountney to the club, and we're still there today, and we're still great friends.
"I'm sure he kick-started a lot of people's League of Ireland careers. In Dundalk, Michael Rafter, who can't play anymore due to injury — he brought him in and re-introduced him into the league. (Rafter) eventually got a move to Derry, after the good season he had under Seán.
"So obviously, he had an eye for talent as well. I'd never heard of Michael Rafter before Seán brought him in, but I soon realised why he had such faith in him."
Despite McCaffrey's tenure coinciding with a difficult period in the club's history, Shields says his manager maintained a positive disposition throughout. Such optimism was all the more remarkable given that, by this stage in his life, diabetes had resulted in the amputation of his lower leg as the coach struggled with health issues.
"Because we had such a bad time at Dundalk, he'd always encourage you to not listen to the crowd and just focus on the football," Shields continues. "He always wanted to play the right way and I remember (he'd urge us) to keep possession even if it means going back.
Sometimes, if the crowd were getting on your back, he'd just tell you to think in your head: 'Tell the crowd to fuck off.' That's how much he loved football, he didn't want to turn matches into ugly games and sometimes that's tough.
"We had a young squad and that's probably why it went the way it did at Dundalk. It was just maybe a bad time for that kind of naivety going into the league, but he always had great ideas and taught young players to play the game the way it should be played.
"He was a great character to have around. Dundalk is a great club and the majority were quite young going in there. He kind of made it as relaxed as it could be. When things weren't going right, it can be quite hostile, but he took all the pressure off us and put it on to himself, which was a great help for us through troubling times.
"I'm just thankful to him. He was the man who brought me to Dundalk and I've obviously had the best times of my career playing there.
"It's a sad loss, and you can see the many players in the League (of Ireland) alone that he's coached along the way."
Shields is far from the only footballer currently enjoying great success whose early career was influenced significantly by McCaffrey. Stephen Ward is another prime example.
Following his younger days under the tutelage of McCaffrey, Ward has won 49 Ireland caps and counting. Until an injury set him back last month, the 32-year-old Dubliner had been enjoying arguably the best spell of his career with a Burnley side that has exceeded all expectations in this season's Premier League and caused serious problems to teams whose budgets blow theirs out of the water.
Yet Ward's success did not happen by accident — as well as the player's own phenomenal professionalism and work ethic, it was the product of years of hard graft and gentle encouragement from coaches such as McCaffrey.
Not blessed with the gargantuan self-confidence of say, Robbie Keane, Ward was a little-known teenage striker with Bohemians when McCaffrey gave the player's Ireland career a tremendous boost by calling him up at underage level.
The one thing I'll always say is he was a great man, a fair man," Ward recalls. "He always had the players' best interests at heart. Even at that young age, he kept an eye on you, always gave you good advice and made you feel that you belonged there.
"For me especially, coming into a squad from the League of Ireland, when a lot of the players were plying their trade at the big clubs in England, albeit at U18 or U19 level, it was still a great honour for him to pick me.
"I don't think anyone would have a bad word to say against him… That call-up, whether coaching-wise or advice (I received) definitely improved me as a player. It was my first call-up and it's something that meant a lot to me.
"I had good memories of him — when I saw him after that, it was good to catch up and say 'hello'.
"He always looked out for me and sent me the odd text when good things happened in my career."
In a week and indeed a year in which there has been so many unsettling allegations and revelations about the deeply disturbing and disgraceful behaviour of football coaches, particularly at underage level, it seems important to note that inspirational figures such as McCaffrey also exist within the game.
To emphasise that McCaffrey was a great person as well as a superb underage coach almost seems somewhat redundant, as the two qualities are surely linked inextricably. But since his death, the extraordinary extent of the late manager's generosity has become fully apparent to those in the football community that did not know him personally.
Irish Times journalist Malachy Clerkin recently wrote movingly about the impact that McCaffrey had on him personally, in addition to his strong influence on Oriel Celtic, the underage soccer club that the late coach ran in Monaghan during the '80s and '90s. Meanwhile, a piece in The Irish Independent by John Fallon noted how "when times were tough at a former club, he offered players money out of his own back pocket to help". Footballers and others who worked with McCaffrey also paid heartfelt tributes to him on social media following last month's sad news.
"I'm full of memories of being away (with the Ireland underage squad) and wanting to meet up," Ward adds. "I think we went to San Marino one time for a group of qualifiers. We did really well and he was always great with the lads, especially when things were going well.
He was a good football man who knew what it meant to play for your country.
"When you're younger, it's a massive thing (to play for your country). It's one of those things that can make you very nervous… But he made the transition very easy for players and if you speak to anyone that played under him, it was always a good environment to come into. It was good fun and most importantly, he made it really enjoyable for everyone."
The42 has just published its first book, Behind The Lines, a collection of some of the year's best sports stories. Pick up your copy in Eason's, or order it here today (€10):