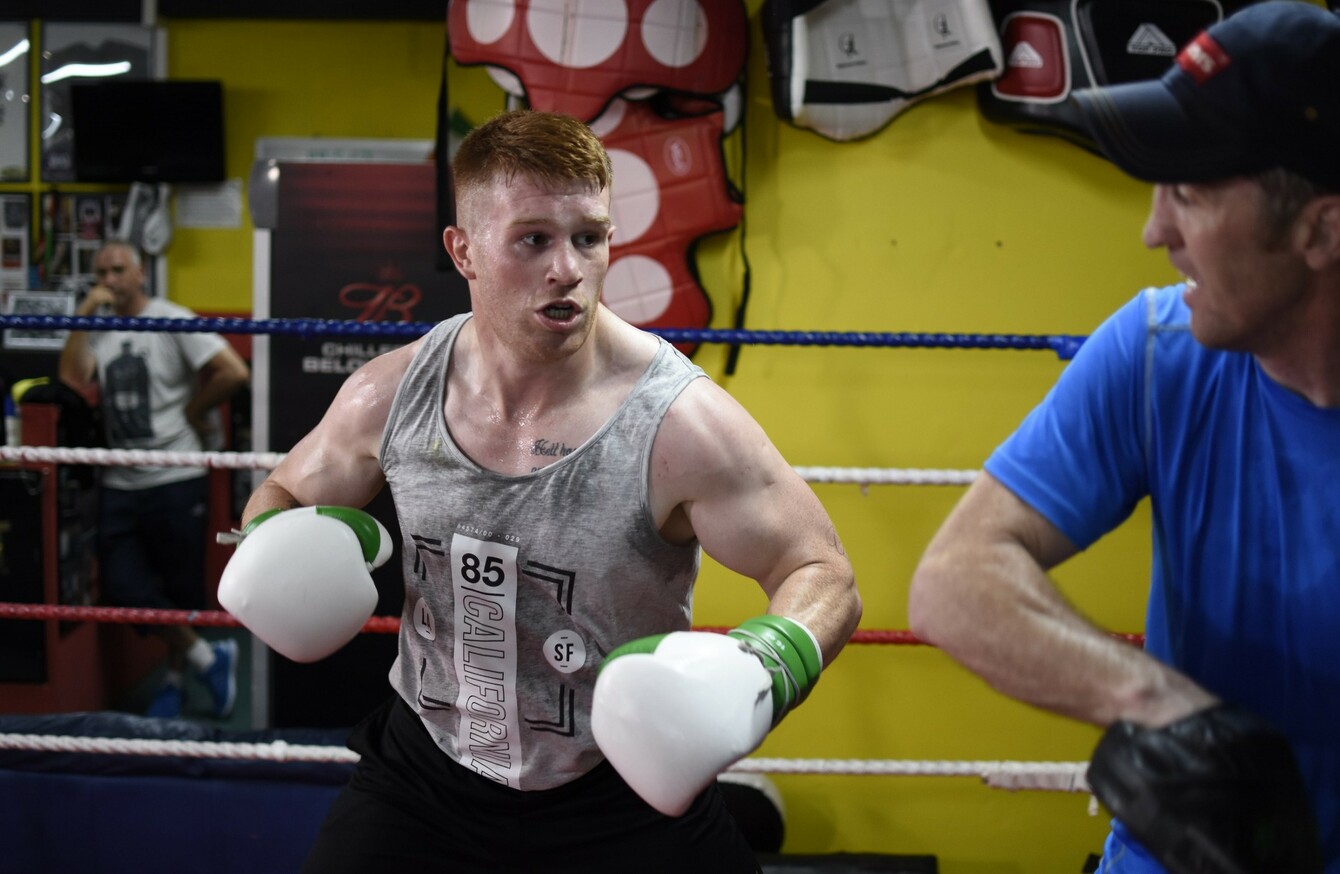 Steve Collins Jr gets down to work at the Celtic Warrior gym.
Steve Collins Jr gets down to work at the Celtic Warrior gym.
FOUR YEARS AGO, a boxing novice from an Irish pugilistic dynasty found himself anonymously touring Dublin's gyms in a bid to learn the fighting game on his own feet, and on his own terms.
Using Comiskey, his mother's maiden name, Steve Collins Jr craved a litmus test without expectation or special treatment as he weighed up a life-changing switch from rugby to boxing, only months after stepping in the ring for the first time.
Still carrying the protective muscular shell of a front rower who had won an AIL title with Lansdowne, and tried his hand in England with Wasps, Collins also felt weighed down by the expectation that comes with having a former two-weight world champion for a father.
The Collins boxing bloodline is bound to open doors for a young, aspiring fighter but from day one Steve Jr has been determined to cross those thresholds unassisted and at his own pace.
A latecomer to the boxing game at 23, Collins has had an injury-plagued start to his professional career but remains undefeated [10-0-1, 4KOs] and is just one victory away from being crowned an Irish champion.
If he can overcome Westmeath southpaw Paddy McDonagh [10-2-0, 0KOs] and capture the light-heavyweight title tonight, Collins will feel his father's shadow shifting off the canvas from under his boots, and at the same time continue a remarkable family history at the National Stadium.
When AC/DC's 'Hells Bells' fades out after the 27-year-old's ring-walk, blood will be pumping through his veins.
Those hells bells, the temperature's high
Hells bells, across the sky
Hells bells, they're taking you down
Hells bells, they're dragging you under
Hells bells, gonna split the night
Hells bells, there's no way to fight 
"I got a lot of stick when I first turned over. People were saying: 'stick to rugby, you can't start being a boxer at the age of 23′.
"I had a lot of naysayers but when I watched boxing I knew it was something I could do and nobody could have told me otherwise.
"Our country is so small but the standard of boxing is world-class. So to go out and win an Irish title, to me, would be very prestigious.
"I think it's a great milestone. It would also be a great achievement for someone who started boxing four years ago and I spent two years not boxing due to four different surgeries (on both shoulders, a bicep and a knuckle).
"Whether you think an Irish title is big or small, to me it's a good milestone and if I get that it's kind of a fuck you to the naysayers. And I'm not finished there, I'm going to keep going."
A national title just over four years since he laced on a pair of gloves with real intent for the first time, in his uncle Paschal's Celtic Warrior Gym, would signify remarkable progress on any barometer.
"There were always gloves hanging around the house when I was a kid and you'd be messing about with them. But it was the first time I had been in the ring sparring," says Collins of his maiden session in the boxing gym that is curiously hidden and unsigned down an alleyway beside a small shopping complex in Corduff, Dublin 15.
The musky, windowless gym could be anywhere; dance music bounces off the graffiti-covered walls in soft light while outside, the capital enjoys an afternoon of blazing sun that would please Mediterranean residents.
Taking a seat on the edge of the stained, blue canvas, as Paschal works a young fighter only a few feet away, Collins Jr clearly feels at home. Leaning back against the ropes, he recalls how his sporting and professional ambitions took a major detour within these four walls.
"What I did was, after I came in here, I did a few bags and a few pads. Then I jumped in with one of the pros.
"He punched the head off me but I thought 'I can take this guy'. I knew I had a lot of work to do but I knew I could beat him eventually.
"I started going around to amateur gyms just to really make up my mind and see where I was at.
"I gave them my mother's maiden name because I didn't want the attention. I remember I went into St Matthew's [Boxing Club, Ballyfermot] and there were two heavyweights.
"I went and was blown out after one round but was still coming back after two weeks and I kept progressing.
"Then it was about getting a couple of fights, let's just win them. And then after I started winning more and more my goals just started getting bigger and bigger. Then it just snowballed."
The 'Wolfhound' may have trimmed down from his 102kg days in the middle of the Lansdowne front row to a fighting weight of 79kg, but he still has the appetite of a man much bigger.
He insists the weight loss isn't particularly taxing, it just happens to get in the way of something else that brings him great pleasure — eating.
Excited, speculative talk of a drop to super-middleweight and a bout against Chris Eubank Jr was bound to happen, even though both fighters are operating in different plains — on the scales and the rankings.
"I think I have a fucking eating disorder because I put on too much weight after my last fight," jokes Collins, who has retained his stocky, muscular frame.
"The last fight I made title weight and then I went fucking mad. I didn't stop eating and I just ballooned up.
"If I wanted to I could get to light-middleweight but I'd want to be getting paid quite well because it would take up a lot of my time. It wouldn't be easy. I'd be miserable but I could do it."
The Collins-Eubank connection was inevitable after the two fights Steve Sr and his contemporary Chris Sr served up in 1995.
Collins Sr became an Irish and global sporting icon in the '90s, his two later victories against Nigel Benn cementing his legacy as one of the nation's greats.
As kids across the country shadow-boxed in school yards simulating their Irish idol, it mostly went over Steve Jr's head. He was, after all, only seven years old when his father hung up his gloves 20 years ago next week.
"It was just normal. Even today, if I walked down the road and I happened to be with him, you'd see people looking from their cars. People would stop and ask if it was him, looking for autographs and taking photos.
"I remember when I was 7, 8 or 9 years old and every second person would come up to you. He was like Conor McGregor in those days.
"Your ma knows who Conor McGregor is, your nanny knows who Conor McGregor is. They have no idea what MMA stands for but they know him because he's in the paper, he's on the TV, everyone's talking about him. And that was like my dad in the '90s."
McGregor has visited the Celtic Warrior Gym on a number of occasions, and uncle Paschal has previously claimed he can help him mastermind an unlikely victory against Floyd Mayweather Jr in August.
His uncle may be confident, but Collins can't see an upset on the cards, despite the respect he holds for his fellow Dubliner.
"As a boxing fan, I think boxers should be boxers and mixed martial artists should be mixed martial artists.
"There is so much attention on him and the way social media is, the way the world has gone it's all about entertainment.
"I hope McGregor does well. I don't think he's going to win. I'd love to see him go out there and shock the world but I wouldn't put anything on it.
Conor's been up here a couple of times. He's a good mover, he's a nice guy. A lot of people will give him shit about what he's like. The times I've met him, he's a fucking down-to-earth guy, that's why I always liked Conor.
Successful code-hopper Collins once seemed to have a professional rugby career within his grasp, and played alongside future Ireland internationals Jordi Murphy and Marty Moore at Lansdowne.
Collins was always certain Moore was destined for the big-time, ever since he started binding his right arm around the tighthead, who was one year his junior, in Castleknock College.
Steve Jr looks back on his rugby days with fondness, but boxing gave him something the attritional 15-a-side game couldn't quite satisfy.
"I watch rugby, I love rugby. I miss going on the pitch and hanging out with my buddies," adds Collins, who currently works as a tree surgeon.
"I originally wanted to be a rugby player. I started rugby when I was seven years of age. It's what I wanted to do.
"If I was to break my hand and I couldn't throw a punch I'd probably go back playing rugby just because I love it. But I had to put that life behind me and focus on boxing.
"Boxing suits my personality. I have a bit of an aggressive streak in me. When I first started boxing I did it because I liked hitting people.
"I like to be the aggressor, I've learned to box in the meantime but if it was up to me — and I'm not trying to sound super egotistical or a hard man here because I'd do this if there was no audience around me. I'd like to sit there, both of us within half a metre of each other and just exchange. But you won't have a sharp mind at 40 or 50 by fighting like that."
Making the switch to boxing has already proved Collins has more up top than he gives himself credit for.
He'll always be Steve Collins's son but he believes a win tonight wouldn't confirm he's following in his father's footsteps, just making the next move on his own path.
The42 is on Instagram! Tap the button below on your phone to follow us!