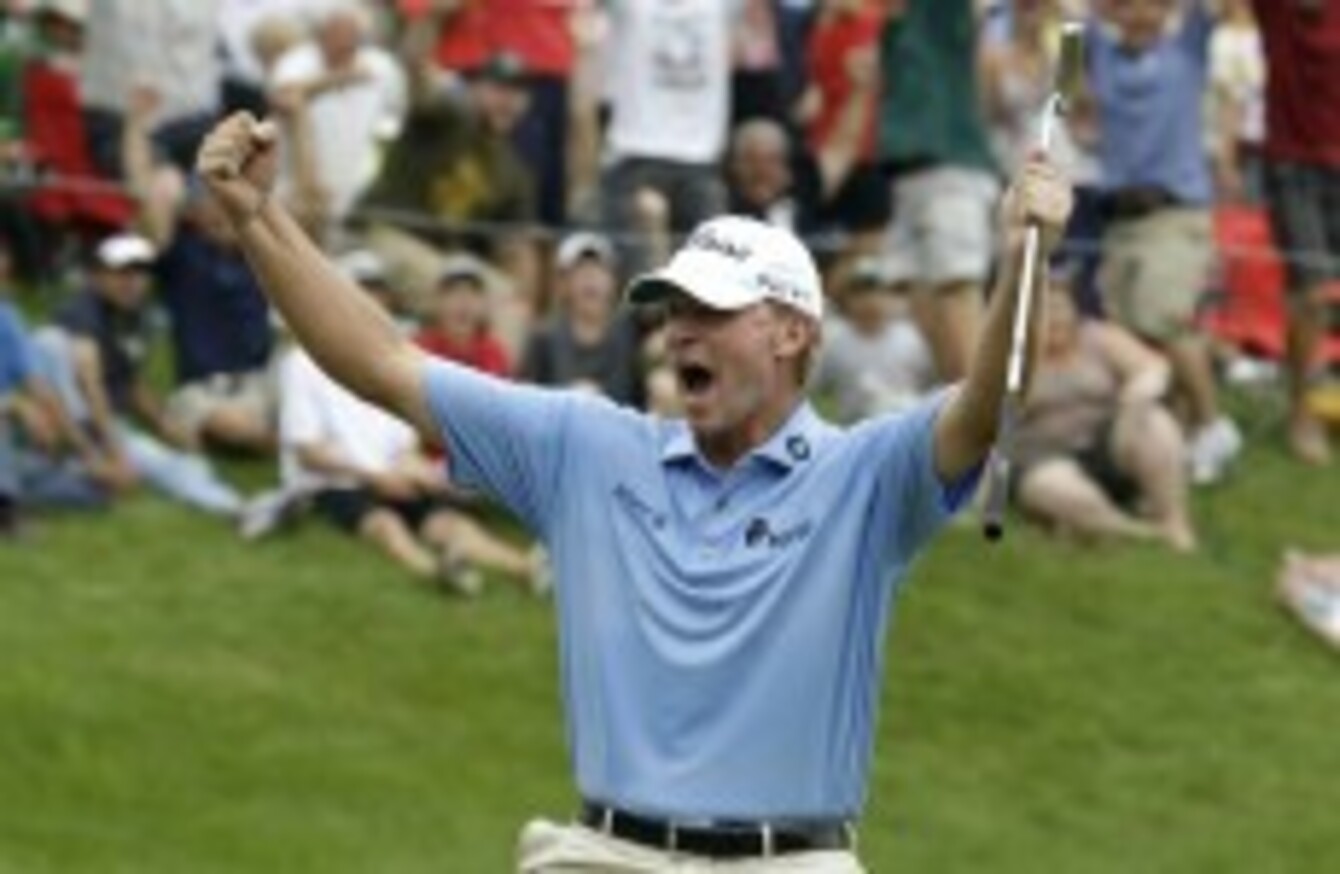 Stricker reacts after holing out on the 18th to win.
Image: Charlie Neibergall/AP/Press Association Images
Stricker reacts after holing out on the 18th to win.
Image: Charlie Neibergall/AP/Press Association Images
STEVE STRICKER HOLED a 25-foot putt from off the 18th green to win the John Deere Classic for the third straight year. The shot that set it up was one to remember, too.
"It's probably a one-in-10 shot or a two-in-10 shot of hitting that, but it came off," Stricker said about his approach shot from an awkward stance on the lip of a fairway bunker.
"And then to make the putt, I don't know what to say about that."
After opening with rounds of 66, 64 and 63, Stricker closed with a 69 on Sunday to beat rookie Kyle Stanley by a stroke and become the 10th PGA Tour player since World War II to win the same event three straight times.
Also the winner early last month in the Memorial, the 44-year-old Stricker overcame a double bogey on number five, when he needed two shots to get out of a greenside bunker, and bogeys on 15 and 16. He finished at 22-under 262 and earned $810,000 for his 11th PGA Tour title and seventh in the last three seasons.
"It was an unbelievable week and an unbelievable finish," said Stricker, a former University of Illinois player from Wisconsin. "I still can't believe I'm sitting here."

The difficult bunker shot helped make it happen.
He tried to set up with both feet outside the bunker, but he slipped into the sand. So he ended up putting his left foot in the bunker and his right foot on the lip.
"The whole key there was just making sure that I clipped it and not blade it into the lip in front me," Stricker said.
My footing was pretty good and I took an extra club thinking that I could get it all the way back to the pin. I thought if I could get a hook in off that slope, I could run it back toward the back of that green and that's what ended up happening.
The ball stopped on the fringe behind the pin, drawing a huge roar from the crowd.
The next roar was even louder.
Using his putter, Stricker sent the ball toward the cup and watched it curl in from the left side. A crowd favorite at TPC Deere Run, he backed away as the ball neared the hole, then raised his arms and pumped his fist to celebrate the moment.
The putt capped a roller coaster round in which Stricker led by five at the turn, fell behind by two after the bogeys on 15 and 16, then got back in it by making a 15-foot birdie putt on 17.
"It's weird," Stricker said. "When I get into a situation where I have to make a putt, I feel like my nerves kind of go away and I focus extremely hard on trying to make that putt. And that's kind of like the little zone I got into on 17 and 18, I guess."
With the victory, Stricker joined a small group of players who have won a tournament three years running. The list includes Tiger Woods, Arnold Palmer, Jack Nicklaus, Tom Watson, Ben Hogan and Johnny Miller. Woods has done it six times and Palmer twice.
"I kept telling myself that it's not a big deal and it really wasn't — until today," Stricker said. "That back nine trying to win, it's just really hard. I don't know any other way to say it. It's extremely hard to put it away."
When you watch guys like Tiger put away all those tournaments, anybody who's put it away down the stretch, it's a difficult thing to do. But I'm happy to come out on top.
"I made a couple of putts when I had to."
So, was he ready talk about four in a row?
"No," Stricker said.
"Snatched away"
The 23-year-old Stanley shot a 66 for his best highest finish on the tour.
Matt McQuillan, who had missed the cut in his previous 10 tournaments, shot a 64 to match Zach Johnson (65) at 17 under. Charles Howell III (64) and Chez Reavie (72) were another stroke back.
Stanley claimed a nice consolation prize, earning the spot in the British Open that goes to the highest finisher in the tournament who hadn't already qualified.
"I'm very excited to go over there," he said. "But I'm still trying to calm down from that round."
Stanley saved par on 17 after sending his tee shot into a grove of trees, then got into trouble on 18 when he went from the rough to a greenside bunker. He was in good position to salvage par again when he chipped up to 9 feet, but he missed the putt, giving Stricker the opportunity he needed.
"You feel bad for the guy that got it snatched away from him," Stricker said.
Don't get me wrong. I don't want to give him the trophy or the check or anything, but it's got to be hard.
– AP