AHEAD OF NEXT season, Munster fans might want to bear in mind that 'hitting the ground running' hasn't really been a phrase that's applicable to Tadhg Beirne's career so far.
But once he gets going, it's a whole different story.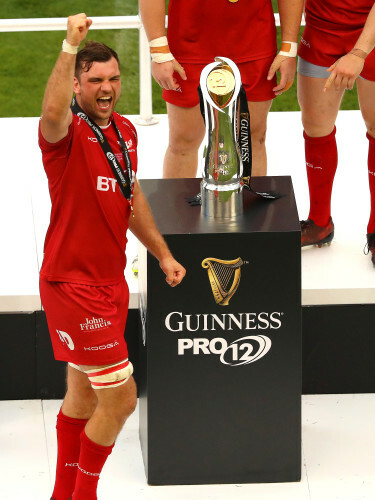 James Crombie / INPHO James Crombie / INPHO / INPHO
Beirne is in Dublin this weekend to tackle former employers Leinster, a club who provided him with what he calls 'a lifeline' of a two-month trial when there was no full senior contract offer after three years – blighted by 14 months of injury – in the eastern province's academy.
The Eadestown man has always been more than happy to back his work-rate when trying to make things happen. His two months turned into a deal for the first half of the season, then for the second half too.
The daily grind didn't stop at the borders of UCD for Beirne, however. Each evening, while an academy player and after, he had a quick change out of his on-field gear to clock up mileage in short bursts on the roads of south Dublin.
Across the road from the stadium he craved to play at on a regular basis, he worked as a delivery driver for a pizza outlet.
"You need the cash, isn't it? Need the cash to eat," the Kildare native jokes to The42.
"I was coaching at Blackrock College for a period as well. I'd coach there, then head over to deliver pizzas for a few hours the nights I didn't have college. It was just to make a few extra bucks. I'm sure everyone's been there at some stage.
"I was there for two years, two and a half. Started off in Ballsbridge, then they opened one up in Stillorgan and I started working in that one."
From Stillorgan and pizza toppings to Scarlets and prizes. Titles. All in the space in the space of a year too.
Ryan Byrne / INPHO Ryan Byrne / INPHO / INPHO
Now able to sit proudly as a European Player of the Year nominee having earned Scarlets a home Champions Cup berth next month, Beirne is able to look back at the more tentative moments in his career, the beginnings.
His Leinster debut at home to Cardiff in 2015 was made up mostly of time spent waiting on the bench before a five-minute cameo began, frustratingly, with a defensive mis-step.
After finding his way to Scarlets as an unheralded late signing in 2016, untimely injury niggles kept him in cold storage until, in November, an injury left Wayne Pivac looking for someone to pit against Leinster at the last minute. Beirne must have had a hungry look in his eyes.
Even his pizza delivery career got off to a shaky start, reversing into a wall and a suffering flat tyre in his first week on the job.
Lately, Mondays have been an issue too, his body needing a little extra recharging before going full tilt into yet another battle.
Ryan Byrne / INPHO Ryan Byrne / INPHO / INPHO
It's Beirne's reaction to these early setbacks that are the impressive part.
Those opening weeks in Wales, spent outside the Scarlets starting line-up, are now rarities. Having waited until November 2016 to make his debut, he has been a virtual ever-present for Pivac ever since. And a reduced Monday workload certainly hasn't caused his performances to dip.
A sense of momentum and the rhythm of constant competition suits him down to the ground.
"I suppose the more games you play – if you're playing regularly, you gain a bit more confidence and you see things a bit better on the field, read things a bit better.
Exclusive Six
Nations Analysis
Get Murray Kinsella's exclusive analysis of Ireland's Six Nations campaign this spring
Become a Member
"My first few games for Scarlets, I remember feeling extremely nervous, whereas now I've been playing for a few months on the trot, I think those nerves have gone.
"It's more just excitement before a game. I just look forward to it really. Definitely the first couple of games I probably don't play my best rugby, but once you get into the rhythm of it, everything starts to fall into place and you can start putting in better performances."
BackPagePix / Frikkie Kapp/INPHO Beirne in Bloemfontein this season. BackPagePix / Frikkie Kapp/INPHO / Frikkie Kapp/INPHO
It's not even much of an exaggeration when he says he's been playing for 'a few months on the trot'. In describing the "complicated" situation that kept Beirne out of his Six Nations squad, Ireland head coach Joe Schmidt wasted little time in flagging the 1,350 minutes clocked up by the abrasive lock/back row before the start of the Six Nations.
With a move to Munster in store next season – where that minute total will surely drop thanks to the IRFU's player management programme – Beirne is clearly part of Schmidt's medium and long-term plan. On a quiet week in west Wales last month, the 26-year-old travelled to his native county, invited to dip his toe in the water of Ireland camp at Carton House.
The experience will make it all the easier to settle and roll into Test action when his Welsh stint comes to an end.
"(Schmidt) asked if I could pop in for the day and experience the environment and meet everyone and all that sort of stuff.
"I sat in for the meetings and did a weights session with them, went out and did a pitch session as well. It was good to experience it. It's a bit of a step up compared to club level, so it was quite interesting for my part."
Getting the phone call from Joe gives you another bit of a lift and him asking you to go in for the day to experience (international camp), knowing you're on the radar, that you're doing something right, that's all a lift in terms of confidence and, yeah, it gives you a lift in how you're going to plan and gives you something to play for as well."
It's abundantly clear why Schmidt, Munster and Ireland are looking forward to when they can put Beirne to use. He has been a force of nature for the Scarlets, not only as a powerful ball-carrying lock or a line-out-jumping blindside. His jaw-dropping turnover rate would happily adorn the CV of any international openside.
Last season, he clocked up 17 in the regular season while his club-mate James Davies led the way. With Davies injured between September and December during this campaign, Beirne has been free to hoover up much more opposition ball – 24 so far (the next best is Nick Williams' 18, and third place is half of what Beirne has snaffled).
"The only reason I'm so far ahead is that (Davies) was out injured for so long, so I'm sure he'd have half of my turnovers if he was on the field. I probably have learned things off him without noticing.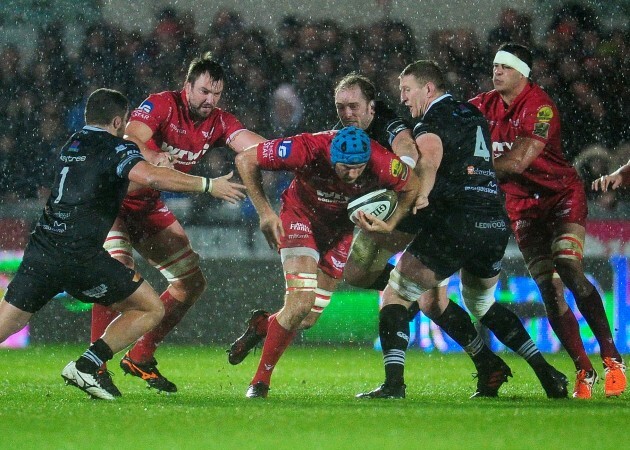 Kevin Barnes / INPHO Kevin Barnes / INPHO / INPHO
"I've probably improved in terms of my decision-making on when to go for rucks and I've probably improved on turning the ball over as well. It's just the more you do it at this level, you learn a few tricks of the trade and improve a little bit."
Those tricks along with his passing skill-set and power in contact will be welcome in green come next season, and on into the World Cup in 2019.
Beirne will keep lumps of wood close to hand to avoid tempting fate at the prospect of capping his remarkable rise with a trip to Japan. But even without looking beyond this weekend, Beirne's rise is a barely believable fairytale of an arc; from delivering pizzas out of a shop across the road from the RDS, he will play in the ground on Saturday as a reigning champion and in high demand by Ireland.
He should return from his two-year stint in Wales not only with bigger prospects, but with an enormous boost in confidence too.
He knows how big games ought to be approached now, so there's every chance that he will add 'hitting the ground running' to his repertoire come June and September.
Before all that though, he is hell-bent on scuppering the season for Irish provinces again.
Over the next three weeks, Beirne will take up arms against Leinster, Ulster and Leinster again before a bit of respite before tackling Munster. If all that sounds like a gruelling schedule, consider it just the appetiser for Scarlets' enormous 30 March Friday night Champions Cup quarter-final at home to La Rochelle.
If you're playing well people start noticing. And the last couple of weeks I think I've hit some good form, especially for bigger games – you get a bit more excited for big European games, you get a bit more up for them for some reason.
"It's a challenge and you have to look forward to it. I suppose you're going out to prove a point. I get a little bit more excited for them (matches against Irish provinces), so I'm looking forward to the next couple of weeks, for sure."
This is the big time. He's worked hard to be here. You better believe he's enjoying it.
Originally published: Thursday, 22.30
The42 is on Instagram! Tap the button below on your phone to follow us!