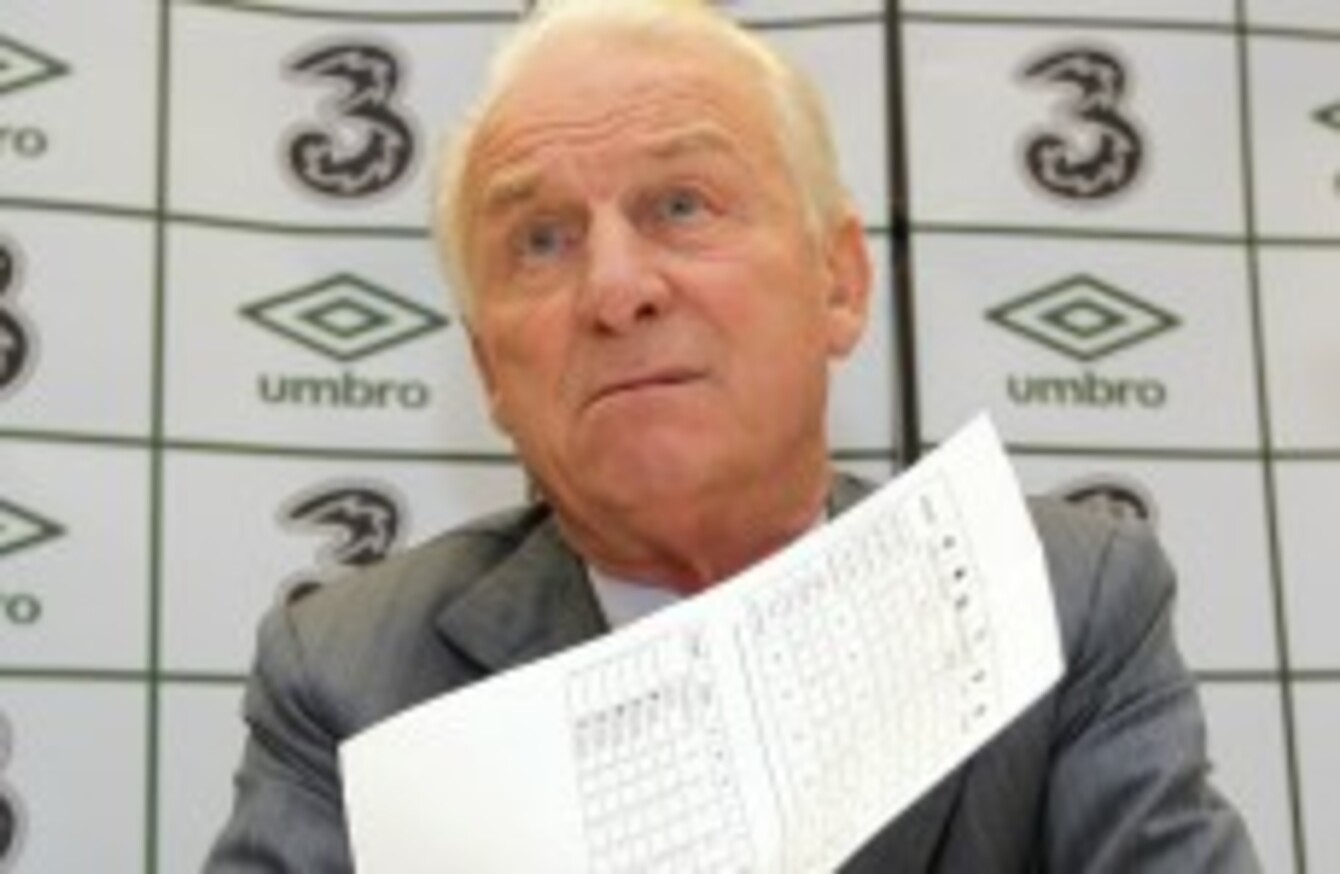 Giovanni Trapattoni meets the press this week.
Image: INPHO/Donall Farmer
Giovanni Trapattoni meets the press this week.
Image: INPHO/Donall Farmer
1. "It'll be someone who has identified as gay through high school and just doesn't think anything about it," Buzinski says. "They'll just be so talented that no one would even think to deny them."
When that someone comes out, we will have our gay Jackie Robinson, and the impact will be massive. "I came out three years after finishing a reasonably average career, and everybody freaked out," Amaechi says. "Imagine if I had been good."
Will Leitch, writing for New York Magazine, dares to ask a question the rest of the sporting mainstream has been ignoring for decades: when will a gay professional athlete finally come out?
2. "See, Bill James believes that baseball statistics and baseball formulas should tell stories on their own. Sometimes he will be at a ballgame, and they will flash some pitiful statistic up on the scoreboard, something like 'John Johnson has hit in six of his last nine games,' or, 'Lefties hit .268 off Will Wilson in July.' And it will drive him mad. Who cares? Tells you nothing. Fills the imagination with blackness"
The intrepid Joe Posnanski spends the evening of the Moneyball premiere with Bill James, the man behind the development of sabermetrics, in this "curiously long post" for Sports Illustrated.
3. "Because he is so alert and because his legs never stop running, he remains ahead of the others, chasing the ball, making tackles when opponents might think they are through. Breath plus brain, ticker plus tackle equals McCaw.
First to the breakdown, he was the smartest over the ball. If he couldn't win it he certainly slowed its surrender. He slid his body into more niches of blue-eyed, innocent obstruction than any other player in the history of contortionism."
Richie McCaw has been thrusting an interfering hand into rucks for over a decade now, the sudden realisation of which has prompted the Guardian's Eddie Butler to take a closer look at the keys to the great man's longevity.
4. "Of course, that could well be 18 or 19 first rounds. That's akin to a jog in the park.  But if you are Novak Djokovic, or an aspirant Djokovic, you are in line for up to seven matches at a slam, up to five or six at a Masters 1000, up to five at an ATP 500, and at least three, up to five at the World Tour Finals. Multiply all those by 19, and that's a lot of matches."
ATP Tour players, led by moaner-in-chief Andy Murray, threatened to go on strike this week in protest at the number of the tournaments they're expected to compete in throughout the year. The Daily Telegraph's Alexandra Willis examines their case and finds that, unbecoming tantrums aside, they may well have a point.
5. Leonard: "I was stoned. I took a few hits of cocaine before I went out, and I was concerned that I would be talking too fast. I was a nervous wreck. I kind of thought I knew what I was going to say, but I wasn't 100 percent sure. There was a small chance I was going to say I wanted to fight Hagler — I don't know. I was under the influence, so who knows what I was going to say?"
Grantland's Erik Raskin draws on the memories of participants, media analysts and industry insiders alike in the this compelling recreation of "Sugar" Ray Leonard vs. "Marvellous" Martin Hagler, possibly the iconic fight of the 1980s.
6. "When Carlo Ancelotti reflects on his sudden, if not entirely unexpected, departure from Chelsea, he remembers something Nils Liedholm once told him. 'Football is the most important of the less important things in life. He considers it a healthy philosophy"
The former Chelsea manager sits down with Matt Lawton of the Daily Mail.