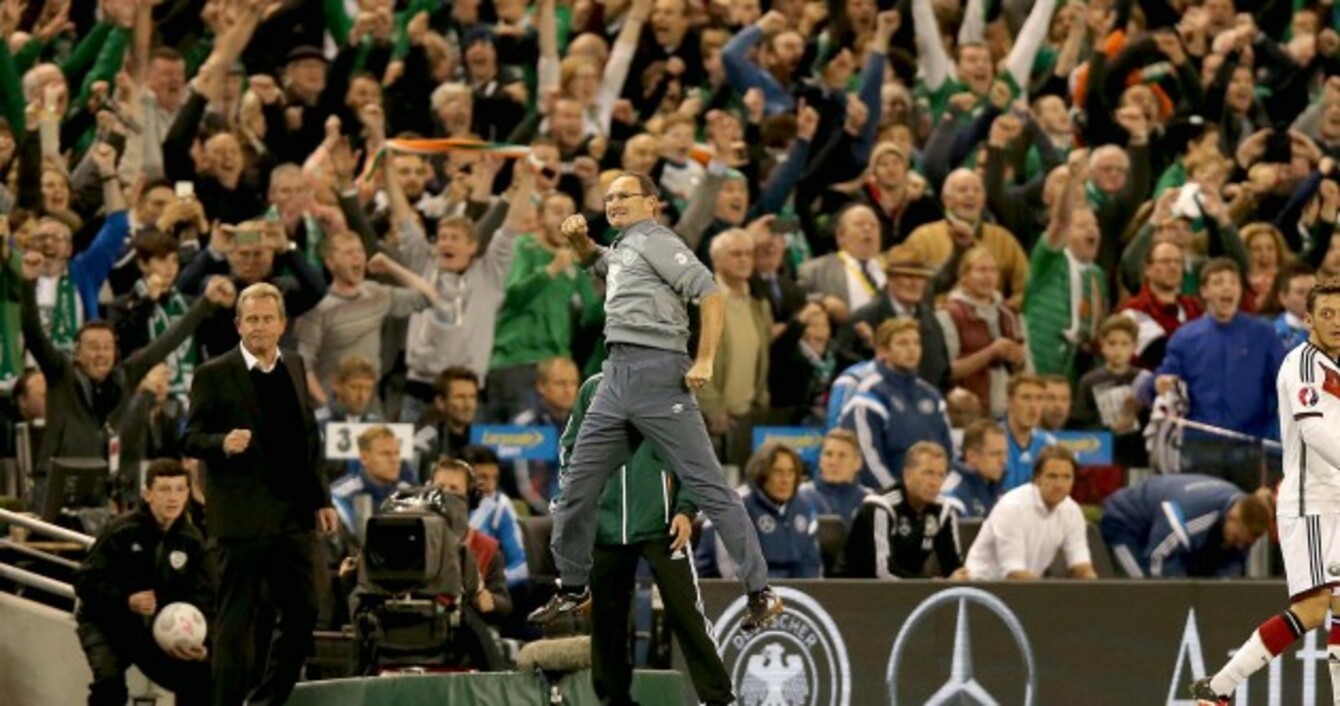 Ireland manager Martin O'Neill celebrates at the final whistle last night.
Image: Donall Farmer/INPHO
Ireland manager Martin O'Neill celebrates at the final whistle last night.
Image: Donall Farmer/INPHO
THE RECENT CONROY report looking into the League of Ireland's problems highlighted the stark negativity that currently exists within Irish soccer.
"The League suffers from a certain negativity that dominates," the report reads. "While some of this is undoubtedly cultural, a concerted effort by all parties within the game must be made to engage more positively around the brand. As a start, the game needs everyone from within to avoid being negative in public."
Despite the slightly Orwellian insistence on any form of negativity being rendered taboo, the report's comments will undoubtedly resonate to a degree with most Irish football followers. And in addition to the League of Ireland, this overwhelming negativity seems to extend to the national team as well.
There is, of course, nothing wrong with criticism — every football fan, whether they are a supporter, a journalist or an ex-player, is entitled to express an honest opinion.
Yet a culture has developed in Irish football, where criticism has become virtually the instinctive response to anything that is not an unequivocal success. In some cases, there seems to be almost a certain level of relish taken when knocking a team of 'mainly Championship players' (ignoring the fact that nine Irish players that began the most recent game with Poland were regular starters for their respective Premier League clubs at the time — Wes Hoolahan, who has since being promoted with Norwich, and Robbie Keane, were the other two).
The explanation for this phenomenon is simple — people invariably do not like being associated with any team widely perceived as losers, to put it bluntly. Consequently, by speaking about the Irish team in this cold, removed fashion, certain fans are essentially attempting to foreshadow what they see as almost inevitable disappointment. Just as English fans and media usually tend to hype their players up to unreasonable levels when a major tournament rolls around, Irish football followers often revert to the opposite extreme and specialise in putting the team down.
Glancing at Twitter just prior to kick-off yesterday, every second comment seemed to be a quip about how bad the Irish side were in comparison with the Germans. And anyone who had the temerity to openly suggest Ireland were capable of winning the match, such as Eamon Dunphy, was widely mocked.
The only people who seemed to believe victory was possible, aside from Dunphy, were Martin O'Neill and his intensely committed group of players, who produced one of the great Irish performances to ensure a famous win.
To be fair to the non-believers though, they haven't had too much to cheer about for the past decade or so.
Notwithstanding the Euro 2012 qualification, Irish footballers have increasingly struggled to earn moves to the top Premier League teams, and since the memorable 1-0 defeat of Holland in 2001, prior to last night, the Boys in Green had beaten teams ranked above them just twice — Slovakia in 2007 and France in 2009 (officially considered a victory, despite the French going through after the infamous 'handball' goal following extra-time).
Yet negativity in Irish football is hardly a new phenomenon, and it arguably reached its apex under Giovanni Trapattoni.
"We are Ireland," the Italian boss angrily proclaimed, after a disappointing 2-2 draw at home to Austria severely dented the side's 2014 World Cup qualification hopes, effectively suggesting supporters had no right to expect better.
In a recent column for The Sunday Independent, ex-player Stephen Hunt gave another telling insight into Trapattoni's philosophy, with the winger explaining how he was instructed to pay close attention to Macedonia's Goran Popov prior to one particular game.
"Trap told me a thousand times never to let my guard down, so when I walked out on that hot night I was ready and poised. If it meant sacrificing any urge to get forward, I would willingly do it. I would abandon any attacking ambitions to contain this dangerous threat."
The veteran Italian coach's strategy clearly worked up to a point, with Ireland qualifying for the 2012 Euros and being unlucky to miss out on 2010 World Cup qualification, but there was not much room for creative players such as Wes Hoolahan or Andy Reid, and — many fans would argue — entertainment value.
Consequently, it's hardly a surprise that the embarrassments of the Staunton era coupled with the monotony of the Trapattoni regime, not to mention the startling lack of young players coming through and the various FAI-related controversies, has turned the majority of fans into inherent cynics.
But there are signs of hope that warrant a renewed sense of optimism. While the conspicuous lack of young Irish players competing in the Premier League remains deeply worrying, there is at least an acknowledgement that a big problem exists, while steps have been taken to rectify the issue — the still relatively recent implementation of U17 and U19 Irish leagues are one potentially positive development in this inconclusive saga.
Last night's result, meanwhile, was a genuine throwback to the good old days, when Jack Charlton and Mick McCarthy routinely orchestrated instances of Ireland punching above their weight.
What's more, the outcome can hardly be written off as a total fluke or anomaly, given that it is now the second time the world champions have dropped points against the Boys in Green over the course of the past 12 months. Perhaps they just aren't that well suited to playing Ireland. Perhaps Martin O'Neill's side are to Germany what Swansea are to Man United or sometimes Newcastle tend to be for Chelsea.
Part of the reason why virtually everyone so confidently tipped Germany to prevail last night can also surely be linked to the astronomical fees in football at the moment. Just because players such as Thomas Müller have Champions League experience and are rated at £70million does not make them superhuman, or 70 million times better than a Jon Walters or a Shane Long.
In reality, 22 enormously dedicated professional footballers who are considered good enough to play for their country took to the field yesterday. There was unquestionably a gap in standard and Germany were the superior side technically, but the visitors had an off day and Martin O'Neill got his tactics spot on. Yes, the outcome was a surprise, but it was never 'impossible,' as many sceptics implied.
In an international footballing world where Switzerland can beat Spain, Costa Rica can progress from a group at the expense of Italy and England, and Wales are officially the eighth best team on the planet, Ireland should be capable not just of beating Germany but qualifying for the Euros and making a substantial impact at the competition.
Granted, some of the Irish players don't always play regularly for their club teams, just as Mario Götze hasn't always featured for Bayern this season while virtually every national team has at least one player in a similarly inconvenient position.
Certainly, the Irish are underdogs once again against Poland on Sunday, but maybe instead of sardonically tweeting an unfavourable comparison between Robert Lewandowski and Glenn Whelan ahead of the game, consider how hard Whelan has worked to be on that pitch on Sunday (assuming he plays).
Think about how Whelan has succeeded where so many promising young Irish starlets have failed and made a living as a footballer, enjoying such success that he is likely to be financially secure for the rest of his life.
Consider how, with just a modicum of Lewandowski's talent, he finds himself likely to be competing on the same pitch as the Bayern Munich superstar with a coveted spot at Euro 2016 up for grabs, and how he has overcome the statistics and a deeply flawed Irish underage structure to get where he is — starting regularly every week in the Premier League and earning 60-plus caps for his country.
As Jamie Carragher might joke, not many people will grow up wanting to be the 'next Glenn Whelan,' but the 31-year-old Stoke midfielder regardless deserves enormous respect. And while Whelan is the classic example of an overachieving footballer, this praise applies to most of the Irish team. What they lack in talent, they more than make up for in dedication, integrity and footballing honesty — a team of anti-Mario Balotellis, essentially.
And so, should they not be celebrated for what special attributes they have, rather than ridiculed for the other skills they are patently lacking? Perhaps such a positive mentality may even rub off on the team ultimately, helping them to beat sides ranked above them on an increasingly regular basis and ensuring many more unforgettable nights in future.