Liveblog
Afternoon all and welcome to Semple Stadium. Today the 2017 Munster hurling championship cranks into gear, it's the reigning champions Tipperary up against Cork. Throw-in is 4pm.
We're hoping for a lot better than the encounter 12 months ago, a match that saw Tipperary in complete control as they ran out nine-point winners.
Cork are putting a different side into action today, five Munster senior championship debutants in Castlelyon's Colm Spillane, Blarney's Mark Coleman, Charleville's Darragh Fitzgibbon, Douglas forward Shane Kingston and Newcestown player Luke Meade.
Here's the team they have named to start.
Cork
1. Anthony Nash (Kanturk
2. Stephen McDonnell (Glen Rovers)
3. Damian Cahalane (St Finbarr's
4. Colm Spillane (Castlelyons
5. Christopher Joyce (Na Piarsaigh)
6. Mark Ellis (Millstreet)
7. Mark Coleman (Blarney)
8. Bill Cooper (Youghal)
9. Darragh Fitzgibbon (Charleville)
10. Seamus Harnedy (St Ita's)
11. Conor Lehane (Midleton)
12. Shane Kingston (Douglas)
13. Alan Cadogan (Douglas)
14. Patrick Horgan (Glen Rovers)
15. Luke Meade (Newcestown)
For Tipperary, all the interest lies in how they respond to that 16-point beating they suffered at the hands of Galway in last month's league final.
Two new faces in their team from that game in the Gaelic Grounds with corner-back John O'Keeffe and centre-forward Sean Curran both named to start.
Tipperary
1. Darren Gleeson (Portroe)
2. Cathal Barrett (Holycross-Ballycahill)
3. James Barry (Upperchurch-Drombane)
4. John O'Keeffe (Clonoulty-Rossmore)
5. Seamus Kennedy (St. Mary's)
6. Ronan Maher (Thurles Sarsfields)
7. Padraic Maher (Thurles Sarsfields)
8. Brendan Maher (Borris-Ileigh)
9. Michael Breen (Ballina)
10. Dan McCormack (Borris-Ileigh)
11. Sean Curran (Mullinahone)
12. Noel McGrath (Loughmore-Castleiney)
13. John O'Dwyer (Killenaule)
14. Seamus Callanan (Drom & Inch)
15. John McGrath (Loughmore-Castleiney)
Today's referee is James Owens from Wexford.
Here's the Cork substitutes today:
Patrick Collins, Conor O'Sullivan, Killian Burke, Lorcan McLoughlin, Chris O'Leary, Brian Lawton, Dean Brosnan, Luke O'Farrell, Michael Cahalane, Michael O'Halloran, Cormac Murphy.
And here's the Tipperary substitutes:
Daragh Mooney, Alan Flynn, Paul Flynn, Tom Fox, Tomás Hamill, Patrick Maher, Aidan McCormack, Steven O'Brien, Joe O'Dwyer, Niall O'Meara, Daire Quinn.
Almost set for throw-in here, who's going to get their 2017 championship campaign off to a winning start?
Cork 0-1 Tipperary 0-0
2 mins – Cork hit the front, Conor Lehane pointing a free after he was fouled himself.
Cork 0-2 Tipperary 0-0
3 mins – Excellent score from play by Seamus Harnedy, great crossfield ball by Mark Coleman to set him up.
Cork 0-3 Tipperary 0-1
4 mins – Noel McGrath races clear for Tipp and boots over a point with a goal on. Cork counter with a point by newcomer Luke Meade.
Cork 0-3 Tipperary 0-3
4 mins – Another Tipperary goal chance but a superb save by Anthony Nash to tip over a shot from Brendan Maher. Then Sean Curran points to tie the teams.
Cork 0-4 Tipperary 0-3
6 mins – Harnedy switches a Cork attack and Alan Cadogan gathers before pointing.
Cork 0-4 Tipperary 0-4
7 mins – At the other end John O'Dwyer places Michael Breen for a Tipperary point. Lively start to this game.
Cork 0-5 Tipperary 0-5
9 mins – Both freetakers, Lehane and Callanan, on target. Teams tied once more.
Two Cork wides so far in the opening ten minutes, Meade and Lehane seeing their shots go astray.
Tipperary 0-6 Cork 0-5
11 mins – Lots of players on the scoresheet already, Tipp's Dan McCormack is the latest.
Cork 0-6 Tipperary 0-6
12 mins – Cadogan points a lovely score for Cork but the move started with a great catch in defence from Colm Spillane before Bill Cooper launched the delivery.
Cork 0-7 Tipperary 0-6
13 mins – Patrick Horgan notches his first point, alert to a breaking ball after a long sideline cut from Mark Coleman for Cork.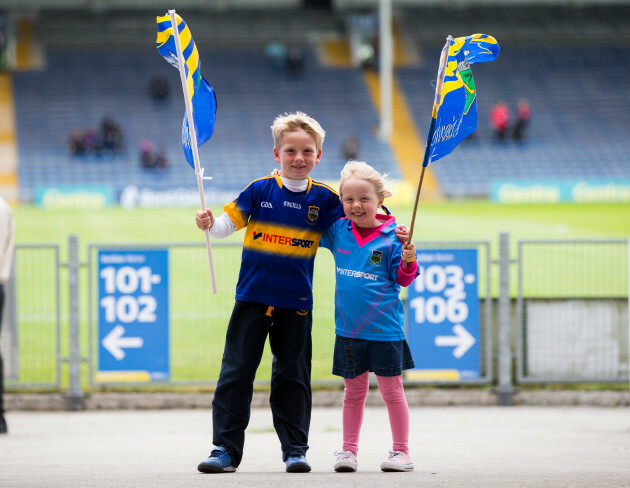 Source: Cathal Noonan/INPHO
Cork 0-7 Tipperary 0-7
15 mins – Level for the fifth time after a Callanan free. Looked a harsh call against Cork's Mark Ellis though.
Cork 0-8 Tipperary 0-8
17 mins – The points are coming thick and fast. Fine individual effort by Lehane for Cork, then John McGrath splits the posts for Tipperary.
Tipperary 0-9 Cork 0-8
18 mins – Tipperary hit the front with a nice score by Michael Breen.
Tipperary 0-10 Cork 0-9
20 mins – Superb sideline cut for Tipperary by John O'Dwyer, then Luke Meade hits his second for Cork.
Tipperary 0-11 Cork 0-10
23 mins – Tipperary close to goal at one end through John McGrath but Cork turn him over and counter with Shane Kingston finishing off the move by pointing. Could have been a free for Tipp at the other end before that but then they do raise a white flag through Michael Breen.
Cork 0-12 Tipperary 0-11
25 mins – Cork are sticking with Tipperary every time, Luke Meade grabbing a breaking ball and surging through before picking off his third point. Then Patrick Horgan launches over an excellent score from deep.
Cork 0-12 Tipperary 0-12
27 mins – Noel McGrath switches the play for Tipperary and it's a perfectly flighted pass for Callanan to gather, turn and point.
Cork 0-14 Tipperary 0-13
31 mins – Noel McGrath and Conor Lehane both grab points, before Darragh Fitzgibbon races clear and offloads to fellow newcomer Shane Kingston for a Cork point.
Cork 0-14 Tipperary 0-14
32 mins – Great footwork by John O'Dwyer to get out of danger and clip over a point for Tipperary.
Tipperary 0-15 Cork 0-14
33 mins – Captain Padraic Maher marches forward to push Tipperary ahead.
Cork 0-15 Tipperary 0-15
34 mins – Cork rally again. Fitzgibbon to Lehane to Cadogan and the end result is a point.
Brave block by Anthony Nash denies Seamus Callanan a goal for Tipperary!
Cork have a goal chance at the other end but Harnedy's shot from a tight angle flies wide. He had players in a better position that time, both Cadogan and Horgan lurking close to goal.
Flag
Half-Time: Cork 0-15 Tipperary 0-15
Cracking match so far. 30,103 here to see a first-half that has produced 15 different scorers. Cork matching Tipperary so far.
Here's the first-half scorers:
Cork: Conor Lehane 0-4 (0-3f), Luke Meade, Alan Cadogan 0-3 each, Patrick Horgan, Shane Kingston 0-2 each, Seamus Harnedy 0-1.
Tipperary: Seamus Callanan (0-2f), Michael Breen 0-3 each, Noel McGrath, John O'Dwyer (0-1 sideline) 0-2 each, Padraic Maher, Brendan Maher, Dan McCormack, Sean Curran, John McGrath 0-1 each.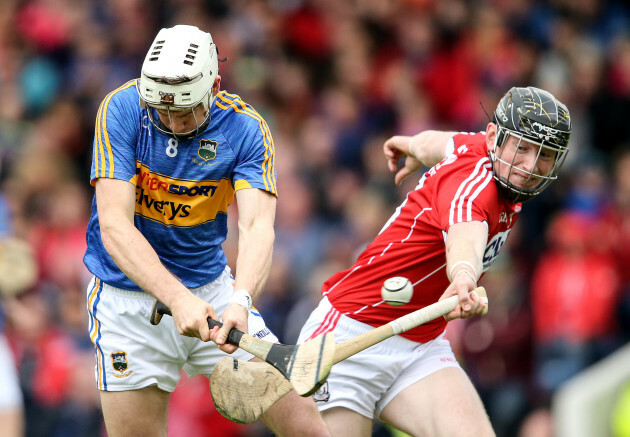 Tipperary's Brendan Maher and Cork's Damien Cahalane. Source: Cathal Noonan/INPHO
Tipperary back out for the second half here. If Cork can maintain their opening half form, should be a cracking second period.
No changes on either side.
Second-half is under way.
Cork 0-16 Tipperary 0-15
37 mins – Cadogan is fouled and Lehane knocks over a free for Cork.
Cork 0-16 Tipperary 0-16
40 mins – Dan McCormack intervenes on the right wing to snap over a levelling point for Tipperary.
Cork 0-17 Tipperary 0-16
42 mins – Outstanding vision by Mark Coleman to set up Patrick Horgan for a Cork point.
Flag
Goal for Cork from Shane Kingston!
Cork 1-17 Tipperary 0-16
43 mins – What a breakthrough score that could be. Shane Kingston collects after Seamus Harnedy burst in from the left wing. Kingston's first effort is hooked but he whips the ball after it falls to the ground and it rolls to the net.
Cork 1-17 Tipperary 0-17
45 mins – A Callanan pointed free sees Tipperary respond.
Cork 1-17 Tipperary 0-18
45 mins – Excellent score from Noel McGrath, converting from play from distance. Cork have a chance to respond but Lehane's shot falls wide.
Cork 1-18 Tipperary 0-19
48 mins – Great catch in defence by Mark Ellis launches a move that sees Lehane atone for earlier misses by pointing for Cork. Then Michael Breen bangs over his fourth of the day for Tipperary.
Cork 1-19 Tipperary 0-19
48 mins – Can't take your eyes off this one. Kingston brings his tally for the day to 1-3 for Cork.
Cork 1-19 Tipperary 0-20
51 mins – That's 0-5 now for Michael Breen after being set up by John McGrath.
Sub: Niall O'Meara in for Tipperary for Sean Curran.
Cork 1-20 Tipperary 0-20
52 mins – Patrick Horgan grabs his fourth of the afternoon for Cork.
Cork 1-20 Tipperary 0-21
53 mins – Class from Callanan to shrug off the tenacious challenge of Cahalane on the right wing and point for Tipperary.
Cork 1-20 Tipperary 0-22
53 mins – Only a point in it now, Callanan swinging over a long-range free.
Cork 1-21 Tipperary 0-22
55 mins – Cork recycle the ball well through Horgan and Meade for Lehane to point.
Flag
Goal for Tipperary from John McGrath!
Tipperary 1-22 Cork 1-22
56 mins – Superb goal by John McGrath after a magnificent pass by Callanan. But Cork crucially respond straight way with a fine point from Lehane.
Cork 1-23 Tipperary 1-22
57 mins – Cork go back in front. Marvellous point by Kingston.
Sub: Luke O'Farrell comes on for Cork for Cadogan.
Sub: Joe O'Dwyer in to the Tipperary defence for Seamus Kennedy.
Cork 1-23 Tipperary 1-23
60 mins – Level with ten minutes left, Niall O'Meara scoring for Tipperary.
That looks a really nasty leg injury for Tipperary's Cathal Barrett.
Barrett comes off to applause, he's limping and aided by the medical team. Alan Flynn comes in.
Tipperary 1-24 Cork 1-24
64 mins – Brendan Maher launches it over and Tipperary hit the front, but it's not for long as Lehane flights over another stunning point for Cork.
Sub: Michael Cahalane comes on for Cork for his championship debut with Patrick Horgan making way.
Cork 1-25 Tipperary 1-24
66 mins – Lehane edges Cork in front with a pointed '65.
Sorry that was Luke Meade who came off, not Horgan.
Flag
Goal for Cork from Michael Cahalane!
Cork 2-25 Tipperary 1-25
69 mins – A Darragh Fitzgibbon delivery eludes the Tipperary defence and sub Cahalane drills a shot to the net. McCormack replies with a point for Tipperary.
Sub: Darragh Fitzgibbon is off for Cork with Lorcan McLoughlin coming in.
Cork 2-25 Tipperary 1-26
71 mins – Breen point for Tipperary.
Kingston off target for Cork at the other end.
Another wide from Cork, this time by Lehane.
Cork 2-26 Tipperary 1-26
73 mins – Luke O'Farrell points for Cork.
Cork 2-27 Tipperary 1-26
74 mins – Harnedy points for Cork.
Flag
Full-Time: Cork 2-27 Tipperary 1-26
Contribute to this story: