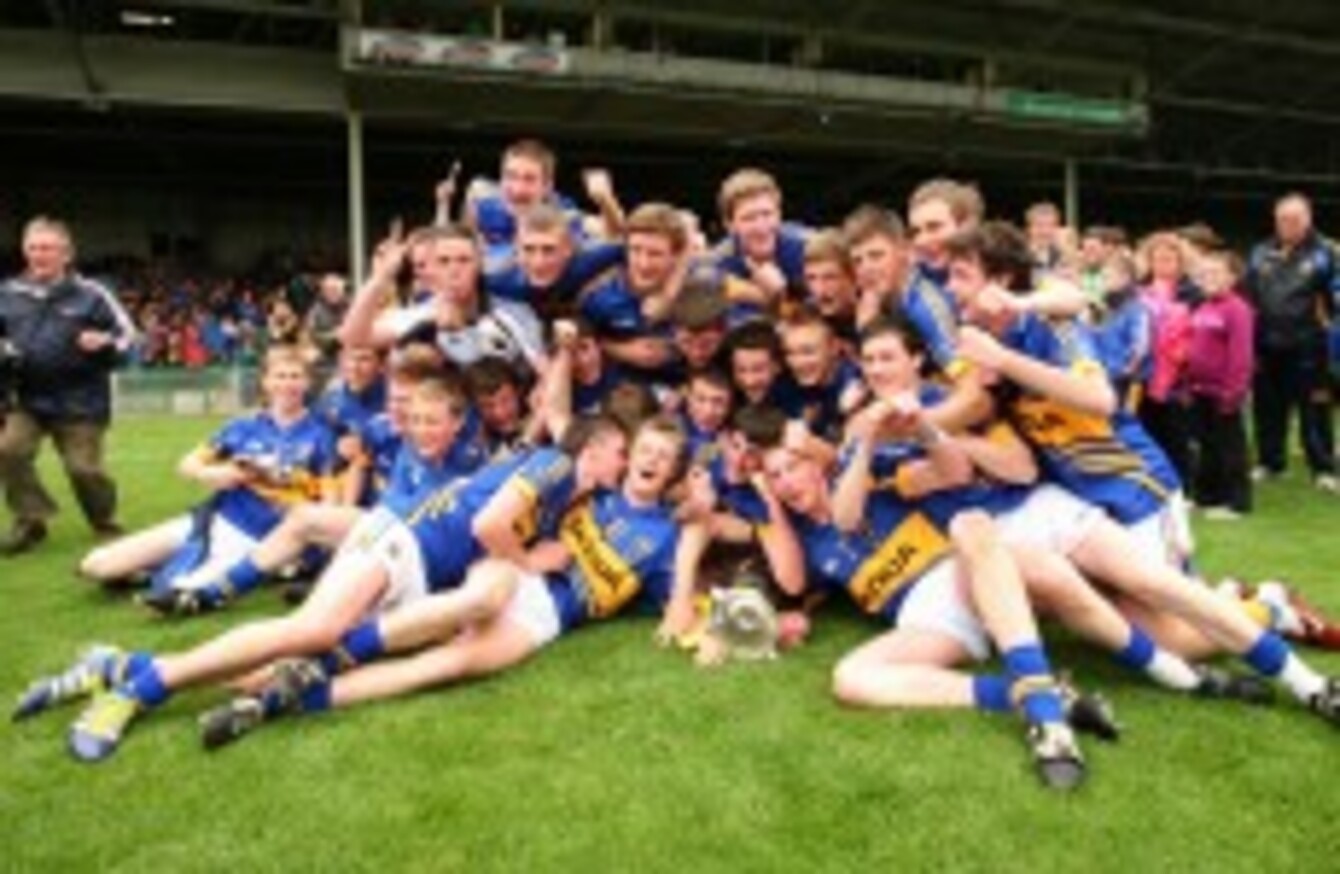 Tipperary players celebrate after last Sunday's Munster triumph.
Image: INPHO/James Crombie
Tipperary players celebrate after last Sunday's Munster triumph.
Image: INPHO/James Crombie
TIPPERARY MINOR FOOTBALL boss David Power insists that Sunday's Munster final victory over Kerry will dispel any accusations of his teams having been 'lucky' after claiming two provincial titles and an All-Ireland crown over the past twelve months.
After their historic triumphs last season, Tipperary followed that up with another success in Sunday's decider in the Gaelic Grounds with a three-point victory over Kerry. And Power now believes they have proven themselves as an established force with the calibre of side they have defeated.
"People were still questioning were we lucky before Sunday. But we can't be lucky all time as we're after now winning nine straight championship matches. Our last four games have seen us beat Dublin in Dublin, Kerry in Kerry, Cork in Cork and Kerry in Limerick. That's not a bad record when you look at those counties standing in football around the country.
"I think that we've proven as well that we're one of the best minor teams to come out of Munster in a long time. 2-14 was a serious score to put up on Sunday. Particularly because of the slow start we had to the game when we were seven points down at one stage. But we showed great character to claw our way back into it and got crucial scores either side of half-time."
Power admitted their latest Munster success was hugely satisfying.
"This win was probably more satisfying than last year's as we're starting to show real consistency now. We know there's no point winning back to back titles at minor, we need to bring it onto U21 and senior with these players. Tipperary are playing Wexford next Sunday in a very important senior qualifier game and I know the Tipperary lads are buzzing at the moment. I think they've a realistic chance of beating Wexford and if they achieved it that would be another huge boost for us."
The Tipperary manager also praised the contribution of former county senior midfielder Kevin Mulryan who was added to the managerial team this year and described his delight at seeing wing-back Colin O'Riordan, a key figure last year, bouncing back from a long-term injury to feature in Sunday's success and enhanced their options ahead of the All-Ireland series.
"Kevin's experience is invaluable as he's played county senior for Tipperary for a long time and he's contributed a huge amount already this year. It was great as well to see Colin back playing. He's worked so hard at coming back from a pelvis injury that kept him out for the guts of six to seven months. He really strengthened the half-back line when he came on against Kerry.
"The next challenge for us now is to try to get back to Croke Park and compete in an All-Ireland semi-final. We're probably going to need a bit of luck to keep going but we'll know after next Sunday who we're playing in the All-Ireland quarter-final, as it'll be the losers of the Connacht final between Roscommon and Mayo. Before that All-Ireland quarter-final though we've a good few lads involved with the Tipperary minor hurlers next Sunday in the Munster final and we hope that goes well for them."