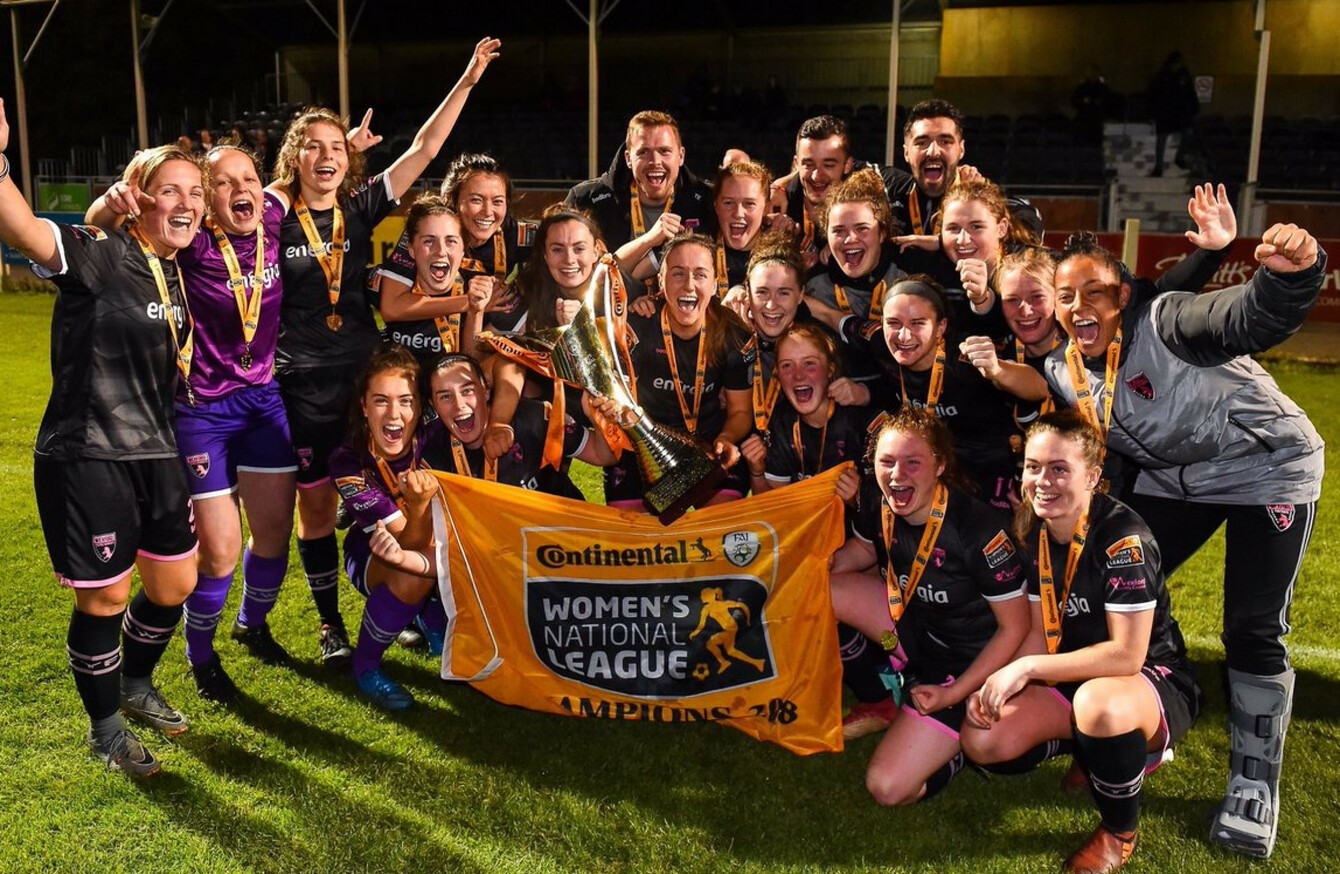 Elmes (centre) helped lead Wexford Youths to the Women's National League this year.
Elmes (centre) helped lead Wexford Youths to the Women's National League this year.
TOM ELMES HAS Wexford running through his veins at this stage. The 33-year-old scored the winning goal in the club's first ever League of Ireland game way back in 2007, and is also well-known for scoring four goals against Waterford during a 6-0 win in 2012.
The centre-forward hung up his playing boots at the end of the 2013 season and on Sunday will lead Wexford Youths women's side into their third FAI Continental Tyres Cup final in four years at the Aviva Stadium.
There are no two ways about it looking at the recent record books; this Wexford side have been the elite team in Irish football over the last number of years. Through three different managers they have secured four Women's National League titles in five years, and tomorrow afternoon have the chance to secure a second double since 2014.
Elmes is enjoying his first year in the hot-seat since taking over from Laura Heffernan, who stepped down after leading the club to the title on the final day of the 2017 campaign.
In fact, he was actually approached by the club's players to become their new manager having taken training sessions last season after completing his Master's degree in Belfast in sports development coaching.
Elmes has transitioned from playing to management seamlessly, completing the FAI's sports management and coaching degree in IT Carlow, before being taken on as a full-time employee by the Football Association where he now oversees the course he completed all those years ago.
It's been a long journey, he says sitting inside the 49,000-seater Aviva Stadium four days before Sunday's decider against Peamount United. He arrived in Ireland as a 21-year-old after the global recession hit England, following his parents across the water to work as a carpenter alongside his football pursuits at Ferrycarrig Park in his early 20s.
#OnThisDay in 2012, Tom Elmes scored 4 goals for WYFC in our biggest win since we joined LOI,winning 6-0 vs Waterford pic.twitter.com/YEgTfB5WjR

— Croghan Athletics Club (@CroghanAC) March 2, 2014
He describes his current position in the FAI as a "dream job", but does not easily forget where he stood a decade ago fixing roofs in the harsh winter cold at a time when his life was a world away from what it is today.
"I grew up in Birmingham and moved over here when I was 21 as a carpenter," he explains. "I'm lucky with the job I have with the FAI now, because I do always have that reality check thinking back to working on cold roofs in the snow and stuff like that.
My family moved over to Ireland a couple of years before me. The recession hit Birmingham and work had gone really, really quiet. My parents said that work over in Ireland was great during the Celtic Tiger period and the recession over here was a few years behind the UK.
"So my parents said 'why don't you come over for a while and see how it goes?' I moved across and really enjoyed it. But then work just dried up again and I got an opportunity to go back to college when I was 24 to do the FAI course, the one I'm currently working over.
"I was doing a little bit of coaching at the time and was still playing too. A few people recommended the course to me and said it would be great. But at that stage I was thinking to myself: 'college? Jesus, I'm 24′.
But I jumped at it, did the course in IT Carlow and after that did the Master's up in Belfast. But I always return to that image of me standing on an old cottage roof just freezing to death shovelling snow — my fingers were numb. Today, every now and then, I have a reality check and think 'do you want to go back to that?'"
Elmes says he was flattered to be asked to take over at Wexford at the beginning of this year, but asserts that he felt the pressure of the job straight away. Everyone around the club was beyond accommodating, he explains, but the demands for success meant nothing less than competing for the title right from the off would suffice.
This was a club who were the reigning Women's National League champions, had won the treble just a handful of years previous and who would be playing in Uefa Champions League qualifiers by the end of the summer. Even though it was his first major management position, Elmes says he had to do it right.
"I completely felt the pressure," he says. "When you go into a club who, at the time, had won three of the last four Women's National Leagues, you know that the number one aim is to go out and win another league title.
"We were left in a position where we had lost a number of players — Jess Gleeson had joined Shelbourne, Linda Douglas decided she wasn't going to play football this year, Aoibhin Webb went over to Abu Dhabi for work commitments, Claire Riordan had gone to Germany.
So we were short a number of players and the pressure was on. Coming into the job I knew the girls had high expectations, absolutely, so nothing other than competing for the league would do."
The 33-year-old secured the title a fortnight ago against Cork City, with Wexford losing just one league game all season. They also won the National League Shield this season and made it to the League Cup final, where they fell short against Peamount — who they face again tomorrow at Landsdowne Road.
Source: FAI TV/YouTube
A league title, a Shield, League Cup finalists, FAI Women's Cup finalists and Champions League football — it hasn't been the worst first season in charge by all accounts?
Be part
of the team
Access exclusive podcasts, interviews and analysis with a monthly or annual membership.
Become a Member
"It hasn't been a bad year, has it?," Elmes smiles. "I think the success is down to consistency of players. The girls that have been in the club over the years have given everything to Wexford in that time, I can't stress that enough.
"They've completely committed to it. One of the things I've really enjoyed this year is that family feeling at Wexford Youths.
"It's like nothing else, everyone is so close off the pitch and in training. There's good craic between everyone and everyone treats each other so well, too. Our players train hard, but on top of that all the staff and the committee and all the players' families have been amazing.
The kitman has been around for years. They all love him and I think stuff like that is important in all of football, no matter what club or what level or age group.
"For the club to act as one entity, for everyone to know that no-one is bigger than anyone else, no-one is more important, that's all crucial to success. Guys like our kitman and the man who does the waterbottles, they are just as important as any player on the pitch."
The season is far from over yet, with tomorrow's cup final presenting the chance for Wexford to match their 2015 success when they dramatically equalised against Shelbourne in the 95th minute before winning on penalties. But also seek vengeance for the last time they played at the Aviva, where the side suffered a heartbreaking 5-0 defeat to the Reds two years ago.
Their manager admits he and his players are extremely excited to walk out onto the immaculate surface in front of thousands of supporters on Sunday, but maintains that they cannot afford to get their heads stuck in the clouds with the fanfare of the occasion.
There is a football match to be played, Elmes is quick to point out, and Wexford is a club that has become accustomed to success. Their players demand it of themselves and of each other every single day in training, he says, and tomorrow's clash with Peamount will be treated with the same respect and preparation as any other fixture this year.
The club have enjoyed such big occasions in recent months, representing Ireland on the world stage in the Champions League in August when they faced off against Dutch champions Ajax.
The Irish side ultimately succumbed to a 4-1 defeat in August, but initially looked like causing the upset of upsets when Ireland striker Rianna Jarrett put her side 1-0 up just after half-time.
Rianna Jarrett on target for @YouthsWomen in this afternoons defeat to Ajax In Belfast. pic.twitter.com/F664wPuBw6

— Wexford Youths Women (@YouthsWomen) August 7, 2018
"Of all the cup finals, this is the one you want to be at," Elmes says of tomorrow's match. "You need to take that pressure on board and it was the exact same with the Champions League during the summer.
"To walk out against Ajax was something else, and then to go 1-0 up against them again, you're just like 'bloody hell, what's going on, where are we?' I think that feeling probably had a hand in the result of us not winning the game, because we conceded just a minute and a half after taking the lead and they came out on top."
Jarrett is ruled out of tomorrow's game after suffering a broken bone in her foot while on international duty in September. That setback aside, Elmes is confident his side can secure a league, Shield and Women's FAI Cup treble.
We know what Peamount are like, they are a very hard-working side. They were strong competing for the league last year and this year have gone and signed three Irish international players — Karen Duggan, Claire Walsh and Aine O'Gorman. They've strengthened their team and personally I thought they were going to be the team to beat this season.
"They beat us in the League Cup final in September and are in the cup final, so it has been a successful year for them too. We had that one defeat against them, but we know exactly what happened that day, we knew what went wrong and fixed it the following week in the league, when we managed to beat them.
"Look, cup finals are a completely different kettle of fish. Anything can happen on the day, but the one thing we do know is that if we turn up and play to our best, we know we are a tough team to beat."
It's been a long journey for Elmes and his team. He fondly recalls his own playing career playing in the pink of Wexford a number of years ago, but beams with sincere pride at the achievements of his players this season down in Ferrycarrig.
Maintaining the success of recent years was a tough ask for the Englishman when he took over in February, but he has exceeded his mandate by helping deliver a league title, a Shield and two cup final appearances, as well as Champions League football.
From shovelling snow off old cottage roofs to a dream job in the FAI and coaching a Wexford side which represents Ireland domestically and on the world stage, he and his team have both come a long way in recent years.
Subscribe to our new podcast, Heineken Rugby Weekly on The42, here: