Authorized wins the Derby.
Image: Adam Davy/PA Images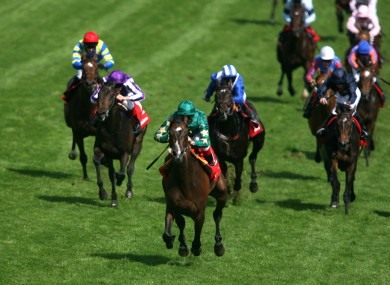 Authorized wins the Derby.
Image: Adam Davy/PA Images
THE FOLLOWING IS an excerpt from 'Tony 10: The astonishing story of the postman who gambled €10,000,000 … and lost it all'
By winning the Epsom Derby on 2 June 2007, Authorized, trained by Peter Chapple-Hyam and ridden by Frankie Dettori, paid for Tony 10's wedding to Fiona. Not that she had any awareness of this fact, and not that any of the approximately eighty friends and relations who had gone with them to Cyprus had any awareness of it.
It gives us a sense of Tony O'Reilly's standing in the community and with his extended family that eighty people would make this journey to celebrate with him. He had been at the centre of things for so long in Scraggs and with the football team and generally knocking around the town of Carlow, not only has he no difficulty rounding up that wedding party, there are a few extra revellers at the airport he had hardly expected to be there at all. But though they all know him well, or think they do, only he knows that there are more things weighing on the mind of Tony 10 than have ever troubled Tony O'Reilly.
The last instalment of the payment to the hotel for the wedding – about five grand – still has to be paid. And he has the money to pay it, on his MBNA credit card. He has just about managed to keep it there without using it for gambling, and since he is going to a place where logistically he will not be able to gamble in his usual way – he isn't bringing his laptop – he is happy as he leaves Dublin that there will be no problem about settling this particular bill. He does not know how much of his happiness will be depending on events still to take place, not in some hotel in the Aegean, but at the new Wembley Stadium and at Epsom Downs.
Authorized is the last leg of a four-way accumulator that had started on 26 May when Artimino won a competitive handicap at Newmarket at odds of 9/2. Then, on 27 May, Seville beat Real Zaragoza 3–1 at home, which means that as the wedding party is leaving Dublin airport the following day, the groom is aware that he is almost halfway towards a very nice wedding present of about five grand from Paddy Power. Not that he desperately needs that extra money on this trip, but it would still be most acceptable – for this accumulator to click, he still needs Derby County to gain promotion to the Premier League in the play-off final at Wembley on 28 May, and finally he needs Authorized to win the Derby.
It is a remarkable aspect of this story, and one that is coming unprompted from the man himself, that by the middle of 2007 even an occasion as supposedly important as his wedding has come to be inextricably linked with the challenges it is presenting to him as a gambler. And yet as he leaves Dublin he feels that he is taking a kind of holiday from his obsession. It is not unknown even for compulsive gamblers to feel like this when they find themselves in strange surroundings, seeing it as a chance perhaps to switch off the engines for a while, all the better to get them going again on their return.
That accumulator aside, Tony is really trying to participate in these wedding arrangements, to avoid reaching the familiar cut-off point at which Fiona is just not there anymore, because he is unable to pay much attention to any living thing other than the horses and the footballers and the golfers and the tennis players who are representing his interests in the betting arena. So as they head for Paphos, in Cyprus, to the four-star Alexander the Great Beach Hotel, for a while it is mainly the wedding that is on his mind, in this atmosphere of celebration which at times reaches such heights there are people in Carlow who will still say it was the best holiday they ever had.
On the afternoon of their arrival, he and a few friends are able to get a seat in the hotel bar to watch Derby County beating West Bromwich Albion 1–0, the only goal coming on the sixty-first minute, not an easy thing to be watching, on the whole, for a man in Tony 10's situation. Because now the old betting juices are starting to flow again, he has three legs of the four-part accumulator up, so if the favourite Authorized wins the Derby, which is being run in four days time, he will be looking at that substantial payout from his online betting provider. Yes the juices are starting to flow again, because he is so optimistic about Authorized, he is starting to see that five grand almost as money in the bank.
Now he would like to be betting on the strength of that, the way he does at home on the laptop and in the offices, but still he must make do with this accumulator that he put together before the trip – the iPhone which would connect him straight away to his online account had not yet been created in its most miraculous form. So in the hotel bar, he and members of his party are having a few small bets on that play-off final, and such is the release of getting up the third leg of the accumulator, Tony 10 hardly notices the relatively small amounts of cash he is winning from friends. He has much more riding on this.
In the meantime, there is this business of getting married. The day itself has been shifted from 29 May, so that it will now be on 30 May, a delay caused by the collapse of the XL Airline on which Fiona's family had been booked to travel. But this crisis has an upside too, a bad omen balanced out by a good one, because 30 May is Tony 10's birthday. And he would clearly be enjoying this happy coincidence of his birthday and his wedding even more if part of his mind was not on that other galaxy, in which the fourth leg of a substantial accumulator is pending.
Then a new permutation arrives into play. As Tony 10 is getting accustomed to the hotel facilities, he finds that there is a computer in the lobby – an important discovery at a time when the gambler still occasionally needed access to something as traditional as a computer, especially on a trip to Cyprus. This computer is to him a beautiful sight. Using a Cypriot pound note to buy time online, he quickly establishes that it will enable him to log-on to his Paddy Power account. And with the addiction roaring inside him again, he has a decision to make. The sort of decision which to some extent he had already made in the depths of his being when the third leg of the accumulator came up, a decision that is now ready to be executed.
Be part
of the team
Access exclusive podcasts, interviews and analysis with a monthly or annual membership.
Become a Member
He starts betting.
Using the money on his MBNA card he starts betting – the money that is supposed to pay for his wedding, but that he now finds irresistible as a source of gambling funds because after all, Authorized is going to win the Derby, right? He is virtually home and hosed, right? Tony 10 starts betting with the wedding money, and he starts losing. And then he starts winning, but not enough to make up for the losing. He is chipping away, losing and winning and losing again on all the usual markets, the horses and the football and the tennis, and various combinations thereof. He realises early on that he is chasing, that the way it's going, the hole keeps getting deeper no matter how hard he tries to fill it in, to get back to where he started. He is chiselling away at the money in Cyprus, just like he does back home, until he has little more than 'walking around money' left, until it's really all about Authorized again, until his last best hope is the favourite running in the Derby in a few days' time.
Except now, with the rest of the money so diminished, the horse doesn't seem to him like such a favourite. Now he is having all sorts of doubts. Now he is in a place beyond torment, having tried to free himself from all the anxiety for a couple of weeks at least here in Cyprus, only to be dragged right back into it because he just couldn't stop. It's just not in him now to walk away, not for a week, not even for a day if he can manage it. This time, though, he is so demoralised, so crushed by this latest defeat on the hotel computer, he can't bring himself to risk another bet, can't face the prospect of maxing out the card completely, until Authorized has done whatever Authorized is going to do. At which point he will either be saved again, or in all likelihood the scale of his addiction will be exposed, he will be found out here, on the occasion of his own wedding.
Source: Darley/YouTube
So each day he and Fiona take the ten-minute walk from the Alexander the Great to the resort where everyone else is staying, most of them lounging by the pool. Indeed, there were four young men from Carlow who drank a lot of Jack Daniel's and headed straight to the pool, where they continued to drink and to engage in water sports for the day, disregarding any advice about the need for sun-screen. They were burned so badly, their blisters were still bursting at the wedding ceremony.
For Tony and Fiona there is the official signing of the documents in the Town Hall, and then it is the night before the church service, which they spend apart for superstitious reasons. Tony stays in the apartment of his best man, Niall. They have warned the hotel that there will probably be tremendous pressure on the bar throughout the day, and to be sure to have enough staff to cope. But somehow the message doesn't get through, so there is a period during the reception when a kind of panic sets in among the wedding party, when drinks are being brought to tables far too slowly by the standards of the Irish, even allowing for the fact that each table has been supplied with several bottles of wine.
He is not sure if this is what caused him to react as he did, or whether it was his dependence on Authorized to pay for all this, but Tony spends a fair while berating the manager for this display of negligence and incompetence. Which is untypical of Tony, but perhaps an indicator of the pressures he is suffering, not just to ensure that everyone is having a good time but that he can foot the bill for it. The dispute with the management over the drink goes on for so long, he misses most of the excellent band he had hired, and later in the evening, unhappy with the music, he takes to DJing himself. Fiona would describe the reception as the Tony Show, such was his apparent desire for the event to conform with some ideal image in his own head, to take personal responsibility for the success of the night.
She does not know what fears are driving the Tony Show. She does not know his appalling need for some sort of release from the hole he has been so assiduously digging for himself. He has been following Authorized for some time, an increasingly unusual practice, consumed as he is these days by the instant reactions of the online punter, to just betting compulsively on whatever appears on the screen in front of him. This explains his descent into the darkness of betting on things he couldn't possibly know anything about, things like U19 Internationals and the Arsenal Ladies and dodgy tennis matches in Budapest.
Tony 10 - The astonishing story of the postman who gambled €10,000,000 … and lost it all by Declan Lynch by Tony O'Reilly was published in February 2018 by Gill Books.