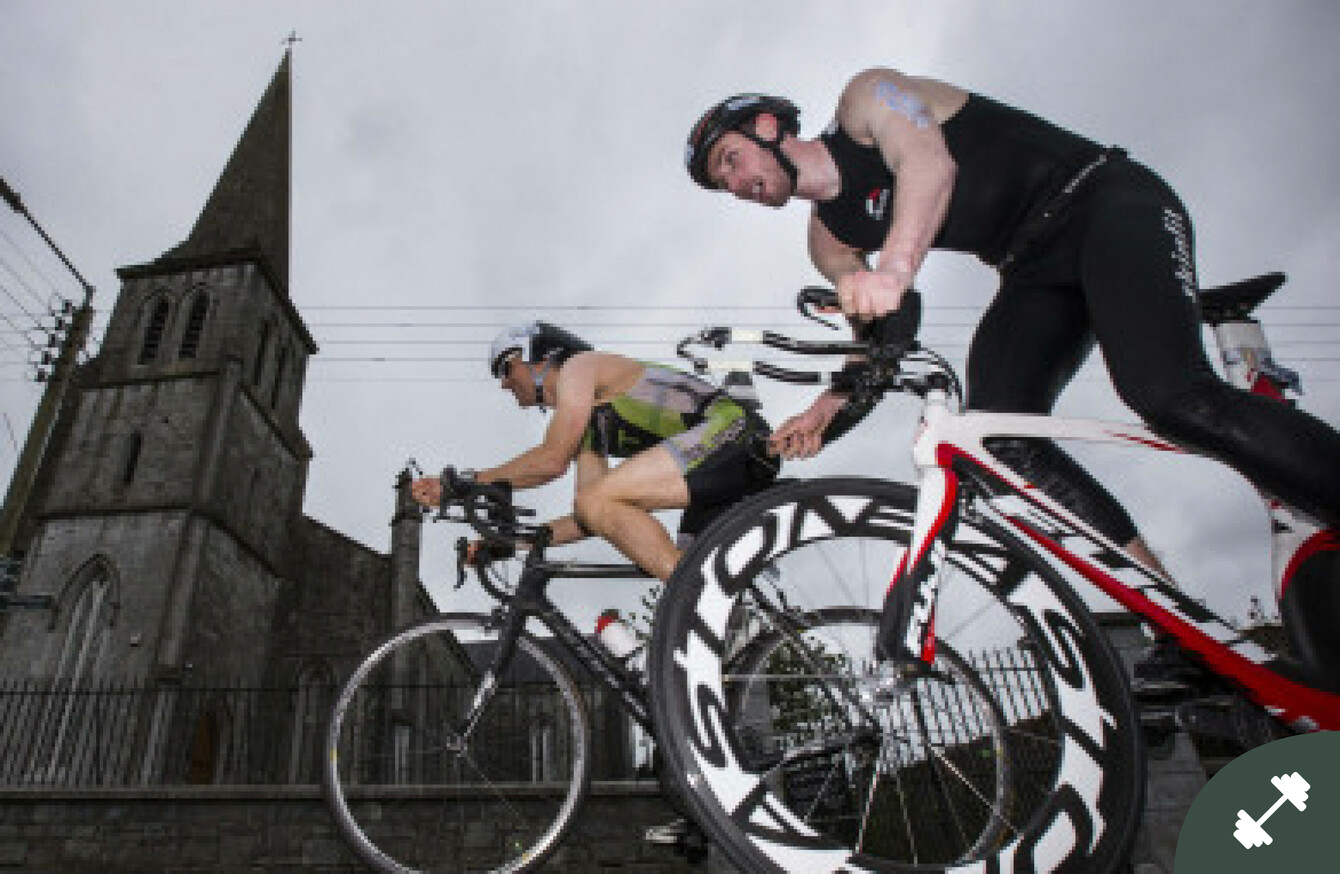 Triathlon's can impact on your lower back.
Image: Cathal Noonan/INPHO
Triathlon's can impact on your lower back.
Image: Cathal Noonan/INPHO
NO MATTER WHAT level of triathlete you are, whether starting out on your first sprint or training for an ironman, you'll probably have experienced the nuisance that is lower back pain.
It tends to be the result of spending a lot of time in the saddle, especially if your set-up is not perfect.
Fret not, however, as there is a simple stretching routine you can use to make sure you keep any lingering pain to a minimum.
1. Glute bridge
Firstly, lie on the floor with your knees bent and feet flat on the floor. Now, move onto your heels and push your hips into the air, squeezing your glutes simultaneously.
Keep your back straight, keep your core activated and avoid arching. Hold for five seconds and relax. Repeat 5-10 times.
Source: ScottHermanFitness/YouTube
2. Back extension
A favourite yoga pose, this one really lengthens the muscles of your spin.
To start with, lie on the floor facing down and allow your hips touch the ground. Now, extend your arms fully and really arch your back, keeping your hips on the floor.
Next, lift your hips and push them up as high as they'll go, creating a right angle between you upper and lower body. Repeat three times.
Source: K's Perfect Fitness TV/YouTube
3. Revolved abdominal pose
This is a good stretch for those with particularly stiff backs. Lying on your back with your knees bent, bring them into your chest.
Inhale and, with the next exhalation, roll your knees to the right side and rest them on a pillow.
Stretch both arms outwards along the floor to open the space between the shoulder blades then, as the lower back gradually releases, straighten the legs out slowly, aiming to eventually have your toes touch the hand nearest them.
Repeat five times either side.
Source: Tune Up Fitness/YouTube
4. Leg extension
This is a very simple one that requires you to lie with your back to the floor and your feet extended in front of you, 6 inches off the floor.
Now, with your lower back pressed into the floor and your core muscles engaged, bring one leg into the table-top position for a second before extending again.
Repeat with the other leg, keeping your hands pressed firmly on the floor beside you.
Repeat for 60 seconds.
Source: ScottHermanFitness/YouTube
5. Leg raise
Start by lying with your back to the floor once again. Extend both legs out in front of you (at a 45 degree angle to the floor) and your hands out to the side for support.
Now, with tension on your core muscles, simply raise one leg as high as it will go, getting as close to 90 degrees as you can go.
When you reach the highest point, lower that same leg and simultaneously bring the other one up. Repeat for 60 seconds.
Source: Howcast/YouTube
A version of this article was first published in 2016. 
The42 is on Instagram! Tap the button below on your phone to follow us!