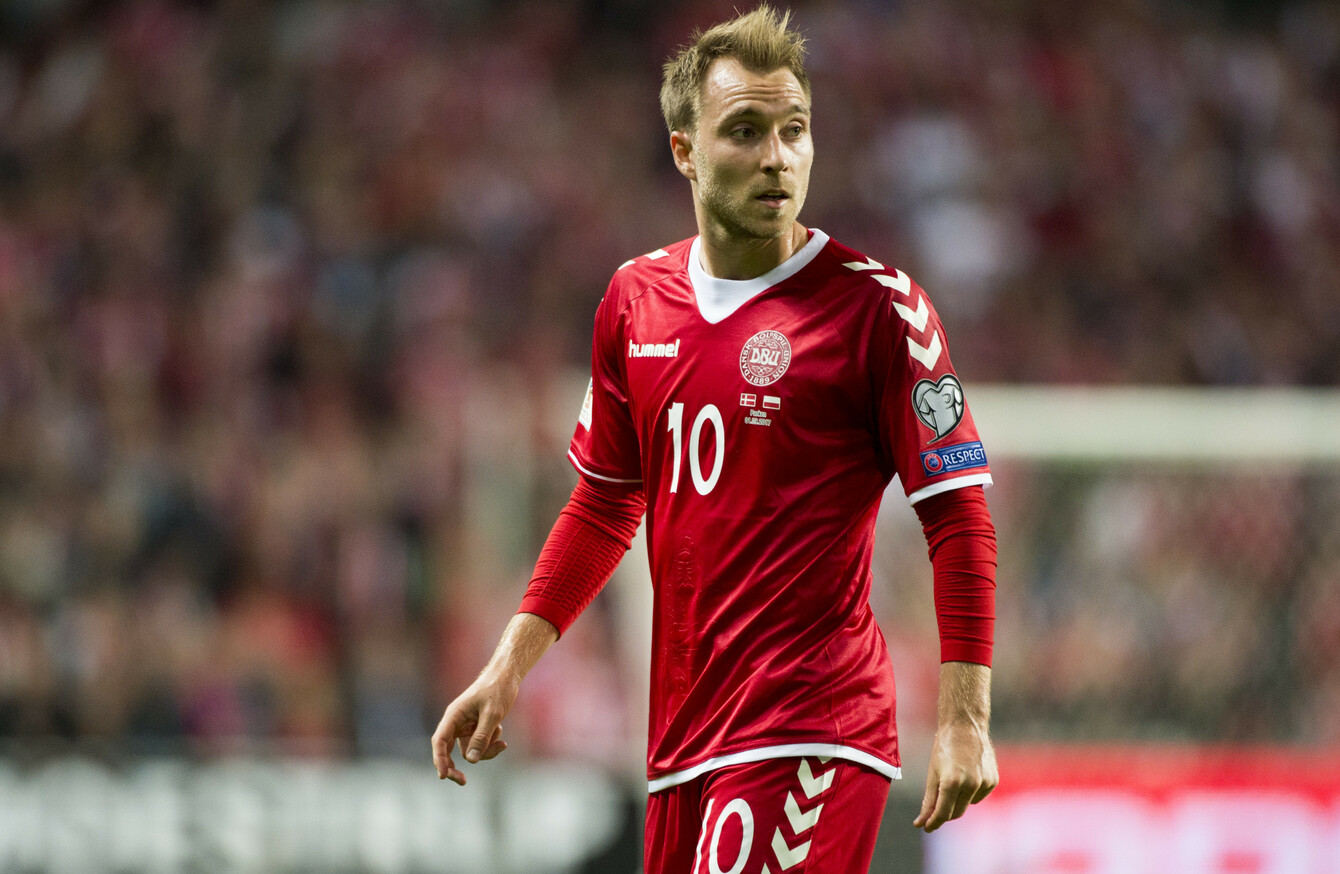 Christian Eriksen is Denmark's star player.
Image: SIPA USA/PA Images
Christian Eriksen is Denmark's star player.
Image: SIPA USA/PA Images
IN 1985, A comprehensive 4-1 loss to Denmark at Lansdowne Road famously ended one era of Irish football — the Eoin Hand years — and ultimately led to Jack Charlton's managerial reign.
Perhaps ominously from the Boys in Green's perspective, there are some parallels with the Irish squad then as they began to take shape under Charlton and the Danish side now.
Like the Irish side of the 1980s, the change in the current Denmark team's fortunes came about as the result of a demoralising loss — a 4-3 aggregate defeat against neighbours Sweden in the Euro 2016 qualification play-offs.
After that setback, Denmark emulated Ireland in 1986 by somewhat controversially appointing an outsider — for Jack Charlton, read Norwegian coach Age Hareide.
"Him being a Norwegian in charge of the Danish team, he was under huge scrutiny, because in Denmark, really we have no regard for the Norwegian approach. We consider their approach as being in the same vein as the 'Crazy Gang' Wimbledon team — that direct approach," Ekstra Bladet journalist Klaus Egelund tells The42.
For 15 years, Denmark had been managed by former player Morten Olsen, who had lined out as part of the visiting side in that memorable Lansdowne Road game, which brought the Hand era to an end in disappointing fashion for the hosts.
During his time in charge, Olsen guided the country to two World Cups (2002 and 2010) and two European Championships (2004 and 2012).
Though they never repeated the heroics of the side that famously won the 1992 European Championships after receiving a wildcard entry, Olsen's tenure overall can be considered a success, particularly given how rare it is in football for a coach to last 15 years in one job.
But by the conclusion of Olsen's stint, despite the Danes (again similarly to Irish side of the 1980s) having a talented group of players at their disposal, everything seemed stale. For the second consecutive major tournament, they failed to qualify.
There were too many points dropped, too many out-of-shape players being called up just down to their names," Egelund says. "So a fresh name and approach helped, but he also had to lift the gloomy feeling that was hovering above the team like dark clouds.
"It was kind of depressing what was going on with the national team — no real passion. We kind of lost faith in our national team even though we have some good names in it. So he had to manage that and make sure he could steer the team in the right direction."
Source: disparate HD/YouTube
Moreover, there was no immediate improvement once Hareide succeeded Olsen. Denmark won just two of their opening five World Cup qualifiers, and looked set to experience disappointment once more.
The turning point, however, came when they faced Poland at home — they had lost the away fixture 3-2.
With nothing to lose and the team seemingly on the brink of an underwhelming World Cup qualification exit, Hareide decided to ignore the Danish tradition of slowly building up from the back and instead opted for a far more direct approach. The result was an emphatic 4-0 defeat of the Poles — a side Ireland took just one point in two games against during the Euro 2016 qualifying campaign. Since then, the Danes have looked revitalised, winning two of their last three group games to secure a place in the play-offs.
It's not like it's a primitive approach, it's an added approach to how we play football that's kind of clicked into gear," Egelund explains. "It's only when you guys were failing miserably against Georgia and Serbia (in September) that things have transformed for Denmark."
Source: sp1873/YouTube
And while Charlton's Ireland scarcely had room for a gifted, creative player like Liam Brady ultimately, Denmark's star man Christian Eriksen has flourished in Hareide's new system, which is invariably reliant on the strength and aerial ability of a target man in attack.
Up until recently, there was a degree of consternation among Danish fans, as the Spurs star struggled to repeat his brilliance at Premier League level on a consistent basis for the national side.
An outside observer might assume a technical player such as Eriksen would be ill-suited to the team's newfound long-ball approach, yet eights goals and three assists over the course of 10 qualifiers would suggest otherwise.
"It's been a big enigma for Denmark," Egelund says. "Christian came through at youth level with the U17s and he was quickly being introduced in the national team, even when he was just making his breakthrough at Ajax.
We have Michael Laudrup as the beacon in Denmark. We always loved this attack-minded, very creative, skillful footballer with great vision for the game. So when Eriksen stepped into the scene, we saw the natural — not successor, because Laudrup had been long gone before Eriksen came — but a piece that has been missing in order to make the national team magical again.
"He came in at a very young age with huge promise and the team as a whole was struggling. It was down to the way the former national team coach thought of the team, how it was playing, with possession as the key point.
"Christian has also been used on the wings and moved to different positions — it seems like he was trying to find his role with the national team. We changed coach after failing against Sweden and it seems like the new coach has had more success in making Christian Eriksen an accepted part of the team.
"(Hareide) also changed a few tactical things — we're not really relying too much on possession anymore. It seems like Christian's vision of the game is more suited to a quick transition phase where he will get the ball and set up a team-mate within a few seconds of getting it, or seeking his own shot more.
"He seems to be a more consistent player for the national team, as we're getting more transitions recently, so he's also getting more productive."
Ahead of the draw for the World Cup play-offs, Sweden were seen by Danish fans as the team to avoid, given what had happened prior to the Euros.
"We feel the Irish side should be manageable if the progress of the (Danish) team is to be relied upon," Egelund adds. "We cannot really say that just performing for some games after the summer break is really a long period of time to pass any judgement on.
"So if we fail, it was too soon, if we go through, it will be a sign that this team is progressing and in good hands with the national team coach.
I sense that this team is going from being present in big matches but losing — we lost the first match away in Poland 3-2 — going from there to getting a 1-1 (in a friendly) against Germany and beating Poland 4-0 in a match where Poland could have qualified by winning, that's huge progress and a huge feat for the coach.
"There's no question he has the backing of his players now, because he's proved that he's able to provide them with the results if they listen to him."
Furthermore, if you were to compare the individuals in the two teams, there is no doubt that Denmark are superior. In addition to Eriksen, they also have Pione Sisto, who is leading the La Liga assists table currently and has previously caused problems for Man United among others (see below). Feyenoord striker Nicolai Jorgensen, who looks set to start this weekend despite fracturing his wrist recently, and highly rated Werder Bremen midfielder Thomas Delaney are similarly among the standouts. And at the back, they also have some top players, including Sevilla's Simon Kjær and one of the Premier League's best goalkeepers in Kasper Schmeichel.
Source: קרייריסט Careerist/YouTube
As Egelund puts it: "If you were playing Fifa or Football Manager, there's no question you would be picking the Danish team (ahead of the Irish one)."
Nevertheless, he insists there is a huge level of respect for the Irish team in Denmark despite their lack of individual stars, owing to the many impressive past results Martin O'Neill's side have achieved.
"I don't think we're wronging the Irish in not really singling out individual players," he says. "That's been the trait of the Irish for numerous years, their biggest asset, this is a group of players that cannot really be singled out.
If you look at a bird flying, you think 'okay, it's a bird flying,' but once those birds flock together as a unit, like the ravens flocking over Abbotstown the first day I was there (earlier this week), it becomes impressive.
"That's the thing with Ireland — you can look at them as individuals and say: 'Okay, he's manageable, he's manageable, he's manageable…' But as a unit, it becomes impressive — that's the notion in Denmark. There's no question that Denmark would hate not being able to produce a positive result in Copenhagen, which means they will have to go to Ireland (and win). We would love if the Irish are forced to come out of their shells in Dublin, leaving space for our counter.
"So we have huge respect for the Irish unit, but it would make little sense to point to James McClean. He's the top scorer in Ireland's qualification campaign, but is now a fringe player at West Brom — I heard Martin O'Neill and Roy Keane touch upon this. And he's the player expected to provide that extra spark to give you hope of qualifying.
"With no disrespect, there's a strong notion in Denmark that it's a unit that has to be broken down and overcome and the unit that has proved itself against Sweden's Zlatan Ibrahimovic, Bosnia's Edin Dzeko and Gareth Bale in the first match against Wales.
"So there's no excuse for underestimating what the Irish unit can do as a whole."
As proud Energy Partner to the FAI, SSE Airtricity have given us a pair of tickets to the sold-out Republic of Ireland vs Denmark game to give away. You'll watch the Boys in Green (hopefully) seal World Cup qualification from your premium level seats after enjoying food and refreshments in the Vavasour Suite before the match. To enter simply email competitions@the42.ie with your score prediction for the away leg and we'll pick a winner from the correct entries on Sunday morning.
Subscribe to The42 podcasts here: