Liveblog
Summer is here.
Presenting, our 40th anniversary opening titles. #GAA pic.twitter.com/JY2b3rIQNG

— The Sunday Game (@TheSundayGame) May 10, 2019
Provincial championship campaigns kick off across the length and breadth of the country this weekend, and we couldn't be happier to see it all back in full swing.
What better way to do so than down in Munster, where Waterford welcome Clare to Walsh Park this afternoon in what's shaping up to be a cracker. We're set for a sell-out at the home of the Déise with throw-in fixed for 2pm [live on RTÉ 2].
Stay with us for the build-up. We'll be back shortly with team news, and anything else you need to know before the curtains are opened on the 2019 Munster SHC.
The teams, as named on Friday, are as follows… late changes could come, of course, but we'll be sure to keep you updated.
Waterford
1. Stephen O'Keeffe (Ballygunner)
2. Shane McNulty (De La Salle)
3. Conor Prunty (Abbeyside)
4. Noel Connors (Passage)
5. Philip Mahony (Ballygunner)
6. Tadhg de Burca (Clashmore)
7. Kevin Moran (De La Salle)
8. Jamie Barron (Fourmilewater)
9. Conor Gleeson (Fourmilewater)
10. Austin Gleeson (Mount Sion)
11. Mikey Kearney (Ballyduff Upper)
12. Pauric Mahony (Ballygunner)
13. Shane Bennett (Ballysaggart)
14. Stephen Bennett (Ballysaggart)
15. Peter Hogan (Ballygunner)
Clare
1. Donal Tuohy (Crusheen)
2. Pat O'Connor (Tubber – captain)
3. David McInerney (Tulla)
4. Jack Browne (Ballyea)
5. Seadna Morey (Sixmilebridge)
6. Colm Galvin (Clonlara)
7. David Fitzgerald (Inagh-Kilnamona)
8. Shane Golden (Sixmilebridge)
9. Cathal Malone (Sixmilebridge)
10. Peter Duggan (Clooney-Quin)
11. Tony Kelly (Ballyea)
12. Diarmuid Ryan (Cratloe)
13. Shane O'Donnell (Eire Og)
14. John Conlon (Clonlara)
15. Podge Collins (Cratloe)
Shane O'Donnell starts in Clare's full-forward line after missing the league due to his studies Stateside. John Conlon joins him in there as he returns from injury.
For Padraig Fanning's Waterford side meanwhile, Kevin Moran lines out at wing-back, Austin Gleeson at wing-forward and the Bennett brothers are in the full-forward line.
As we've mentioned though, that could all change… even before the sliotar is thrown in…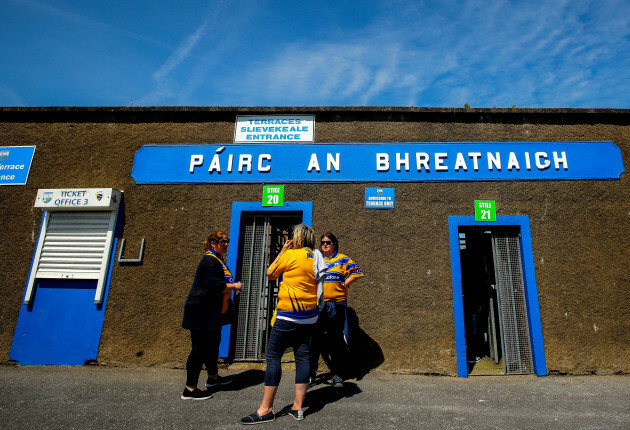 Source: Ryan Byrne/INPHO
"We're looking forward to it," Waterford boss Fanning has just told RTÉ. "People fought hard to get our home games here. It's up to us to go out and perform."
The fans are filtering in, championship atmosphere is building and throw-in time is edging closer and closer.
Well, here's what you think will happen at the end of this year's Munster championship…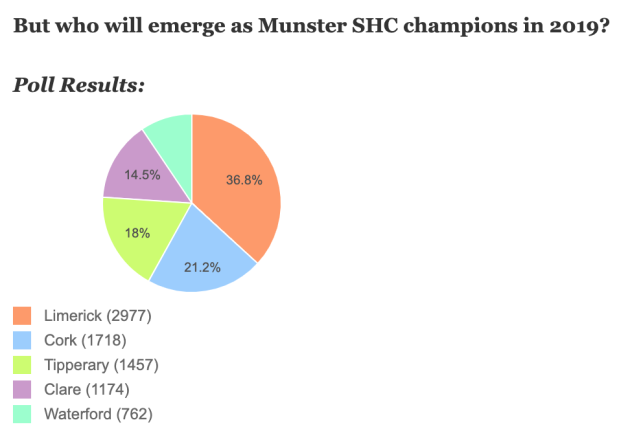 Source: The42.
As you see, Clare and Waterford are both bottom of that pile. But which of the two will start strongest today? Who will come out on top?

It's nearly time, lads…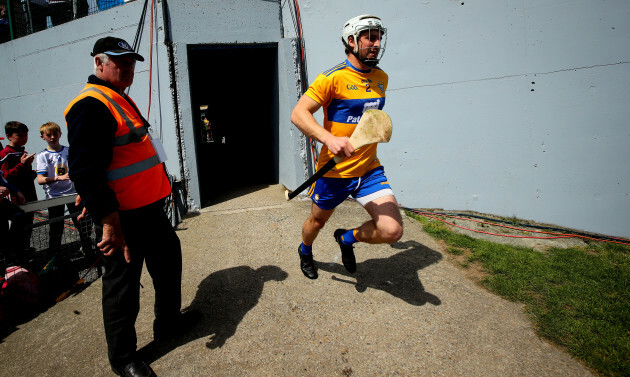 Source: Ryan Byrne/INPHO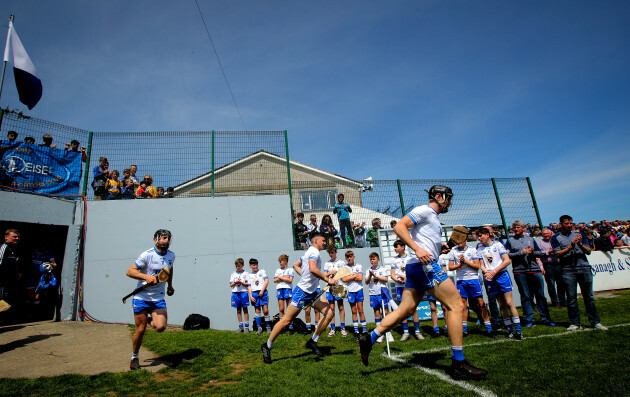 Source: Ryan Byrne/INPHO
Anthems sung and James Owens has the ball thrown in. We're off!
Waterford 0-1 Clare 0-0
Austin Gleeson gets us up and running.
GOAL! And it's Clare… and that man John Conlon.
Clare 1-0 Waterford 0-1
What a return for the attacking duo! Conlon rattles the net, but Shane O'Donnell's work in the build-up was immense.
At the other end just before, Stephen Bennett stepped up as the Déise's free-taker, and misses his first opportunity.
Clare 1-1 Waterford 0-1
A fine start for Peter Duggan, who slots over his first free.
Clare 1-2 Waterford 0-1
End-to-end stuff here, what an exciting start at Walsh Park. So close but yet so far at the other end as Bennett nearly gets his hurley to the ball coming in on goal, but it glides past the Waterford man.
Tony Kelly with a signature long-range point. Clare will be happy with their start.
Clare 1-2 Waterford 0-2
Waterford needed a score, and Conor Gleeson stood up. With the breeze at his back, he fired over after a lovely run up the sideline. At the other end, O'Donnell is causing havoc. A constant threat for the Banner.
Clare 1-3 Waterford 0-3
Bennett and Duggan trade scores. The pressure is rising, Munster championship has well and truly landed. Three separate them.
O'Donnell had the ball in the back of the net there, but the whistle had sounded before.
Seems there was an incident involving Conlon blocking Noel Connors in the build-up, so the goal doesn't stand. Still 1-3 to 0-3 to Clare, but Jesus, those two are causing mayhem in there.
Clare 1-3 Waterford 0-4
Aussie Gleeson once again. Lively match so far, that's for sure.
Clare 1-3 Waterford 0-5
Bit of a scuffle around the middle. A few players end up on the deck as runs and what not are blocked, but we're off again without any major trouble.
Waterford have missed a few straightforward chances over the past few minutes. Aussie Gleeson is down on the ground, appears to be winded. David Fitzgerald sees yellow for running into him with his shoulder. Gleeson's up again, thankfully.
No problems for Bennett with the resultant free.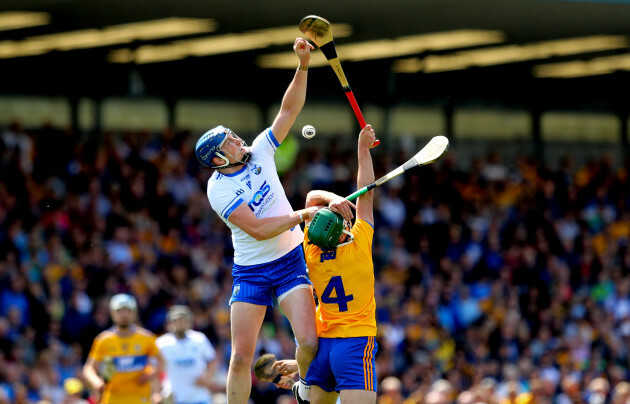 Source: Ryan Byrne/INPHO
Just 18 minutes gone and Noel Connors is forced off through injury. Shane Fives replaces him.
Clare 1-5 Waterford 0-5
Podge Collins stands up with his first of the day. The Banner are looking really good going forward, and are now two up. Tony Kelly then makes it three once again.
Clare 1-5 Waterford 0-6
Stephen Bennett notches his third, this one from a free. Himself and Shane are coming into this more now.
A clumsy challenge from O'Connor on Bennett sees Waterford with a sideline cut. Gleeson's effort goes astray for wide number four.
Clare 1-6 Waterford 0-8
Bennett with one of the scores of the game there. And much-needed at that. He shipped a heavy shoulder in the process, and went down. But he's back on his feet once again.
That one will give the Déise crowd a lift.
Shane Golden grabs one back at the other end, before Jamie Barron fires a reply for Waterford.
Clare 1-8 Waterford 0-8
A super score, and O'Donnell's first — although he's been heavily involved. Conlon is the spearhead of their attack in there, winning ball left right and centre. One takes him out towards the sideline, and a superb pass finds Fitzgerald running through. He pops it off to O'Donnell, and over it goes.
Duggan drills over another free — his third point of the match, after Bennett missed at the other end.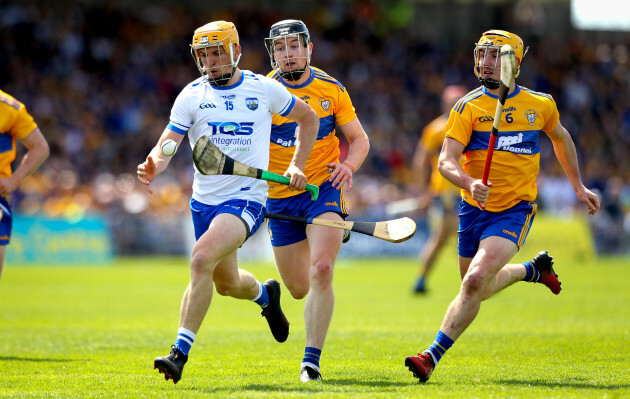 Source: Ryan Byrne/INPHO
Clare 1-10 Waterford 0-8
Conlon with a well-taken point, adding to his crucial early goal. Himself and O'Donnell are running amuck inside, linking up time and time again.
Tony Kelly with another influential long-ranger. Fantastic stuff.
Clare 1-11 Waterford 0-8
Shane O'Donnell was down getting some treatment there. Looks like he rolled on his ankle, but he's up and at it again. Duggan makes no mistake with another free, a terrific effort. Clare have scored the last five points of the match.
Clare 1-11 Waterford 0-9
Kearney with another needed Waterford score as half-time approaches. The clock turns red, with four minutes added on.
Clare 1-12 Waterford 0-10
Duggan fires over another free from his own 65m line. It's off the post and over the bar.
Barron responds at the other end. Gleeson is down again.
Half time: Clare 1-13 Waterford 0-10
Another free over the bar courtesy of Peter Duggan. His sixth of the day in a brilliant performance. Just before Clare won the free he slotted, he held off Tadhg de Burca with his left side, caught on his right. Superb.
…. and the half time whistle sounds.
A sharper Clare struck early & late to carve out a 1-13 to 0-10 half-time advantage over Waterford in the Munster Senior Hurling Championship.
John Conlon's 2nd minute goal allied to 7 of last 9 points has provided a deserved cushion over their lacklustre hosts with wind to come

— Eoin Brennan (@BrennanEoin) May 12, 2019
We're almost ready to go again. One thing's for sure: Waterford need to come out raring to go here, and make a strong start to the second half.
Second half: Clare 1-13 Waterford 0-10
We're underway once again.
One change: Tommy Ryan is in for Peter Hogan on the Waterford team.
Misses at both ends as we restart. One from Gleeson, one from Kelly. There's an off the ball incident of sorts in front of the Clare goal, but both players are let off.
They're both finding it hard to settle in, even Duggan's latest free heading wide.
Clare 1-14 Waterford 0-11
We're still waiting for our first score of the second half, another Clare effort going wide.
The intensity is rising around the middle however, the blocks coming in thick and fast. Waterford are looking a little more composed than they were though, and Bennett sends them on their way with a free from the middle of the park.
Former U21 Hurler of the Year Colm Galvin bites back though.
Clare 1-15 Waterford 0-12
Bennett with his second of the second half. That's what he needed, and Waterford too, as his confidence starts to rise — Stephen that is, incase there's confusion.
Duggan makes up for his previous miss, and slots a free over to put Clare six points clear again.
Clare 1-15 Waterford 0-13
Three for Bennett. Arrows over from a 65.
Clare 1-15 Waterford 0-14
And a fourth for him to the sounds of the Déise fans' delight. Another free, as the claw their way back into this contest.
Source: Ryan Byrne/INPHO
Clare 1-15 Waterford 0-15
Aussie Gleeson with an exceptional point. He leaps into the air to catch a puck-out and fires over on the turn. The home crowd love it, they're getting louder and louder… three in it now.
Clare 1-16 Waterford 0-15
O'Donnell earns a free for Clare, himself and Conlon threatening once again and leaving the Déise with no option but to foul him. Duggan fires over the resultant free.
Aron Shanagher replaces Podge Collins with 53 minutes on the clock.
Clare 1-16 Waterford 0-16
Stephen Bennett with his eighth as Waterford close the gap again. They make a double substitution. Jack Prendergast and Patrick Curran in. Barron and Shane Bennett make way.
Clare 1-18 Waterford 0-16
Tony Kelly bags his fourth point of the match. The perfect response.
Aidan McCarthy in for Shane Golden as Clare make a change of their own. He's straight on the ball, getting it in open field and splitting the posts. What an introduction.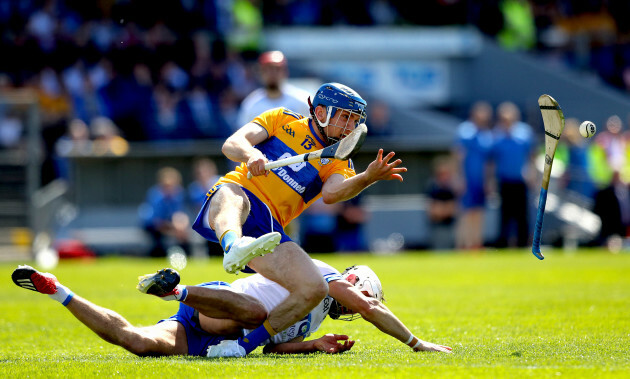 Source: Ryan Byrne/INPHO
Clare 1-18 Waterford 0-16
Just over eight minutes to go… the sides are battling. Waterford need something.
Clare 1-19 Waterford 0-17
Stephen Bennett slots another free over the bar. The RTÉ commentators ask the question of should he go for goal… Gleeson, yes, Bennett, no; they decide. But Waterford need a spark of some sort… and fast.
Kelly scores at the other end as Ryan Taylor replaces Diarmuid Ryan for a Munster championship debut.
Clare 1-19 Waterford 0-17
Duggan's latest effort from a free goes wide. It must be noted that Tadhg de Burca has had a brilliant second half. The early goal really did send Clare on their way, but Waterford have battled gamely throughout. They need to up the ante now and go for goal.
Austin Gleeson goes for a goal from a close-range free. He rifles at the line, but Donal Tuohy produces an absolutely brilliant safe to knock it out for a 65. From that, they went short as de Burca tore up the field — but Tony Kelly came through with a pin-point perfect interception to turn him over.
Clare 1-19 Waterford 0-19
Take two: Bennett went for goal from a short-range free, but it ended up going over. Shanahan tags on another. Five minutes added time. This is far from over. 1-19 to 0-19.
Clare 1-19 Waterford 0-20
Bennett with an 11th. A two-point game. Walsh Park just got a hell of a lot louder. Especially after Kelly's effort went wide at the opposite end.
Clare 1-19 Waterford 0-21
Woah. Aussie Gleeson. A one-point game.
Here we go!
Clare 1-20 Waterford 0-22
Ryan Taylor restores Clare's two-point lead. A first championship point on his championship debut.
Jaysis…. A finale here….
Ryan slots it over at the other end.
1-20 to 0-22. A minute left.
Clare line ball… their fans are on their feet. The noise is through the roof. Seconds left, a point in it still.
Full-time: Clare 1-20 Waterford 0-22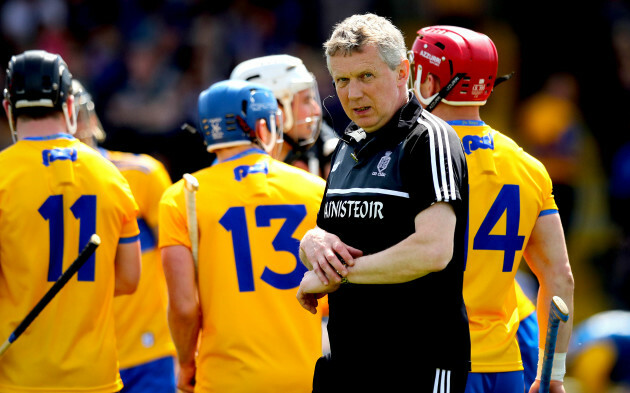 Source: Ryan Byrne/INPHO
What an ending there. The drama… That line ball at the end was quite controversial, looks like it should have went to Waterford from the replay.
Clare hang on to win by one though.
Full Time Clare 1-20 Waterford 0-22 edge of the seat finish Tony Kelly man of the match 0-5 Waterford subs especially Maurice Shanahan made Clare sweat at the end

— Tomás McCarthy (@tomasmcc) May 12, 2019
So, that's that… game over, ball bursht at Walsh Park. What an ending. Clare held on to win by the minimum as the hosts' comeback fell just short. What do you reckon?
FT: Clare 1-20 Waterford 0-22

Clare hang on to win by one at Walsh Park. Waterford's dramatic comeback fell just short.

📷: @Inphosports pic.twitter.com/H4jS3Fm1TQ

— The42.ie GAA (@The42GAA) May 12, 2019
Well, that's all from me anyway. We'll have a full match report on The42 in the coming minutes, and plenty more championship reports, analysis and reaction to come through the evening.
Thanks for reading. Enjoy the rest of what's shaping up to be a Super Sunday!
Subscribe to our new podcast, The42 Rugby Weekly, here:
Contribute to this story: