Kildare's Kieran McGeeney and Cork's Conor Counihan during their 2008 All-Ireland quarter-final clash.
Image: INPHO/James Crombie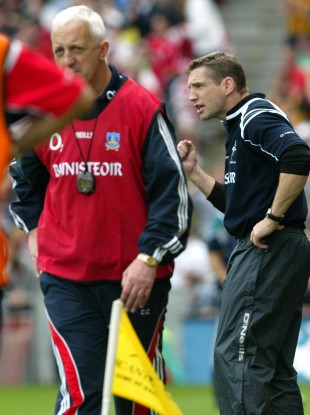 Kildare's Kieran McGeeney and Cork's Conor Counihan during their 2008 All-Ireland quarter-final clash.
Image: INPHO/James Crombie
FOUR YEARS AGO Conor Counihan and Kieran McGeeney shared a sideline on an August Bank Holiday Sunday when their senior inter-county management careers were both in the embryonic stages of development.
That All-Ireland quarter-final was a strange affair. Cork cantered into a commanding lead early on before relying on desperate late defending to stave off a Kildare fightback and squeezing through by 2-11 to 1-11. Cork's 2008 championship campaign would draw to a close later that August against Kerry but it had been a solid season for Counihan.
His team had bounced back from their stalled start due to the off-field conflict that had marred that spring. McGeeney had also shown powers of recovery to ensure Kildare were ranked amongst the last eight in the country after suffering a shock defeat to Wicklow in that year's Leinster championship opener in Croke Park. Year one had been a learning process for both the former All-Ireland winning defenders from Cork and Armagh.
Now the duo are in the midst of their fifth season of their respective managerial tenures. Both older, both wiser and both on course for a pivotal collision next Sunday when they will renew acquaintances again at the All-Ireland quarter-final stage.
Much has changed in the interim as evidenced by a cursory look at the team line-ups from that 2008 game. Both managers have reshaped the complexion of their sides with only four of Counihan's starting fifteen that day having played from the off in the recent Munster final win over Clare while his six starting defenders against Kildare four years ago are no longer part of his panel. On McGeeney's part there were only six survivors at the throw-in against Sligo last Saturday from the team that began that game against Cork.
But after all those switches and all the experiences they have accumulated since, both Counihan and McGeeney now face a potentially defining day in their management careers. Counihan took on a two-year term after the All-Ireland triumph in 2010 and with that set to conclude in the coming months, there is a strong chance that he will opt out whenever Cork's 2012 campaign draws to a close. McGeeney is midway through a three-year term of office but defeat on Sunday must prompt questions over whether he has taken this Kildare team as far as he can. After five years will it be time for him to also depart?
The stakes are huge for the two men but their respective squads have undergone rapid improvements under their watch. Counihan simply has to point to the trophy cabinet as evidence of his achievements. One All-Ireland senior title, three Munster crowns, three Division 1 league titles, one Division 2 league trophy and two McGrath Cup triumphs for good measure. Lifting ten canisters in a five-year period is one aspect of his success but the others are ensuring that Cork now have a panel of remarkable depth, that a slew of young players have been hardened to the demands of the senior game and that the county now genuinely occupy a place on the top rung of the national football ladder.
McGeeney may not have the same amount of silverware to his name with the O'Byrne Cup last year and Division 2 of the league this year the only accolades that Kildare have collected. Yet Kildare is not a county with a rich tradition of football triumphs and they have under McGeeney at least developed to a place where they can become consistent challengers. The 2008 and 2009 quarter-final losses to Cork and Tyrone can be attributed to a side still developing while they will reflect on the 2010 semi-final loss to Down and the 2011 quarter-final defeat to Donegal as games where they were cursed by bad luck and poor decision-making by officials.
Yet for all that progress by both managers, defeat next Sunday would be wounding and could be defining. The fierce competitive instincts that defined Counihan as a player are still evident as a manager. The failure to match his two All-Ireland titles won as a player with the same amount as a manager would irk him given the wealth of talent that he has at his disposal.
Last year he could point to the barrage of ruinous injuries that affected his attack as the root cause of their failure to overcome Mayo in the All-Ireland quarter-final. This season his players are off the treatment table and out on the field. And even if there have been concerns expressed about the schedule which has seen Cork play only one truly competitive game, the Munster semi-final against Kerry, in the three months since their league final win over Mayo in April, Counihan will not use that as an excuse if they lose next Sunday.
His desire not to see his team bow out at the last eight for the second year running has fueled the exhaustive traveling himself and his selectors have done in recent weeks to gain data on potential opponents. Last Saturday in Dr Hyde Park, McGeeney himself pointed out the miles Cork camp have clocked up in recent weeks and revealed he had seen them int the stands observing his team swat aside Sligo for the previous 70 minutes.
Organisation and attention to details are traits that McGeeney himself shares with Counihan. There would be a mutual respect between both managers but when McGeeney looks at Counihan, he sees a manager who took his side from the status of contenders to winners. That is an aim McGeeney is trying to achieve and he will know that this is a vital year for his side and next Sunday is a vital game.
They must soon be approaching a point where they have to deliver on a big championship day and topple a national heavyweight. Next Sunday offers a perfect opportunity to prove themselves and establish their credentials. It is a key game for the Kildare manager. His Cork counterpart faces a similar scenario.
The duo will bring their teams into combat next Sunday in Croke Park at 2pm. What unfolds will be fascinating.