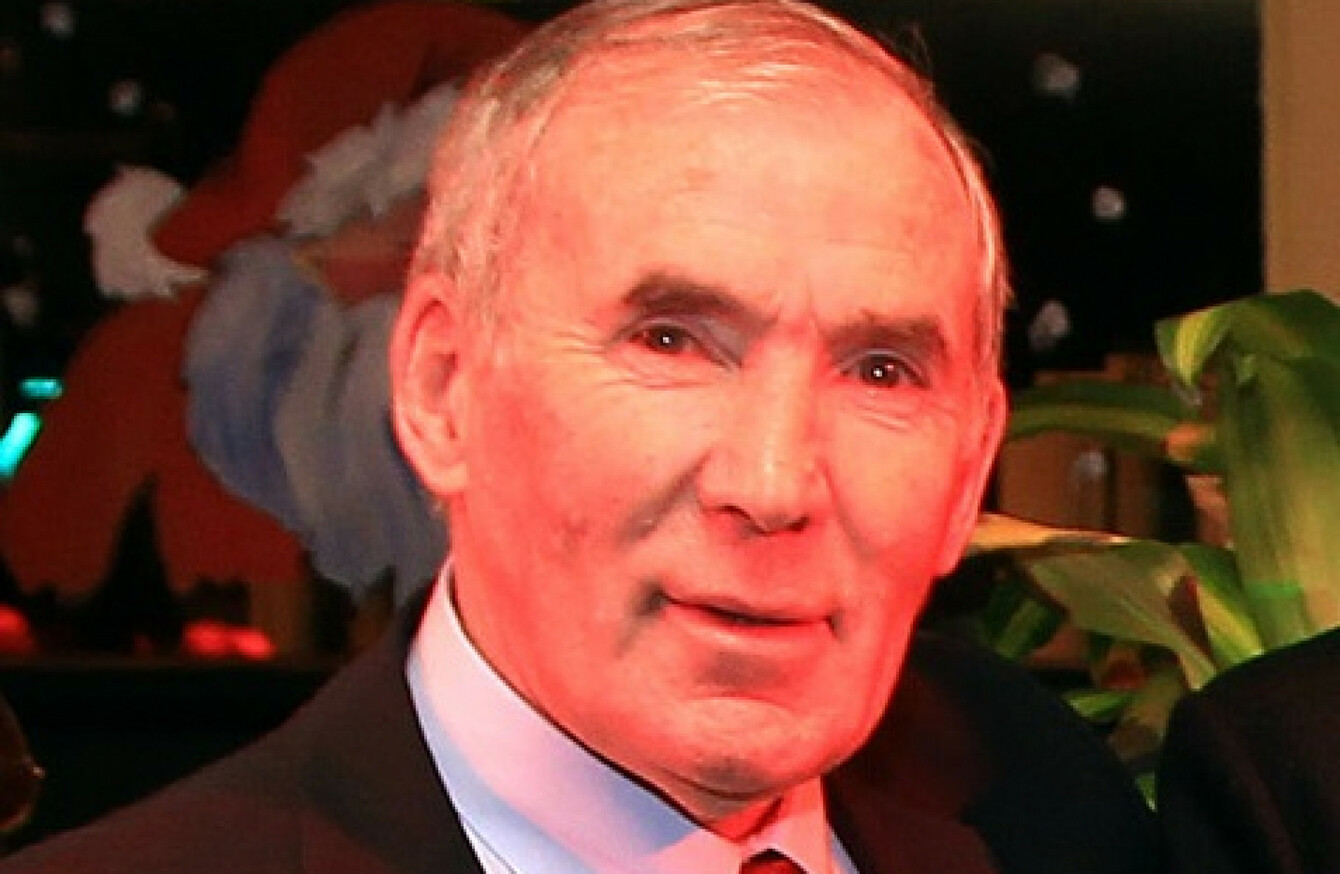 Aloysius 'Weeshie' Fogarty: the iconic GAA broadcaster died on Sunday, aged 77.
Image: Dan Sheridan/INPHO
Aloysius 'Weeshie' Fogarty: the iconic GAA broadcaster died on Sunday, aged 77.
Image: Dan Sheridan/INPHO
I CAN ONLY imagine that a deathbed could be a lonely place, even for those of us lucky enough to have our nearest and dearest to hold our hands as we pass. That hand will be the last we feel, that face will be the last we see. What many people don't know about Weeshie Fogarty, is that often, he was that hand to the loneliest of all.
Like all the best broadcasters, one of Weeshie's most endearing characteristics was his warmth and enthusiasm, a warmth that radiated most when he spoke of his home town Killarney.
But it was a story about his previous life as a Psychiatric Nurse at the now closed Saint Fina's hospital in Killarney that sums him up.
Ahead of the Munster Final in 2015, Weeshie joined Off the Ball's Joe Molloy in Fitzgerald Stadium for a pre-match chat. The press box in Fitzgerald Stadium is one of the most scenic in the country with a stunning vista of the steeples and roofs of Killarney and the mountains that wrap around the town like a protective barrier from the wilds of the Kingdom.
Weeshie's strength was making what seemed like even the most bland conversation ever so interesting and the most important thing you'd ever listen to. Joe asked Weeshie if had lived in Killarney all his life and his response was like an oral history of the town including a history of the stadium itself: a stadium which was built by the patients of the hospital under the supervision of Doctor Eamon O'Sullivan, the same Eamon O'Sullivan who coached Kerry to eight All-Irelands and who was the subject of one of Weeshie's many books.
Joe was beginning his wrap up and said, "I can't believe the stadium was built by the patients," and that is when Weeshie responded with an answer that truly gave you the measure of this great man and what made him who he was.
"But Joe, isn't it lovely to remember them?" said Fogarty. "A good few of those patients were buried without anybody knowing them or without anybody visiting them," he continued with his voice changing tone from buoyant to reflective.
"When I was on night duty I would sit beside the patients who were dying, I held their hands when they died and I was at their funerals when there was no one else there. They were put in there in their 20s, 30s and 40s. A lot of them shouldn't have been there at all. They were left there and abandoned with only the staff and nurses to look after them.
"'Twas a sad place, 'twas a happy place, but I tell you to work there, I learned more about people, learned more about individuals, learned more about humans, learned more about life after 38 years working behind the locked gates of that hospital than you'll learn anywhere else in the world."
For many patients in their final moments he was there to comfort them and hold their hands. At a time when Ireland could be cold and brutal, he provided a warmth for the most vulnerable. Listening to Weeshie that day stopped me in my tracks and had me on the brink of tears. When the news came through of his passing today there was no brink. It was just tears. We haven't just lost a great commentator and broadcaster, we have lost a truly great person.
When you say or write anything about Weeshie Fogarty you're immediately on the back foot. Because no matter what you say or write, you know Weeshie would say it better. Fogarty provided a listening experience like no other, a mix of analysis and poetry.
Listening to Weeshie you were always entertained but you always knew far more about the teams, players and counties involved than you did at the start. The thing he knew better than anyone else was that people don't care about stats and figures. They care about people, their stories, their families and their teams. Weeshie might tell you how many points someone scored but always give you a nugget about them, their family or their team.
In his refereeing guise, Fogarty may have enforced the rules but on radio he made up his own. Producers and co presenters alike would flounder in their attempts to wrap up a segment of the show. As a listener, I always felt Weeshie was right to keep going. What he had to say was far more important than anything in a news bulletin. Time and space meant little to Weeshie, in his stories of the great players and games of the '50s and '60s, '70s and '80s. His gift wasn't just to give you the information. It was to transport you to the time and place he was talking of through his ability to paint pictures with words.
As a commentator, people often ask me what game I most enjoyed working at. Mine is a league game from April 2006 between Tyrone and Kerry in Healy Park. It's not because of anything that happened on the pitch but the fact that I got to work with Weeshie.
Before Gary O'Sullivan commentated for Radio Kerry, former All-Ireland winner Liam Higgins was often at Weeshie's side illustrating the game for the listener. When Liam first became ill, I was asked to replace him at short notice at a game in Omagh. Working with a legend can be intimidating but Fogarty could not have been any more helpful.
"You work away Oisin and I'll jump in when you want me to," said Weeshie as we waited for our cue. It was one of the few times I tried to talk less because I knew Weeshie could add so much more.
At that stage I hadn't done whole a lot of commentary at that point on my career but felt immediately at ease at Fogarty's side. "Sure if you say the wrong name the audience won't know and I won't tell them," said Weeshie in his unmistakable Kerry brogue.
Weeshie has now sadly left us and I'm sure has reunited with Liam Higgins, his colleague and his friend. If heaven is everything we're told it is, then they definitely have the joy of the most spellbinding of Gaelic games every weekend there, and now, they have the best double act in the history of the game to broadcast it amongst the stars.
– Oisin Langan works in public relations for Wilson Hartnell, and is a sports broadcaster and commentator.