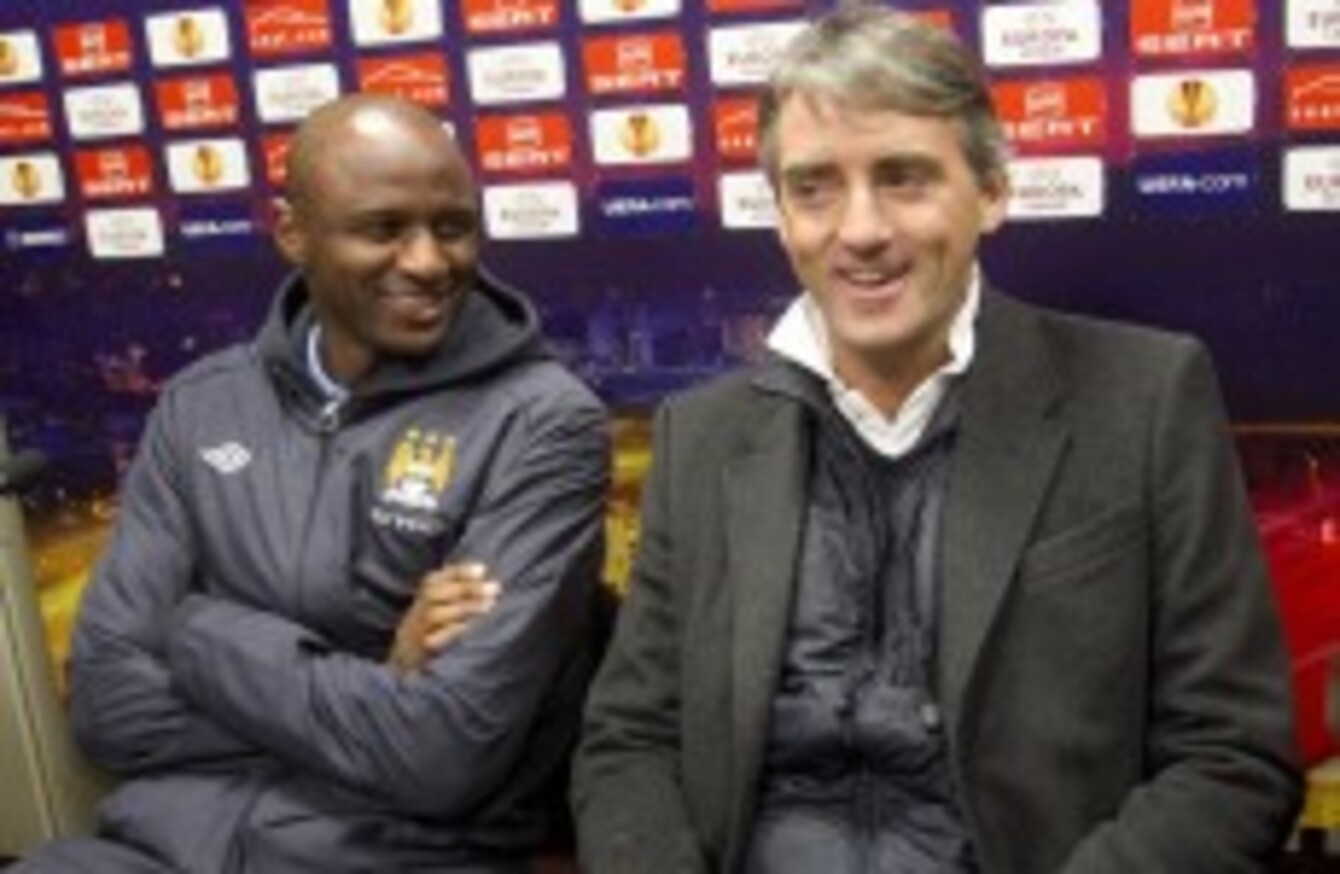 Image: : Alberto Ramella/AP/Press Association Images
Image: : Alberto Ramella/AP/Press Association Images
RONALDINHO MOVING TO to the Premiership. Arsenal in search of a keeper. Beckham heading anywhere that'll take him. Sounds familiar, eh?
Twelve months on, we look back at some of the major moves from the January 2010 transfer window to see if there were any real bargains to be had in the post-Christmas sales.
Who? Patrick Vieira
Where? Inter Milan – Manchester City
How much? Free
Thirty-four year old Vieira was the first signing of the Mancini era, the former Arsenal powerhouse returning to the Premier League with his fearsome reputation very much intact.
After signing the Inter Milan midfielder to an initial six-month deal worth a reported £100k per week, Eastlands bosses were eager to get their money's worth. Viera went on to make fourteen appearances in the second half of the 2009/2010 season, picking up a goal against Burnley in the process.
However, following the signing of Yaya Toure from Barcelona in the summer, the aging midfielder has found it increasingly difficult to muscle his way onto City's packed teamsheet, making only four appearances so far this season. A move to the MLS for a final swansong season alongside Thierry Henry appears to be in the offing.
Bargain or Bust? Increasingly looking like very experienced deadwood.
Who? Adam Johnson
Where? Middlesbrough – Manchester City
How much? Undisclosed (believed to be c. £7m)
City were not the only suitors for Johnson's hand last January and were understandably delighted to tie the twenty-two year old down until the end of the 2014/2015 season.
With the blue half of Manchester establishing themselves among the big boys, Johnson has become as close to a regular as one can be at Eastlands this season, making 26 appearances in all competitions and contributing five goals.
Though he was left out of Fabio Capello's final World Cup squad this summer, the young midfielder appears to have a bright international future ahead of him, proving his worth with goals against Bulgaria and Switzerland in the Euro 2012 qualifiers.
Bargain or Bust? Twelve months on, Johnson looks like great value. Feels quite strange to be saying that about a Man City purchase.
Who? Chris Smalling
Where? Fulham – Manchester United
How much? £10m
One of the big-money moves that was being touted last January was the seemingly imminent departure of Nemanja Vidic from Old Trafford.
Not wanting to be left short at the back if Vidic did choose to leave, Alex Ferguson scribbled a cheque for £10m to secure the services of 20-yea-old Smalling from Fulham, despite the fact the defender only had two Premier League starts under his belt.
Ferguson knew that time was of the essence if he was to beat Arsenal to Smalling's signature. Once terms had been agreed, he was in no rush to bring the youngster to Manchester, allowing him instead to gain some valuable playing experience by staying at Fulham for the rest of the season.
Now settled at Old Trafford, Smalling his proven his worth in his infrequent appearances both home and abroad, culminating in his first Premier League start against Stoke City last night.
Bargain or Bust? Still too early to tell, but when it comes to youth, Fergie is right more often than not.
Who? Maxi Rodriguez
Where? Atletico Madrid – Liverpool
How much? Free
Rafa Benitez's transfer record during his tenure at Liverpool is chequered to say the least; for every Fernando Torres, there is a Josemi (who?).
However, his final piece of wheeling and dealing before he left Anfield looks like it may have been a shrewd piece of business, signing versatile Argentinean Maxi Rodriguez on a free transfer from Atletico Madrid.
Although he can be deployed on either wing or as a second striker, Maxi's appearances thus far have been largely contingent on the fitness of Liverpool's first-choice right-winger, Dirk Kuyt.
The Argentine has continued to find favour under new boss, Roy Hodgson, scoring three times in his nineteen appearances thus far this season.
Bargain or Bust? Good value for a experienced squad player.
Who? Younes Kaboul
Where? Portsmouth – Tottenham Hotspur
How much? £9.5m
Sold to Harry Redknapp's Portsmouth for £6m in August 2008. Brought back to White Hart Lane by Harry Redknapp for £9.5m just eighteen months later. Spurs' change of heart over 25-year old French defender Younes Kaboul appears to have been a costly one.
The player famously termed a "late developer" by Redknapp has experienced mixed fortunes since his return to White Hart Lane. Fierce competition for a place in the Spurs' back four has restricted Kaboul to just 23 appearances over the past 12 months, a stat which will not be helped by his recent three-game suspension for a headbutt on Newcastle's Cheik Tiote.
Whatever the future holds for Kaboul, it is likely that his second spell at Spurs will be fondly remembered as it was his pinpoint cross which allowed Peter Crouch to score in a 1-0 victory over Man City last season, thus securing Tottenham's Champions League berth for 2010/2011.
Bargain or Bust? Considering the financial rewards which come with finishing fourth, Kaboul was probably worth it for that cross alone.
Who? Ruud van Nistelrooy
Where? Real Madrid – Hamburg
How much? Free
In his prime, Ruud van Nistelrooy was one of the top strikers in Europe, if not the world.
Despite banging in sixty goals during his three injury-plagued seasons with Real Madrid, the former Manchester United idol found himself out of favour during the early months of 2009/2010.
When German side Hamburg stepped in with a lucrative eighteen-month contract last January, promising first-team football and the prospect of Europa League qualification, van Nistelrooy signed on the dotted line.
Since then, the Dutch master has proven that age has not dulled his prolific instincts, chipping in with fifteen goals in his thirty-three appearances for the German side and even managing to work his way back into Bert van Marwijk's international set-up.
Bargain or Bust? Although RVN will most likely retire at the end of this season, Hamburg fans will be happy that he has shown a good return on his investment.