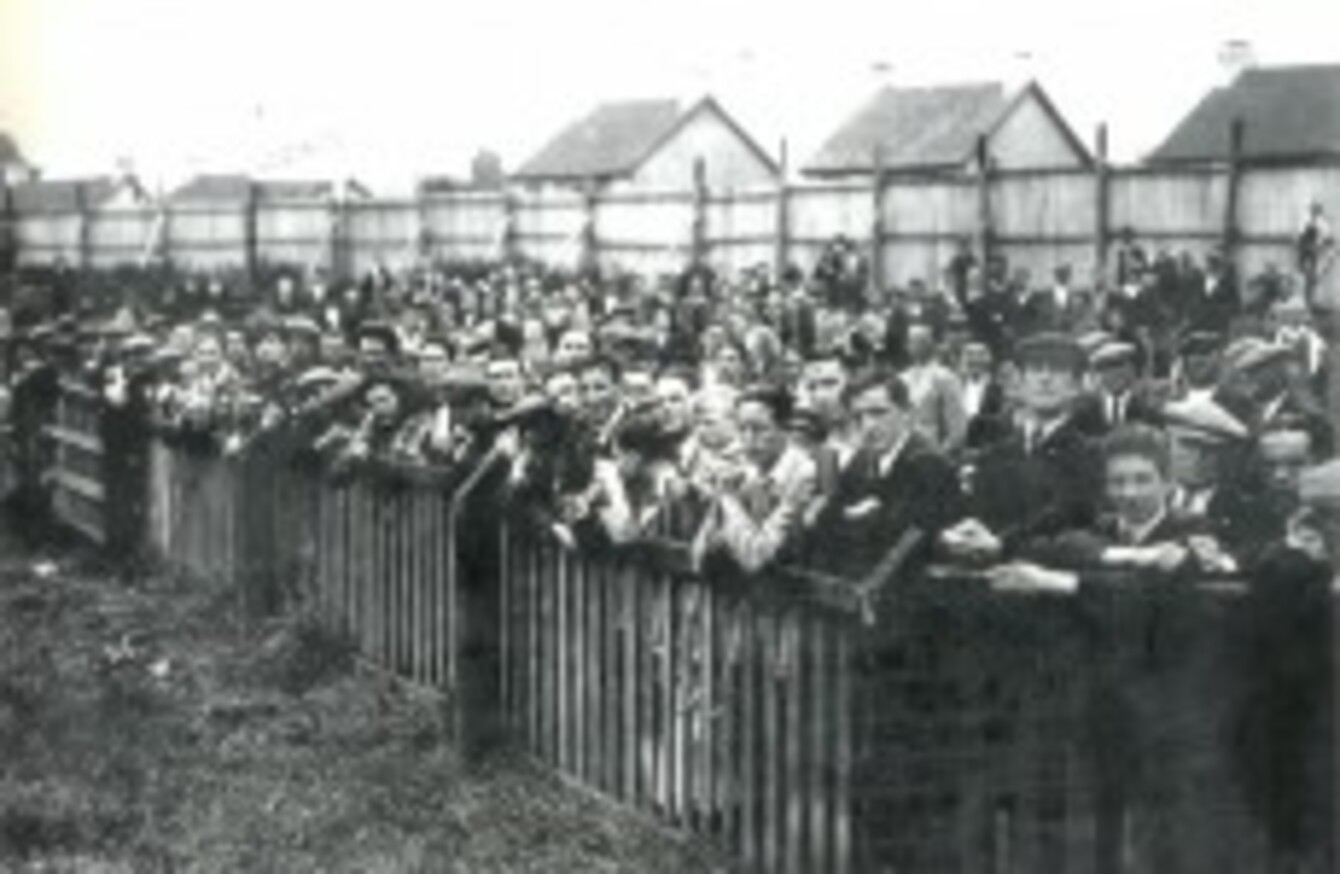 Crowds watching a training session at Turner's Cross (file pic).
Crowds watching a training session at Turner's Cross (file pic).
THERE IS NO doubt that women's soccer has made considerable progress in recent years.
Indeed, the most recent Women's World Cup final was the most-watched soccer game in US history.
However, it is also obvious that the sport still has its problems, notably in Ireland, where despite the occasional success of a player such as Stephanie Roche, media coverage and interest levels in the Women's National League generally pales in comparison to its male equivalent.
While the assumption may be that the women's game in Ireland and Britain has always struggled in terms of popularity, this was not necessarily always the case.
A recently published book, Soccer In Munster: A Social History, 1877-1937 by independent scholar and former UCC lecturer David Toms notes how, in May 1927, 12,000 fans turned up to watch a women's soccer match between a Dublin selection and Scotland at Milltown.
Such a figure would be the envy of virtually any Irish women's soccer game nowadays, while it would also be quite rare for a match between two League of Ireland sides to attract those numbers.
Part of the reason for women's soccer's considerable popularity back then can be partially explained by the onset of World War I, according to Toms.
"What had happened was during the First World War, particularly in England, when football had stopped, women's football was the replacement," he tells The42.
"So for the first few years of the first World War, women's soccer was huge in England. They were getting crowds of 20,000 plus.
"But basically, the FA in England hit the panic button a bit and they actually banned women from playing, because they realised it might actually challenge the popularity of the men's game when the war ended. But there were still a couple of fairly well-known women's soccer teams that were doing tours and exhibition matches."
Another reason for the 12,000 figure was also probably owing to the novelty of the occasion.
"That game in Ireland, unfortunately, was very much a one-off. But it says something — people didn't have it set in their head at that time that women's football wasn't necessarily any better or worse than the men's game.
"High-level soccer in Ireland was still relatively young at that time — it was about 30 or 40 years old. So there was nothing in your head that would instantly tell you women weren't going to be as good at the game.
"The other thing it says is about people's interest in the game of soccer full stop, whether it was men or women playing. A League of Ireland team today would give their left arm to have a crowd of 12,000 every other Friday night. It's unimaginable really that 12,000 people would go out to watch a domestic exhibition game — not even a league match or a cup game. If you look at FAI Cup [final] attendances, they're still only in the 20,000s."
Toms also suggests that the 1927 game's success was partially due to Irish people being more open-minded about women's soccer during that era.
"I think it says something about how much soccer as a game had captured the imagination in Ireland. At that time, people were used to the idea of women playing soccer because they had been doing it during the first World War. So maybe it didn't seem so strange.
"It was a one-off game, but I think it does say something about people's attitudes — it wasn't 'women playing football so it must be crap'. It hadn't been ingrained to the same extent as it probably is now.
"Even if you look at the Women's National League today, the crowds they get are very small. I went to the odd game when I lived in Cork and the crowds were a few hundred at most. Now, there's this built-in idea that women's sport isn't going to be as good as the male equivalent."
Soccer In Munster: A Social History, 1877-1937 is published by Cork University Press. More info here.