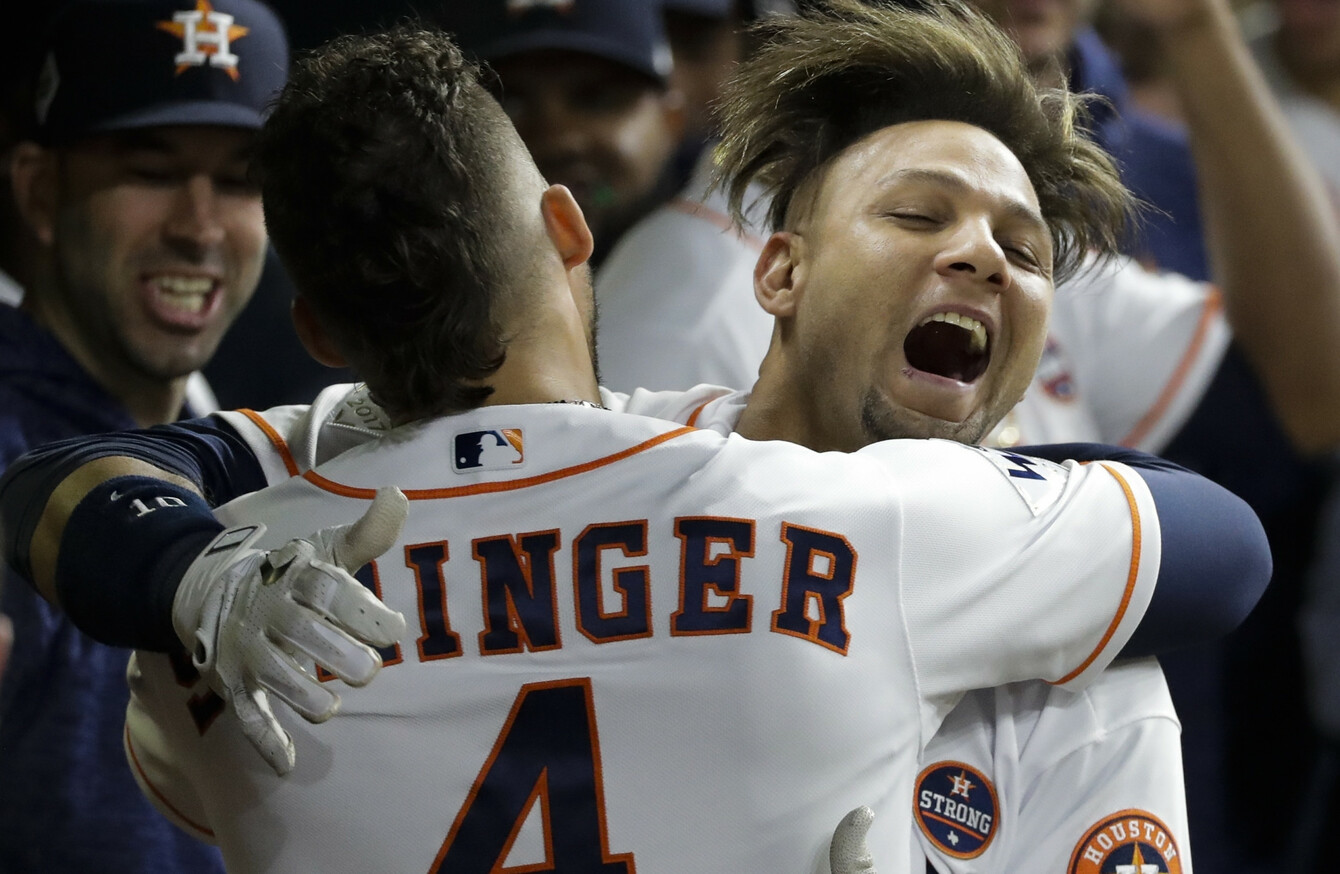 Gurriel celebrates victory with George Springer.
Gurriel celebrates victory with George Springer.
HOUSTON ASTROS SLUGGER Yuli Gurriel apologised for what appeared to be a racist gesture and remark about Los Angeles Dodgers pitcher Yu Darvish during Friday's World Series game.
The Cuban smashed a solo home run off the Japanese pitcher to spark a four-run second inning that powered Houston to a 5-3 victory and a 2-1 lead in Major League Baseball's best-of-seven championship final.
During the game, television cameras showed Gurriel putting his fingers to the outer edges of his eyes and pulling the skin wider. There was also concern he had uttered the word "chinito," or "little Chinese".
"Acting like that was just disrespectful to people all over the world," Darvish said through a translator when told of the move. "I feel like the Astros have Asian fans too."
After the game, Gurriel — who played for Japan's Yokohama BayStars in 2014 — said through a translator that he meant no offensive gesture or remark.
"I didn't want to offend anybody in Japan. I have a lot of respect for Japan. I never intended to make an offensive gesture," said Gurriel. "I was commenting to my teammates that I haven't had much luck against Darvish.
"If he was offended, I ask for his forgiveness. That wasn't my intention."
As for his remark, Gurriel said that, "In Cuba we call everybody who is from Asia 'chinito.'"
Houston's four-run outburst chased Darvish off the mound after 1 2/3 innings — the shortest start of Darvish's career in possibly the biggest game of his life.
But after the contest, Darvish's poor outing was less of a concern than Gurriel's actions. And while Darvish did not utter the word forgiveness, it was the spirit he showed to the man who seemingly added insult to victory.
"He made a mistake," Darvish said. "He'll learn from it. We're all human beings."
Well after the game, Darvish released a statement in English on his Twitter account that expressed his desire for people to learn from Gurriel's actions.
"No one is perfect. That includes both you and I. What he had done today isn't right, but I believe we should put our effort into learning rather than to accuse him," Darvish wrote.
"If we can take something from this, that is a giant step for mankind. Since we are living in such a wonderful world, let's stay positive and move forward instead of focusing on anger.
"I'm counting on everyone's big love."
Several media reports said Major League Baseball commissioner Rob Manfred plans to speak to Gurriel on Saturday about the gesture before game four of the best-of-seven championship series now led by the Astros 2-1.
Astros manager A.J. Hinch said that Gurriel was "remorseful" about his actions.
"I am aware of it," Hinch said. "I know he's remorseful. But other than that, I don't know a lot."
Subscribe to The42 podcasts here: