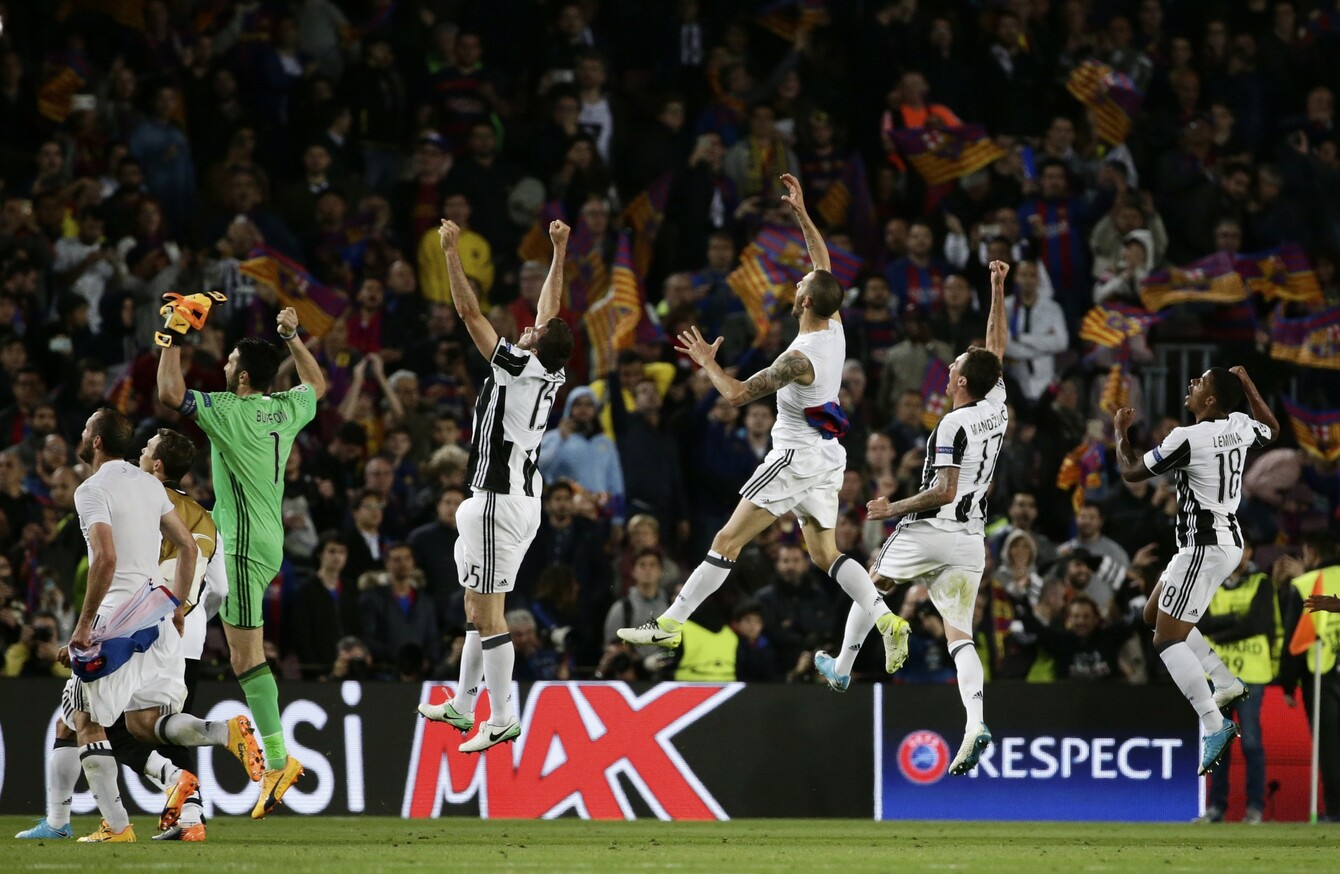 Juventus players celebrate at the end of the Champions League quarter-final second leg.
Juventus players celebrate at the end of the Champions League quarter-final second leg.
1. Big changes required at Barca
BARCELONA MAY HAVE pulled off the greatest Champions League comeback of all time against PSG in the round of 16, but that miraculous recovery papered over a lot of cracks at the club.
In truth, the outcome of that game, which will be remembered for decades to come, was as much down to an astonishing mental collapse from the reigning French champions as it was due to the Catalan side's brilliance and composure under pressure.
Tonight though, Barcelona came up against a far more resolute and defensively accomplished Juventus side, and trailing 3-0 from the first leg, they could not repeat the PSG heroics at the Camp Nou, as the Italians pulled off a defensive masterclass to deservedly reach the semi-finals.
With seven goals conceded in their last two Champions League away matches, it's obvious that Barcelona are in serious decline.
By their high standards, the Catalan side have too many inept players in defence and midfield, while even the world-class attacking trio of Lionel Messi, Luis Suarez and Neymar were made to look ordinary this evening owing to the amazing defensive resilience of Giorgio Chiellini and co.
Moreover, the fact that Juve have conceded just twice in the Champions League all season highlights how tonight is far from the only occasion in which their backline has been superb.
2. French starlets could dominate European football for years to come
The rapid progress of a young and highly talented Monaco side, who earned a place in the semi-finals at Dortmund's expense tonight, has been one of the stories of the Champions League this season.
Having previously convincingly seen off formidable opponents including Tottenham and Manchester City, they were too good for Dortmund tonight, notwithstanding the dubious decision to make the latter played the first-leg so soon after the well-documented trauma they had been through.
Thomas Lemar (21), Benjamin Mendy (22), Kylian Mbappé (18), Tiemoué Bakayoko (22) and for their opponents, Ousmane Dembélé (19) all highlighted the incredible depth of young French talent already playing at the highest level and each individual in question contributed to a wonderful spectacle this evening.
And that's without considering the likes of Paul Pogba (24), Antoine Griezmann (26) and Kingsley Coman (20).
France may have fallen short in the Euro 2016 final last summer, but if the current generation fulfills its promise, they could be set to dominate international football for many years to come.
3. Ronaldo the greatest goalscorer in history?
For years, the debate has raged over whether Lionel Messi or Cristiano Ronaldo is superior, and the argument often vacillates depending on which player's club team is doing better at any given time.
Both footballers' powers have begun to fade in recent times, meaning they have had to adapt their roles on the pitch, as they no longer quite resemble the all-action, energetic prodigies of old.
Messi is increasingly turning into a playmaker, while Ronaldo is starting to develop into a pure and very effective goalscorer, having lost the ability to beat players and influence the general play in the way he once did.
Yet both continue to excel, with Ronaldo's hat-trick last night and brace in the first leg inspiring Real's at times thrilling 6-3 aggregate victory over Bayern Munich.
So while Messi may go down as the best out-and-out footballer ever, in terms of pure goalscoring, Ronaldo — who scored his 100th Champions League goal last night — is arguably unsurpassed.
As ex-teammate Gary Neville recently put it: "Since he's gone to Real Madrid he's contributed enormously to everything they've done but he's living more off moments rather than a contribution through a whole 90 minutes.
"He'll be thinking Pele. Those numbers. Those scandalous numbers you think you can never achieve, the appearances, the goals, and that to me is where it's going. I think he'll play for longer than Lionel Messi, I think he'll score more goals in the end and will go on to do incredible things."
4. Atletico's consistency under Simeone remarkable
Leicester's City's Premier League triumph and subsequent progress in Europe has been rightly acclaimed as a genuine Cinderella footballing story.
The Foxes were ultimately dumped out of the Champions League last night by Atletico Madrid, whose own tale has been rather incredible too.
Before Diego Simeone took charge, Atletico had only reached the semi-finals of the European Cup/Champions League three times in their history.
They have now advanced to the semis three times since the start of the Argentine manager's reign, and a third final appearance in four years is still very much on the cards.
Furthermore, the Spanish outfit have managed to do all of this despite competing in a league where the vast majority of the resources go to the two biggest clubs, Barcelona and Real Madrid, with Atletico and the other La Liga sides having to feed off scraps compared to what the big two are being afforded.
So like Craig Shakespeare and Claudio Ranieri in the Premier League before him, Simeone has performed miracles in Spain for a long time now.
The42 is on Instagram! Tap the button below on your phone to follow us!