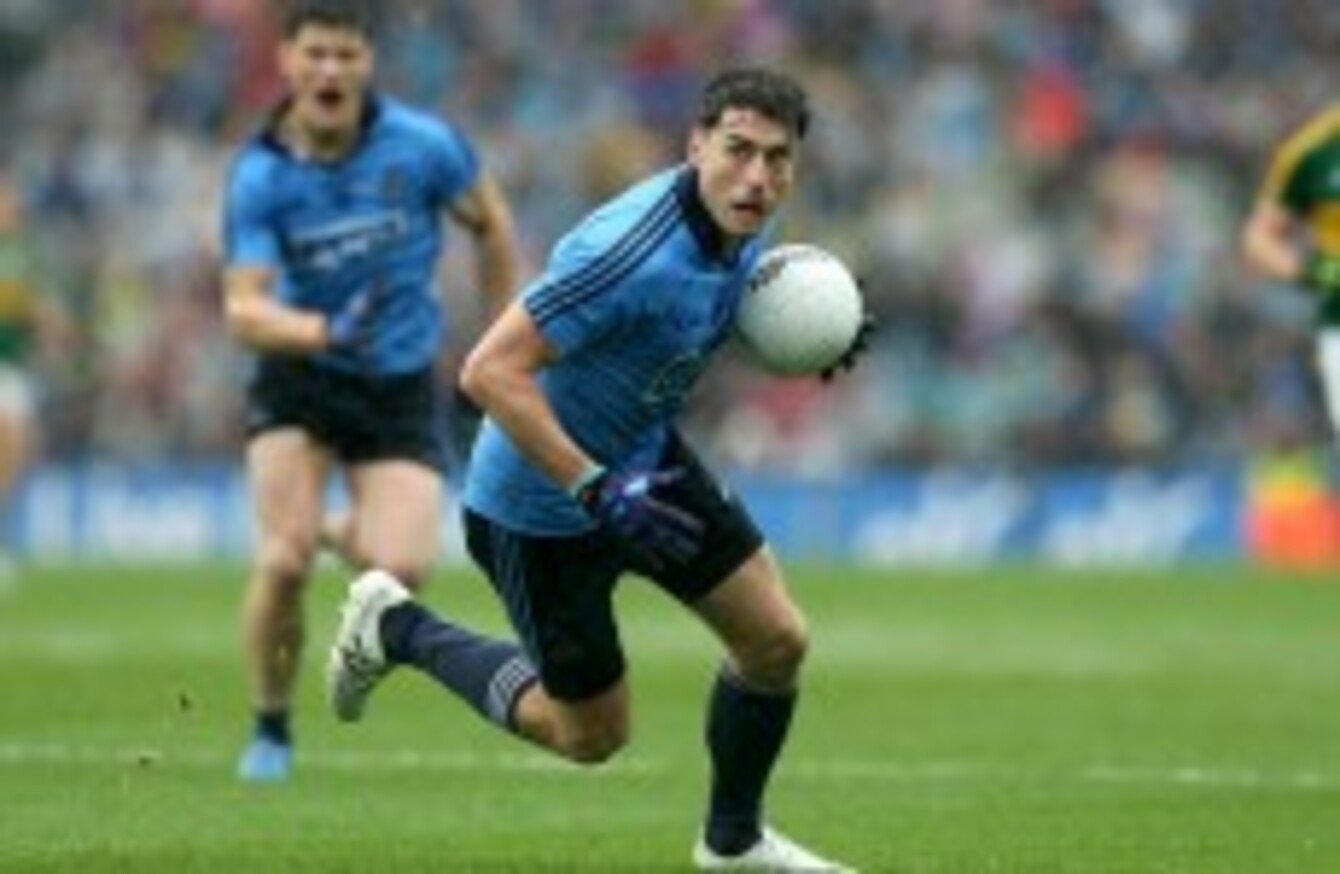 Dublin attacker Bernard Brogan.
Image: Ryan Byrne/INPHO
Dublin attacker Bernard Brogan.
Image: Ryan Byrne/INPHO
THERE'S A GROWING clamour for All-Ireland senior football champions Dublin to play a championship game outside of Croke Park.
The annual accusation levelled at the all-conquering Sky Blues is that they're at a distinct advantage when lining out against opponents at GAA HQ.
Nowlan Park in Kilkenny has been touted as a possible venue for a 2016 Leinster SFC quarter-final against the winners of the Laois-Wicklow tie.
And Dublin's ace forward Bernard Brogan has admitted that he'd jump at the chance.
"Yeah, I'll stop being asked about it!" Brogan smiled.
"Ah no, it's like anything, I think it would be great for the game, great for wherever we went.
"The Dubs fans would love to go on the road. We'll play anywhere we're put, we just want to play football and to play for Dublin, so if we're asked to go down the country it's great.
"I was on the bench for the last time we were away in Longford (2006).
"The sun was splitting the stones in Longford, and it was an unreal day. We only just got out of jail down there, Mark Vaughan got a goal.
"But I remember talking to people and this conversation always comes up, and they say it was the best day of commerce the town had ever done, the best day's craic and it really does help the whole town and the energy around the place.
"So we'd be delighted to travel if asked and obviously playing in Croke Park, if you ask the teams we play against, everyone wants to play in Croke Park as well and we've been lucky enough to play here a lot.
"But if we're asked to move down the road, no panic at all. We'd love an oul trip down the country."
Brogan admits that the 'he's never played outside of Croke Park' moniker annoys him.
"Yeah definitely, I wouldn't like people to say, 'Aw, you wouldn't have had the success you've had if you hadn't played all your games in Croke Park' because obviously at Croke Park the pitch is immaculate, but I think the standard of grounds around the country is quite sharp as well.
"And I don't think going into any pitch that the team performance is going to swing that much that you're going to lose a high percentage of games.
"I think that Croke Park is just as much a level playing field as any other pitch.
"We go down four or five times in every National League and play and represent ourselves well, and got some great results as well.
"So I'd hate for people to say that we wouldn't have had the same success if we hadn't have played all our games in Croke Park but as I said, we'd play anywhere and if that question is asked of us we'd love to answer it because we want to be seen as a successful team and for the right reasons."
The Nowlan Park link intrigues Brogan, who's watched games at the Kilkenny city venue before.
"I have, I've been to watch games alright.
"Nowlan Park is a very famous ground and has had many amazing battles there, and if that was the place we had to go then so be it, we'll relish that and we'll do down to win."