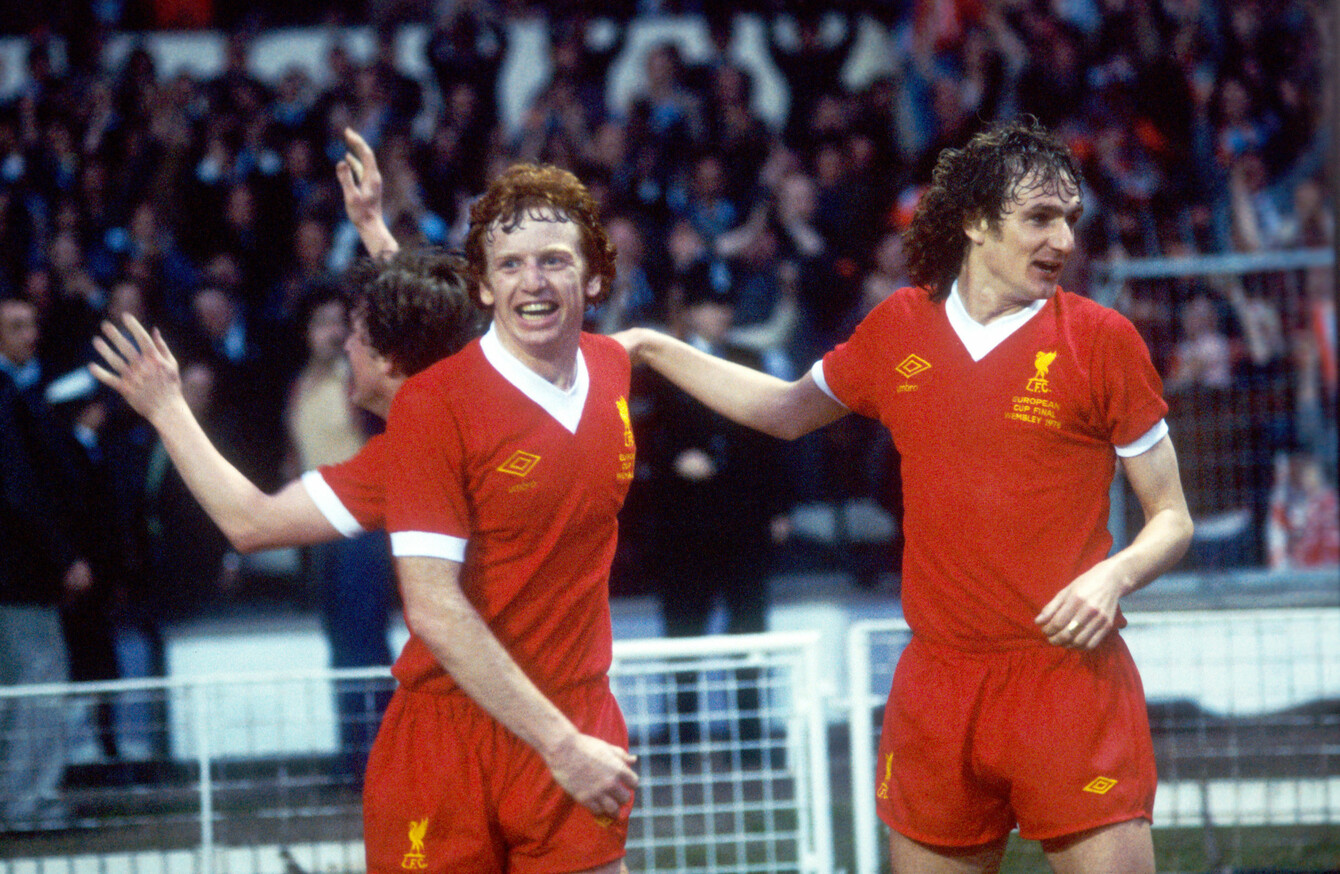 Liverpool's David Fairclough (left) and Phil Thompson celebrate the winning goal in the 1978 European Cup final against Club Brugge.
Liverpool's David Fairclough (left) and Phil Thompson celebrate the winning goal in the 1978 European Cup final against Club Brugge.
THE TERM 'SUPERSUB' is one that is rarely used in modern football.
Perhaps it is because players on the bench are no longer necessarily regarded as second-rate or inferior to those in the starting XI.
You need only recall as recently as yesterday to notice some telling examples. Man City, for instance, left one of the greatest goalscorers in the history of the Premier League, Sergio Aguero, on the bench for the duration of their match with West Brom.
Earlier on Saturday, Man United faced Tottenham, who replaced Moussa Sissoko with Mousa Dembele only after 62 minutes, despite the latter in most people's eyes being a better footballer than the former. And in that same game at Old Trafford, it was a substitute who scored the crucial winner — Anthony Martial, often overlooked for a starting spot by Jose Mourinho, showed his worth with a composed finish after 81 minutes.
Nowadays, substitutes are more or less expected to enhance a team's performance. Being a talented footballer is not necessarily enough to earn a place in the starting XI — fitness, tactical flexibility and attitude are also crucial factors in determining whether a player deserves to feature from the beginning. It is no longer a simple case of a manager 'putting the best 11 players on the pitch'.
So football has evolved considerably since the era of the man famously labelled 'supersub' and who perhaps played a part in the change in how substitutes are perceived. Prior to the Premier League's onset, David Fairclough made more appearances off the bench than any other footballer in Liverpool's history. Of the 154 games he played in eight years as a professional for the club, 62 were as a substitute. As squad players have become more prominent in recent times, however, Danny Murphy, Ryan Babel and Vladimir Smicer have all eclipsed the record that Fairclough says he was "not proud of".
That said, despite being perennially remembered as the '12th man,' Fairclough still enjoyed the kind of success that most footballers can only dream of during his 16-year career. He was part of a squad that were arguably the best club side in the world for at least part of the eight years he spent professionally at Anfield.
Moreover, for someone who was in and out of the team and never truly got the chance to impress for a sustained period, Fairclough's goalscoring record was highly creditable. In 92 starts, he scored 37 goals, in addition to 18 in 62 appearances off the bench. He also won plenty of trophies with Liverpool, including four league titles, two European Cups, one Uefa Cup, one Super Cup and one League Cup.
However, he still has bittersweet memories of his time at Anfield. He made his Liverpool debut on 1 November 1975 against Middlesbrough, while still a teenager. Less than two years later, he would score probably his most famous goal for the club — a crucial strike against St Etienne in the European Cup quarter-final, which helped overturn a first-leg deficit and seal a 3-2 aggregate victory.
It would prove to be a pivotal moment, as Liverpool won the European Cup for the first time ever later that season, beating Borussia Mönchengladbach 3-1 in the final.
Source: bonselfc/YouTube
In total, Fairclough would be an unused sub on 75 occasions for Liverpool. While initially, he was simply happy to be involved in some capacity as an up-and-coming footballer for the club he had supported all his life, the lack of opportunities increasingly left him frustrated, a situation he details at length in a new book: 'Supersub: The Story of Football's Most Famous Number 12.'
"I suppose I have to be flattered the way the 'supersub' tag was remembered," he tells The42. "There have been a lot of questions related to: 'Why did I stick with it for so long?'
"I must have been frustrated certain weeks when I would have expected to play more.
"Trying to explain that to people down through the years and trying to not get myself into awkward situations, I just had to brush over it and play it down a little bit.
Deep down, I always thought I'd like to tell the full story (of my life and career), because there's more to it than meets the eye.
"I could be in the bar talking to people and they'd say: 'What was Paisley like?' You can't give a short-phrased response to certain things. So a lot of the time, I would have been quite reserved about the situation I found myself in."
For his long-awaited autobiography, Fairclough enlisted help from Mark Platt, a producer at Liverpool FC TV who has authored eight other books on the Reds.
However, the 60-year-old was determined that the project would not be looked upon as 'just another book by an ex-Liverpool player'.
"Some people try to do a book in six weeks," he says. "I spoke to a couple of lads who said: 'Oh I gave a journalist some stories and then next thing, it comes back as a book.
"I didn't want to do that, I wanted to have a very hands-on (approach).
"The way that we ultimately decided to do it gave me the confidence that it was a real story and not something I'd look back on and say 'I didn't say that' or 'it's come out wrong' or be (confronted) by some ex-players who say: 'What about that thing in your book?'
"I've been present with a couple of ex-teammates, who've had to defend themselves from other teammates. They say: 'I didn't say it like that.' 'But it's there, it's in your book.' I never wanted to get into that situation."
Fairclough's time as a professional with Liverpool, between 1975 and 1983, was more or less concurrent with Bob Paisley's reign as manager.
The stereotype that has emerged of Paisley is that of an easy-going, avuncular type of figure. However, the truth is that the iconic manager had a degree of ruthlessness that is invariably needed in football management at the highest level. His non-confrontational style and reluctance to inform players that they were being dropped did not make him the most popular figure within the Liverpool dressing room.
Of course, stars like Kenny Dalglish and Graeme Souness seldom had a problem with the Reds' most successful manager, yet players such as Terry McDermott, Jimmy Case and Fairclough were not always guaranteed starters, and so were frequently left cold by the legendary coach's palpable evasiveness.
"There was more to him than has been sweepingly put out there," Fairclough explains. "'Bob was a quiet, down-to-earth type of guy, very easy, approachable and would get on with everybody, didn't have the charisma of Shankly' (is the clichéd view)."
One incident in particular rankles with Fairclough, as far as his relationship with Paisley is concerned. Despite playing an important role in helping Liverpool reach the 1977 FA Cup final and arguably being in slightly better form than David Johnson at the time, the latter was preferred up front for the season's showpiece event, which Liverpool ultimately lost 2-1 against Man United. Fairclough did not even have the consolation of being the 12th man on that day, with Ian Callaghan occupying this role for the prestigious occasion.
To partially appease the distraught young striker, Paisley told him he would "definitely" be needed the following Wednesday as Liverpool took on Borussia Mönchengladbach in the European Cup final in Rome. The only problem was that the promise was broken, with Fairclough again forced to watch on from the bench, as his colleagues created history.
When you want to tell people the story, it's much too big a thing to just have in a conversation, so the book allowed me to go into detail — times when (Paisley) let me down and stuff like that, one or two big moments in a career.
"Sometimes, those stories are not heard until you put it in book form and you can be frank about it.
"Because if you (express) your frustrations at the time about being left out of an FA Cup final team, that's probably your parting shot. You put it in the paper and come Monday morning, you'll find out you're history.
"So you hold back an awful lot when you're playing. It's just human nature — to defend your negotiating arm."
It is also a stark contrast from today, where a player who is unhappy can often force a move away from the club in question fairly quickly. In Fairclough's era, the managers held most of the power, and would have little hesitation in burying players in the reserves rather than allowing them to move clubs if necessary.
"You were in danger of being put in solitary," he recalls. "There are plenty of stories down through the years of players who were made to train with the youth team."
Source: mattyredman/YouTube
Fairclough acknowledges that the situation is markedly different now, with player power often leaving managers vulnerable, rather than vice-versa.
"If we were sitting down as a team and the manager turned round and decided to lay into one of the players, the other players picked up a bit of a message from it and what have you — that was part and parcel of it. These days, you get players saying they don't want to be told off in front of other players, you've got to handle them with kid gloves and pussyfoot around them.
"And that tells you about the makeup of the modern footballer — they're very brittle. You've got to micro-manage everybody and it's 'what's fair and what's not fair'.
"The decision was made with the group and it was 'well that's it, that's what you're doing — like it or lump it'. Now, different players are handed concessions — you can fly off to here or you can do this.
"In the old days, it was the manager that laid the law down, the team generally reflected the character of the manager, you knew what you were going to get from a Man United team, you knew what you were going to get from a Liverpool team and so on.
"These days, it's much more difficult for a manager to really have an impact. Being topical, (West Ham boss) Slaven Bilic is a better player and man than how his players (are playing currently).
You don't know what you're going to get from the players now because they're so airy-fairy. One day, they're fantastic, the next three weeks (they're not). In the old days, that wouldn't have happened. You wouldn't be in the team for very long, because it was ultra-competitive. You had guys willing to kick their grandmother to get in the team.
"They were just waiting for a chance and when they got that chance, you could spend weeks out of the team.
"You get the feeling these days that players are just too fragile. They come from wherever, which can be a good thing, but it can also be a bad thing."
And while the commitment and passion of the modern player is sometimes questioned, the same could not be said for Fairclough. He grew up within walking distance of Anfield and was Liverpool-obsessed even as a child.
"I was indoctrinated, football was everything. (Roger) Hunt and (Ian) St John were my heroes in the '60s. The dream of actually playing for Liverpool never seemed to be a real one."
Yet this dream would ultimately become a reality. Fairclough was turning heads while playing for Liverpool schoolboy representative teams from the age of 11 onwards.
"I wouldn't say it put me on the road to signing professional, but it put me in a window," he explains. "These days, the scouting system is different. If they want to play football, it's very rare for any kid not to get a trial of some sort.
"In those days, there was a mystique about how you became a footballer. The scouting system wasn't as wide.
"But by playing representative and schoolboy football, I was brought to people's attention. I still didn't think ahead though in that sense– it's only with experience that you realise that's what happened.
"In those days, you couldn't sign a form until you were 13. And I was approached by Liverpool when I was 13, completely out of the blue.
"For my dad, who was a Liverpudlian, there was no second thought. It was a case of 'oh yeah, that'd be great,' but we didn't know what it really entailed, other than to know that we would have training twice a week, and that it was the starting point.
"We moved from the inner city to a council estate and I'd go past the training ground on the bus going to school every day. You'd be looking over the walls and used to think, it'd be fantastic to do that. All of a sudden, you're being invited in the doors. It was surreal to say the least."
Source: gr8footy/YouTube
And for all the disappointments along the way, Fairclough would still also get to be part of plenty of memorable moments during his time at Anfield.
"The cup finals and the big days are what you strive towards. St Etienne is a special moment and I'm reminded about it every day of the week. Liverpool fans have incredible memories of St Etienne.
"But playing in the 1978 European Cup final in Wembley (which Liverpool won 1-0 against Club Brugge) — that would have to be the highlight.
"Starting off that night with number nine on my back, it was fantastic. It's only afterwards you realise 500 million people have watched the game. Thinking of things like that makes it much more special."
Yet injuries curtailed his progress, while the consistently superb form of Kenny Dalglish and the emergence of a highly promising youngster by the name of Ian Rush limited his first-team chances more than ever as his time at Anfield wore on.
Even with Paisley stepping down and Joe Fagan taking over in 1983, Fairclough felt opportunities would remain scarce, and so he ultimately decided to move on. After a loan stint at Toronto Blizzard in which he scored five goals in 23 appearances, the then-26-year-old attacker would join Swiss side FC Luzern a year later on a permanent deal.
"One or two personal reasons came into play — losing my dad when I did, who knows how it would have panned out if I'd had a little more of a guiding hand in terms of making decisions.
"At that point, we had to stabilise as a family. And that probably could have been a turning point really. But I probably left at the right time. It was the end of Paisley's time.
I look back sometimes and regret it, because the season I left, they got to (the European Cup final against Roma that Liverpool won on penalties), which would have been fantastic and I'd like to think I would have been a part of it. So that's a little bit of a disappointment, but in many ways, it was a good time to go.
"I knew Joe Fagan was stepping in, but the contract they offered wasn't fantastic — they were offering a little bit of a reduction. Sometimes, you see the writing is on the wall.
"'We want you to stay, but sign a reduced contract.' It's an indication that something's changed. Some people outstay their welcome. I had said that to a couple of young lads in previous years: 'Maybe you're not going to get your chance at Liverpool and you'll have to move on.' You've got to pick up on those signs.
"Paisley told me if I wanted to, I could speak to a German club, and you think: 'They must be in two minds (about wanting me to stay).'
"(When I left the club) I'd got to an age where I'd fancied a little bit of independence as much as anything else. I'd moved on a little bit in my own personal life."
Fairclough was never quite as prolific post-Liverpool, though he was sometimes deployed on the wing rather than up front. His stints included FC Luzern from 1983-85 (15 goals in 44 appearances), Norwich in 1985 (0 goals in two appearances), Oldham Athletic between 1985 and 1986 (three goals in 20 appearances), SK Beveren from 1986 to 1989 (27 goals in 90 appearances), Tranmere Rovers from 1989 to 1990 (one goal in 18 appearances) and Wigan Athletic for the final year of his career (one goal in 10 appearances).
While he would never come close to emulating the glory of his Liverpool years, Fairclough nonetheless continued to enjoy playing football after leaving his boyhood club.
You hear players afterwards say 'it's not playing football I miss, it's the camaraderie of being in the dressing room'. I think that's all nonsense.
"I miss playing football. You can have all the dressing rooms and that type of thing. That wasn't why I was in it, to be around a group of fellas taking the mickey out of each other. The idea of not being able to play football (now) is a frustration, but it's life."
Wigan was the one exception, however. A strained relationship with manager Bryan Hamilton and a long-ball style that Fairclough felt did not suit his strengths meant his career ended in anti-climactic fashion.
"I went to Wigan and you think: 'Jesus, what am I doing here?' People were wearing me out, it was a testing year."
He enjoyed life elsewhere though, despite being surrounded by inferior players, compared with his Liverpool days, in countries such as Belgium and Switzerland.
"I enjoyed the responsibility of being this big personality. There was a lot of emphasis put on me, a bit of pressure, but that was good. I never looked at it and thought 'he's not as good as Dalglish' or 'he's not as good as Souness'. It was just a situation you were in and you make the most of it. That's how I seem to remember addressing it.
"I've looked at snippets of films and things with my old stuff from the Switzerland days. You look at the games and think to yourself, it looks a bit slow and mundane by today's level, but there are different reasons why that might be the case.
"But equally, while you're playing it and doing it, it didn't feel slow. It was still hard work, I couldn't breeze through a game, there were different aspects to it.
"And you see that, with (Premier League) teams playing in Europe and people say 'they should beat these minnows from wherever,' but continental players have a way of creating their own problems. When I played in among them, I never found it easy. I'd played for the European champions, now I'm playing for this Swiss mid-table team, but it didn't automatically become easy."
Fairclough suggests he may have been more suited to today's version of football, given the far greater emphasis on the squad, compared to his era, when only one player could be put on the bench per game.
In our box, you'd have (coaches) Joe Fagan and Ronnie Moran. Invariably, Paisley would be sat up in the stand. And they weren't interested in me, they were only interested in the 11 out there.
"So it was a really lonely situation to find yourself in. These days, you're sitting there with seven or eight others. You see them laughing, joking and eating sweets — doing all kinds of different things. It's far easier because it's now seen as a squad game.
"In the old days, it was all about the 11. Clubs were lucky if they had a substitute who could actually make a difference. These days, people talk about success and say it's about the squad, not about the 11. 'Man City, have they got a big enough squad?' (On the bench is) a much more comfortable place to be."
Since retiring, Fairclough has embarked on a media career after picking up a diploma in Journalism and Feature Writing, in the process fulfilling another childhood ambition.
After retiring from football, he worked as a sports reporter for the News of the World, filing match reports from various English football grounds and working alongside many of the journalists who had covered him as a player. Nevertheless, that experience ended when, in his own words: "Piers Morgan arrived at the News of the World in 1994 and I became a casualty of his mass cull."
Nowadays, Fairclough regularly works as an analyst for LFC TV and remains fondly remembered by the Anfield faithful — in a 2006 poll undertaken by over 100,000 supporters worldwide via the official Liverpool website, Fairclough was voted 18th in a list of '100 Players Who Shook The Kop,' while he also featured in a similar poll conducted in 2013.
Although his career had many disappointments as well as triumphs, and while Fairclough remains a 'football-daft' kid at heart, sport has been put firmly into perspective for him in recent years in particular.
In 2010, he suffered a heart attack at the age of 53, but thankfully went on to make a full recovery. However, tragedy struck a few months thereafter, as his wife Jan collapsed suddenly and died three days later from a brain hemorrhage.
Consequently, a minute's silence was held for her, along with the 96 Hillsborough victims and the late Kirky-born soldier Mark Burgan, ahead of Liverpool's April 2011 match at home to Man City.
In 'Supersub,' Fairclough reflects poignantly on Jan's passing, acknowledging that "thinking how I could explain it in the best possible way (in the book) was the cause of many sleepless nights" and recalling: "Despite being surrounded by close family and friends (in tragic situations), you can still feel so lonely."
"I get into discussions about football and often say 'it's only a game'. I know it was my way of life, but those type of things are totally different," he says. "And that was the hardest bit to write. I couldn't have done the book without mentioning it. I couldn't have just said 'forget about it' and just left it. Because that was a huge part of it."
Supersub: The Story of Football's Most Famous Number 12 by David Fairclough is published by DeCoubertin Books. More info here.
Subscribe to The42 podcasts here: